Disclosure: *This post may include amazon links. As an Amazon Associate, I earn from qualifying purchases.
Hoosier Stew is Indiana comfort food with fresh green beans, red potatoes, and smoked sausage that has simmered in caramelized onions and garlic for an easy dinner recipe. So good. So easy. Always a favorite weeknight meal favorite at our house, especially in the summer with fresh green beans.
Hoosier Stew Ingredients
Somedays you just need good, old comfort food. And here in Indiana, a big pot of Hoosier Stew is just that. Summer in Indiana, well probably anywhere, an abundance of garden-fresh green beans. Combine that with potatoes that are also starting to be harvested and some smoked sausage and it is a random Monday night supper at our house.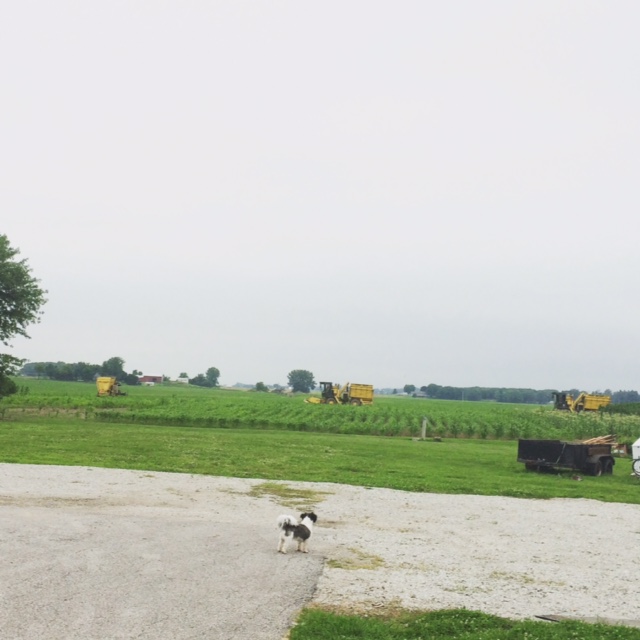 So, when I noticed our neighbor had planted the field directly behind our sweet corn patch in green beans, I knew before long I would have plenty of green beans for the fixing. After all, farmers are the ultimate barterers. Trading sweet corn for green beans seems like a good deal to me.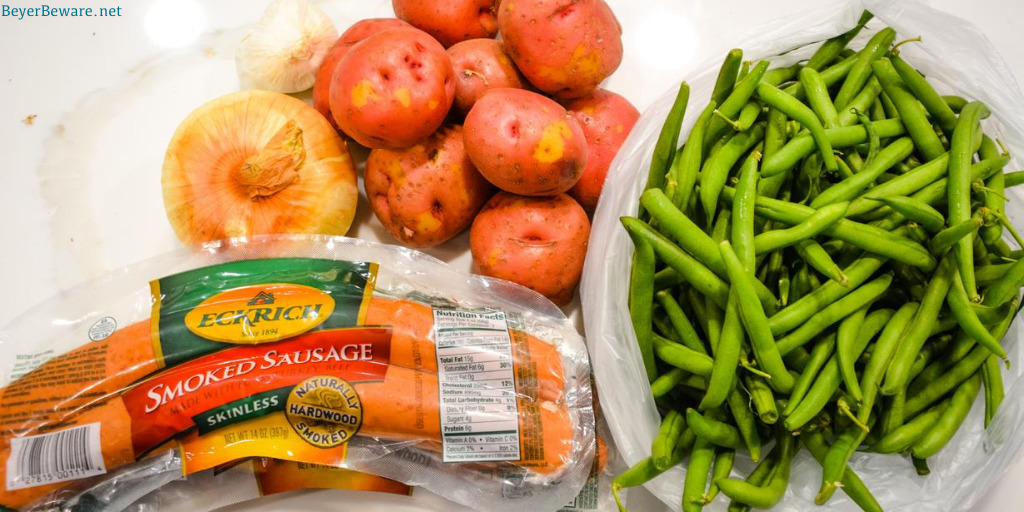 The ingredients you need to make a flavorful pot of green beans, smoked sausage, and potatoes will need a few more ingredients. Here are the basic ingredients:
Butter - Real 100% butter.
Onions - Sweet onions are best but if you just have red, white, or yellow onions they will work too.
Garlic - Minced jarred or fresh garlic will both work for this recipe.
Red Potatoes - No need to peel these since their skins are so thin. But yellow or white potatoes will work just fine.
Green Beans - Frozen, fresh, canned green beans work. The canned will already be cooked, so you will want to add the frozen or fresh green beans sooner than you would the canned green beans.
Smoked Sausage - Skinless, smoked sausage is the standard smoked sausage I use. Eckrich Farms is my preferred brand.
Salt and Pepper
How to Make Smoked Sausage, Potatoes, and Green Beans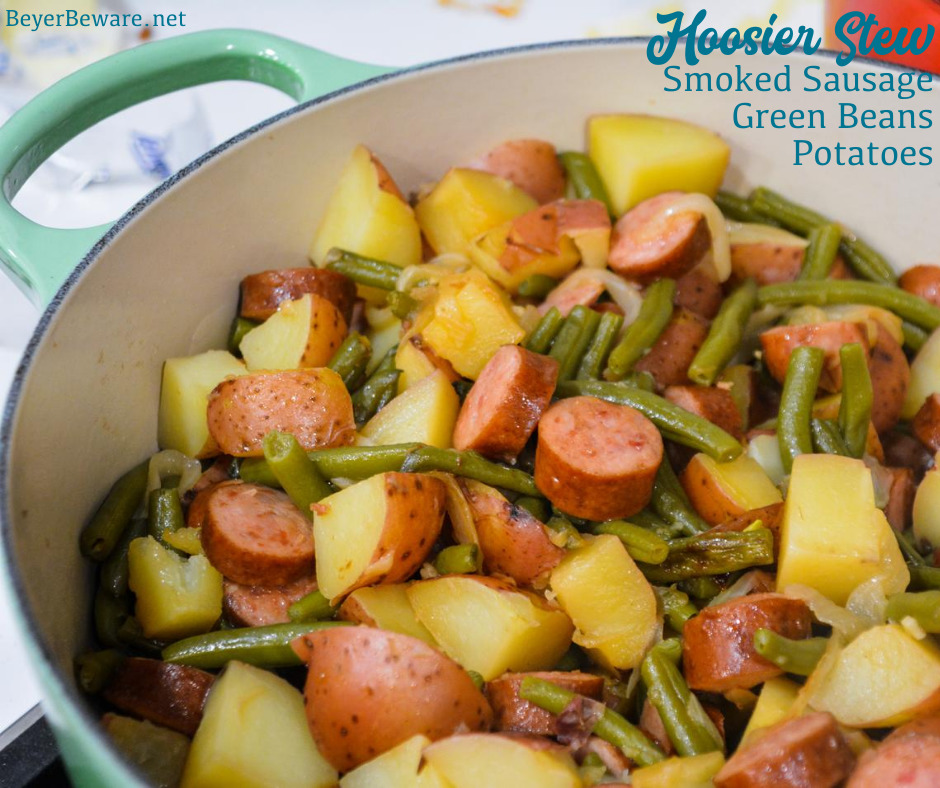 Caramelized onions with fresh green beans, quartered red potatoes and smoked sausage is the staple comfort food of summer for Hoosiers. If you haven't tried this simple dish, today is the day to try it. To begin, slice up your onions and mince your garlic and get it sauteing in butter in your Dutch Oven
. Then chop your potatoes into bite-size pieces and stem and cut your green beans.

For me, the base of this masterful pot of goodness is the caramelized onions. A sweet onion sliced and then sautéed in two tablespoons of butter deliver the rich, flavorful base. After the onions begin to brown, I add a half a cup of water to speed the process up. The water helps the caramelized pieces off the bottom of the pot and spread around. But, if you have time, this won't be necessary. But now for the meat of the recipe.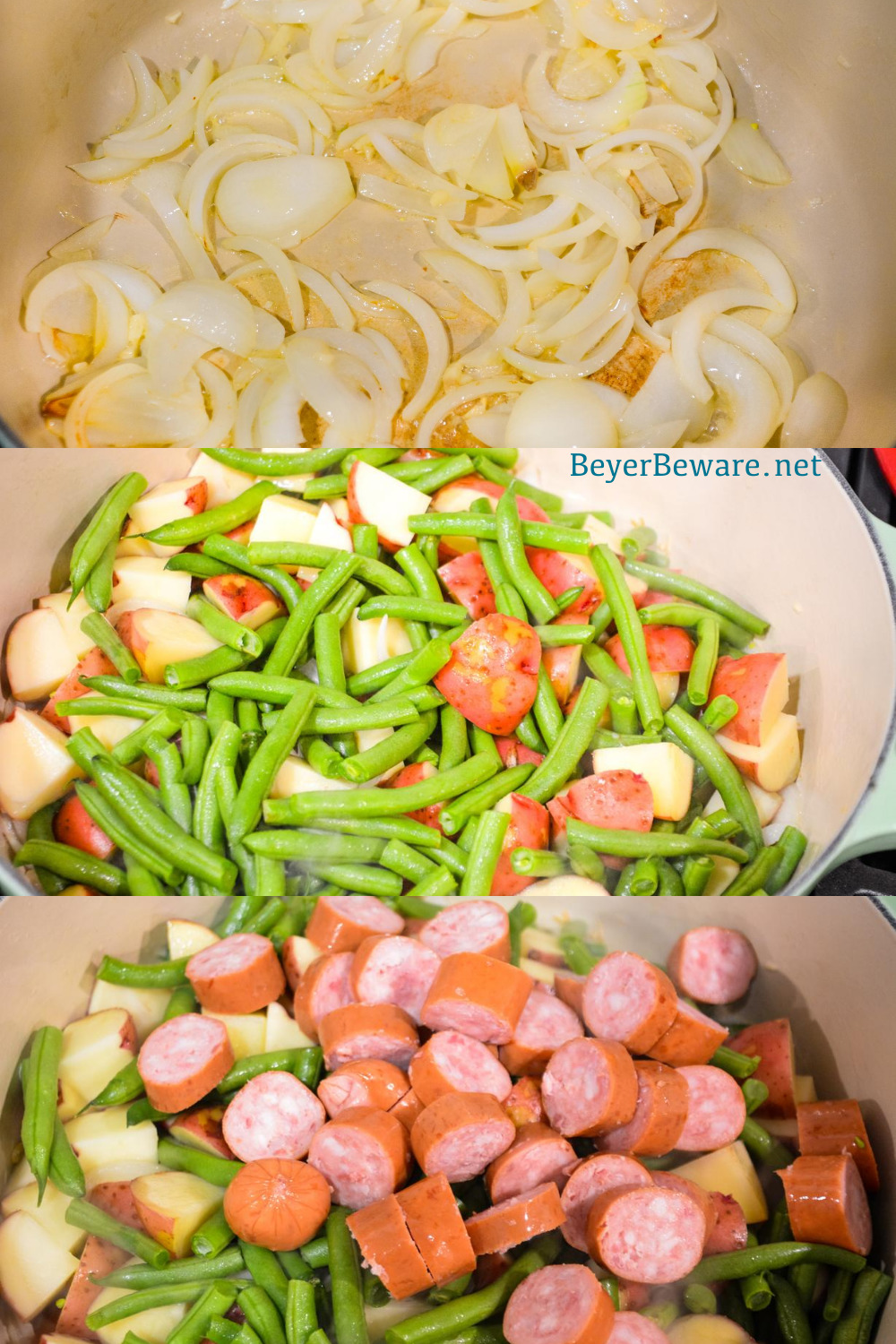 When it comes to potatoes, I buy the smaller red potatoes that just need cut in half or quartered. Now, this can be made with whatever potatoes you have on hand. I cut the potatoes about twice the size of bite-size. I find the larger potatoes pieces hold up better during cooking than smaller pieces that might cook faster. When it comes to the smoked sausage, I use the regular skinless and cut it into about half-inch slices.
I start by adding the potatoes to the onions and let them also get a little caramelized before adding the green beans and then the sausage. Stir together with some ground pepper and salt. Cajun seasoning is also a great substitute too.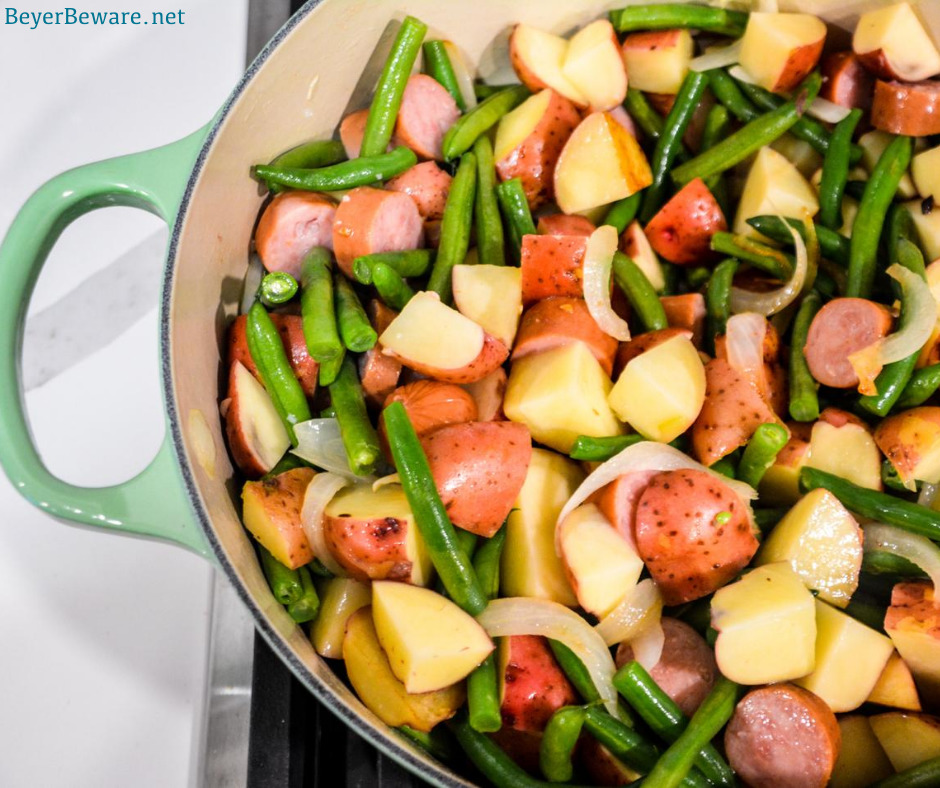 And here is the thing, no water needed. No broth needed. Just stir the ingredients together and put a lid on it over medium-low heat. The moisture that will come from veggies and the meat will be enough. Trust me. If you don't trust me, you can add a cup of water with no harm.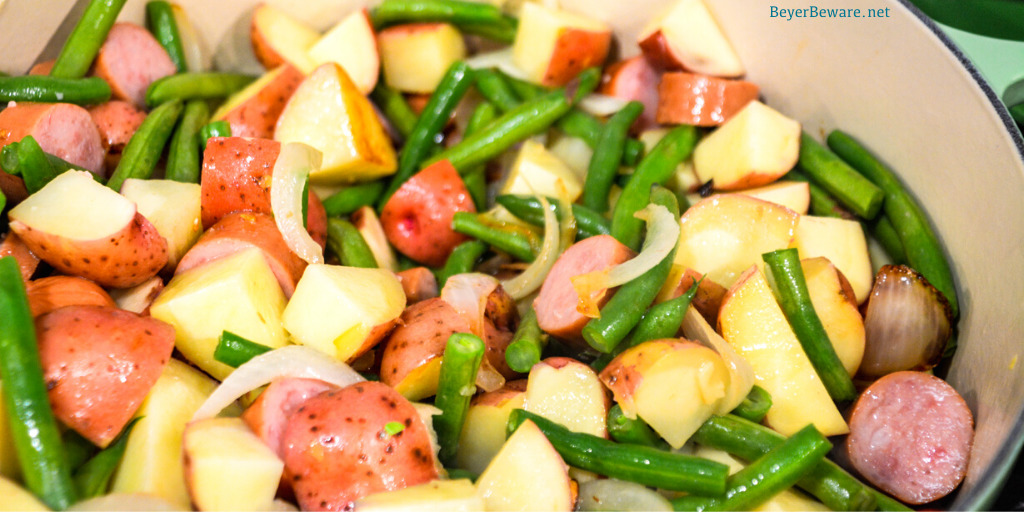 Let the Hoosier Stew cook for 30-45 minutes stirring occasionally. The done signal is all dependent on the potatoes. When the potatoes are soft to the pressure of a fork, you are good to go. However, I turned off the heat and let the pot sit until we were ready to eat, and it was just fine waiting for 20 minutes.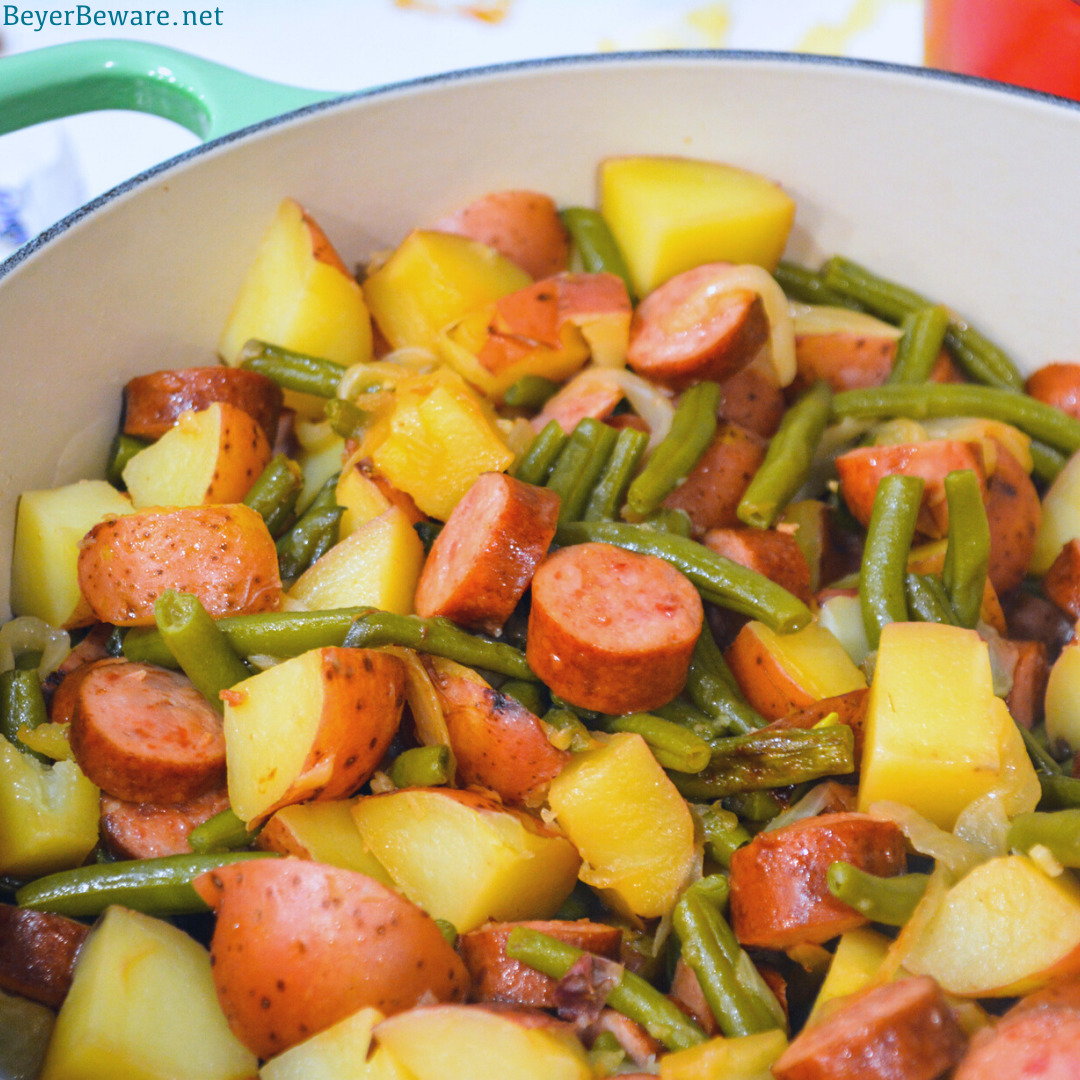 Tips for Making Potatoes, Smoked Sausage, and Green Beans Recipe
If you use canned green beans, go ahead and dump all the liquid in with the beans.
Sweet potatoes are also great in this recipe either solely or with the red skin potatoes. If you use them, peel them before dicing. Then add them after the red-skinned potatoes have cooked for about 5-10 minutes as they will not take as long to cook.
If you don't have smoked sausage, ham or even chicken pieces can be substituted. Chicken sausage or andouille sausage could also be used as a substitute.
Easy Weeknight Recipe Ideas
Crock Pot Smoked Sausage Corn Chowder
Crock Pot Chicken and Potatoes
Crock Pot Smoked Sausage, Cabbage, and Potatoes
📖 Recipe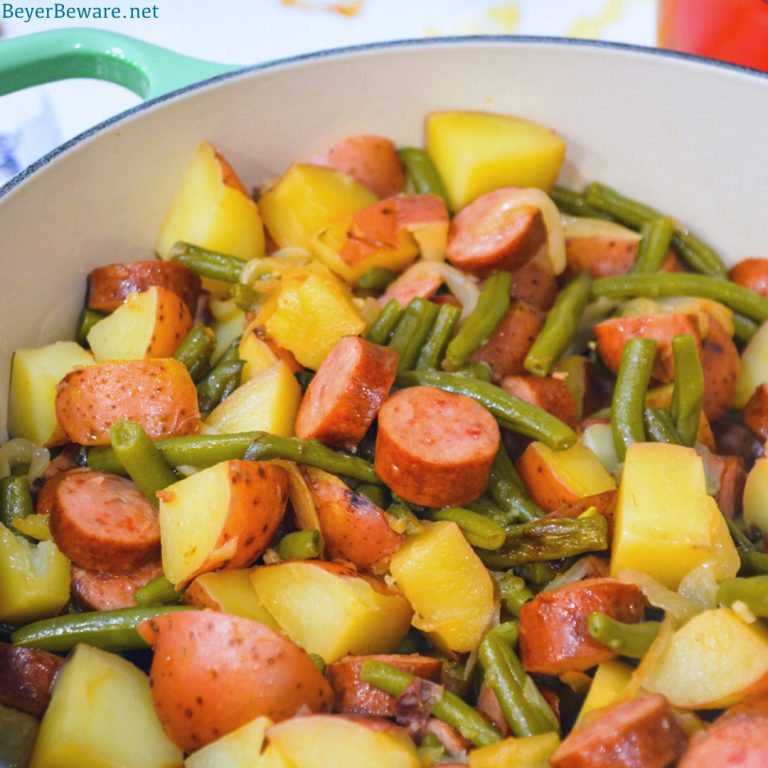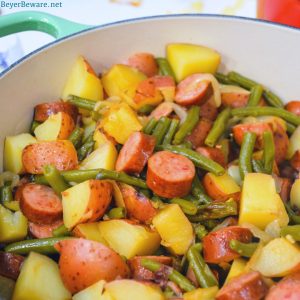 Hoosier Stew - Green Beans, Potatoes and Smoked Sausage
Hoosier Stew is Indiana comfort food with fresh green beans, red potatoes, and smoked sausage that has simmered in caramelized onions and garlic for an easy dinner recipe.
Print
Rate
Ingredients
1

large

onion

thinly sliced

2

tablespoons

butter

2

cloves

garlic

minced

1

pound

of green beans

2

pounds

red potatoes

quartered

2

pounds

smoked sausage

cut in half inch pieces
Instructions
Place the butter, onions and garlic in the bottom of a large stock pot on the stove and let saute for 20 minutes till onions are caramilzed, a light brown. *This process can be sped up by adding water after the onions start to turn brown and the bottom of the pot starts to caramelize. I use ½ cup of water and cook it all off.

Add potatoes to caramelized onions. Stir to incorporate onions through the potatoes.

Stir in the green beans and the smoked sausage.

Season with salt and pepper to your taste preference.

Cook for 30-40 minutes over a medium heat or till potatoes are fork tender.
Nutrition
Calories:
629
kcal
|
Carbohydrates:
35
g
|
Protein:
23
g
|
Fat:
44
g
|
Saturated Fat:
16
g
|
Cholesterol:
117
mg
|
Sodium:
1348
mg
|
Potassium:
1170
mg
|
Fiber:
5
g
|
Sugar:
5
g
|
Vitamin A:
649
IU
|
Vitamin C:
24
mg
|
Calcium:
61
mg
|
Iron:
3
mg