Disclosure: *This post may include amazon links. As an Amazon Associate, I earn from qualifying purchases.
I have a problem with New York City, it is feeding my obsession with Proscuitto.
We had some last night at Pazza Notte on pizza.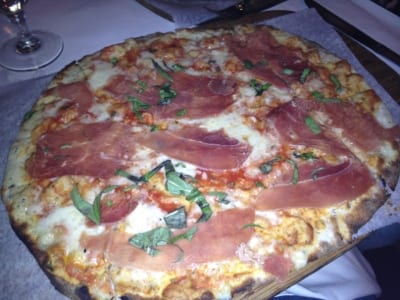 And then we had it on tomato, fresh mozzarella and basil salad.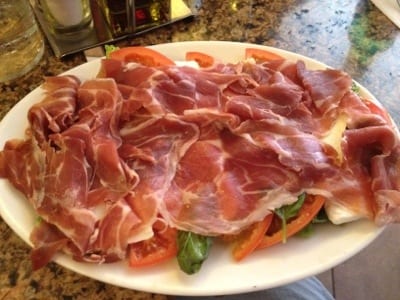 I am out of control people! Anybody else love Proscuitto?
So what is Proscuitto?
From Wikipedia - Prosciutto is an Italian dry-cured ham that is usually thinly sliced and served uncooked; this style is called prosciutto crudo in Italian (or simply crudo) and is distinguished from cooked ham, prosciutto cotto.
A number of regions have their own variations of prosciutto, each with degrees of protected status, but the most prized are the Prosciutto di Parma PDO from the Emilia-Romagna region and the Prosciutto di San Daniele PDO from the Friuli-Venezia Giulia region. Unlike Italian Speck, which is also a dry-cured ham, prosciutto is not smoked.
Prosciutto is made from either a pig's or a wild boar's hind leg or thigh, and the base term prosciutto specifically refers to this product. Prosciutto may also be made using the hind leg of other animals, in which case the name of the animal is included in the name of the product, for example "prosciutto cotto d'agnello" ("lamb prosciutto"). The process of making prosciutto can take from nine months to two years, depending on the size of the ham.