Disclosure: *This post may include amazon links. As an Amazon Associate, I earn from qualifying purchases.
Spicy ranch 7-layer taco dip is Layers of taco-seasoned refried beans, guacamole, sour cream with ranch, lettuce, cheese, pico de gallo, olive, and cheese. This recipe is quick and easy and a great cold layered taco dip perfect for summer BBQs. While it is mainly made in a large dish, it is also super easy to convert this taco dip recipe into single-serving portions perfect for team dinners.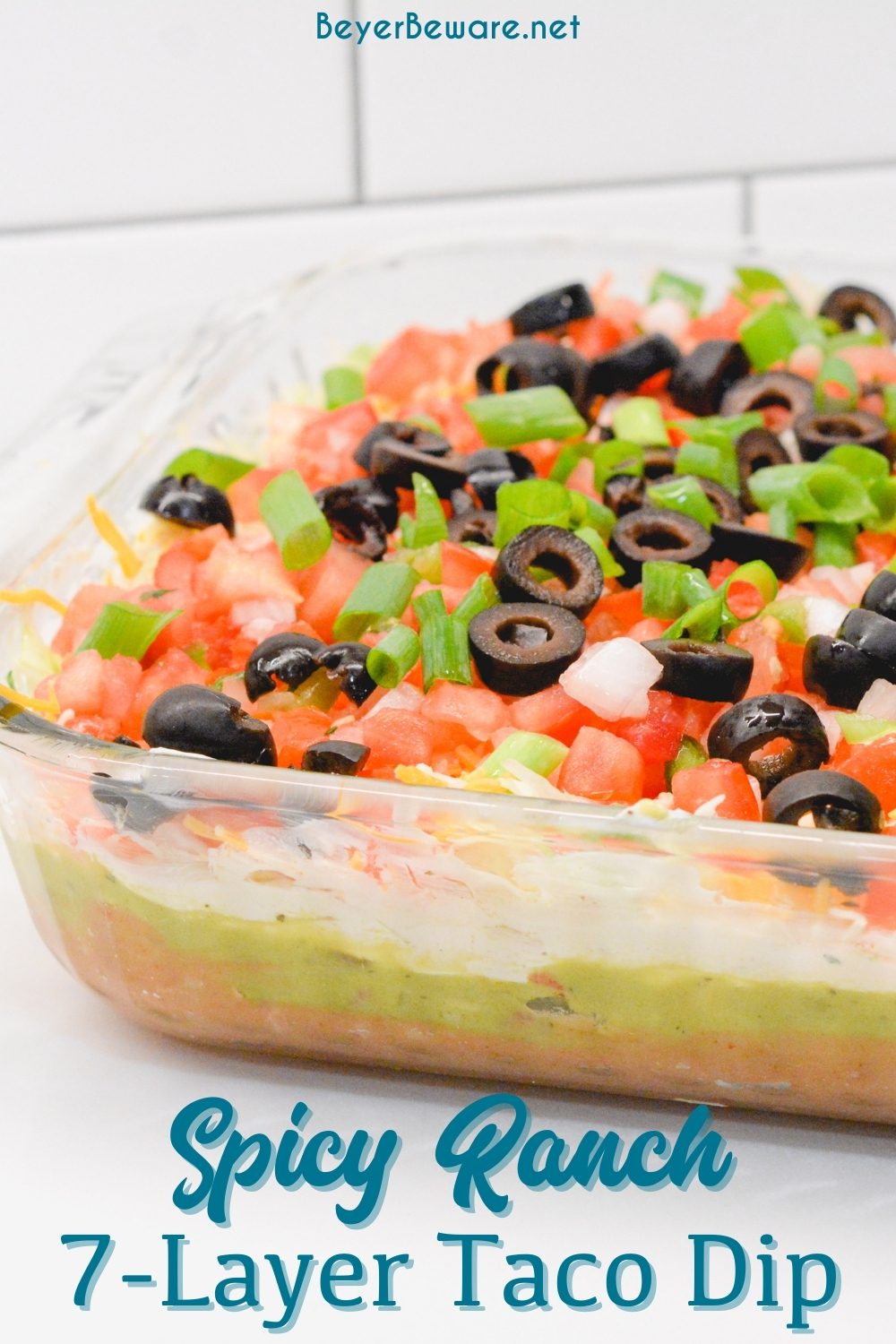 This dip is one of those we all know how to make, but when I made it for a 4th of July party, everyone asked why it tasted different - better. Well because I can't leave my spice cabinet alone when making old fashion recipes especially Mexican recipes.
What are the 7 layers in 7-Layer Dip?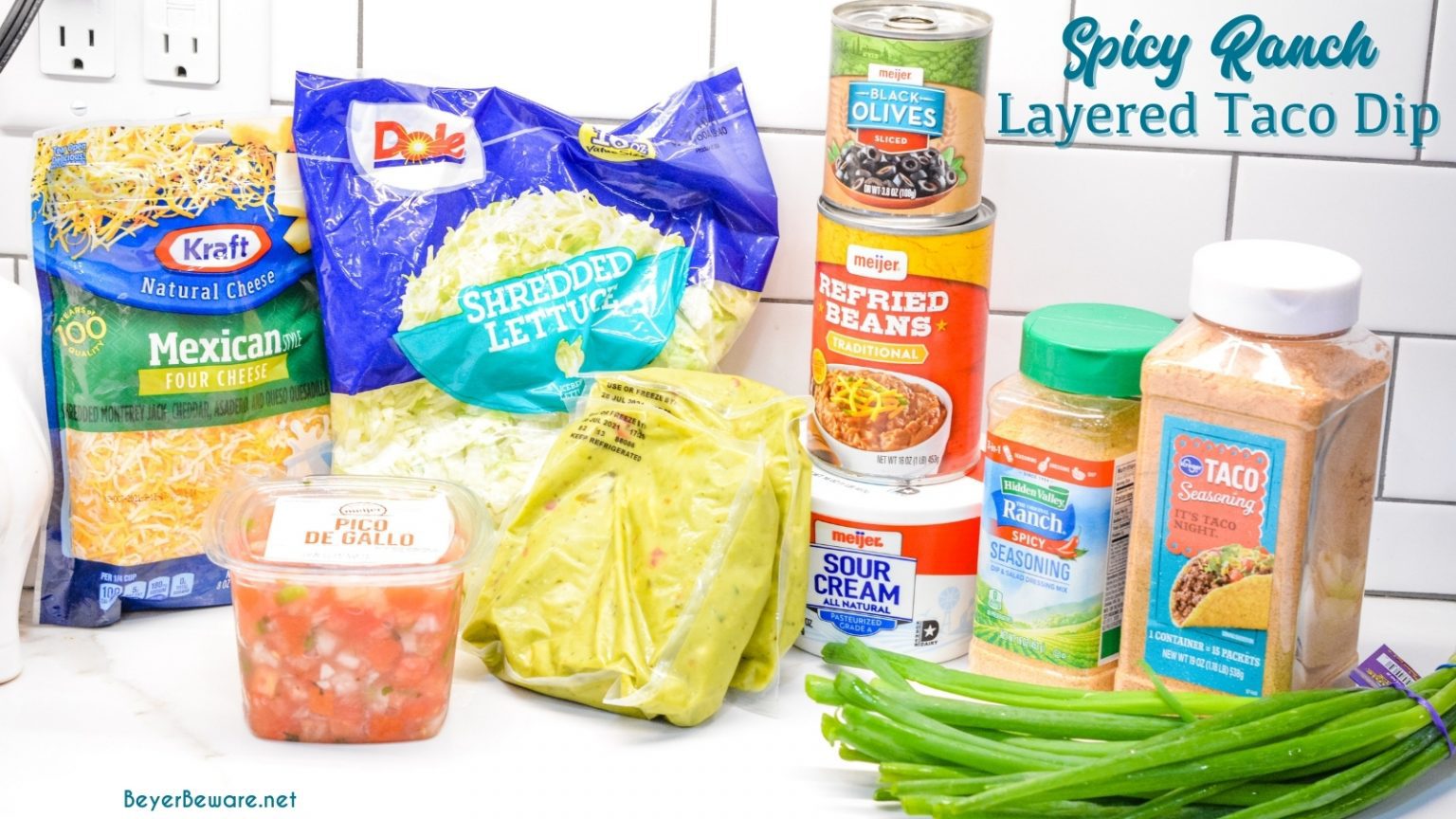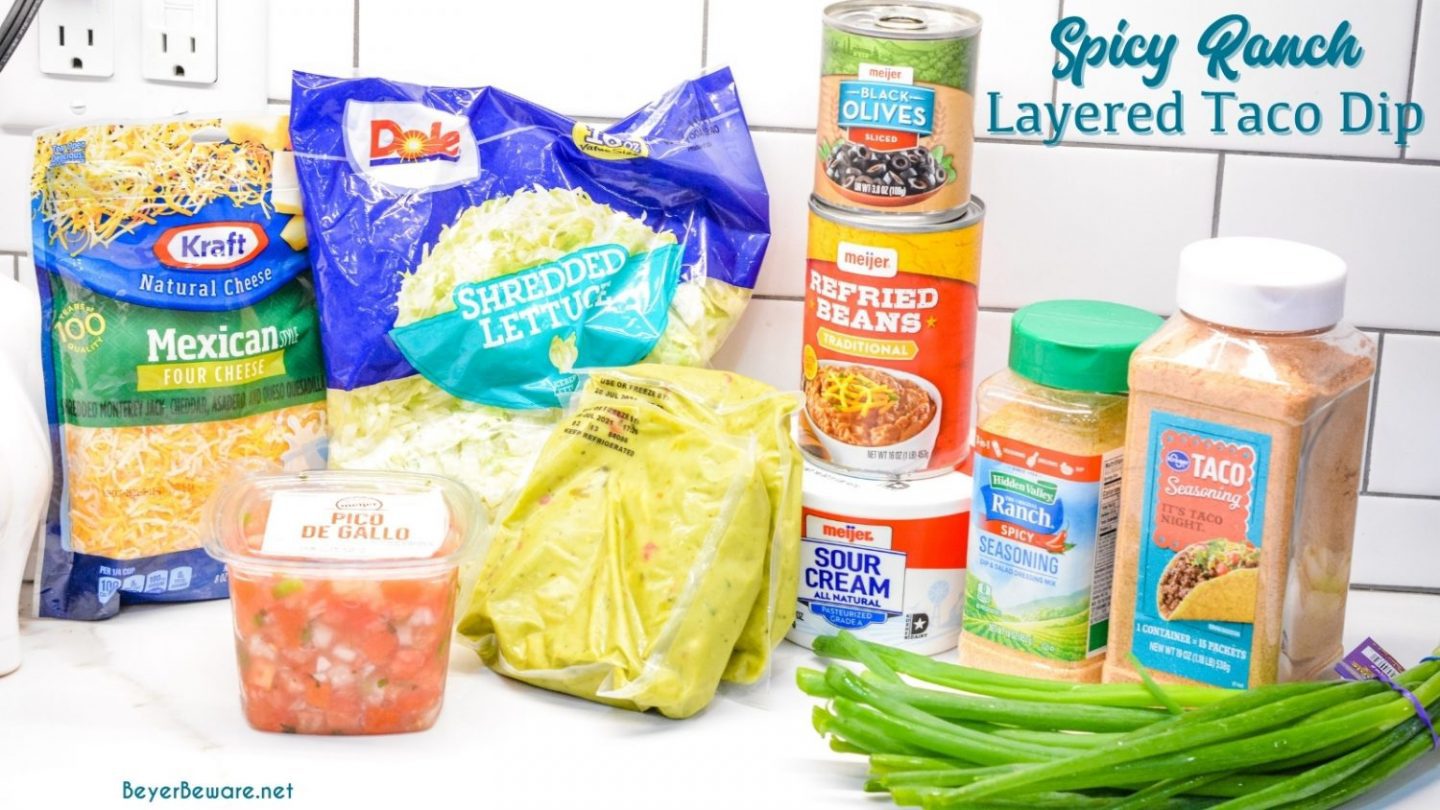 Now for the layers for this spicy ranch 7-layer taco dip. I will be honest, there are more than 7 ingredients in this recipe. But the ingredients do come together for a delicious 7 layers.
Refried Beans + Taco Seasoning - Traditional refried beans and your normal taco seasoning will work just fine. No need to cook the beans. They will be good to go.
Guacamole - Store boughten guacamole works just fine for this. I buy the box with pouches inside on the regular from Sam's Club and Aldi on the regular.
Sour Cream + Spicy Ranch or Regular Ranch - Standard, regular sour cream in a 16-ounce tub plus spicy ranch seasoning. Or normal ranch seasoning works fine too. If you want less spice, go the normal route. Then mix just like you would for a ranch dip.
Lettuce - Shredded, bagged lettuce is perfect for this recipe.
Cheese - Shredded Mexican blend cheese or colby jack is a good substitution.
Pico De Gallo - Either a homemade pico da gallo or a store bought one. Our grocery stores sell pico in the produce area that we love.
Olives + Green Onions - Canned sliced olives and then fresh green onions. If you don't like olives, go without them.
How to Make 7-Layer Taco Dip
To being making this outrageously good ranch raco dip, start by mixing the taco seasoning and refriend beans together in a small bowl. Then spread the taco seasoned refried beans in a 13x9 pan.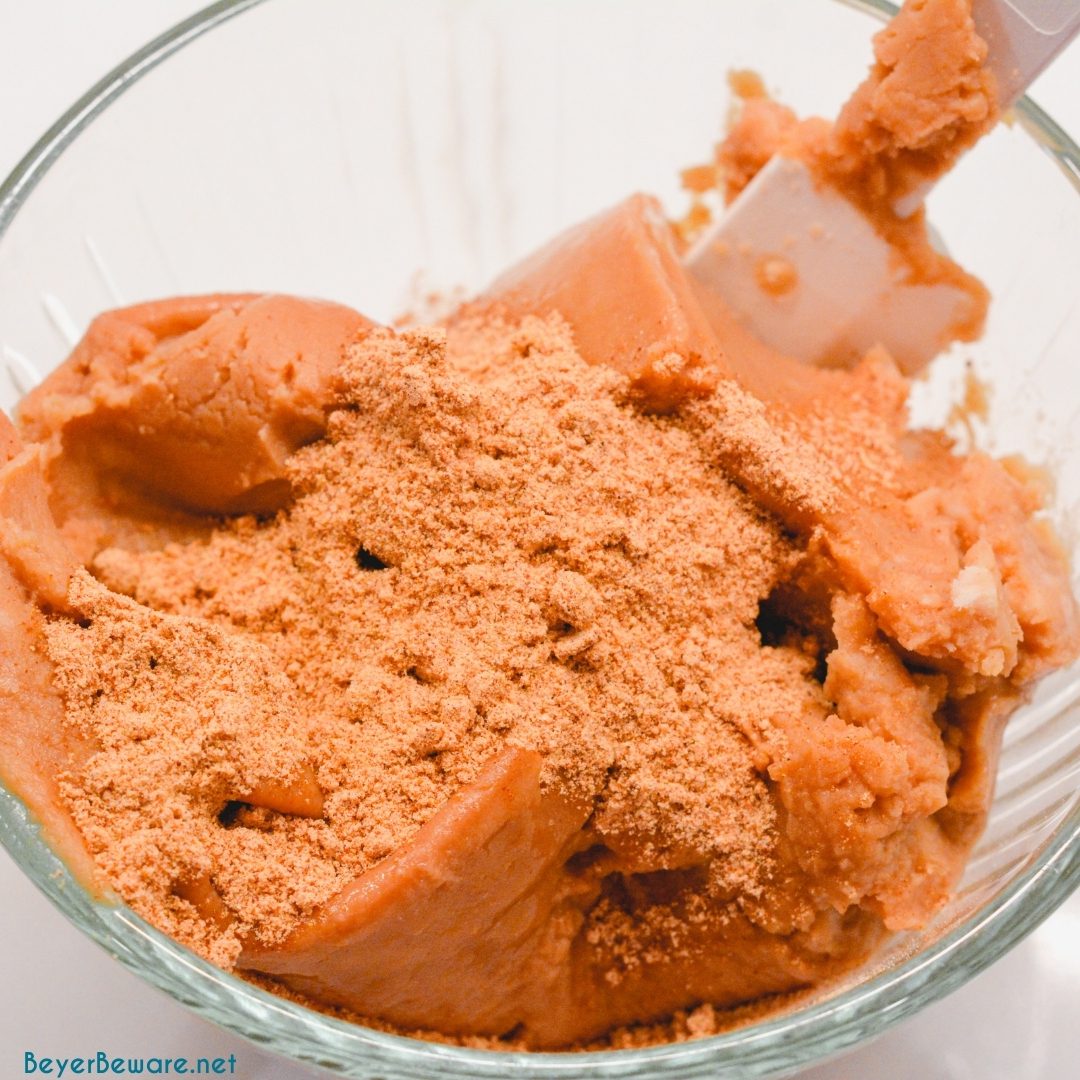 After the refried beans, add the guacamole. Spread out over the beans. Next, mix the ranch and sour cream together. Spread the ranch sour cream over the guacamole layer.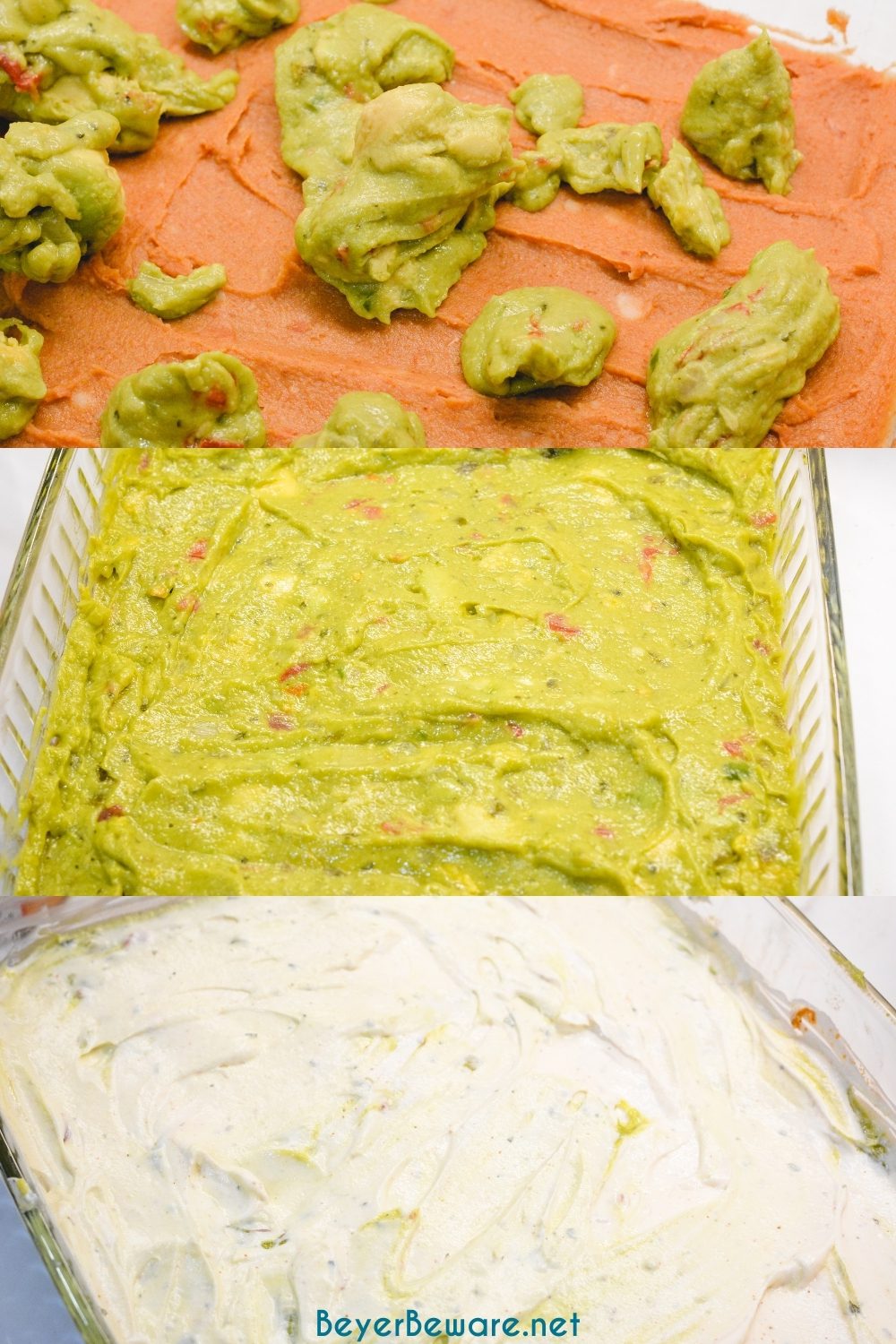 Over the top of the sour cream start loading up the vegetable layers. The first layer of vegetables can be the shredded lettuce. I prefer using the bagged shredded lettuce, but you could cut your own shredded lettuce. Spread the lettuce over the sour cream and follow with the shredded cheese.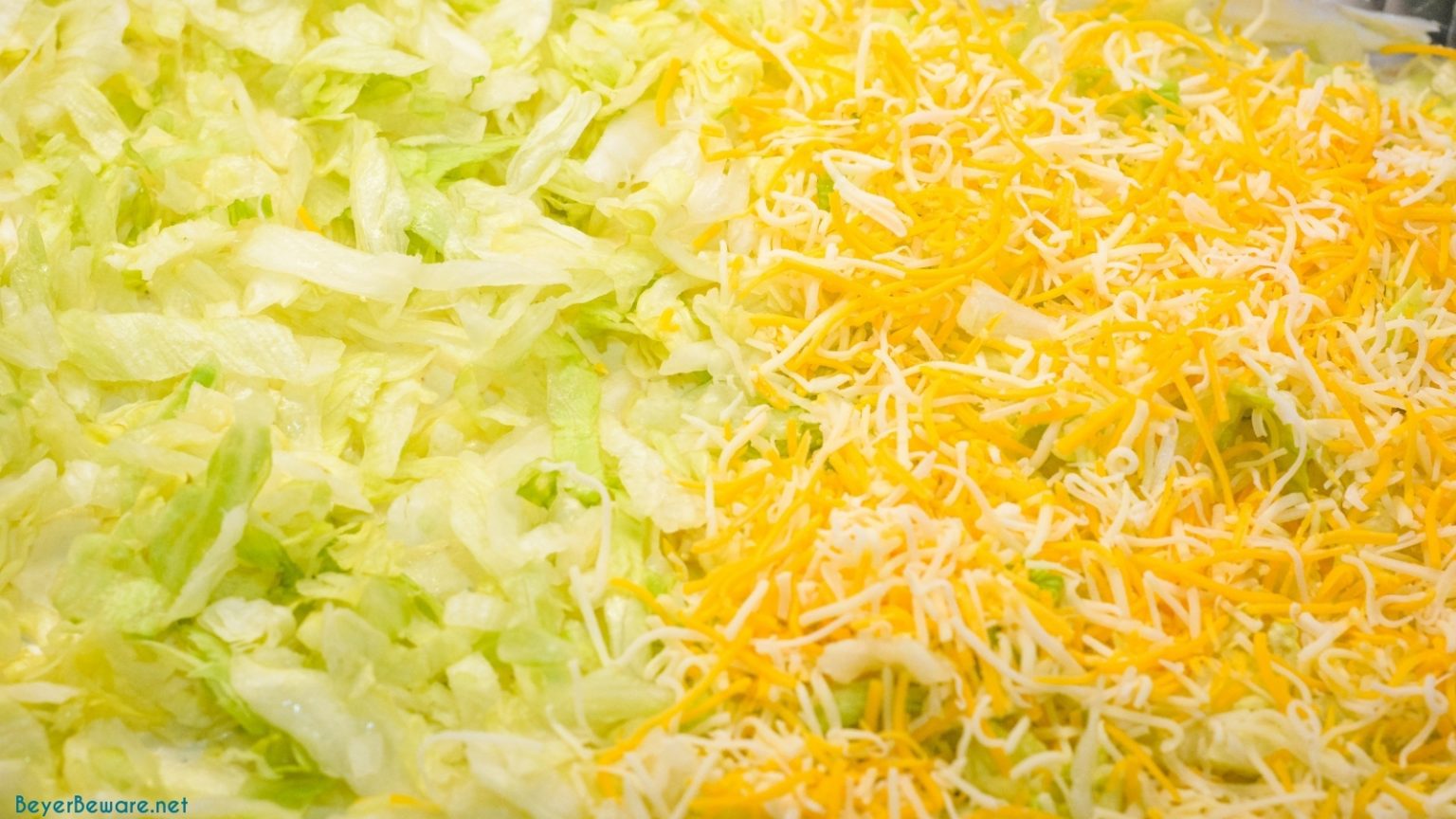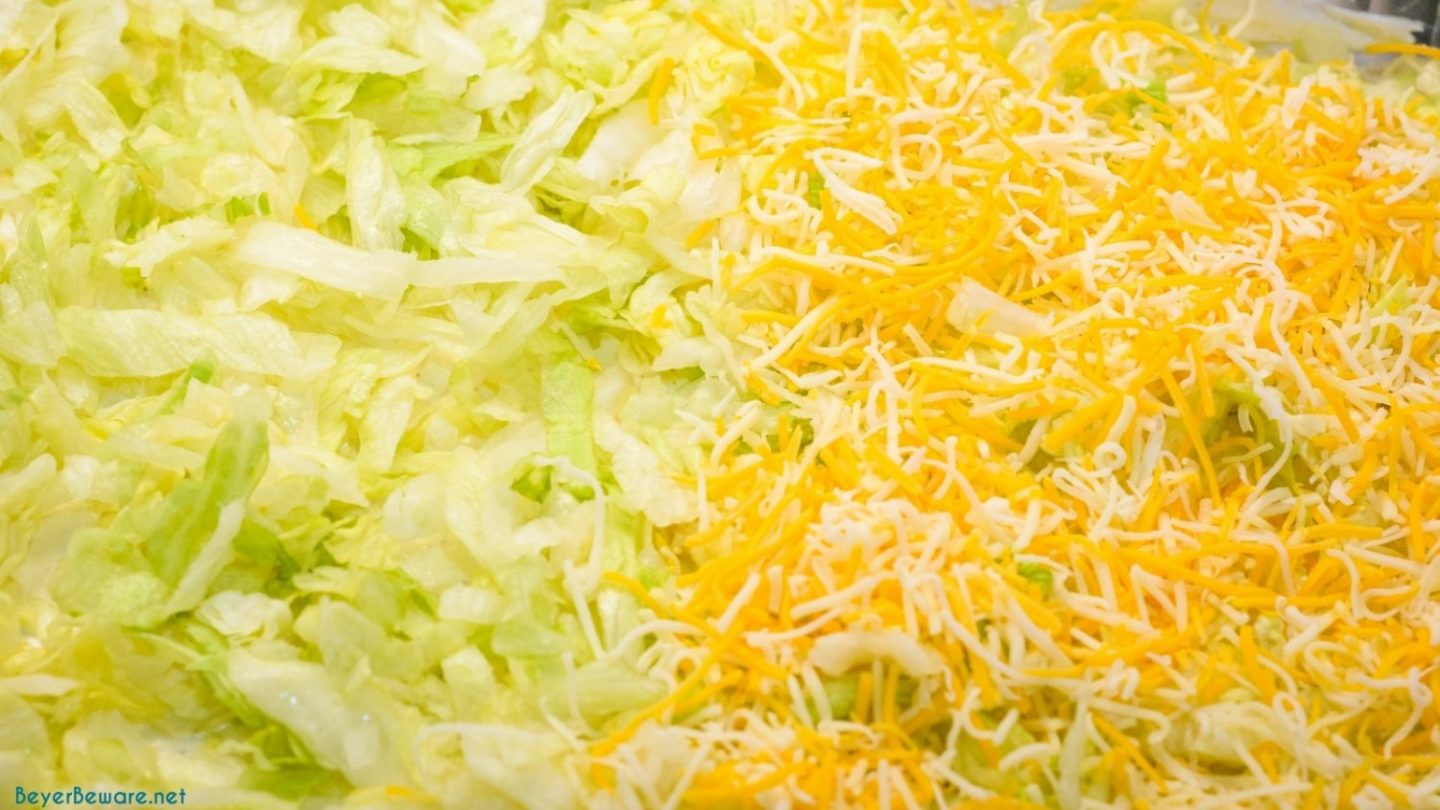 When the cheese is all spread out, top off with pico de gallo. If you just have tomatoes, that will work just fine for this layer of the taco dip also. Spread out over the entire dip as well.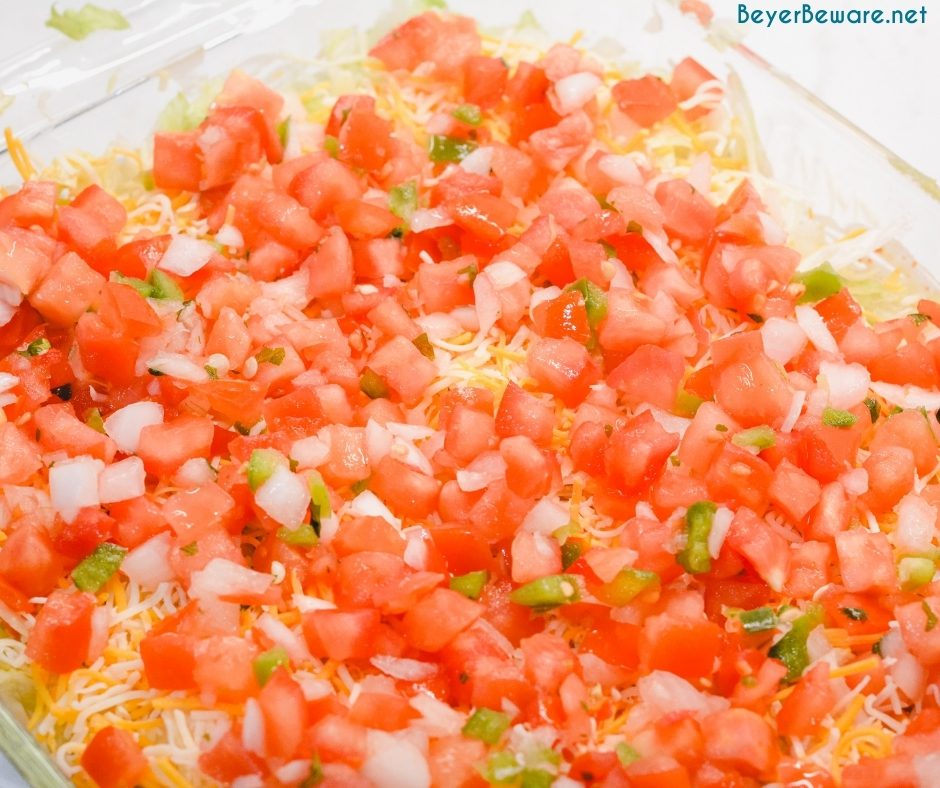 Finally, the seventh layer - olives and green onions. Now, if you are not an olive person, just leave them off. Just add more onions with the green onions. And then you and your taco 7-layer dip are ready for the enjoyment.
Serve with tortilla chips or corn chips. Be warned, this does get watery, the longer you keep it. Make this to eat the same day.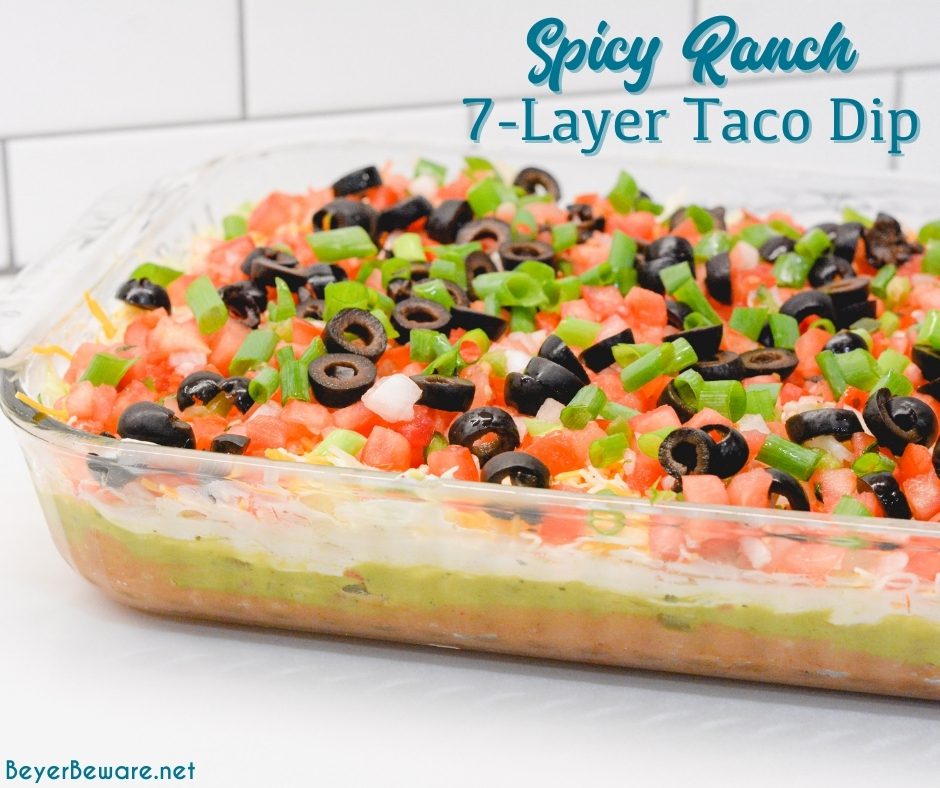 How to Make Individual Taco Dips
Now, if you want to make individual cups of 7-layer taco dip, it is simple to do with disposable punch cups. Layer the same order. One heaping tablespoon of each of the first three layers worked well when we made them for the volleyball progressive dinner. Leaving the olives off will make your life easier for anyone that doesn't like olives.
Taco Dip Recipes
📖 Recipe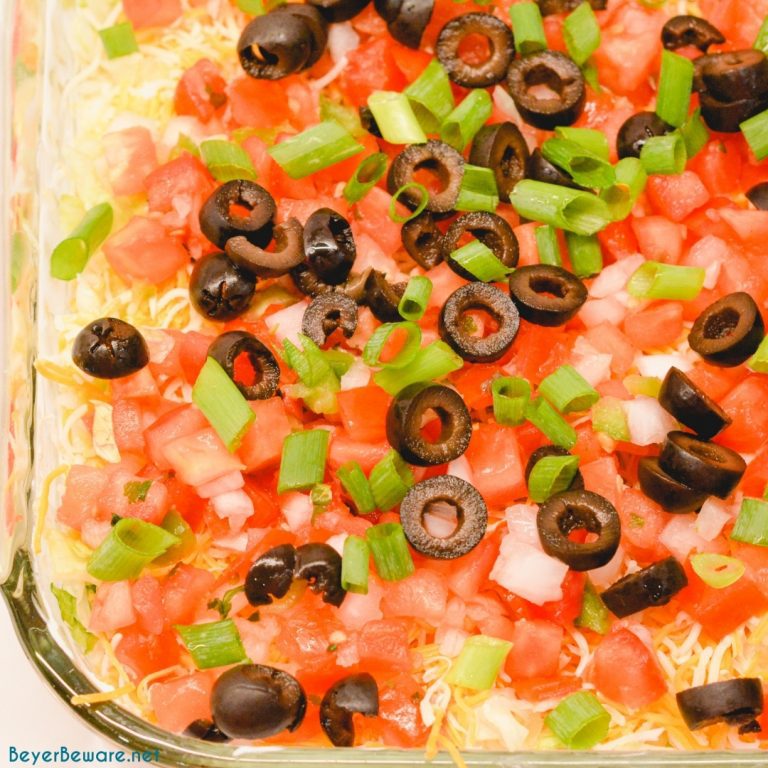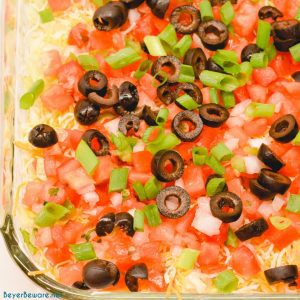 Ingredients
2

cans

refried beans

3

tablespoons

taco seasoning

16

ounces

sour cream

3

tablespoons

spicy ranch or regular ranch

3

cups

guacamole

2

cups

shredded lettuce

2

cups

shredded cheese

2

cups

pico de gallo

8

ounces

black olives

2

green onions
Instructions
Mix the taco seasoning and refried beans together. Spread in a 13x9 pan.

Spread the guacamole over the refried beans.

Mix the ranch and sour cream together. Spread over the guacamole.

Then follow with the shredded lettuce, shredded cheese, pico da gallo, olives and onions.

Refrigerate for an hour before serving. Serve with tortilla chips.
Nutrition
Calories:
138
kcal
|
Carbohydrates:
9
g
|
Protein:
4
g
|
Fat:
10
g
|
Saturated Fat:
4
g
|
Polyunsaturated Fat:
1
g
|
Monounsaturated Fat:
4
g
|
Cholesterol:
17
mg
|
Sodium:
641
mg
|
Potassium:
140
mg
|
Fiber:
3
g
|
Sugar:
3
g
|
Vitamin A:
421
IU
|
Vitamin C:
4
mg
|
Calcium:
84
mg
|
Iron:
1
mg