Disclosure: *This post may include amazon links. As an Amazon Associate, I earn from qualifying purchases.
20-Minute Skillet Pizza Casserole is a quick weeknight pasta meal all made in the same pan and filled with all the ingredients you love on your favorite pizza. When families are on the go like ours is, meals, especially healthy meals can be difficult. Some nights I feel the drive thru and carry-out joints luring me in. I have had to figure out meals I can make in 20 minutes. Especially on days I forget to drop something in the crock pot. This 20-minute skillet pizza is becoming my go-to meal more and more these days.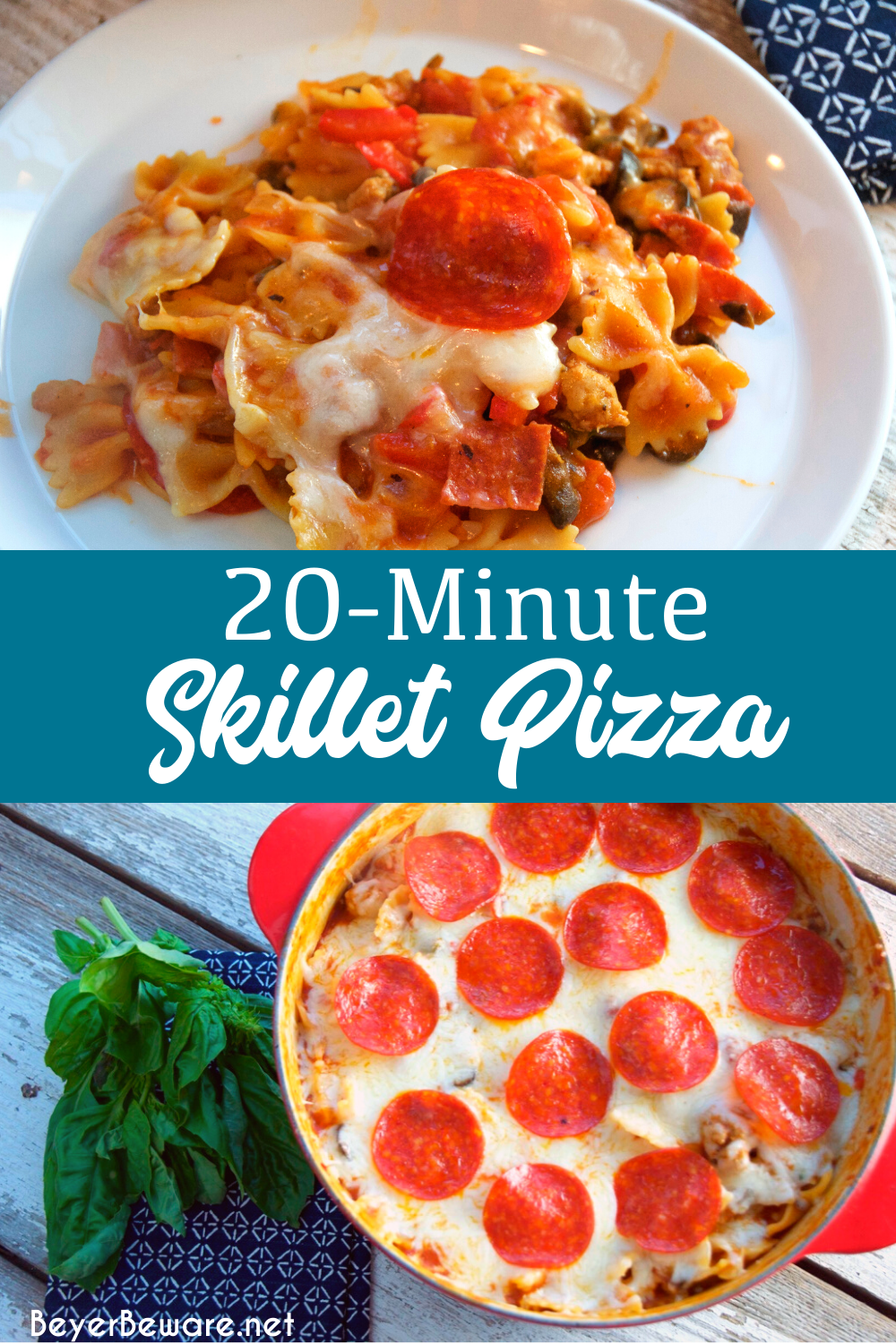 A few months back I went grocery shopping with my friend, Angie, and a dietitian, I had to bring along a recipe. And this skillet pizza was my recipe. I had gotten inspiration for this recipe from Kevin and Amanda's Pepperoni Pizza Pasta. Our family is bit more of a supreme pizza family, so I had changed the recipe somewhat to meet our favorite pizza toppings.
Pizza Skillet Casserole Ingredients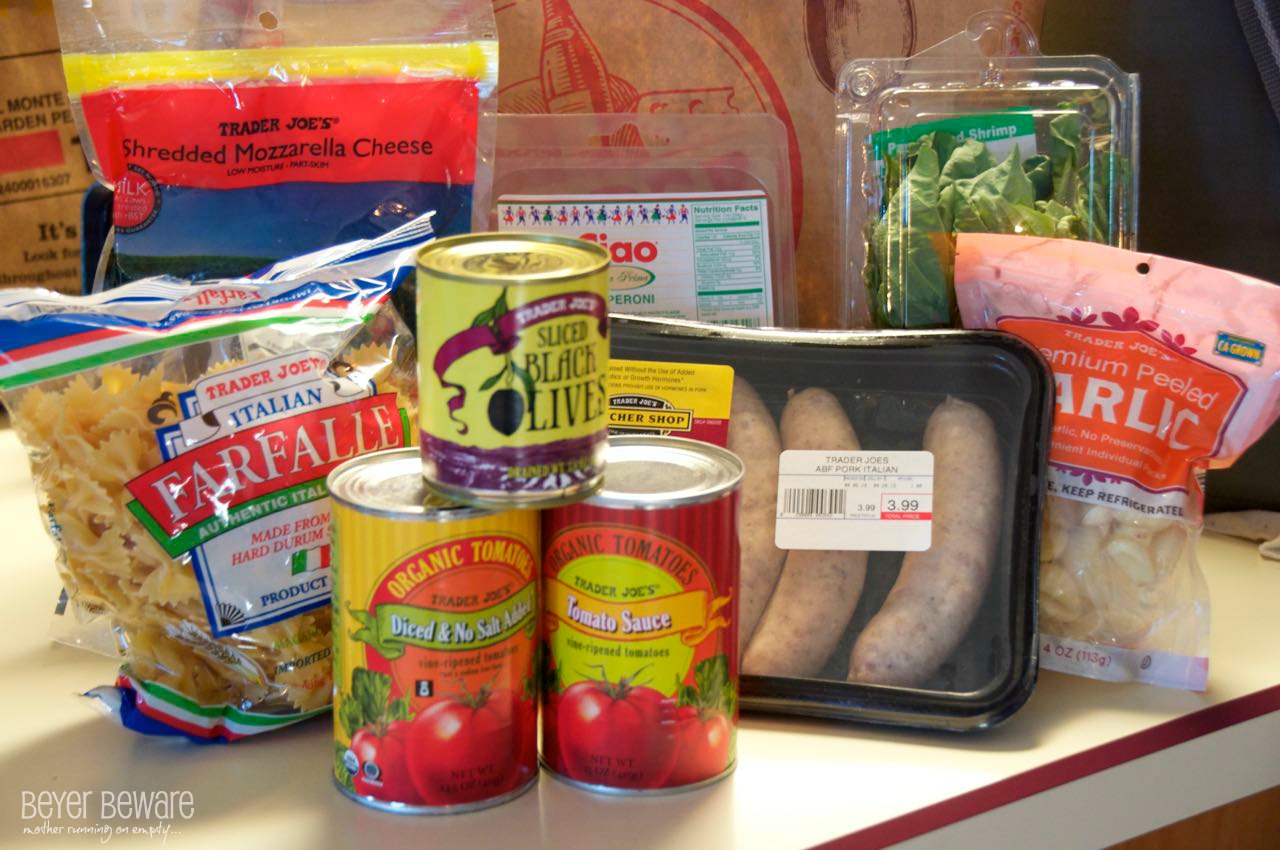 Here is what I discovered by going to three different grocery stores and being forced to by all the ingredients at each store, including the fresh meat, I am spoiled. I use ground pork in a lot of dishes. It is normal for me to mix my ground beef with ground pork in almost every recipe that calls for ground meat. Grocery stores don't seem to have the same love. I could only find ground pork at one store. ONE. Kroger carries my ground pork. At Trader Joe's and Aldi's i had to improvise. I bought Italian pork brats at these stores and just removed the ground meat from the casings. Not hard, but what a bummer.
Here are the ingredients you will need for this casserole:
ground pork or Italian brats removed from casings browned
Italian Sausage Seasoning if using ground pork without seasoning
pepperoni slices
garlic cloves
Vegetables you like on your pizza - onions,

green peppers,

mushrooms, sliced olives
can diced tomatoes
can tomato sauce
bowtie pasta
shredded Mozzarella or Italian-blend cheese
How to Make a 20-Minutes Pizza Casserole
And I am so sorry. For the continued use of ground pork in my recipes. If you can't find ground pork, buy brats and squeeze the meat out of the casings. It works just fine. See...
If you can find just plain ground pork. Not sausage. Ground pork. You can doctor it to have the flavors you like. If you can find fresh Italian sausage, you can use that too. I like to use the Penzey's spices to help either get breakfast sausage or Italian sausage flavors. I add the seasoning at the beginning of the browning process. Again, if you buy Italian sausage, no seasoning is needed.

I browned the pork. Once it was browned I added the rest of the "toppings" to the pot. This is where Kim aka the dietitian said I could take this recipe up a notch. I used a cup of veggies collectively going into the grocery tour. She suggested I use a cup of onions, peppers, mushrooms and olives each. These veggies will help load the kids up with nutrients. So, I did just that. I loaded up the veggies.

I also added the pepperoni with the veggies at this point too. Now, I wanted to the onions to just start to get a bit caramelized. I then drained any excess grease out of the pan.
The next steps are game-changers when it comes to dishes. In the same pot or skillet that you are cooking the meat and veggies, add your pasta. I use bowtie because it catches more of the sauce in the nooks and crannies. Put uncooked pasta on top of the grease drained meat and veggies in the pan they were cooked in. Pour a can of diced tomatoes and a can of tomato sauce over top the pasta.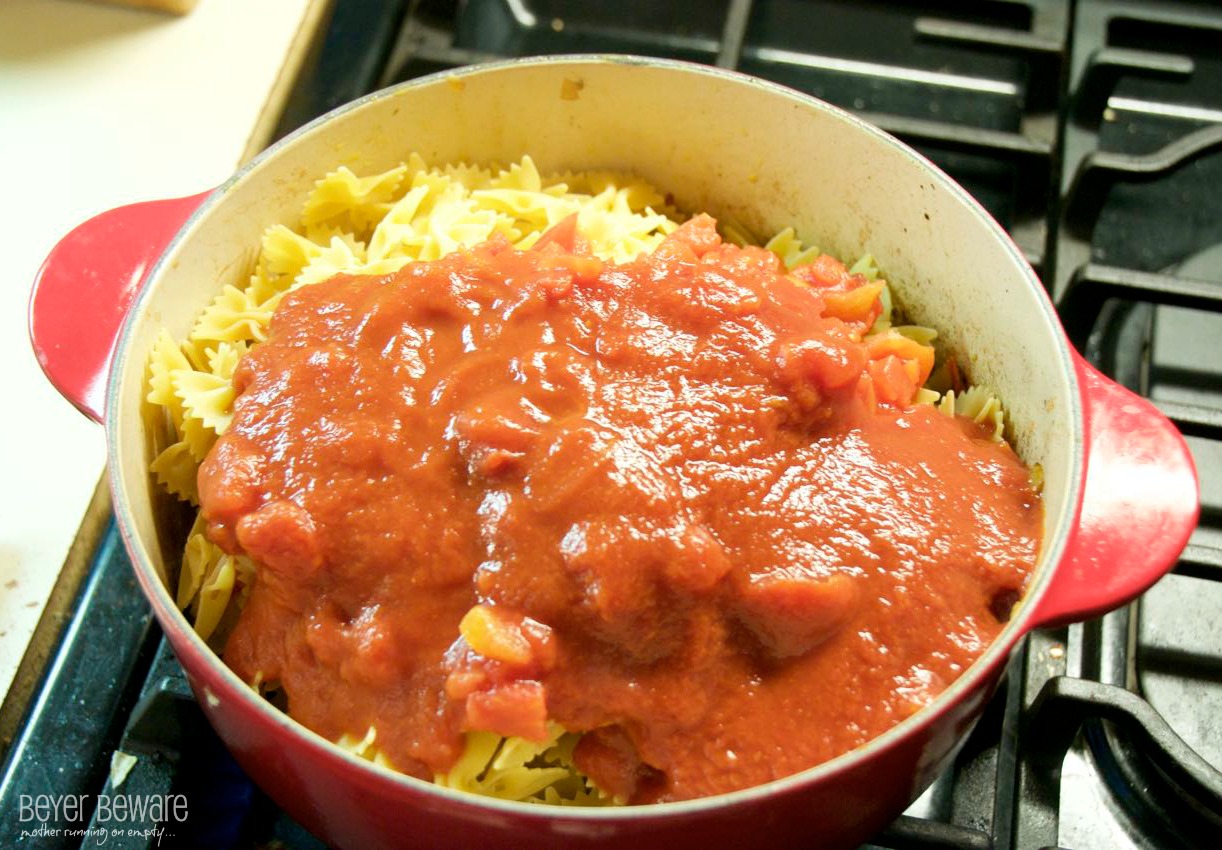 Add water and any herbs. I love to use fresh basil in this dish. Don't have fresh, feel free to use dried herbs. Stir to combine and then let simmer for the length of time pasta needs to cook. I watch the liquid. I add a little water as it cooks to make sure it doesn't get too dry.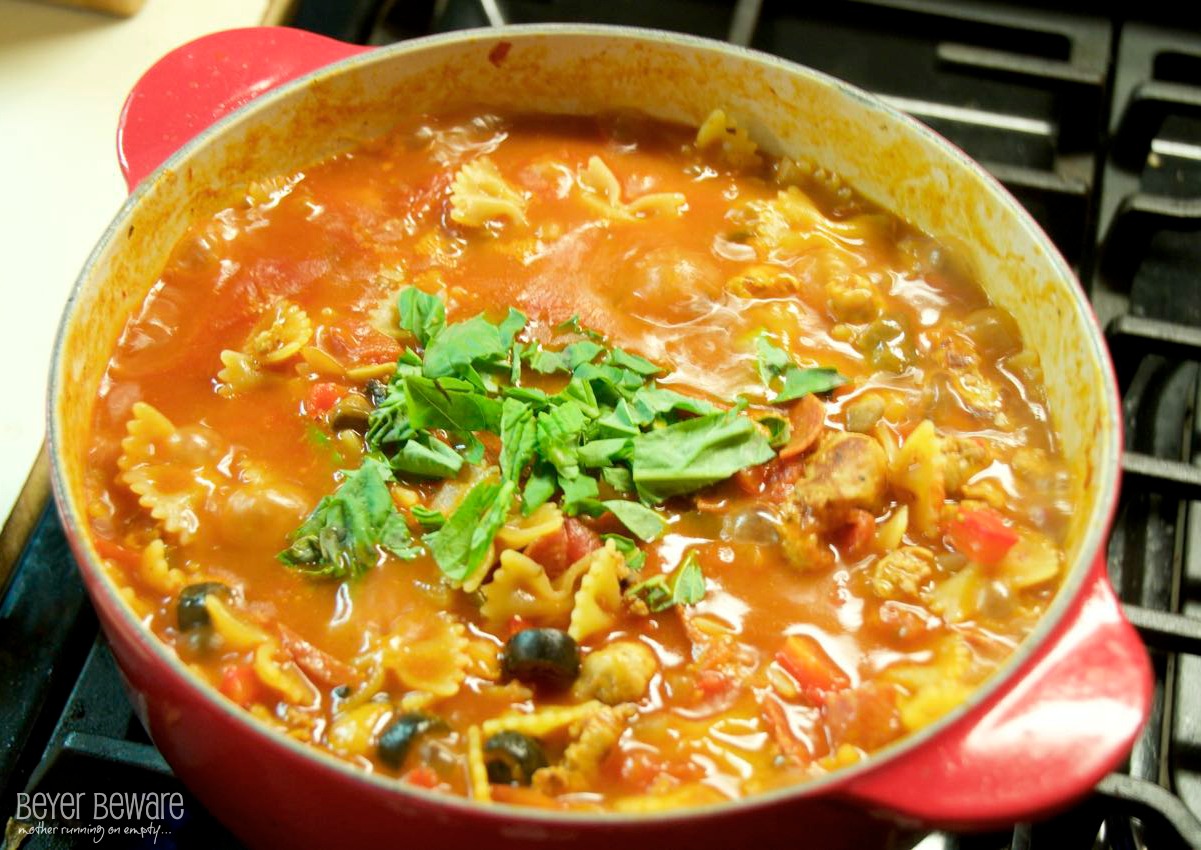 Once the pasta is cooked you can top with shredded cheese and additional pepperonis. I love crisp pepperoni on my pizza. And here is the thing about different stores, different pepperoni options. At Kroger I was able to find the small pepperonis that were perfect in the casserole and got nice and crisp on top of the casserole. But nothing beats the big pepperonis. But, I love pepperoni.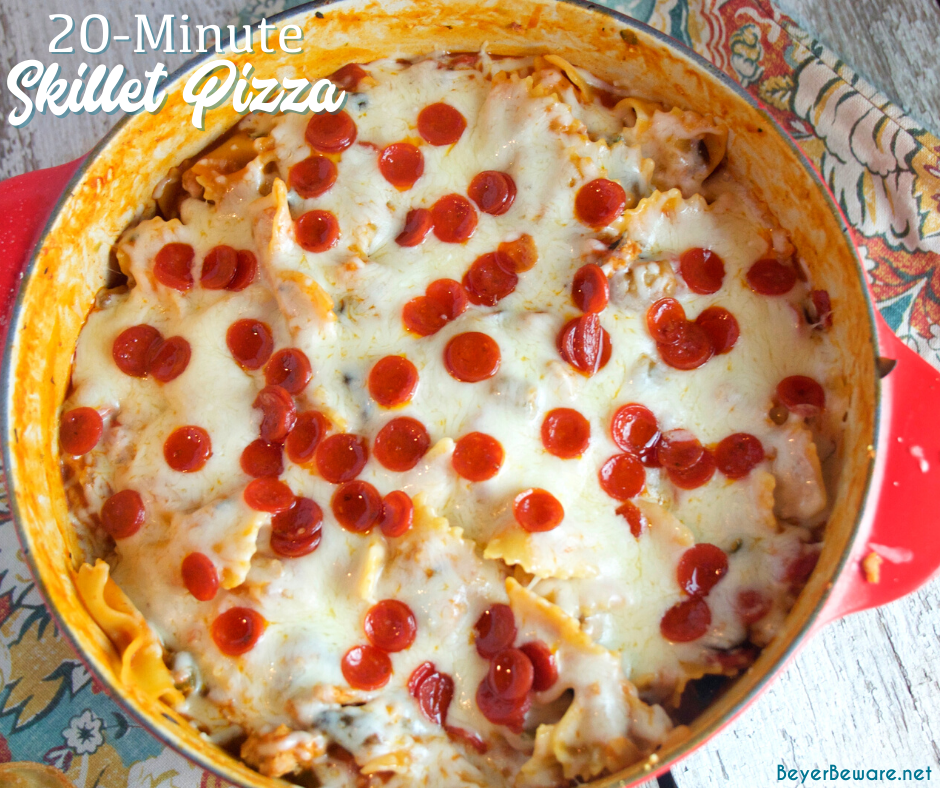 The verdict when all the tips and tricks were incorporated into the recipe. Delicious. Not a single person in my house noticed the increase in veggies. They gobbled it up. And I loved the leftovers. And of course, this can easily be made with gluten-free pasta too.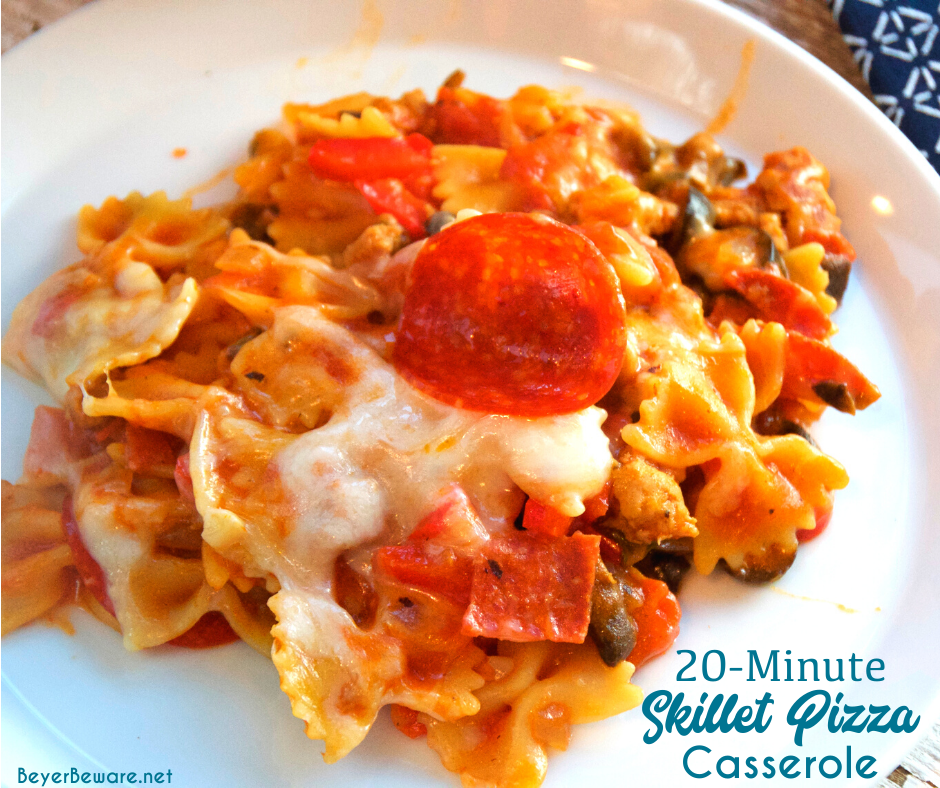 What does it cost to make pizza casserole?
And the price difference. While it wasn't huge, it was noticeable. What I noticed made the biggest impact on price was buzz words and specialty products. Aldi's came in the winner as the lowest price and Trader Joe's as the most expensive. And the flavor was not noticeably different.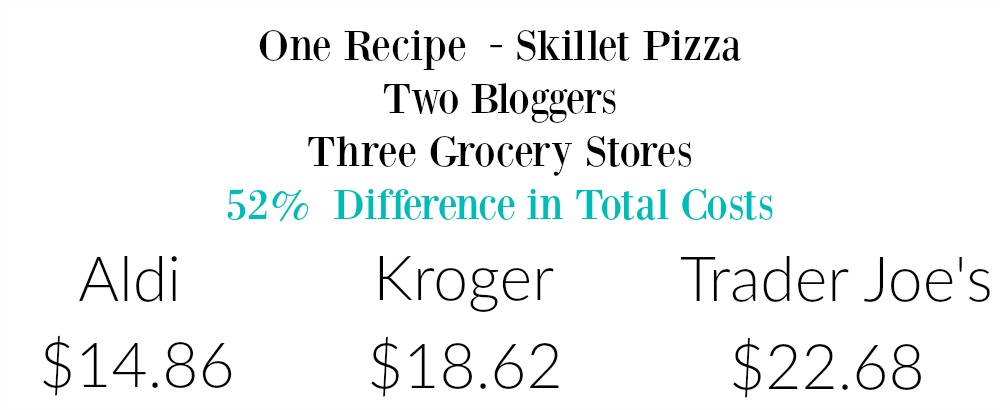 What was the biggest difference causing the prices increase? Lack of variety and being forced to buy organic. Trader Joe's only carried organic canned tomatoes. That was a dollar more for each can I bought from Aldi's. Aldi's tomatoes were their store brand and is packed in the Red Gold plant here in Indiana. How do I know this? Well, I know how to read plant codes. Weird trick. Angie talks about it on her post.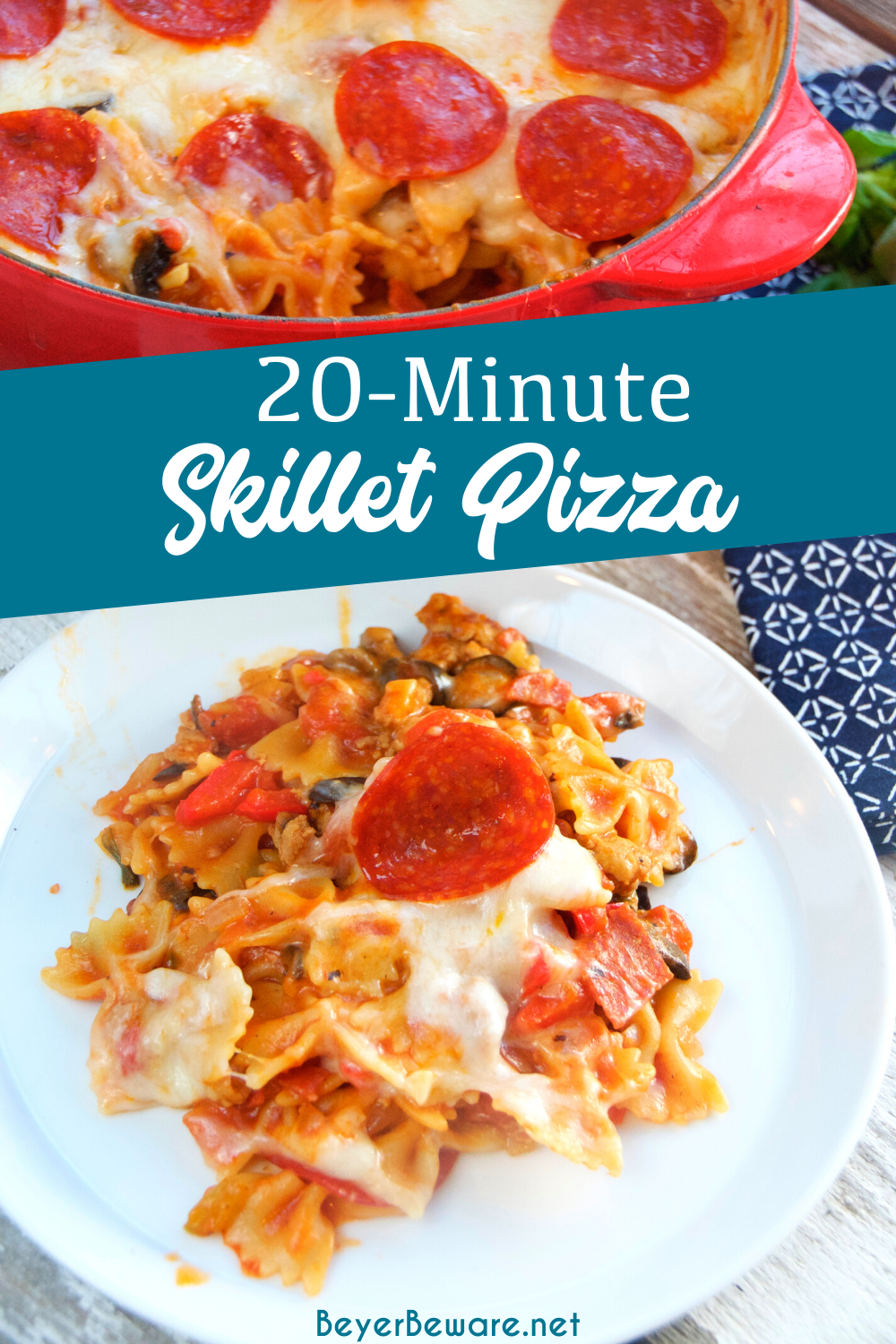 Pizza Recipes
Chicken Bacon Ranch Pizza Casserole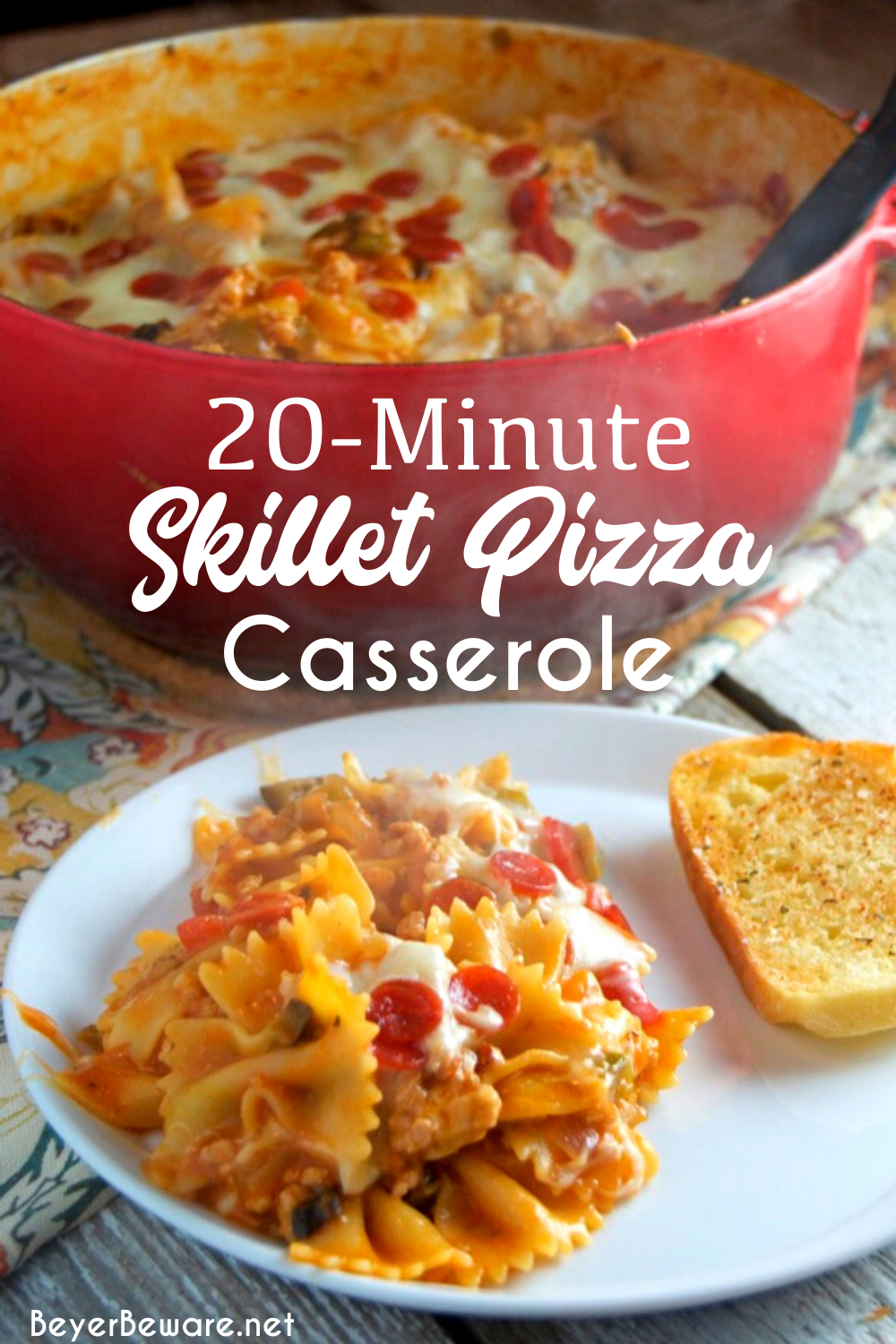 📖 Recipe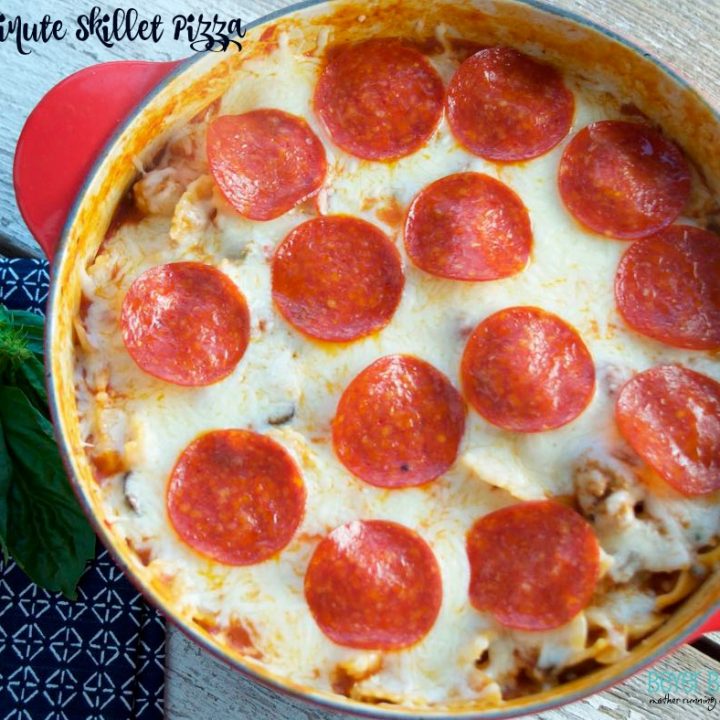 20-Minute Skillet Pizza Casserole
Quick weeknight meals can be flavorful and nutrient rich. This 20-minute skillet pizza casserole is full of flavor, packed with veggies and will be a hit with your family.
Print
Rate
Ingredients
1

pound

ground pork or Italian brats removed from casings

browned

1

tablespoon

Italian Sausage Seasoning if using ground pork without seasoning

½

cup

pepperoni slices

diced

2

cloves

garlic

diced

1

cup

each of diced onions

green peppers diced, mushrooms

4

ounce

can of sliced olives

14.5

ounces

can diced tomatoes

14.5

ounces

tomato sauce

16

ounces

bowtie pasta

3

cups

water

½ - 1

cup

shredded Mozzarella or Italian-blend cheese

extra pepperoni for topping
Instructions
In a large skillet or Dutch oven, cook ground pork with Italian seasoning over medium heat 6-8 minutes or until no longer pink, breaking into crumbles.

Add pepperoni, garlic, vegetables cook 2-3 minutes longer. Drain grease off.

Return meat and veggies to pan and add pasta, tomatoes, sauce and water. Stir to combine.

Bring to a boil and then reduce heat; simmer, covered 10-12 minutes or until thickened, stirring occasionally.

Turn off the heat and top with shredded cheese and remaining pepperoni. To crisp up pepperoni, place under broiler for a minute or two.
Nutrition
Calories:
522
kcal
|
Carbohydrates:
51
g
|
Protein:
25
g
|
Fat:
24
g
|
Saturated Fat:
9
g
|
Polyunsaturated Fat:
2
g
|
Monounsaturated Fat:
10
g
|
Trans Fat:
1
g
|
Cholesterol:
67
mg
|
Sodium:
836
mg
|
Potassium:
645
mg
|
Fiber:
4
g
|
Sugar:
6
g
|
Vitamin A:
495
IU
|
Vitamin C:
11
mg
|
Calcium:
177
mg
|
Iron:
3
mg
Get other great recipes over on the Weekend Potluck.
Affiliate links were used in this post. The Indiana Soybean Alliance paid for me to participate in the blogger, farm, dietitian partnership program.