Disclosure: *This post may include amazon links. As an Amazon Associate, I earn from qualifying purchases.
January 1 is the start of a new eat planning. Again. I have all the recipes, knowledge, reason to do this. Now I just need to get organized and do it! My first attempt at a meal plan is to keep my daily carbs around 21g or less as well as calories under 2000. Seems easy, right? Well, this low carb meal plan for 7 days was a labor of love as it became extremely obvious to me why I fail when I don't plan my meals for the week.
For the first week, I am focusing on a pork-based diet to "root in a new year" on the right protein. For many of these recipes, ground pork is used. Ground pork can be found in the grocery store in the fresh pork section. Normally in the top of the meat case. Become familiar with the meat case with this diet. If you are wondering what to have in your kitchen to be successful on the low carb diet, be sure to check out how to stock your kitchen for the low carb or keto diet.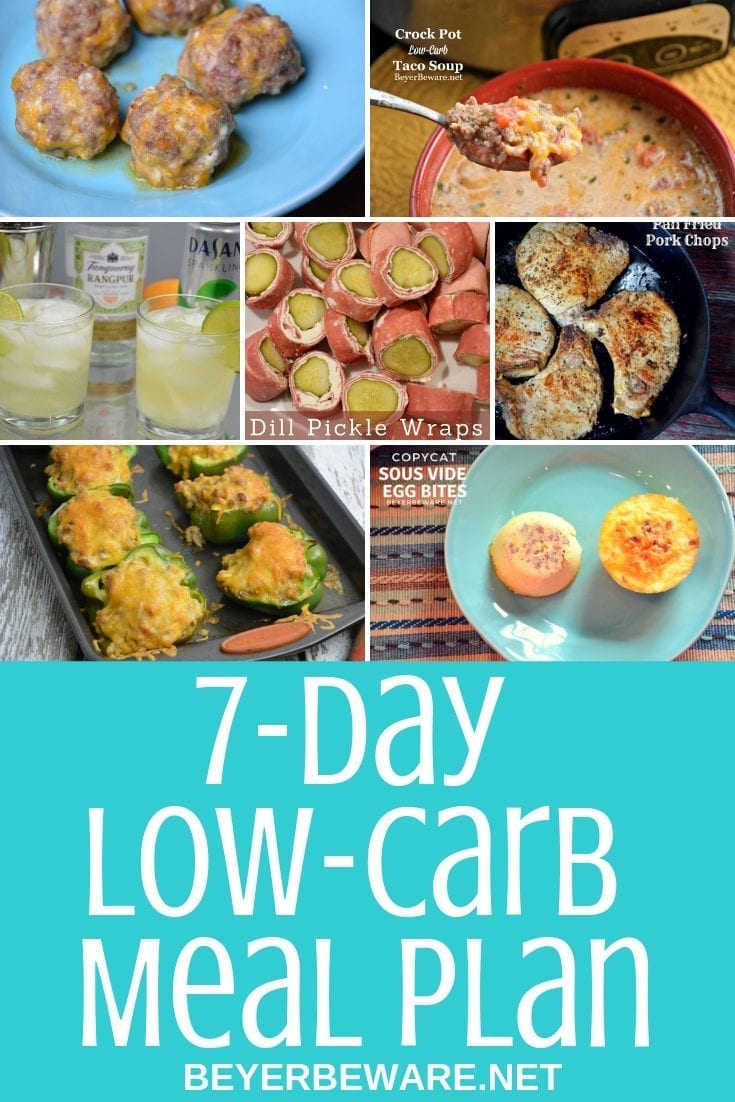 I have put macro counts with each item and totals for the day. This is based on information I am pulling from CarbManager. Each day I plan on having two snacks plus a treat. This could be a sweet treat or drink. PEOPLE!!! I am human, and I want this to work. So, no I am not quitting coffee, booze, or chocolate. I am just being smarter about it. Hyperlinks to recipes are in the title here in the blog post as well as in the pdf of the recipe plan.
Download the PDF of this meal plan.
Be sure to check out the next Low Carb Meal Plan.
7-Day Low Carb Meal Plan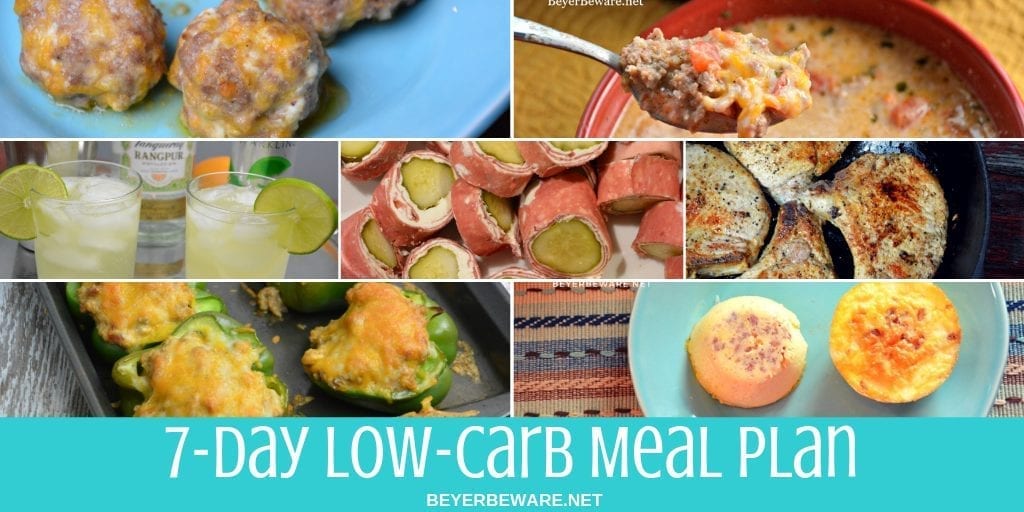 Day One  (Totals: 1688 calories, 139g fat, 17g net carbs, 83g protein)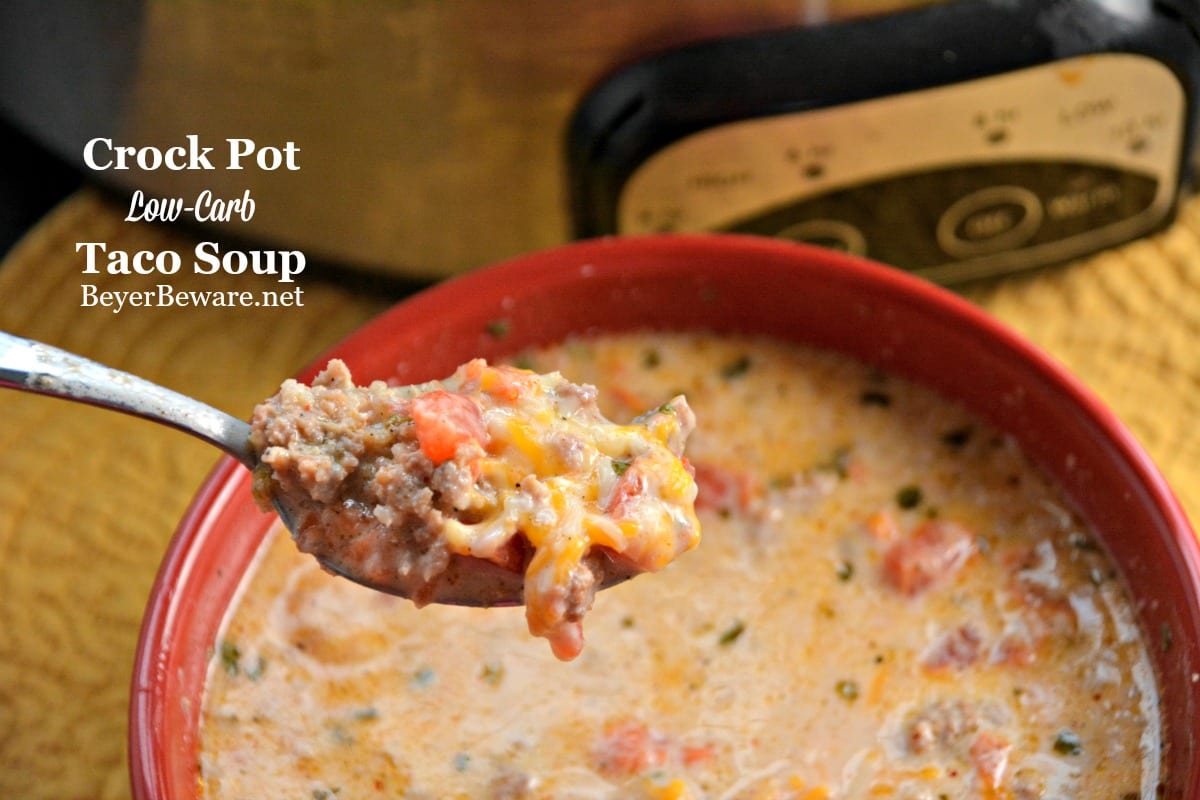 Breakfast
1 Sous Vide Egg Bites Copycat (259  calories, 20g fat, 2g net carbs, 16g protein)
Coffee with 2 tablespoon Heavy Cream (105 calories, 11g fat, 1g net carbs, 1g protein)
Snack
2 pickle wraps cut into pieces (84 calories, 8g fat, 2 g net carbs, 2g protein)
Lunch
1 Italian Sub Roll-Ups (234 calories, 20.6g fat, 1g net carbs, 10g protein)
2  hard boiled egg (160 Calories, 10 g fat, 2g net carbs, 12g protein)
Snack
1 ounce lightly salted almonds  (172 calories, 16g fat, 2g net carbs, 6g protein)
Dinner
Crock Pot Low Carb Taco Soup (428  calories, 34g fat, 4g net carbs, 24g protein)
Dessert
1 Atkins Caramel Nut Treat  (130  calories, 8g fat, 2g net carbs, 5g protein)
Day 2 (Totals:  1574 calories, 116g fat, 16g net carbs, 96g protein)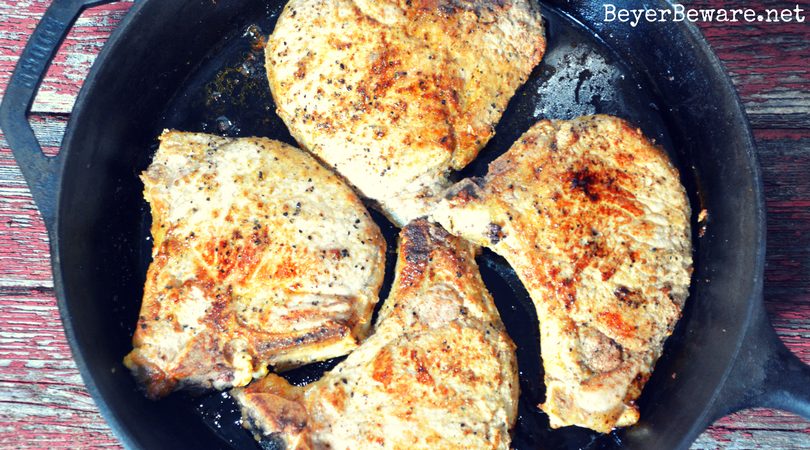 Breakfast
1 Sous Vide Egg Bites Copycat (259  calories, 20g fat, 2g net carbs, 16g protein)
Coffee with 2 tablespoon Heavy Cream (105 calories, 11g fat, 1g net carbs, 1g protein)
Snack
2 Salami Wrapped Cheese Sticks (150 calories, 13g fat, 1g net carbs, 9g protein)
Lunch
Crock Pot Low Carb Taco Soup (428  calories, 34g fat, 4g net carbs, 24g protein)
Snack
2  hard boiled egg (160 Calories, 10 g fat, 2g net carbs, 12g protein)
Dinner
1 Pan-Fried Pork Chop (311 calories, 21g fat, 1g net carbs, 29g protein)
*Make extra for lunch the next day
Green Giant Mashed Cauliflower with cheddar and bacon (90 calories, 6g fat, 4g net carbs, 4g protein)
Cocktail
1 Vodka and Soda Water (76 calories, 0g fat, 3g net carbs, 0g protein)
Day 3 (Totals: 1690 calories, 130g fat, 20g net carbs, 98g protein)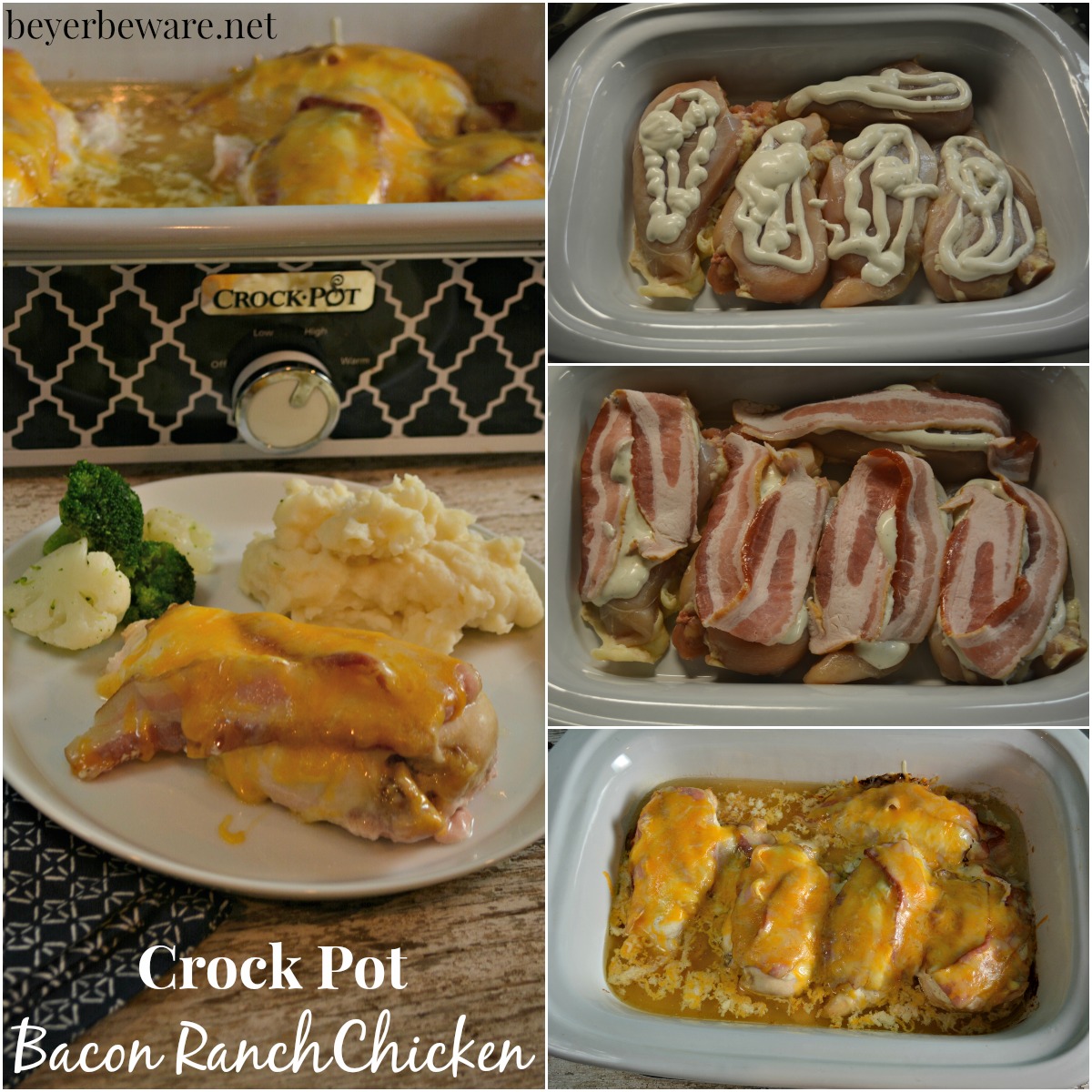 Breakfast
4 slices Air Fried Bacon in my Ninja Foodi (150 calories, 8g fat, 0g net carbs, 12g protein)
1 microwave mug egg  (63 Calories, 4g fat, 0g net carbs, 6g protein)
Coffee with 2 tablespoon Heavy Cream (105 calories, 11g fat, 1g net carbs, 1g protein)
Snack
2 Salami Wrapped Cheese Sticks (150 calories, 13g fat, 1g net carbs, 9g protein)
Lunch
1 Pan-Fried Pork Chop (311 calories, 21g fat, 1g net carbs, 29g protein)
Green Giant Mashed Cauliflower with cheddar and bacon (90 calories, 6g fat, 4g net carbs, 4g protein)
Snack
1 pouch of brineless olives (57 calories, 6g fat, 2g net carbs, 0g protein)
Dinner
1 Crock Pot Bacon Ranch Chicken (557 calories, 45g fat, 4g net carbs, 34g protein)
*Make extra for lunch the next day
½ cup Air Fried Brussels Sprouts (88 calories, 5g fat, 5g net carbs, 3g protein)
Sweet Snack
1 Atkins Caramel Nut Treat  (130  calories, 8g fat, 2g net carbs, 5g protein)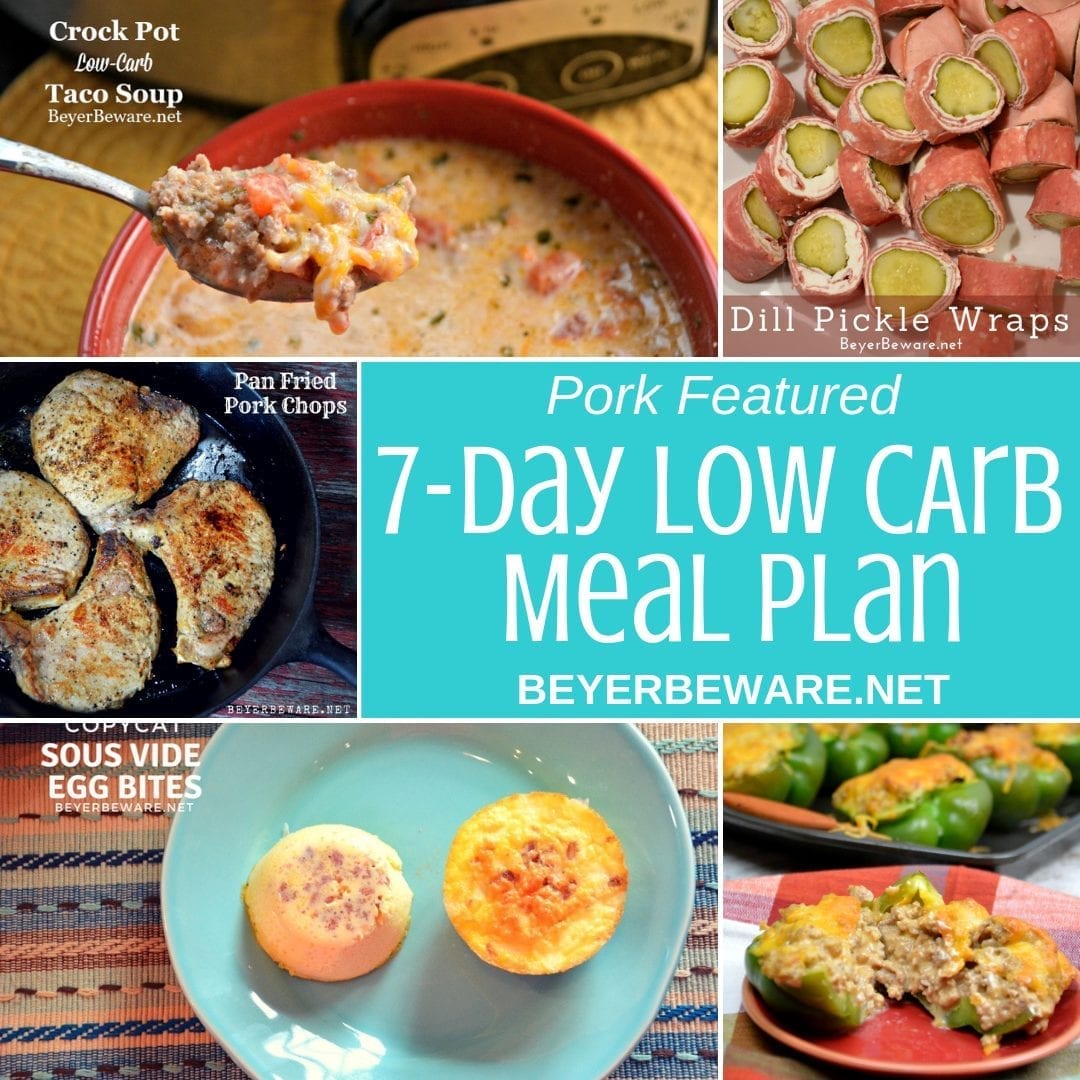 Day 4 (Totals:  1382 calories, 109g fat, 20g net carbs, 59g protein)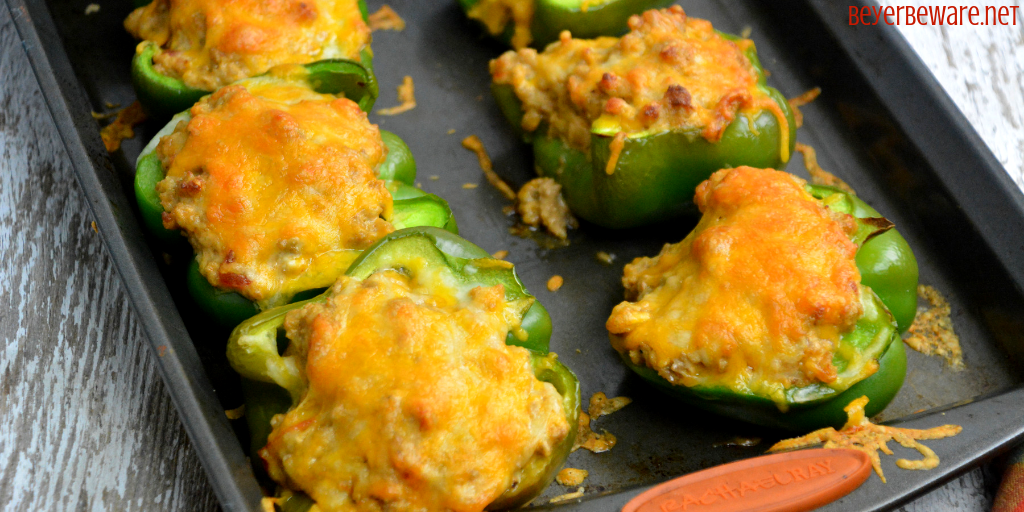 Breakfast
1 Sous Vide Egg Bites Copycat (259  calories, 20g fat, 2g net carbs, 16g protein)
Coffee with 2 tablespoon Heavy Cream (105 calories, 11g fat, 1g net carbs, 1g protein)
Snack
2 pickle wraps (168 calories, 16g fat, 4g net carbs, 2g protein)
Lunch
Ranch Cauliflower Salad (136 calories, 12g fat, 3g net carbs, 3g protein)
2  hard boiled egg (160 Calories, 10 g fat, 2g net carbs, 12g protein)
Snack
2 Salami Wrapped Cheese Sticks (150 calories, 13g fat, 1g net carbs, 9g protein)
Dinner
1 Taco Stuffed Pepper (412 calories, 33g fat, 7g net carbs, 20g protein)
Cocktail
1 Orange Lime Gin Fizz (76 calories, 0g fat, 3g net carbs, 0g protein)
Day 5 (Totals:  1561 calories, 115g fat, 19g net carbs, 87g protein)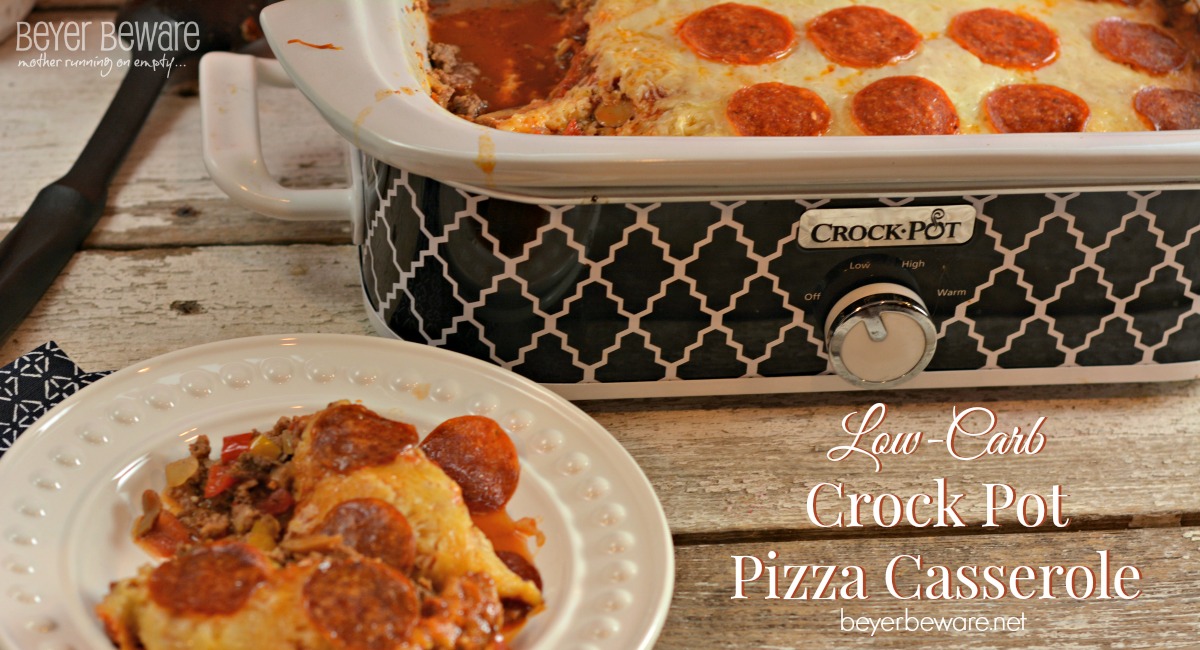 Breakfast
Low-Carb Sausage Ball (193 calories, 7g fat, 0g net carbs, 6g protein)
1 microwave mug egg  (63 Calories, 4g fat, 0g net carbs, 6g protein)
Coffee with 2 tablespoon Heavy Cream (105 calories, 11g fat, 1g net carbs, 1g protein)
Snack
1 pouch of brineless olives (57 calories, 6g fat, 2g net carbs, 0g protein)
Lunch
1 Italian Sub Roll-Ups (234 calories, 20.6g fat, 1g net carbs, 10g protein)
2  hard boiled egg (160 Calories, 10 g fat, 2g net carbs, 12g protein)
Snack
2 Salami Wrapped Cheese Sticks (150 calories, 13g fat, 1g net carbs, 9g protein)
Dinner
Crock Pot Low-Carb Pizza Casserole (462 calories, 33g fat, 9g net carbs, 30g protein)
Cocktail
1, 12-ounce can or bottle of Michelob Ultra (105 calories, 9g fat, 3g net carbs, 3g protein)
Day 6 (Totals: 1725 calories, 124g fat, 21g net carbs, 93g protein)
Breakfast
Crustless Bacon and Spinach Quiche (431 calories, 39g fat, 5g net carbs, 15g protein)
Coffee with 2 tablespoon Heavy Cream (120 calories, 12g fat, 1g net carbs, 0g protein)
Snack
1 pouch of brineless olives (57 calories, 6g fat, 2g net carbs, 0g protein)
Lunch
1 Taco Stuffed Pepper (412 calories, 33g fat, 7g net carbs, 20g protein)
Snack
2  hard boiled egg (160 Calories, 10 g fat, 2g net carbs, 12g protein)
Dinner
Chili Rubbed Slow Cooked Pulled Pork (184 calories, 6g fat, 0g net carbs, 29g protein)
Sauteed Asparagus with Bacon (206 calories, 17g fat, 4g net carbs, 7g protein)
Cocktail
Sparkling Ice Peach Nectarine and Vodka (131 calories, 0g fat, 0g net carbs, 0g protein)
Day 7 (Totals: 1690 calories, 130g fat, 20g net carbs, 98g protein)
Breakfast
Low-Carb Sausage Ball (193 calories, 7g fat, 0g net carbs, 6g protein)
1 microwave mug egg  (63 Calories, 4g fat, 0g net carbs, 6g protein)
Coffee with 2 tablespoon Heavy Cream (105 calories, 11g fat, 1g net carbs, 1g protein)
Snack
2 Salami Wrapped Cheese Sticks (150 calories, 13g fat, 1g net carbs, 9g protein)
Lunch
Chili Rubbed Slow Cooked Pulled Pork (184 calories, 6g fat, 0g net carbs, 29g protein)
2 cups fresh spinach
½ cup shredded colby-jack cheese
2 tablespoons ranch dressing
Snack
1 pouch of brineless olives (57 calories, 6g fat, 2g net carbs, 0g protein)
Dinner
Low Carb Tuscan Soup (437 calories, 42g fat, 4g net carbs, 11g protein)
Sweet Snack
1 Atkins Caramel Nut Treat  (130  calories, 8g fat, 2g net carbs, 5g protein)