Disclosure: *This post may include amazon links. As an Amazon Associate, I earn from qualifying purchases.
I love a good burger. Beef burgers, pork burgers, lamb burgers. I love them all. When I decided to jump in feet first with burger month activities with Girl Carnivore, I knew it was time to pull out the burger I have made over and over in my head for the activities. The burger is a cajun pork burger topped with shrimp and then drenched in a cajun aioli. Let me just tell you, these cajun pork burgers with shrimp and cajun aioli is going to be a regular burger on our grill this summer.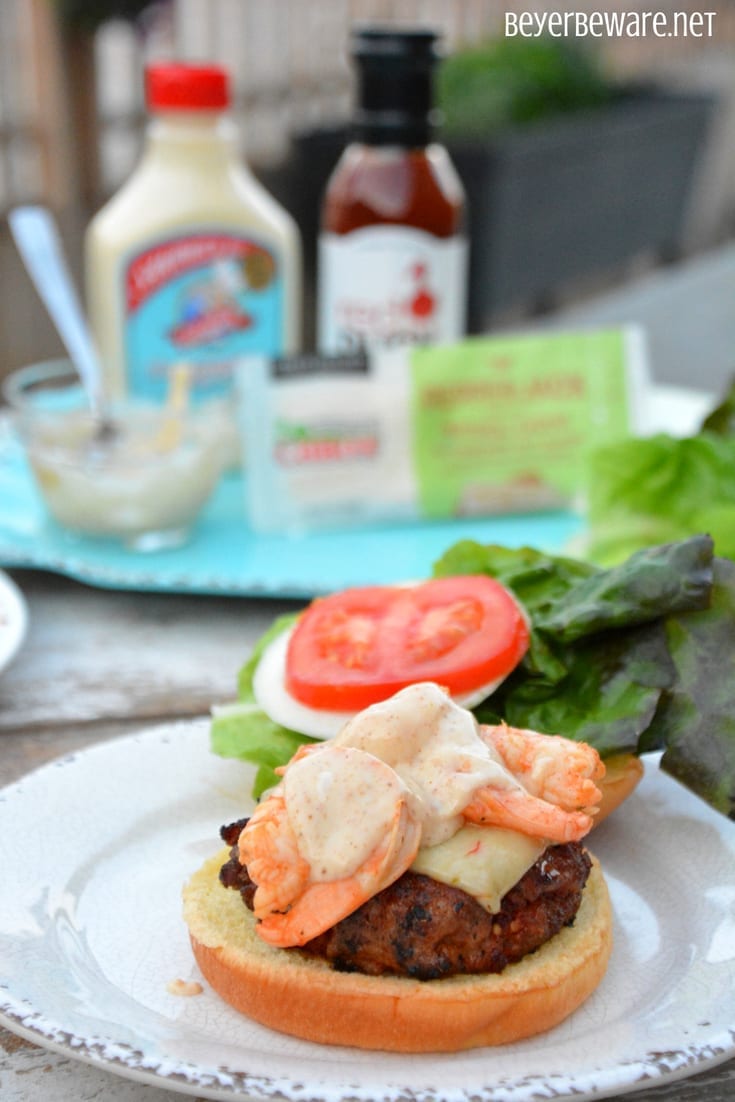 Whether you like a burger with lots of veggies or not, this burger is absolutely full of flavor and using brioche hamburger buns makes it taste and feel even more decadent. Who knew a surf and turf burger wouldn't have to be beef and lobster but rather pork and shrimp!
Cajun Pork Burgers with Shrimp and Spicy Aioli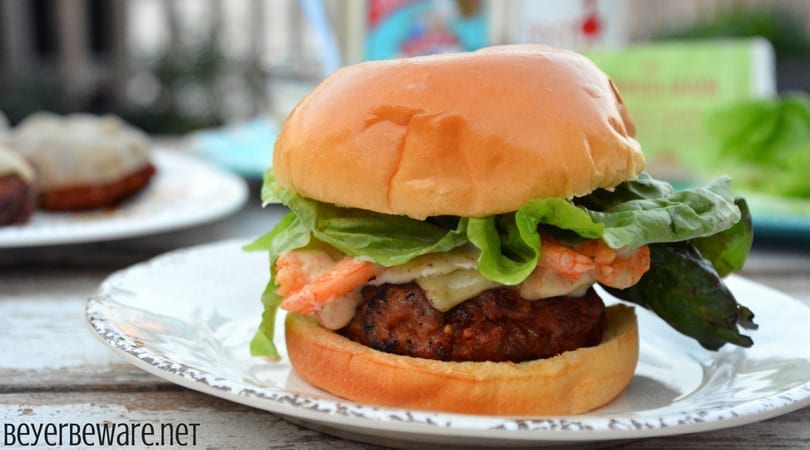 Since we have freezers full of ground pork and beef, I am always looking for various different burgers to make during the summer. Nothing beats a basic pork or beef burger, but I can't just leave well enough alone. I love me some chorizo and have been plotting how to combine chorizo with ground pork for a Cajun burger. After having some surf and turf burgers at restaurants, I decided this pork burger would amazing with grilled spicy cajun shrimp on top.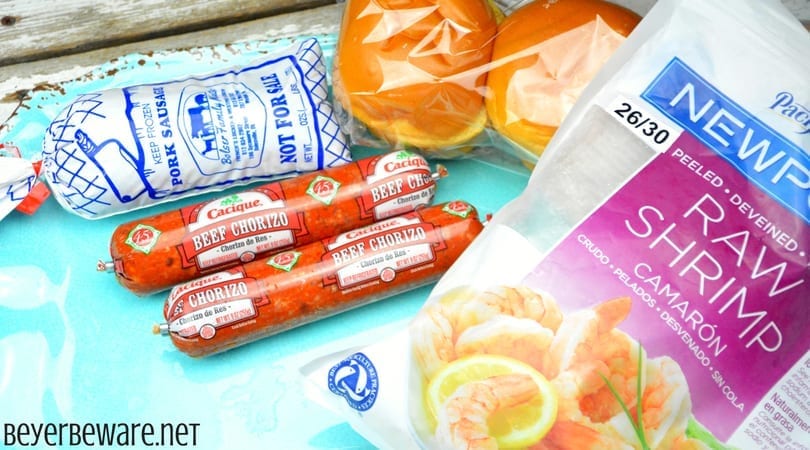 I started by combining the ground pork and chorizo. I used beef chorizo because that is what my grocery store had in stock. The chorizo is located near the breakfast sausage in most grocery stores. Along with ground pork and chorizo, I add grated parmesan cheese to act as a binder.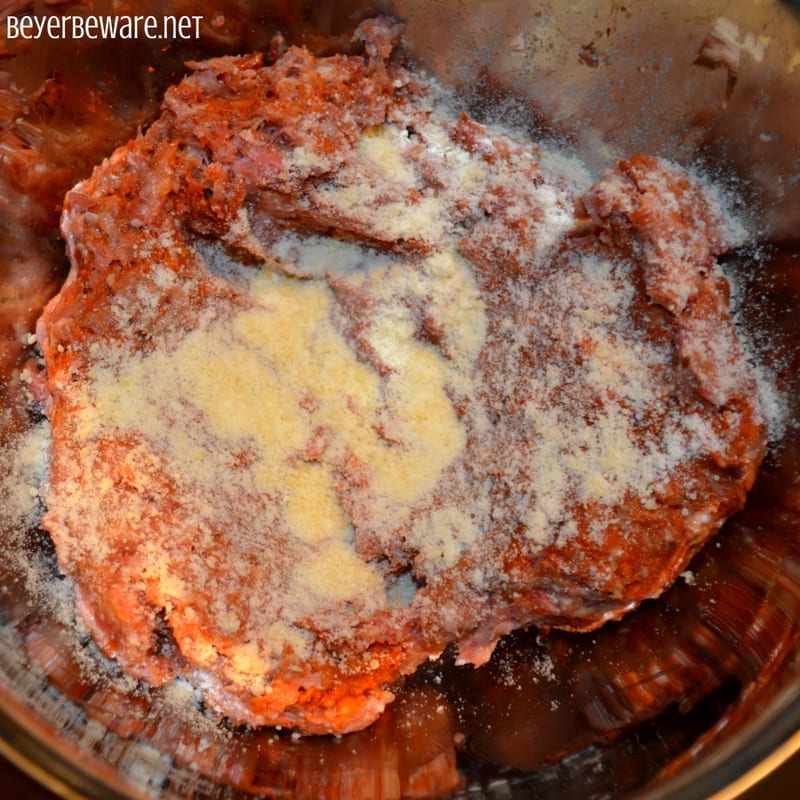 Form six patties and then season with cajun seasoning. The burgers are ready to hit the grill. I like to grill burgers of 350-degree charcoal in my Big Green Egg grill.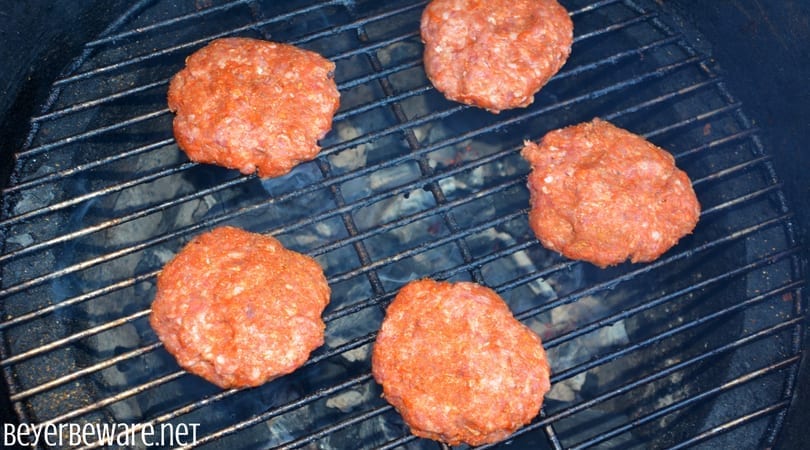 I grilled the burgers for 5-7 minutes on each side and topped with some pepper jack cheese from Cabot. Once they were flipped I also put the spicy marinating shrimp on the grill with some butter and lemon sliced. The shrimp and burgers were all done at the same time this way.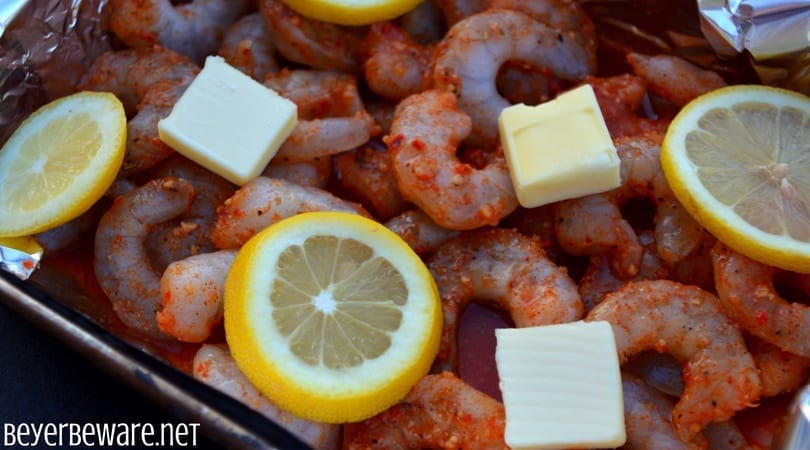 The building of the burgers became an easy task with the cheesy cajun burgers coming off the grill the same time as the shrimp. I started with some brioche hamburger buns and then stack the burger and topped it with three or four shrimp.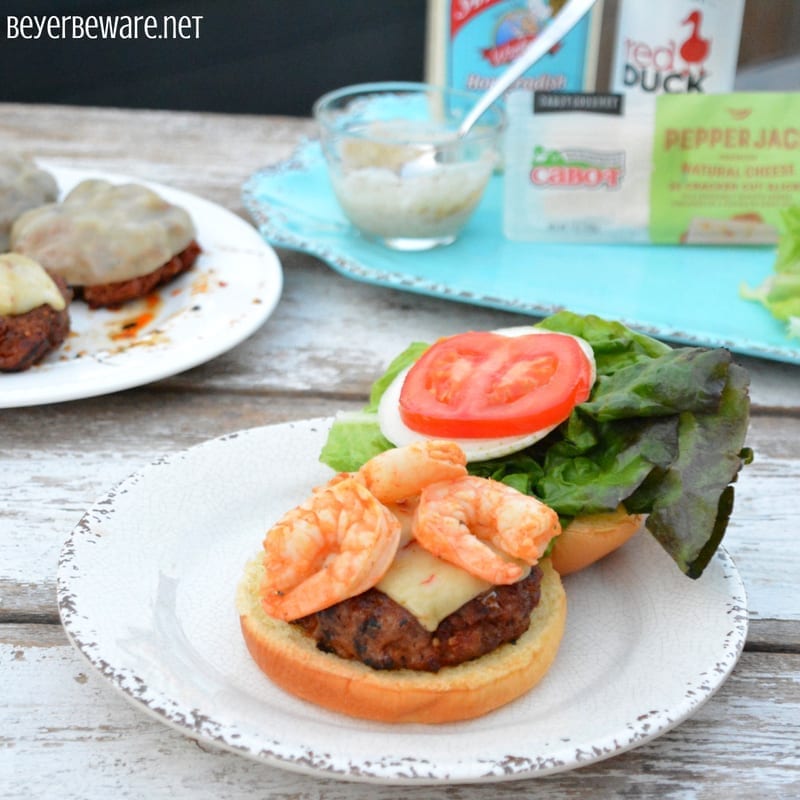 While the burgers were grilling I made some horseradish mayonnaise even better by adding the cajun seasoning to it. I then drenched it in the spicy aioli sauce and garnished with lettuce, onion, and tomato. This made for a killer burger.
Speaking of burgers...

It is burger month in May. Girl Carnivore is hosting an epic giveaway in honor of the month. The prizes are amazing. Don't miss out on your chance to sign up for the prizes from the gracious sponsors.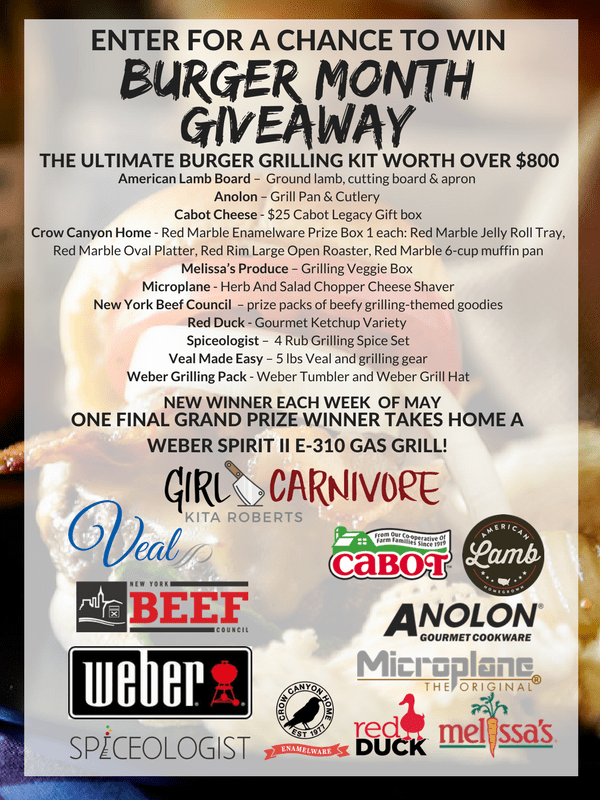 A huge thanks to the #BurgerMonth sponsors,  American Lamb Board, Anolon, Cabot Cheese, Melissa's Produce, Microplane, New York Beef Council, Red Duck, Spiceologist, Veal Made Easy, and Weber Grills.
Best Burger Recipes
The Best Pork Burger Seasoning
📖 Recipe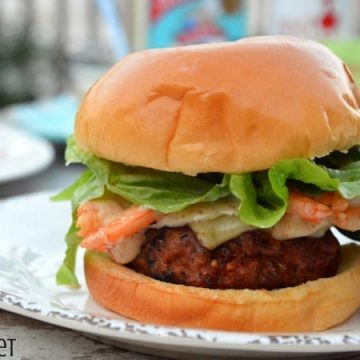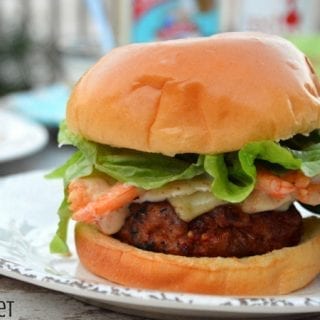 Cajun Pork Burgers with Shrimp and Spicy Aioli
The Cajun pork burgers topped with shrimp and then drenched in a Cajun aioli combine ground pork, chorizo, with a Cajun seasoned horseradish mayonnaise for a perfect surf and turf burger recipe.
Print
Rate
Ingredients
1

pound

ground pork

10

ounces

pork or beef chorizo

½

cup

grated parmesan cheese

1

pound

peeled and no-tail shrimp

2

lemons

1

envelope

Italian dressing seasoning

1

teaspoon

paprika

¼

teaspoon

cayenne pepper

½

teaspoon

Tabasco sauce

2

cloves

garlic, minced

cajun seasoning

4

tablespoons

butter

6

slices

pepper jack cheese

6

brioche buns

1

bottle

horseradish creamy sauce
Instructions
In a large ziplock bag, combine shrimp, juice from one lemon, Italian dressing seasoning, paprika, cayenne, garlic, and Tabasco sauce. Seal the bag and shake to coat the shrimp. Set aside.

Mix together the ground pork, chorizo, and parmesan cheese. Form into six patties.

Cook patties on 350-degree grill. Season both sides with cajun seasoning before placing on the grill. Cook for 5-7 minutes on one side and then flip.

Place the shrimp in a grill pan lined with aluminum with the marinade. Place the butter cut into multiple pats on the shrimp. Use the remaining lemon for slices on top of the shrimp.

Put on the grill once the burgers have been flipped. Cook until all the shrimp are fully pinked and curled tight.

Place cheese on the burgers right before removing from the grill to start the melting.

While the burgers are grilling, combine ½ cup of the horseradish cream sauce with 1 teaspoon of the cajun seasoning.

When the burgers and shrimp are cooked, build your burger by placing a burger on the bottom of the bun and three to four shrimp on top of the burger. Drench in the Cajun sauce.

Garnish with your favorite burger toppings.
Nutrition
Calories:
965
kcal
|
Carbohydrates:
43
g
|
Protein:
54
g
|
Fat:
64
g
|
Saturated Fat:
31
g
|
Polyunsaturated Fat:
3
g
|
Monounsaturated Fat:
12
g
|
Trans Fat:
1
g
|
Cholesterol:
464
mg
|
Sodium:
1896
mg
|
Potassium:
373
mg
|
Fiber:
1
g
|
Sugar:
1
g
|
Vitamin A:
1571
IU
|
Vitamin C:
23
mg
|
Calcium:
434
mg
|
Iron:
5
mg
This post was not paid for however I did recieve sponsored items to test myself. No, I didn't get the grill!