Disclosure: *This post may include amazon links. As an Amazon Associate, I earn from qualifying purchases.
My food vice seems to be Mexican food. I can't get enough of it. It is so hard to eat Mexican cuisine when you are trying to eat low-carb with all the tortillas and shells and rice and beans. But I just needed some Mexican food the other day. I decided I couldn't just eat taco soup every time I get a craving. Low-Carb Taco Bake combines the favorite flavors of Mexican food in one pan for a meal that is baked to a flavorful and cheesy keto taco casserole.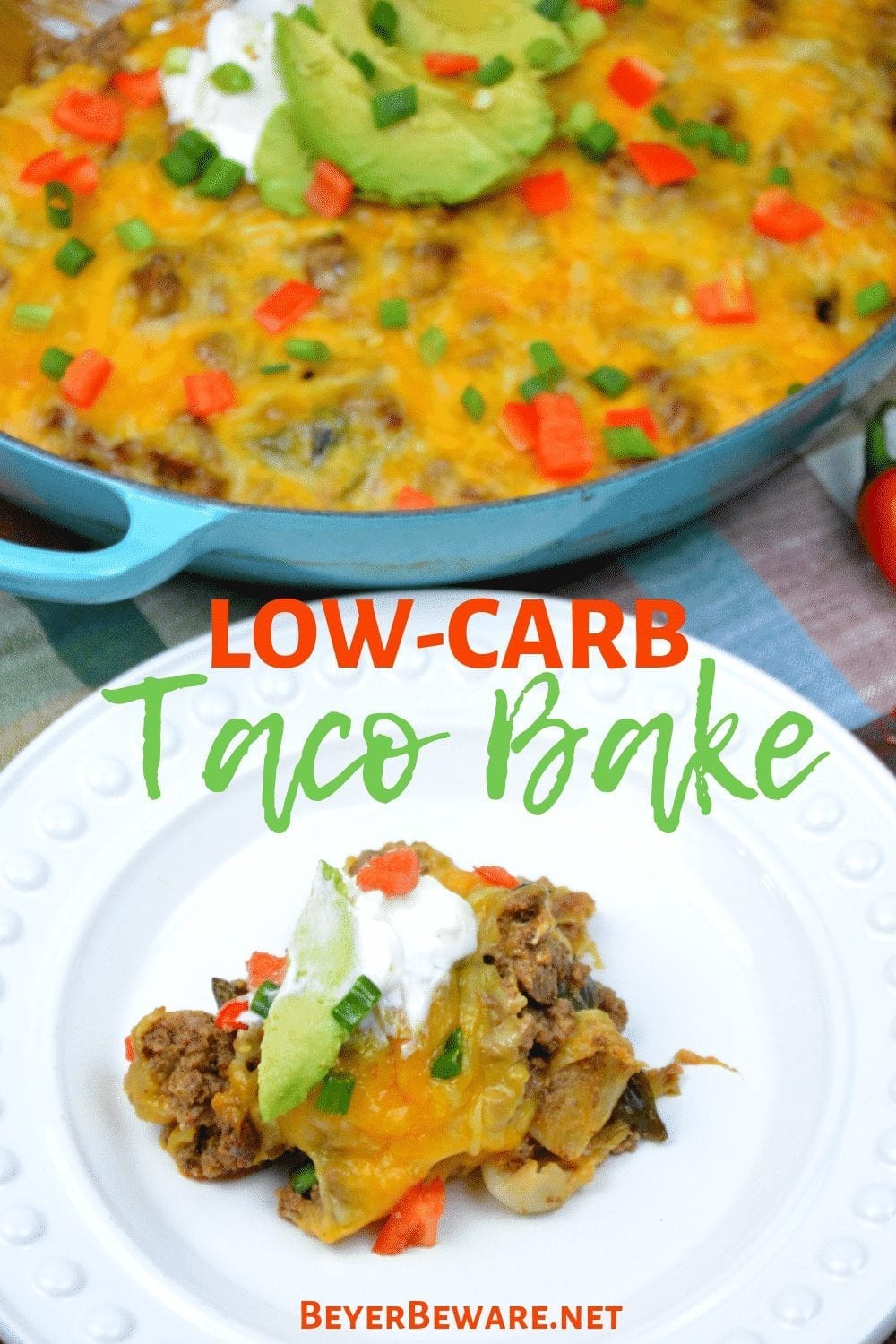 The best thing about this low-carb taco bake is how it is all done in my favorite Le Creuset braiser. If you don't have a cast iron skillet or a braiser, invest in one. They are perfect for going from the stove to the oven.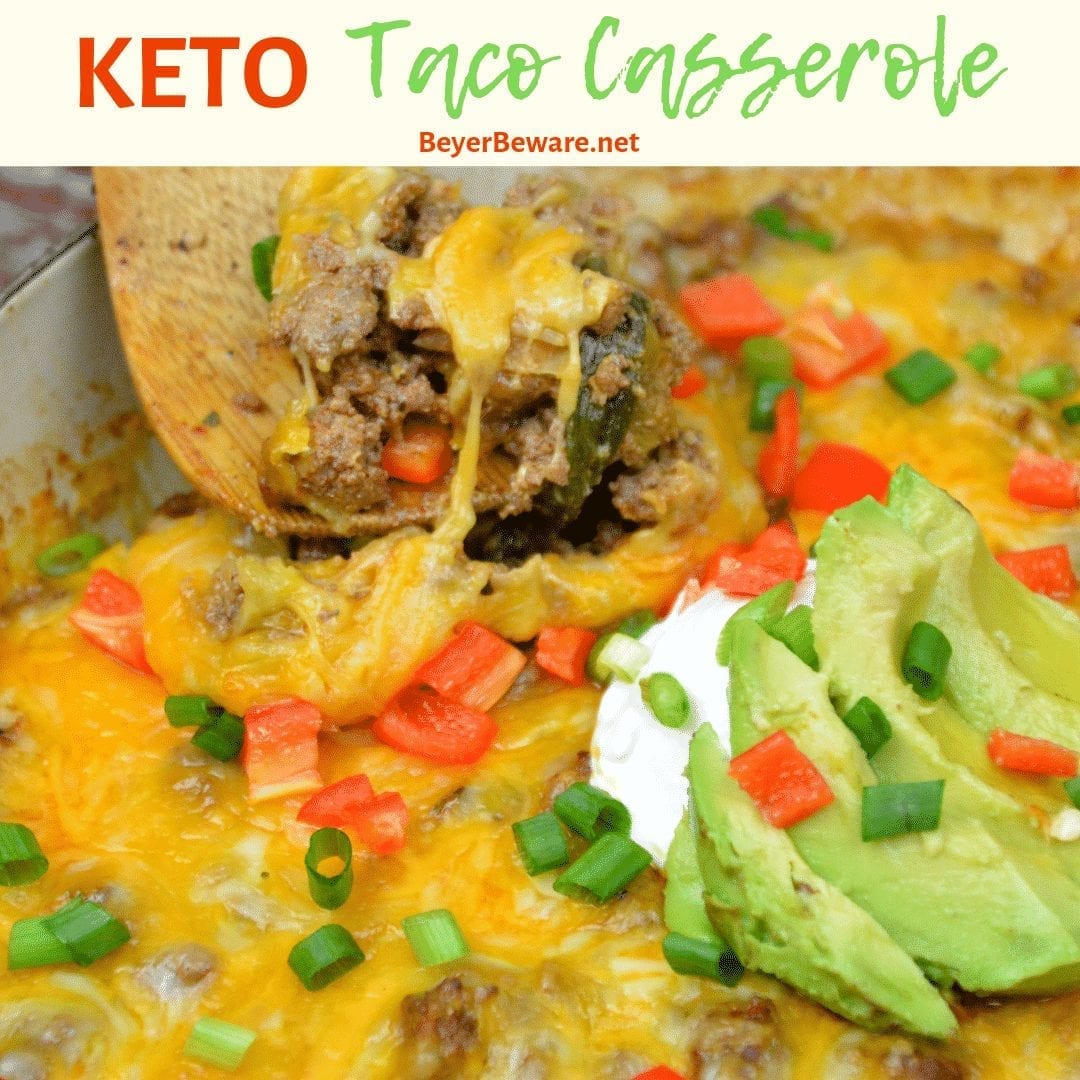 Low-Carb Taco Bake
The base of the taco bake is browned ground beef with Mexican onions also known as baby onions and garlic. These baby onions are slightly larger than green onions. I know, I know onions and garlic can be tricky with Keto. But, I am telling you the onions and garlic are way less damaging than a tortilla shell or chip.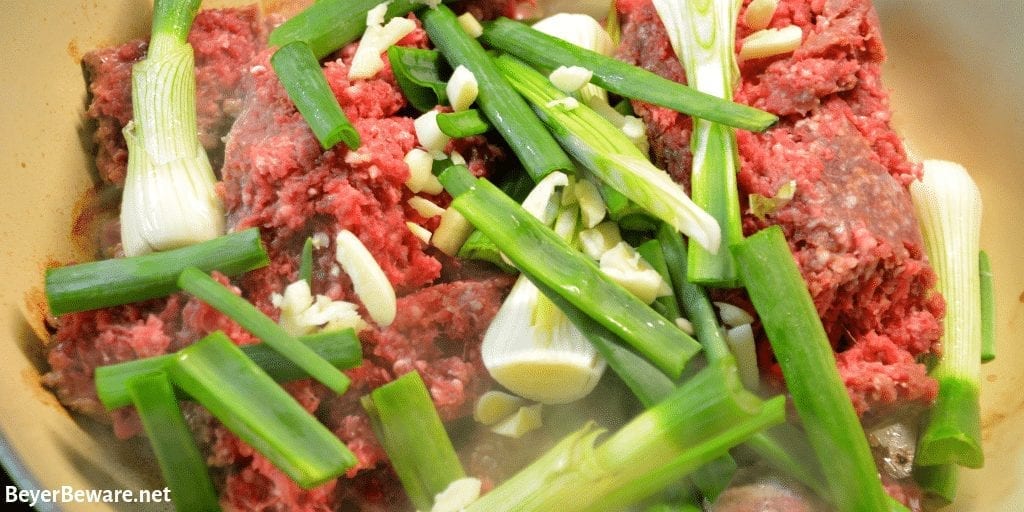 Season the meat with ancho chili powder, cumin, salt, Mexican oregano, and paprika. If you are using an 80/20 hamburger you don't need to add any fat. For a lean hamburger, go ahead and add a little cooking oil to the pan while it cooks as well.
While the beef is cooking combine enchilada sauce and eggs. If you don't want to use enchilada sauce, tomato sauce could also be used. Also, substituting heavy whipping cream would also work.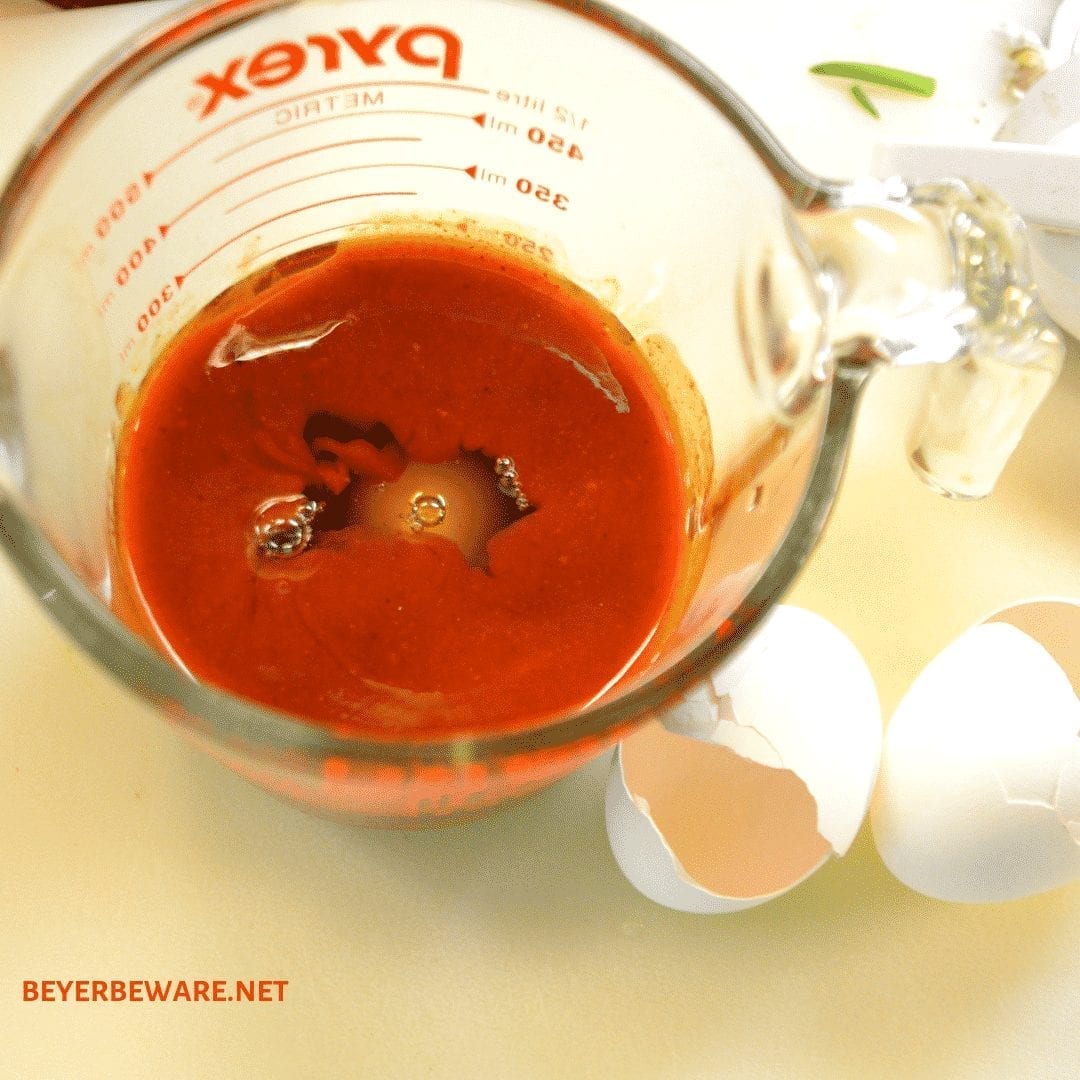 When the ground beef is done cooking, pour the enchilada sauce mixture over the beef and then stir to combine. The sauce should be completely incorporated into the meat.

Generously cover the taco casserole with a healthy amount of a shredded Mexican cheese blend. Cover all the way to the edges.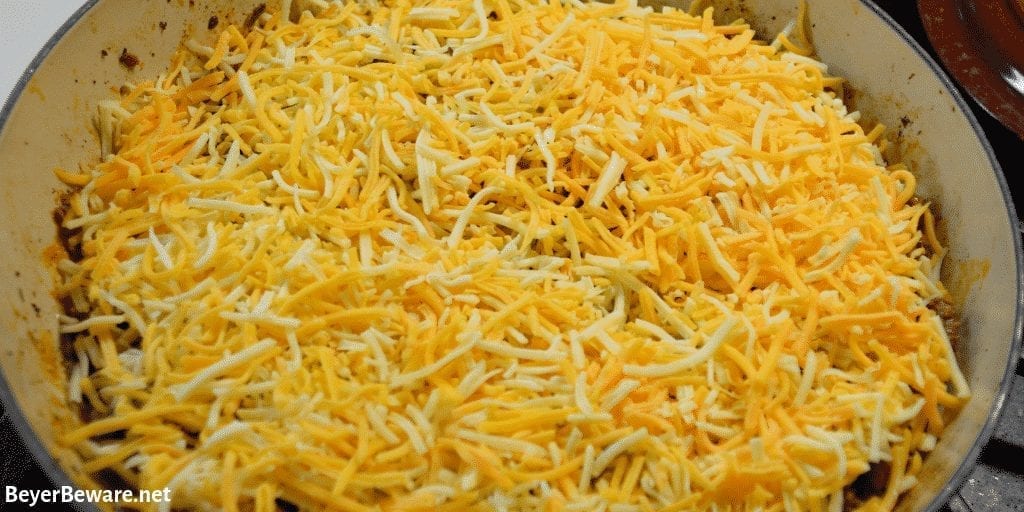 Bake for 15 minutes in a 350-degree oven. The low-carb taco bake should be bubbly with all the cheese melted when it is done.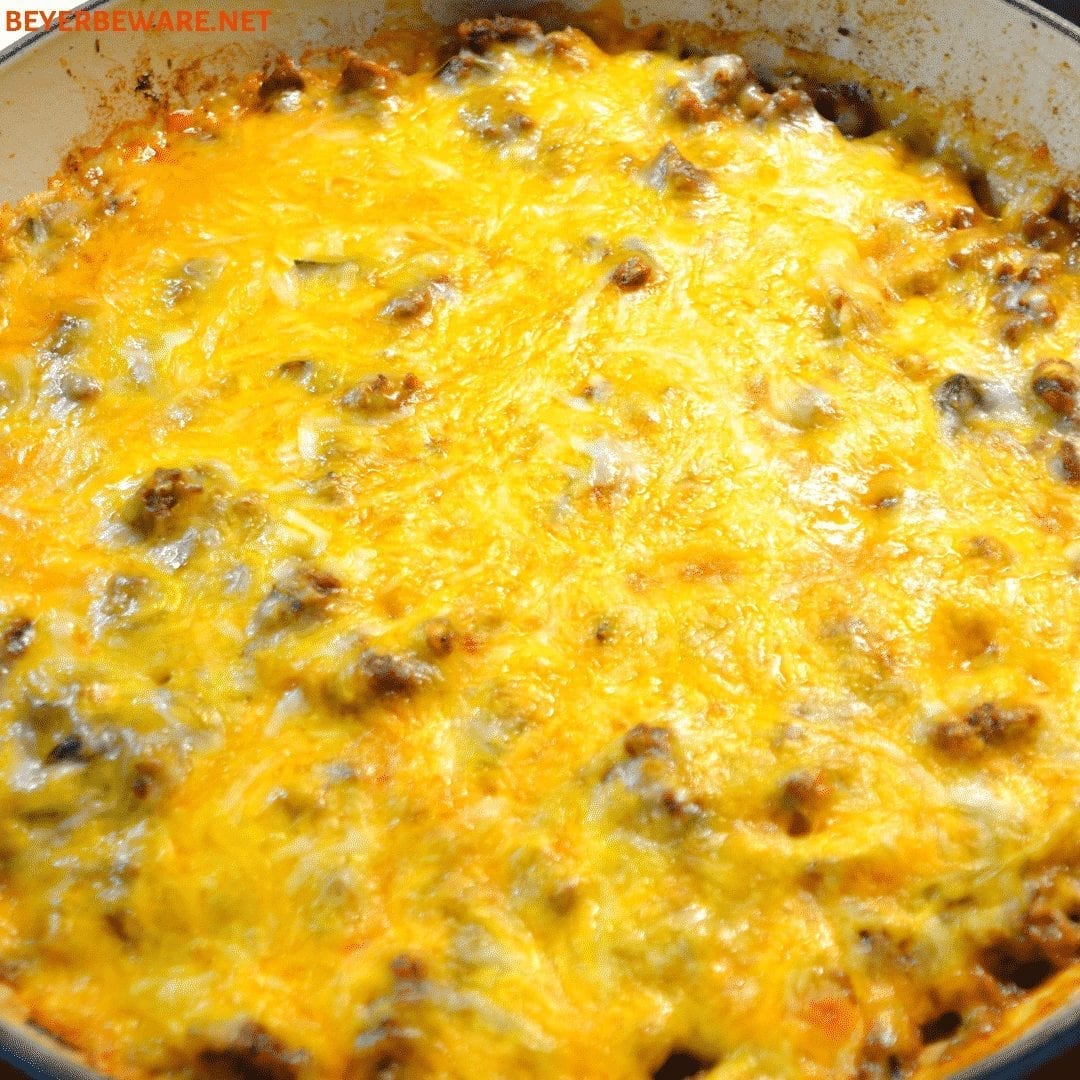 Let me be honest, this casserole is ready to eat just like this. Dig in. But I of course needed some green onions and bell peppers along with sour cream and avocado for garnish. Go ahead and garnish with what every you would eat on your standard tacos.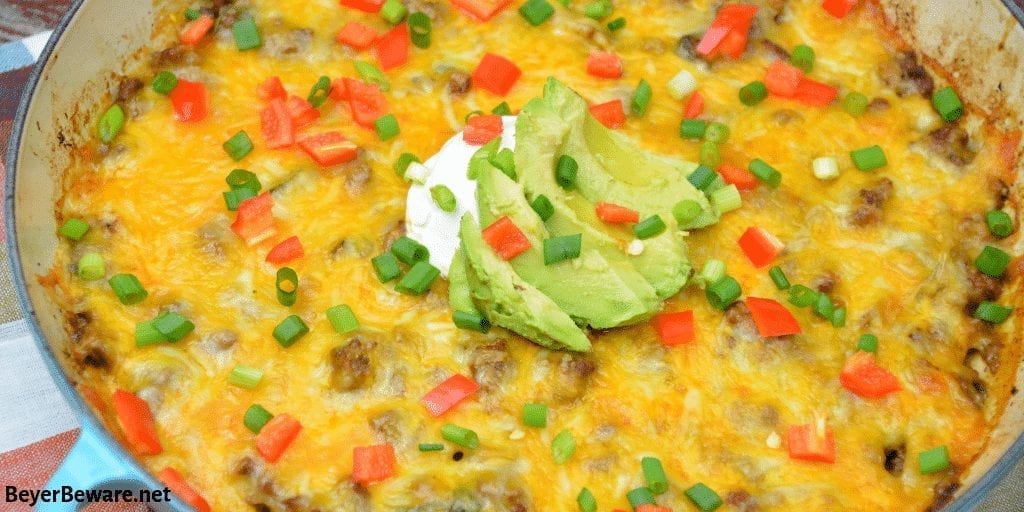 The flavors of this keto taco casserole are just what a Mexican food addict needed. Slightly spicy with lots of cheese for a beefy and filling low carb recipe.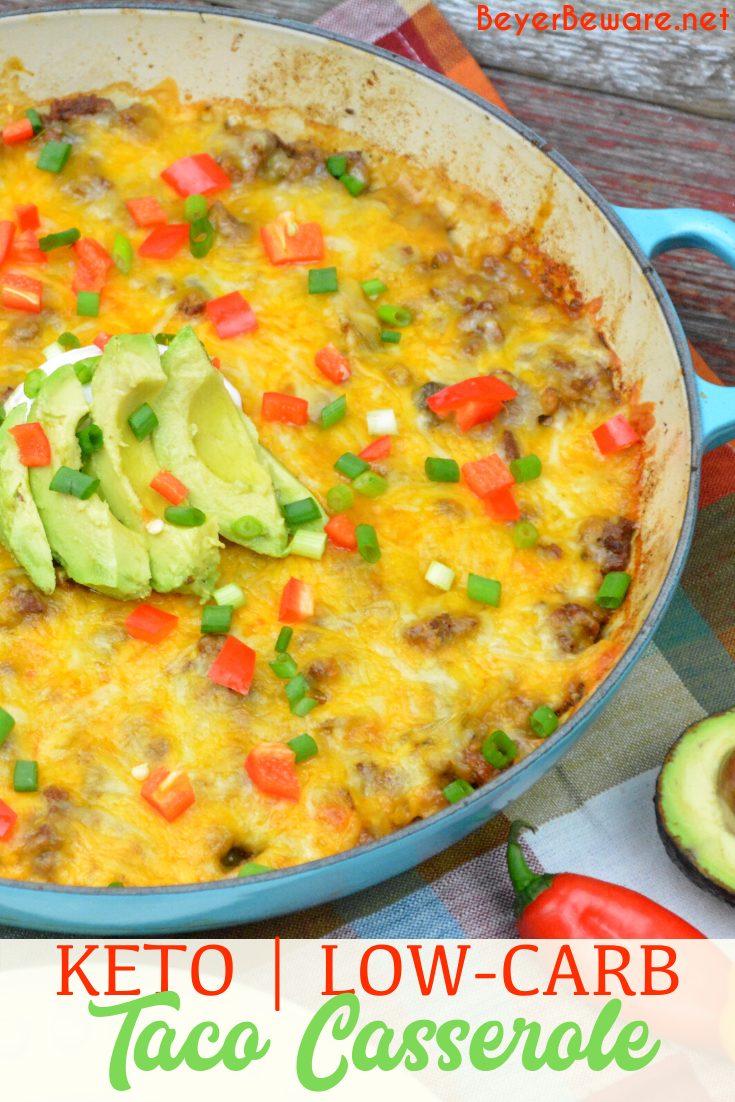 This low-carb taco bake is going to for sure become a staple in your low-carb meal rotation.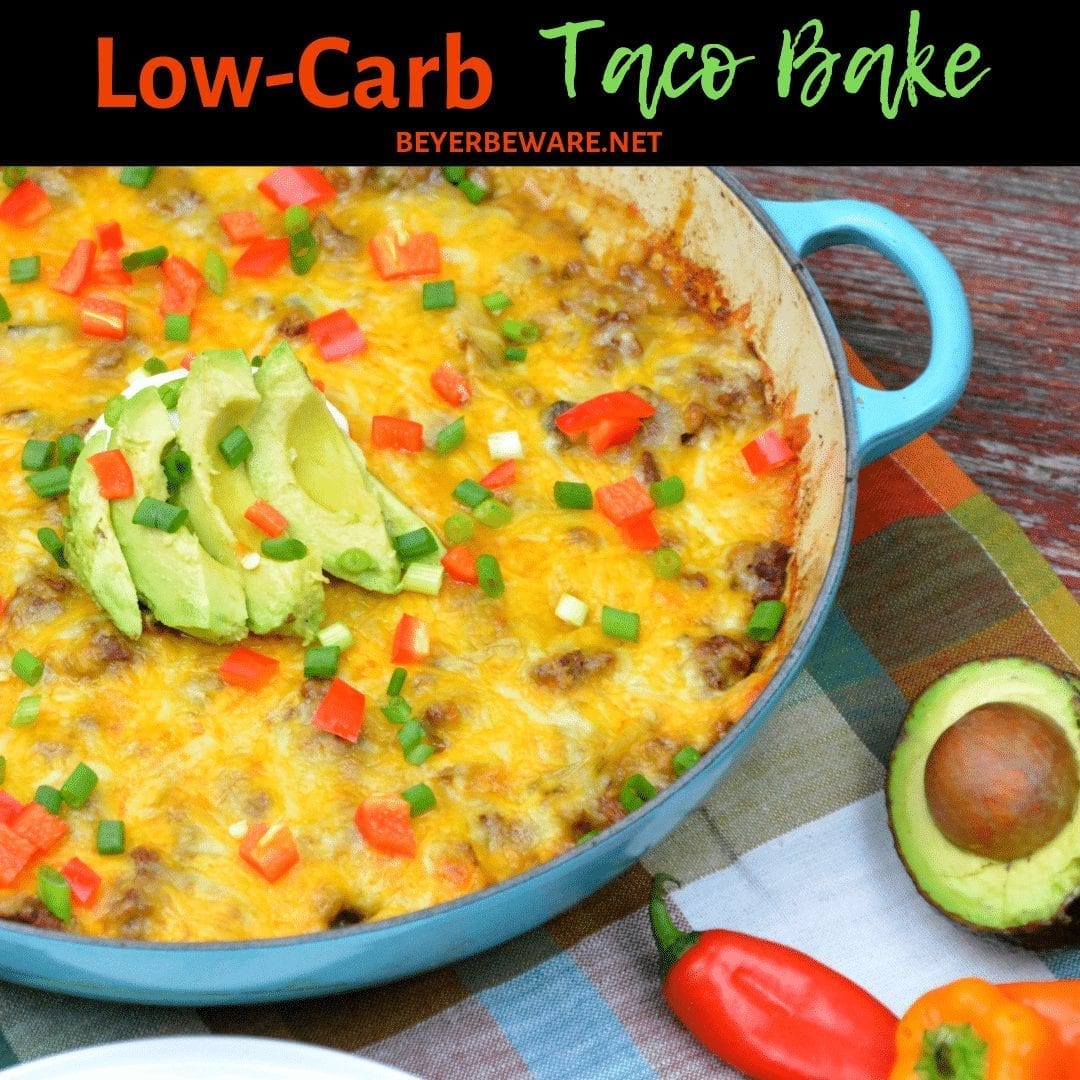 Go ahead and make this great keto taco casserole.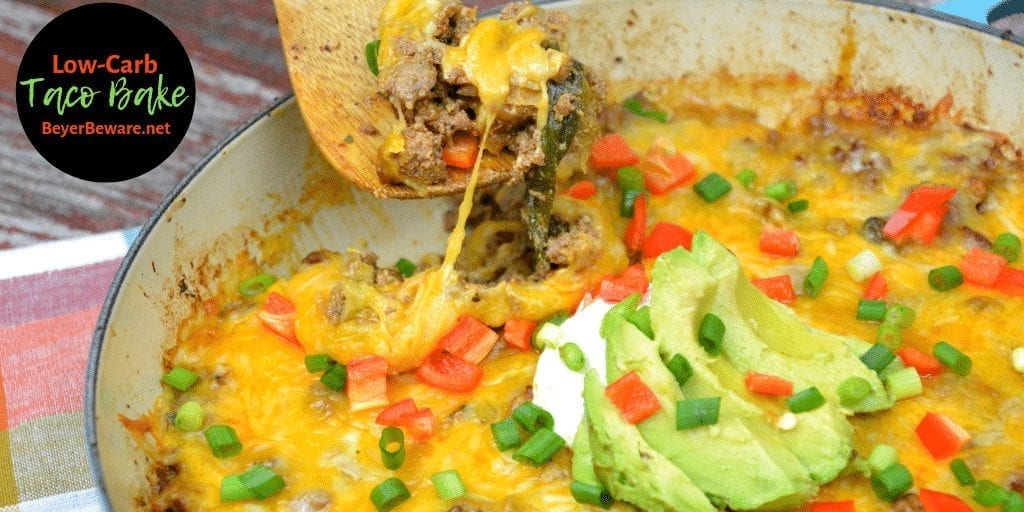 Tips for Making Low-Carb or Keto Casseroles
Read the labels of any sauces. Flours, corn meals, food starches are hidden in sauces.
Don't overdo the onions and garlic. Both can carry more sugar and carbs than you realize.
Eggs are your new binder. When you can add pasta, rice, or even bread to bind a casserole together, you use eggs.
Fat is your friend. Don't be afraid to use 80/20 ground beef and then don't drain the fat. Especially if you are on keto.
Low-Carb Mexican Recipes
Crock Pot Low-Carb Taco Lasagna
Low-Carb Crock Pot Chicken Tortilla Soup
More Keto Diet Tips Available!! How to stock your kitchen for low carb or keto dieting
📖 Recipe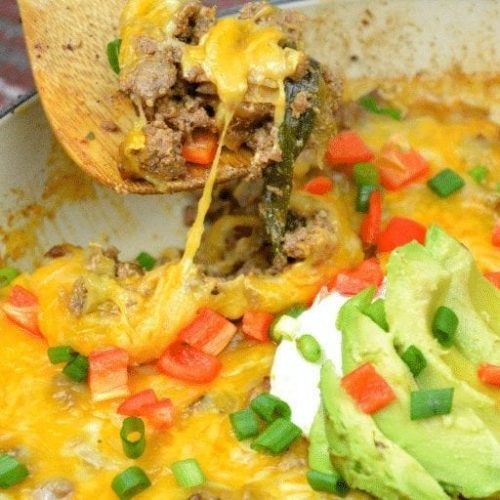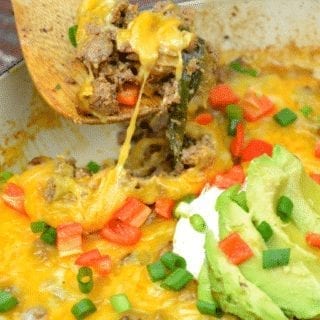 Low-Carb Taco Bake - Keto Taco Casserole
Low-Carb Taco Bake combines the favorite flavors of Mexican food in one pan for a meal that is baked to a flavorful and cheesy keto taco casserole. #LowCarbTaco #LowCarb #Keto #TacoBake #Taco #GroundBeef #MexicanFood
Print
Rate
Ingredients
2

pounds

ground beef

3

Mexican onions or baby onions

2

cloves

garlic, minced

1

teaspoon

salt

½

teaspoon

cumin

1

teaspoon

ancho chili powder

½

teaspoon

paprika

1

teaspoon

Mexican oregano

2

eggs

1

cup

enchilada sauce or tomato sauce

2

cups

Mexican shredded cheese

1

whole

avocado, sliced

1

cup

sour cream

green onions and mini bell pepper for garnish

1

tablespoon

oil, optional
Instructions
Pre-heat the oven at 350 degrees.

In a large braiser or cast iron skillet begin browning the ground beef, Mexican onions, and garlic. Season the meat with the seasonings and add oil if beef is leaner than 80/20. Stir the meat to break it apart as it cooks.

In a small bowl, mix the enchilada sauce and eggs together. If you don't want to use enchilada sauce, tomato sauce can be substituted.

When the beef is cooked, stir the enchilada and egg combination into the meat in the skillet. If your skillet is not oven safe, transfer it to a casserole dish for baking.

Top the meat with the cheese and bake for 15 minutes.

Garnish the low-carb taco bake with sour cream, avocado, green onions, and bell peppers.
Nutrition
Calories:
492
kcal
|
Carbohydrates:
5
g
|
Protein:
29
g
|
Fat:
39
g
|
Saturated Fat:
17
g
|
Cholesterol:
163
mg
|
Sodium:
866
mg
|
Potassium:
403
mg
|
Fiber:
1
g
|
Sugar:
3
g
|
Vitamin A:
804
IU
|
Vitamin C:
2
mg
|
Calcium:
251
mg
|
Iron:
3
mg