Disclosure: *This post may include amazon links. As an Amazon Associate, I earn from qualifying purchases.
When we buy a whole or half of beef, we inevitably end up with unused cuts of beef. Either because it gets buried in the freezer or I just can't figure out what to make it with certain cuts. It appeared last freezer cleaning, I had a surplus of cube steaks. Being summer, I decided to give the cube steaks a go on the grill but decided to marinade and skewer the steaks to help make them more tender. This teriyaki beef cube steak skewers might be my new favorite cube steak recipe since my kids love chicken on a stick too.
Teriyaki Beef or Chicken on a Stick Ingredients
The marinade is simple to make teriyaki sauce. I almost used a store-bought marinade, but then realized I needed to open a can of pineapple juice to make some Malibu sangria anyway. So, from scratch teriyaki sauce got a green light.
The marinade plus either cube steaks, another steak, or chicken tenderloins plus the following ingredients for the marinade.
Pineapple Juice - I just buy small 8-ounce or 10-ounce cans of pineapple juice by the case now from Sam's club. I use these things for my favorite cocktails over on farmwifedrinks.com and then all sorts of recipes and marinades.
Soy Sauce - Traditional, regular soy sauce. If you are watching your salt intake, you will want the reduced sodium.
Brown Sugar - Light brown sugar. It is a necessary item in my kitchen even though I don't really bake.
Onions - White onions or sweet. I am partial to sweet but white will work fine too.
Garlic - Because can you even make one of my recipes without garlic. You definitely can't have Asian food without garlic.
Ginger - Fresh or Powdered but love the fresh for this homemade teriyaki sauce recipe.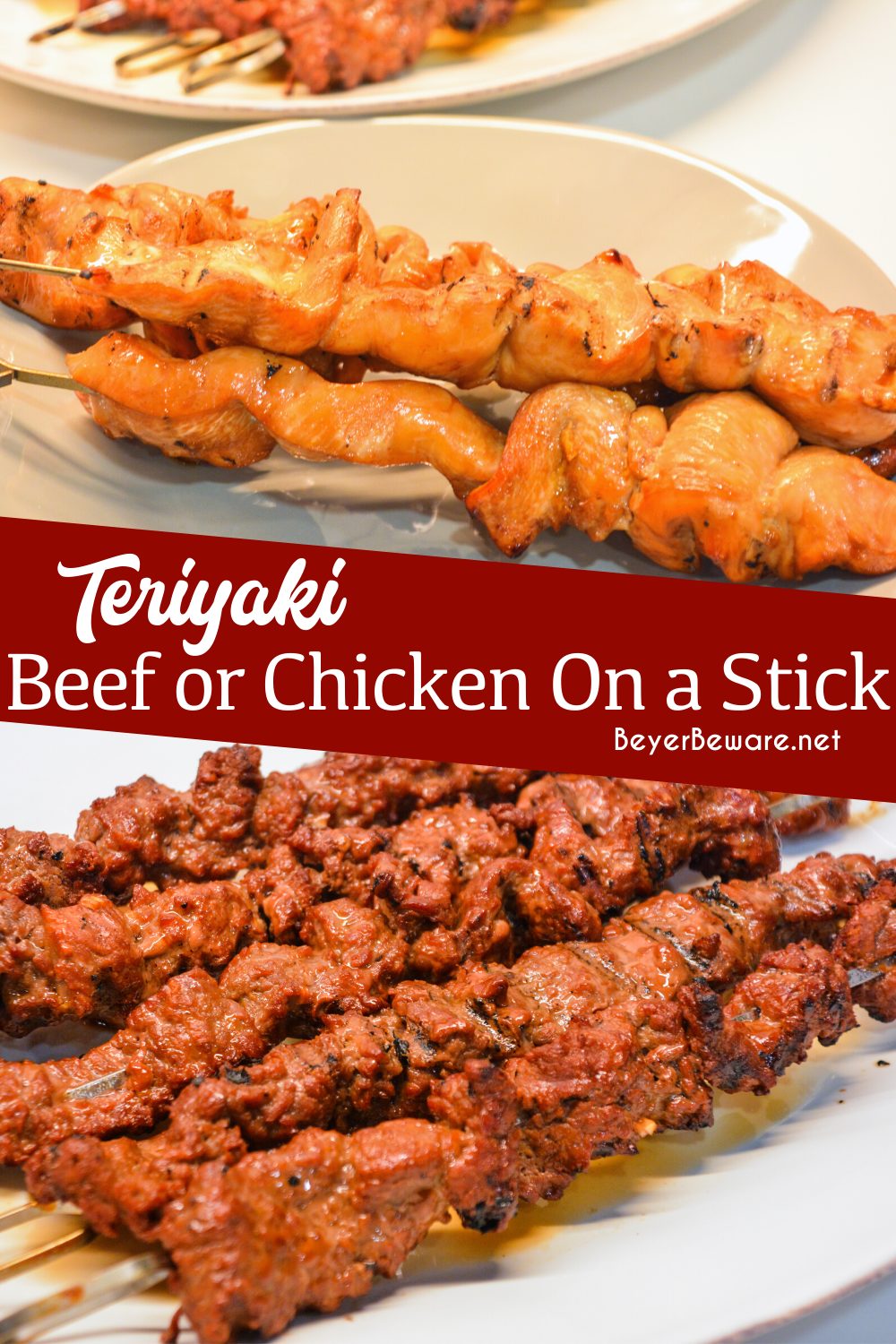 How to Make Teriyaki Cube Steak Skewers
The thing with cube steak is the butcher has done a lot to help the round steak be much more tender. You will note there is a direction of the cuts are going. To slice the steak into 1-inch strips, cut the opposite direction of the tenderizing slices. This will guarantee tender steak.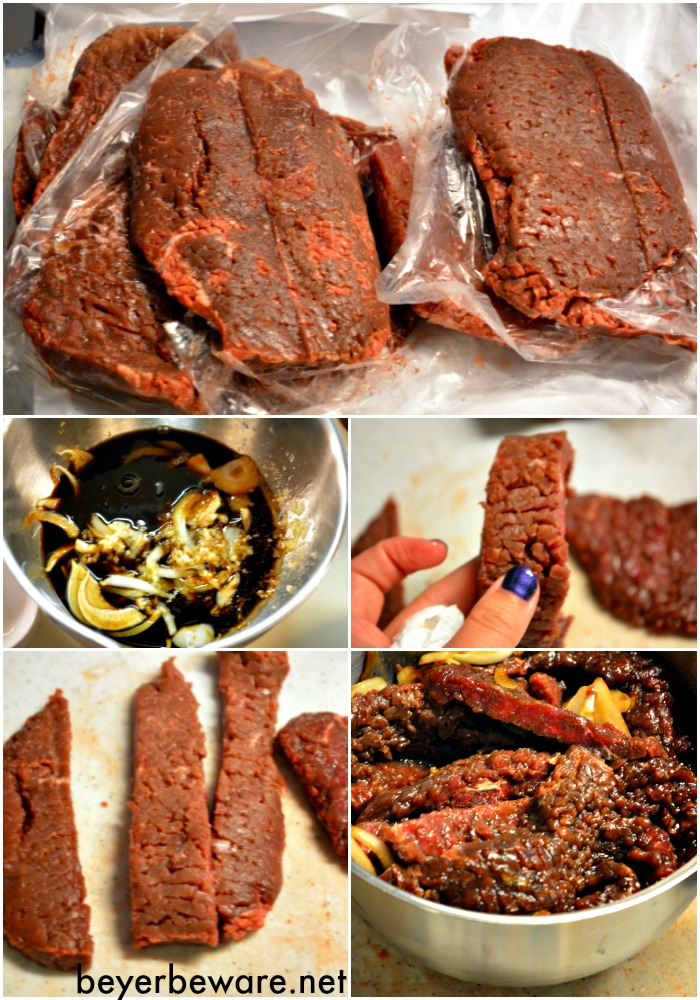 The teriyaki marinade is a sweeter version of teriyaki. Soy sauce, brown sugar, pineapple juice, oil, garlic, and onions. Simple to make. Combine and then drench and soak the beef in the teriyaki marinade.
I marinaded the beef for an hour and then began skewering.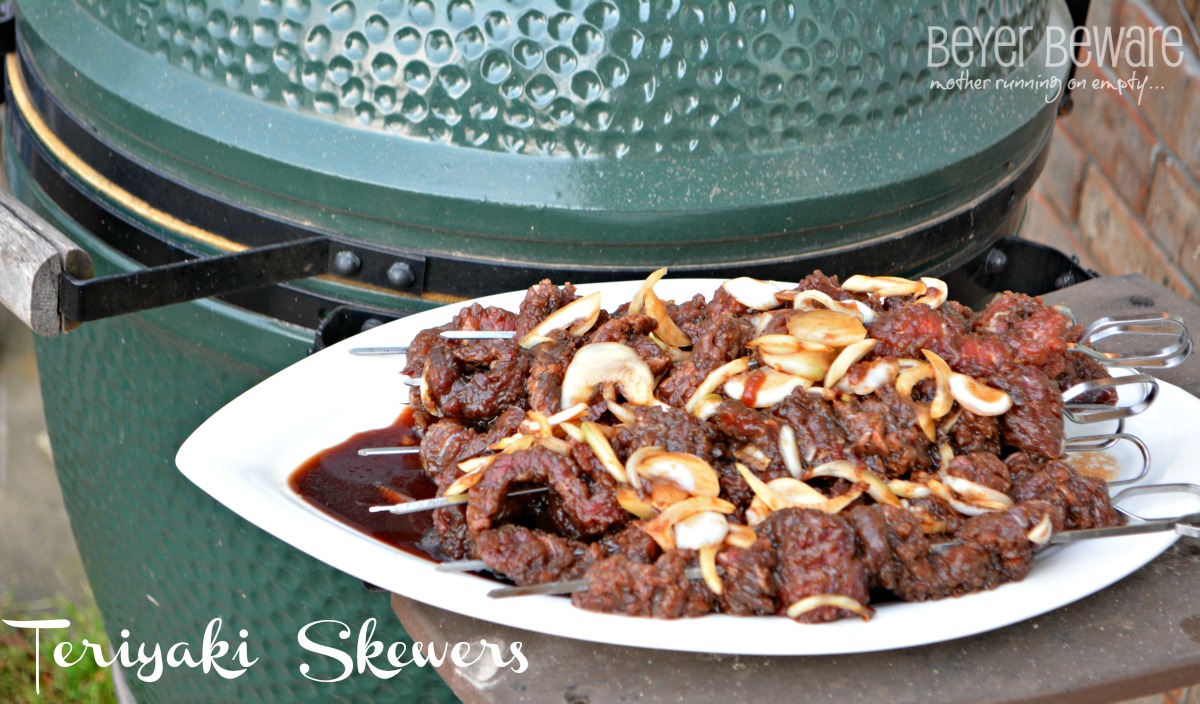 I put about four to five strips on each of my 10-inch long steel grilling skewers. The steak strips are not all the same length, but would not fill all the way to the end. Leave room in case the steak moves around as the skewers are flipped. I positioned the onions on the steak as long as possible but did not actually skewer the onions.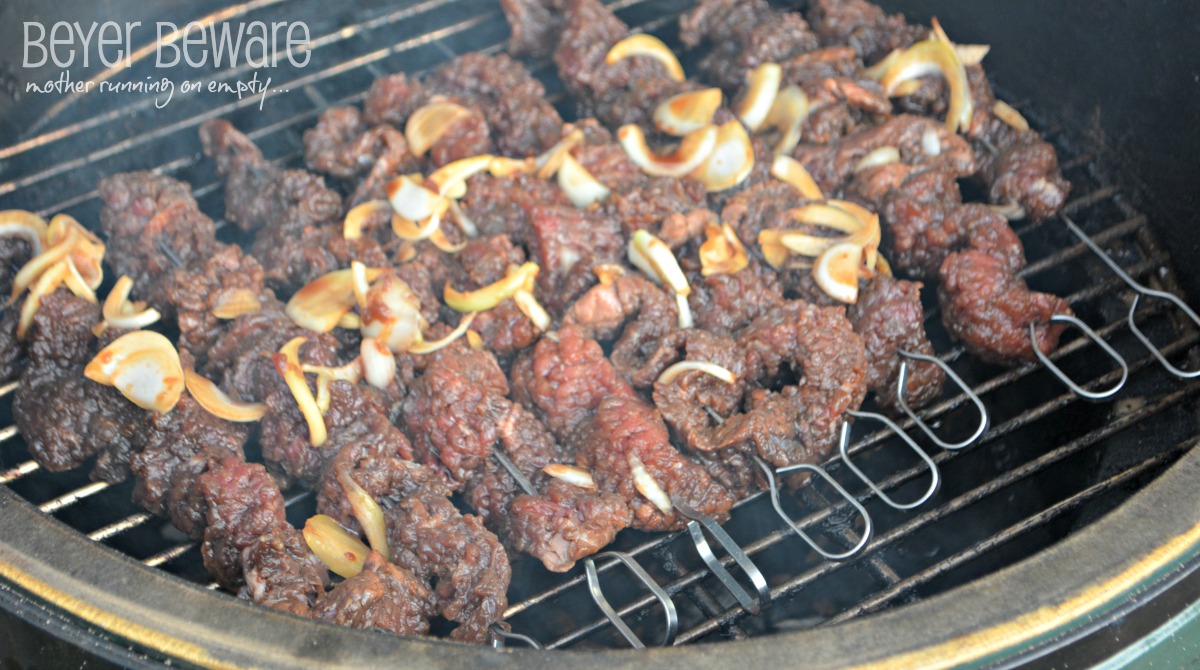 Now, grilling them can be a little harder to get the perfect temperature. Even though I am a medium rare lover, these steak skewers were closer to a medium-well and still juicy, tender, and flavorful. The kids loved eating them straight off the skewer.
While the kids chugged down their milk, I drank a bottle of 2014 Cabernet from Club W, the wine club I am in with Katie from over in Fancy in the Country. And since the husband doesn't drink wine, I drank both glasses. Oh cripes, I drank the whole bottle.
These teriyaki beef skewers will now become a regular staple with our surplus of beef we have in the freezer now. We love them so much we also make Teriyaki Pork on a stick skewers too.
Easy Cubed Beef Steak Recipes
Here are some more great recipes for cubed beef steaks. If you like buying cubed beef, then look no further for cubed beef recipes.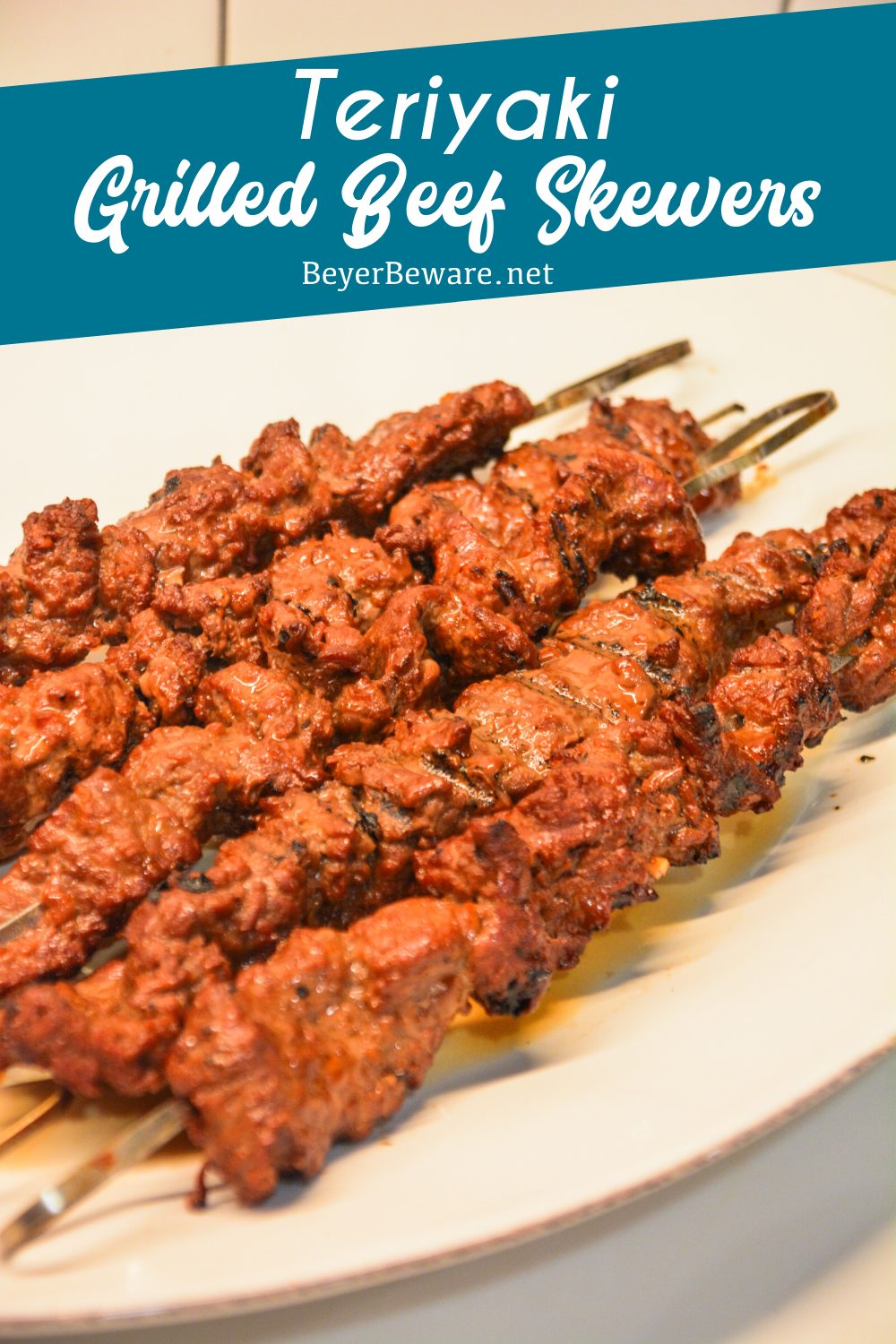 📖 Recipe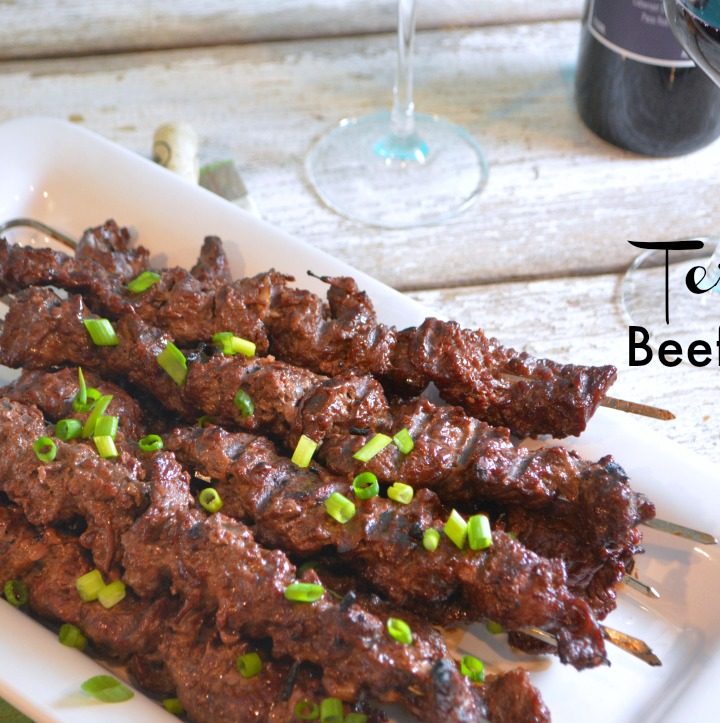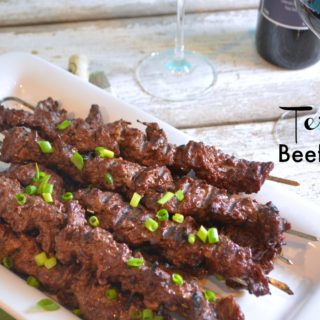 Teriyaki Beef Cube Steak or Chicken Skewers
Teriyaki Beef Skewers recipe is a simple to make teriyaki marinade and can use any cut of steak including cube steak or for chicken on a stick.
Print
Rate
Ingredients
2

pounds

cube steak, other steak, or chicken

cut in 1 inch strips against the grain

¾

cup

soy sauce

¾

cup

brown sugar

½

cup

pineapple juice

¼

cup

vegetable oil

⅓

cup

sliced onions

2

cloves

garlic

minced

½

teaspoon

fresh ginger

green onions for garnish
Instructions
Combine brown sugar, soy sauce, pineapple juice, vegetable oil, ginger, and garlic together in a large bowl. Stir in onions.

Place beef slices into the marinade and stir to coat. Cover and refrigerate for at least one hour.

Remove beef from the marinade, and thread beef slices in a zig-zag onto the skewers..

Place skewers on preheated grill until the beef is cooked through, about 3 -5 minutes per side.

Remove from grill and garnish with sliced green onions.
Nutrition
Calories:
374
kcal
|
Carbohydrates:
24
g
|
Protein:
26
g
|
Fat:
19
g
|
Saturated Fat:
10
g
|
Cholesterol:
82
mg
|
Sodium:
1290
mg
|
Potassium:
482
mg
|
Fiber:
1
g
|
Sugar:
22
g
|
Vitamin A:
15
IU
|
Vitamin C:
2
mg
|
Calcium:
52
mg
|
Iron:
3
mg