Disclosure: *This post may include amazon links. As an Amazon Associate, I earn from qualifying purchases.
When I want a fast meal, I pull cube steak out of the freezer. Cube steak is a round steak that has been put through the tenderizer making them thin and quick to cook. I am equally a fan of the air fryer. This meant a perfect match one night when I created this quick air fryer cube steak fingers recipe. Air fryer cube steak fingers are a naked steak finger made with a simple marinade of avocado oil and Worcestershire sauce and then seasoned with steak seasoning and then air fried.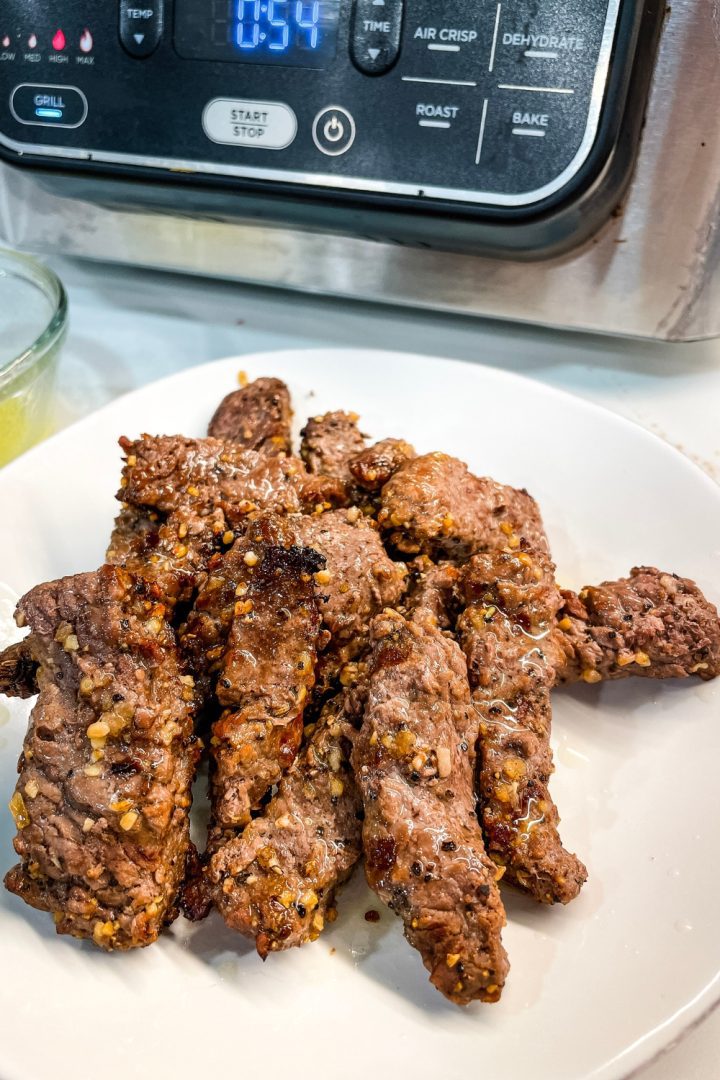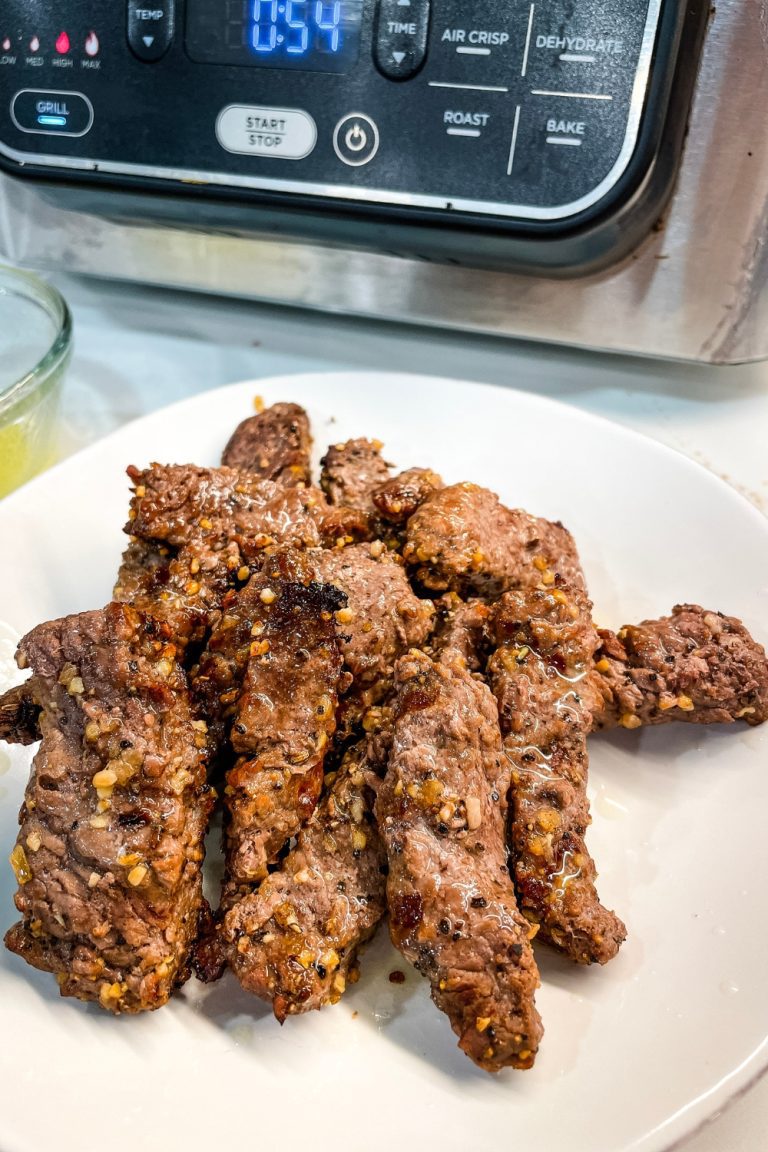 Cube steak is a super affordable cut of beef whether you buy it in the grocery store or directly from a farm like Family Traditions Beef where these cube steaks came from. More and more beef farmers are able to ship beef directly to you just like Family Traditions does from here in Indiana. Then you can order beef directly from farmers no matter where you live.
I make a ton of beef cube steak recipes, and my skillet cube steak recipes are my favorite. This recipe was definitely inspired by my cube steak sandwich recipe. These steak bites were great with Instant Pot mashed potatoes too.
Jump to:
Air Fryer Steak Fingers Ingredients
These air fryer steak fingers are a naked steak finger recipe, almost like steak bites. The ingredients are so similar to the ingredients of a grilled steak. However, cube steak is a lean cut of meat, so both oil and butter take the flavors up a notch.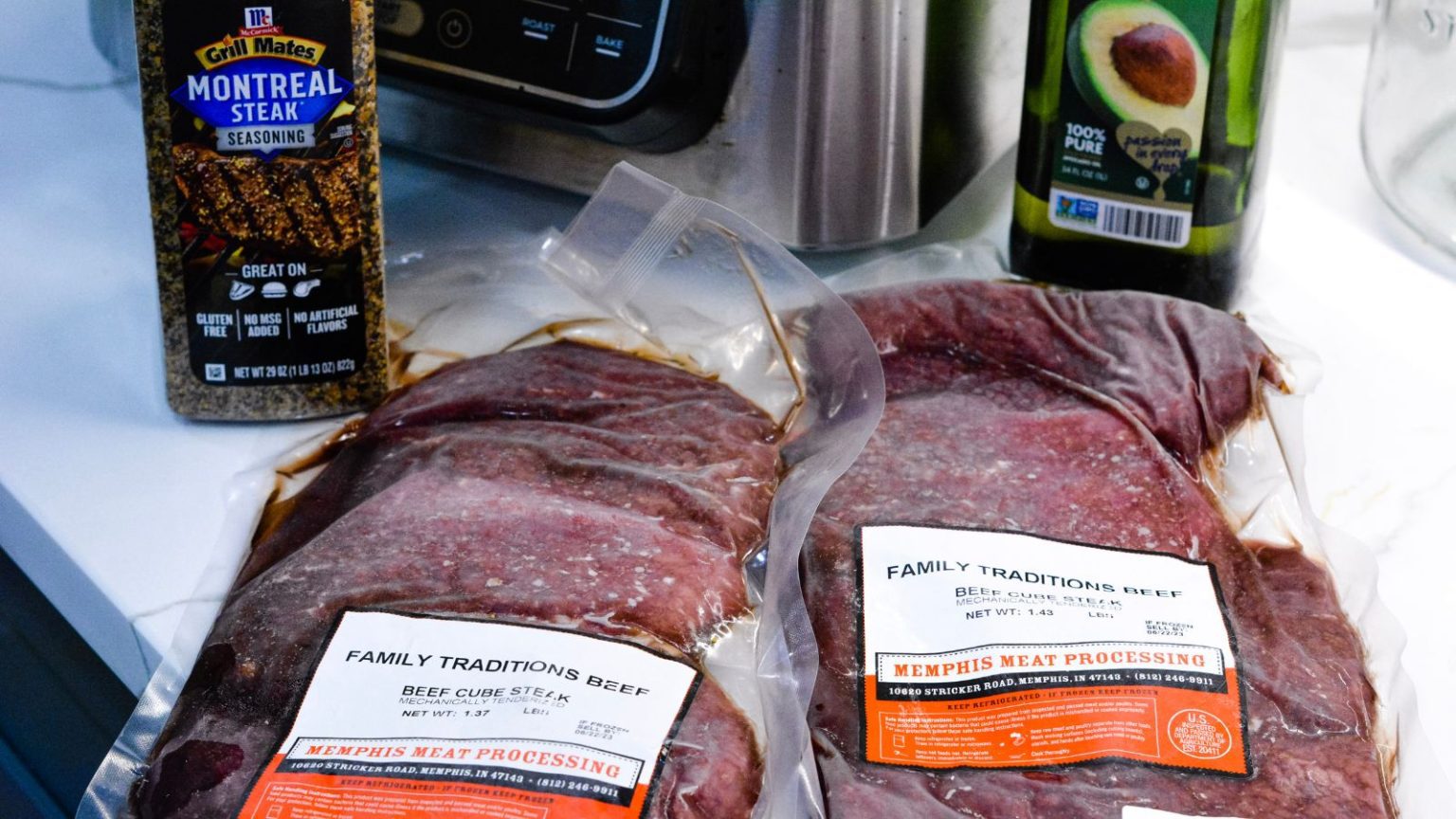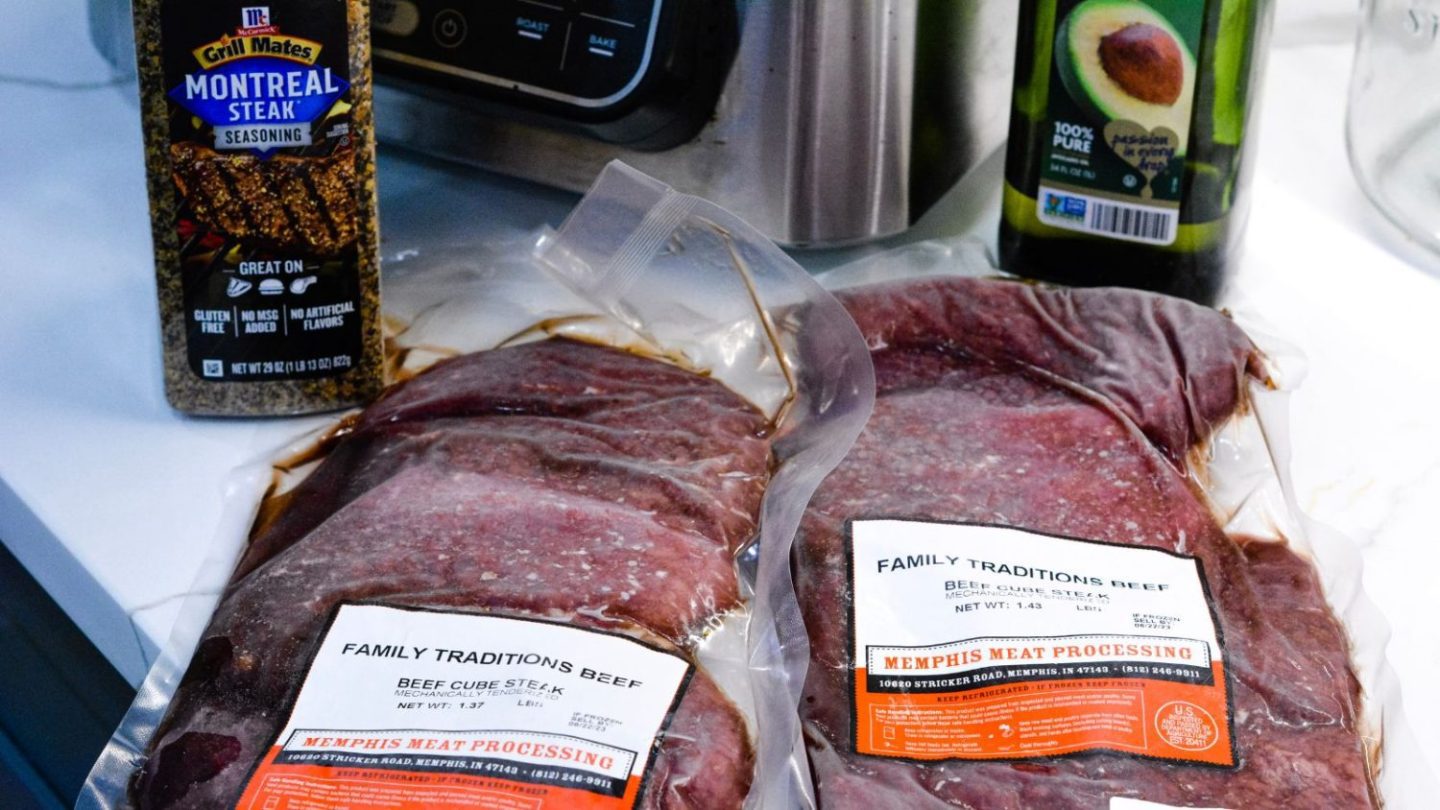 Beef Cube Steak - Typically four cube steaks come to a pound, especially if you are getting freezer beef. Cube steak is essentially round steak that has been tenderized mechanically. It is a great beef cut because it is affordable. They slice up perfectly for steak fingers.
Worcestershire Sauce - Flavors in Worcestershire sauce are perfectly paired with beef. I love using this to add a quick punch of flavor.
Oil - I used avocado oil in the marinade for the beef but vegetable oil or cooking spray for the air fryer grill pan. Olive oil can also be used in the marinade.
Steak Seasoning - Montreal Steak Seasoning is my go-to steak seasoning. It packs lots of flavor and course seasonings that melt into the meat as it cooks.
Butter - Garlic butter dipping sauce can't happen without butter.
Garlic - Minced garlic cloves to mix into that melted butter.
See recipe card for quantities.
How to make air fryer cube steaks
If you are using cube steaks that are frozen, start by getting those cube steaks out of the freezer and thawing them out. This will help slice the air fryer steak fingers.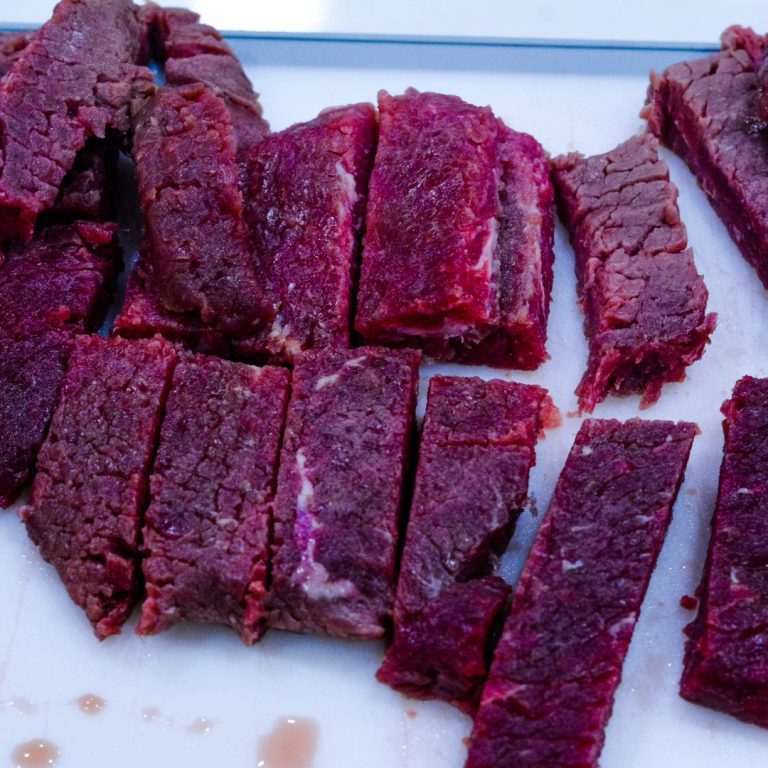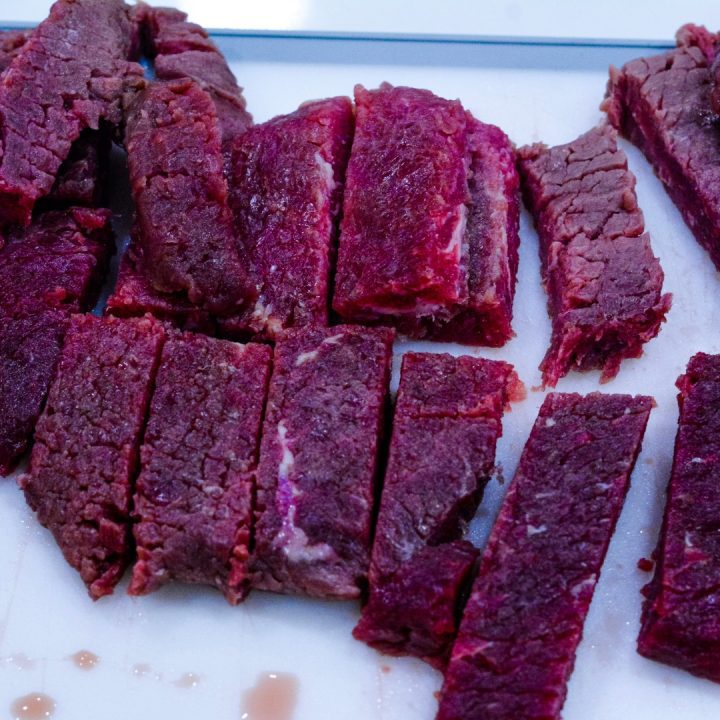 Start by slicing the cube steak and cutting the pieces in half. Put the steak fingers in a bowl.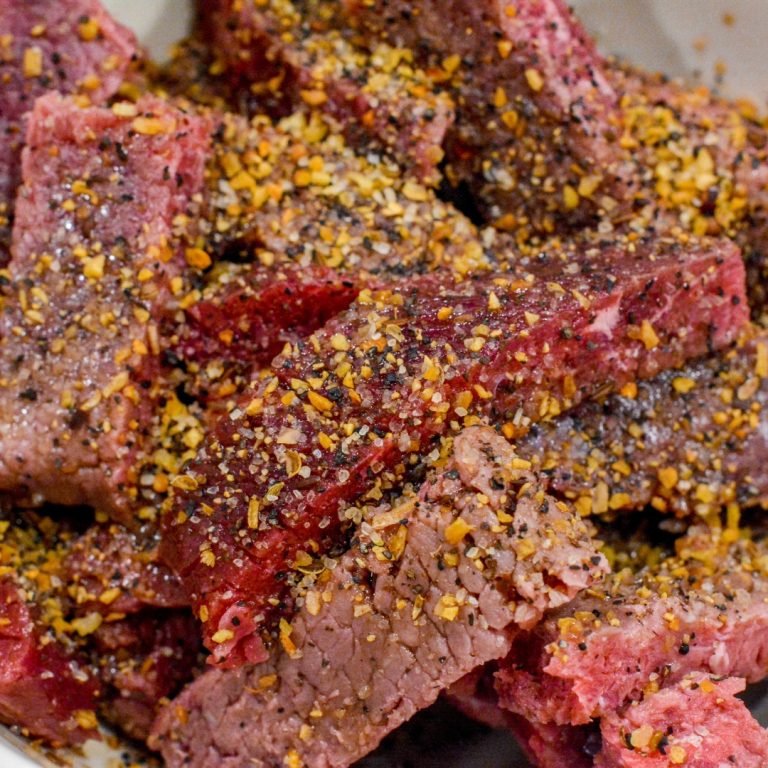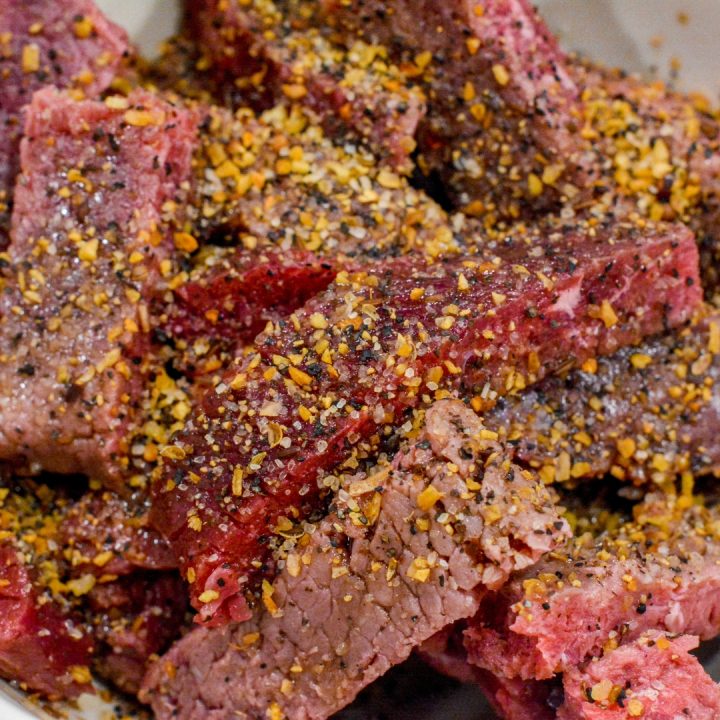 Coat the steak fingers in Worcestershire sauce, avocado oil, and steak seasoning. Toss to coat.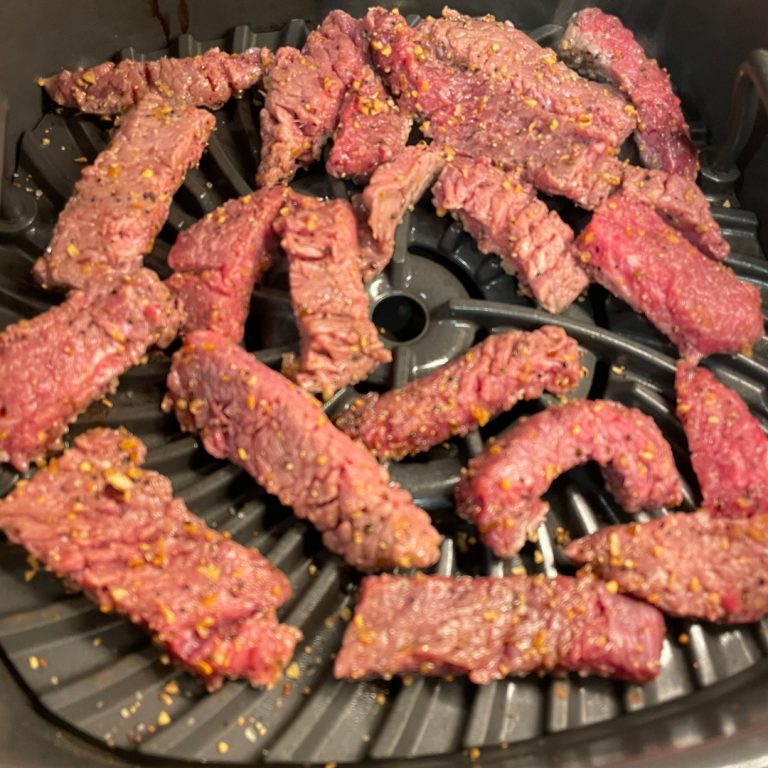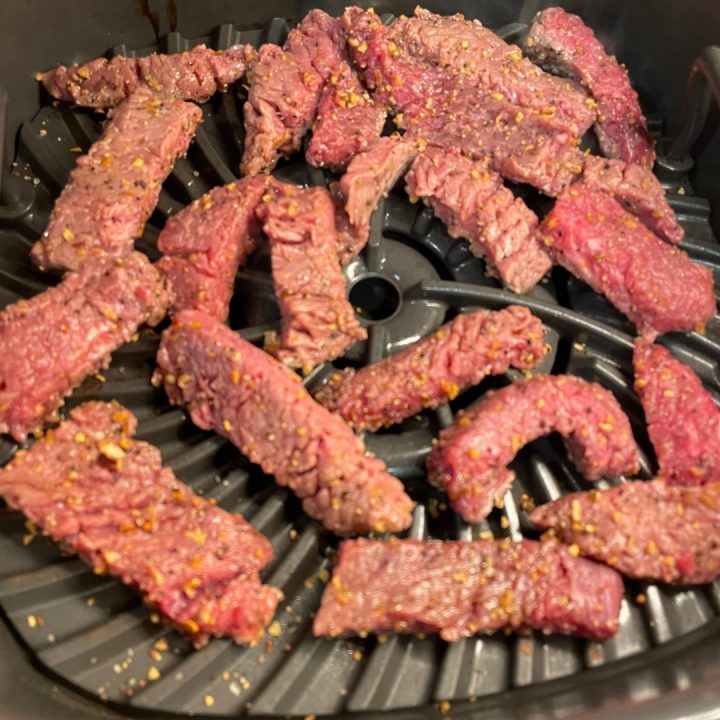 In a preheated air fryer, spray the grill grate with cooking spray and lay the steak fingers in the air fryer. Flip after cooking for 3-4 minutes.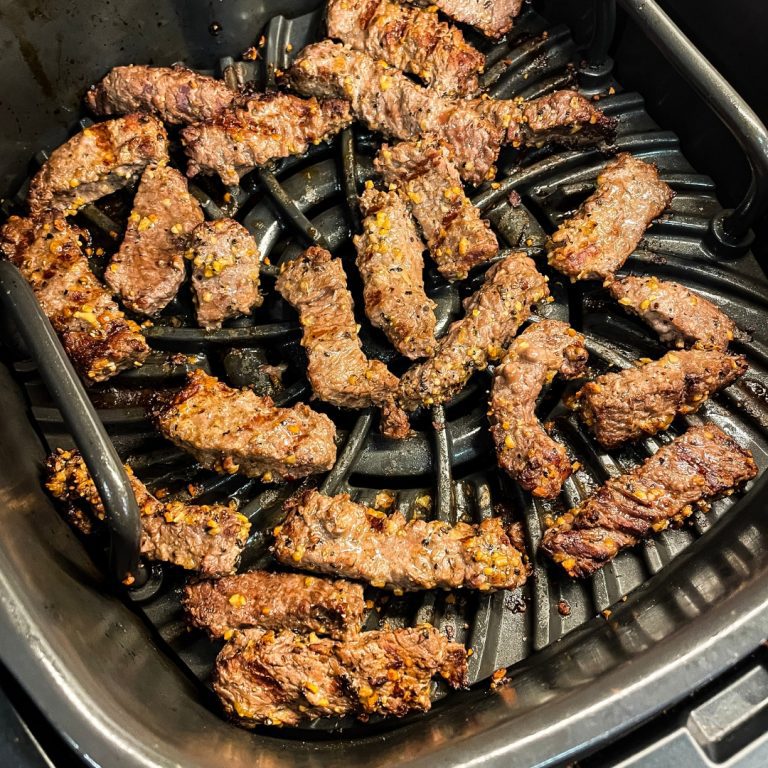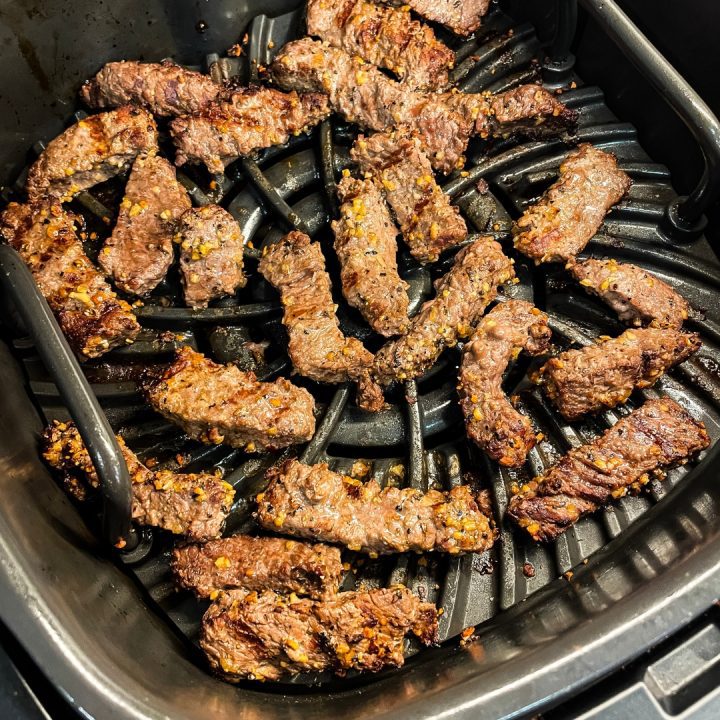 Remove from the air fryer after cooking 5-7 minutes. While the steak is frying, mince garlic and melt butter to make garlic butter for dipping the steak fingers in.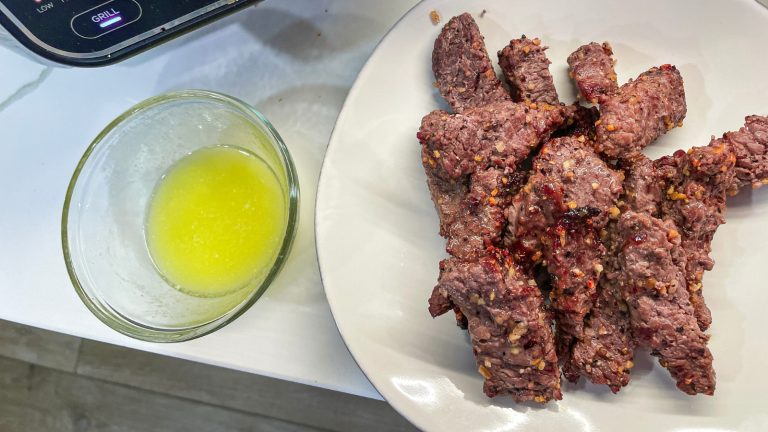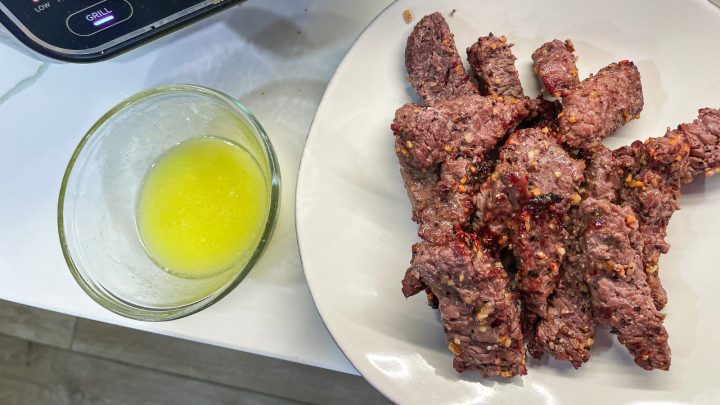 These steak fingers are also great dipped in A1 steak sauce or your favorite barbecue sauce. Serve these steak fingers with air fryer tater tots if you are like me with MULTIPLE AIR FRYERS.
Don't feel like slicing the cube steaks into fingers? This recipe works great for whole cubed steak too.
Hint: let the cube marinade for 30 minutes in the oil, Worcestershire sauce, and seasoning.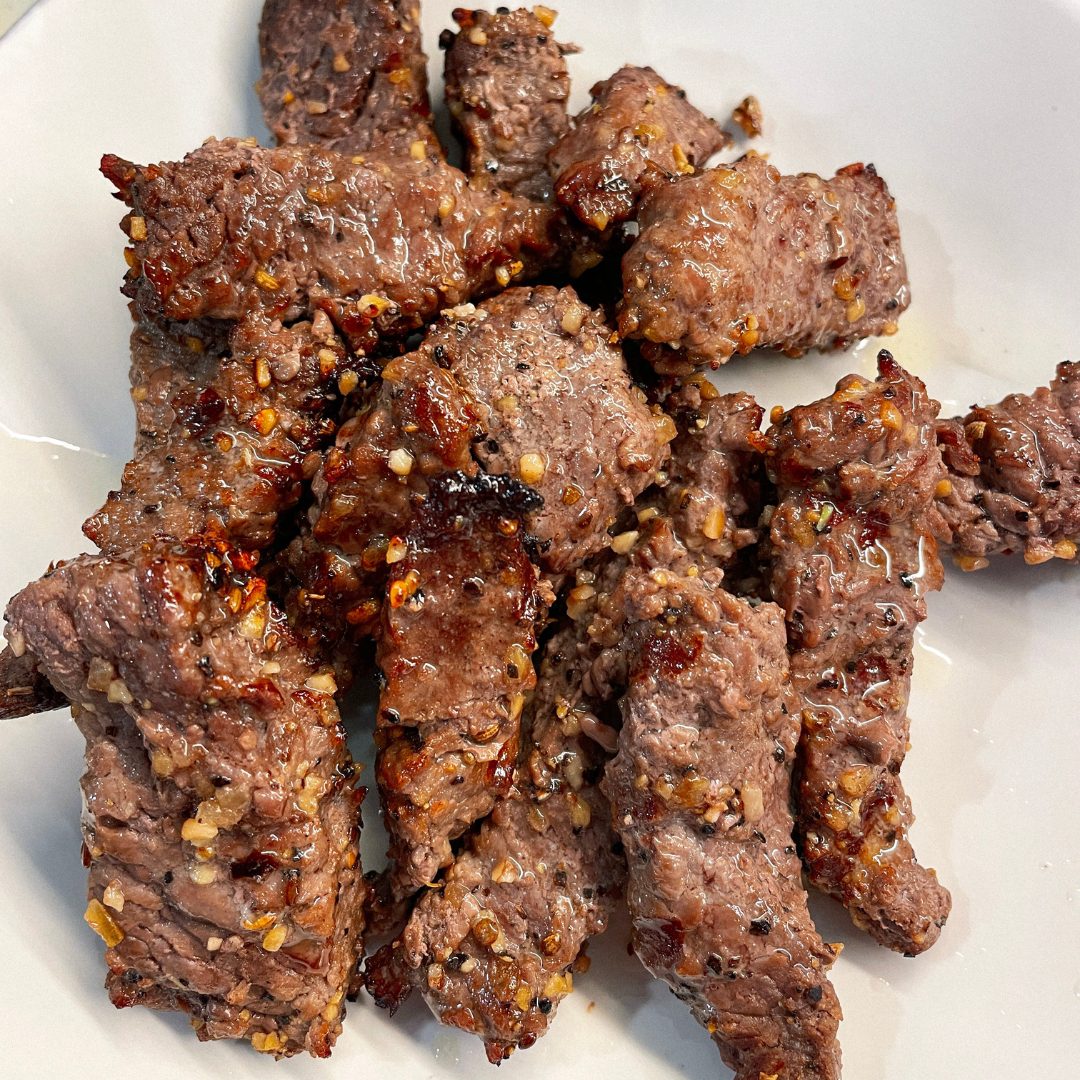 Variations to Plain Steak Fingers
While just air frying the cube steak fingers works well, you can change it up by adding different add-ins with the steak in the air fryer.
Peppers and Onions - These steak fingers can become Philly steak fingers with the addition of sliced peppers and onions. Swap out the steak seasoning for taco seasoning for a fajita style combination that would work perfectly for tacos.
Mushrooms and Onions - Steaks topped off with mushrooms and onions are always a favorite. These cube steak fingers air fried with mushrooms and onions are equally as good.
Chicken - If you love chicken and steak, slice up some chicken thighs or breasts to make steak and chicken fingers. A great combination when you just can't decide.
See this teriyaki steak skewers recipe for a teriyaki steak finger idea.
The Best Air Fryer
The best air fryer is always a debate for people. I am all in on Ninja Foodi air fryers. I have the Ninja Foodi air fryer and pressure cooker in one and also the Ninja Foodi 5-in-1 grill and air fryer. These steak fingers were made in the grill and air fryer. The air fryer never leaves my counter. It is used every single day.
Storing Leftover Steak Fingers
These leftover steak fingers are sure to make great steak sandwiches. So you will not want to let these just get tossed out.
Refrigerating Leftover Steak Fingers - Keep these steak fingers in a glass or plastic air-tight container. Store the leftover garlic butter in a separate container. You will want to use the butter when you reheat the steak. I would just reheat them for two to three minutes in the air fryer. Add to a toasted bun and drizzle with garlic butter.
Freezing Leftover Steak Fingers - The leftover steak fingers can also be cut up to be used in soups and stews. These would work great in the beef and barley stew.
Best Air Fryer Recipes
Whether you are new to the air fryer world or just looking for new inspiration, here are my favorite air fryer recipes.
Ninja Foodi Air Fryer Tater Tots
Ninja Foodi Air Fryer Tater Tots are the best made at home tater tots. So simple and ready in under 15 minutes. For extra crunch, make mini tater tots for the ultimate crispy to soft inside combination. #AirFryer #NinjaFoodi #TaterTots
Check out this recipe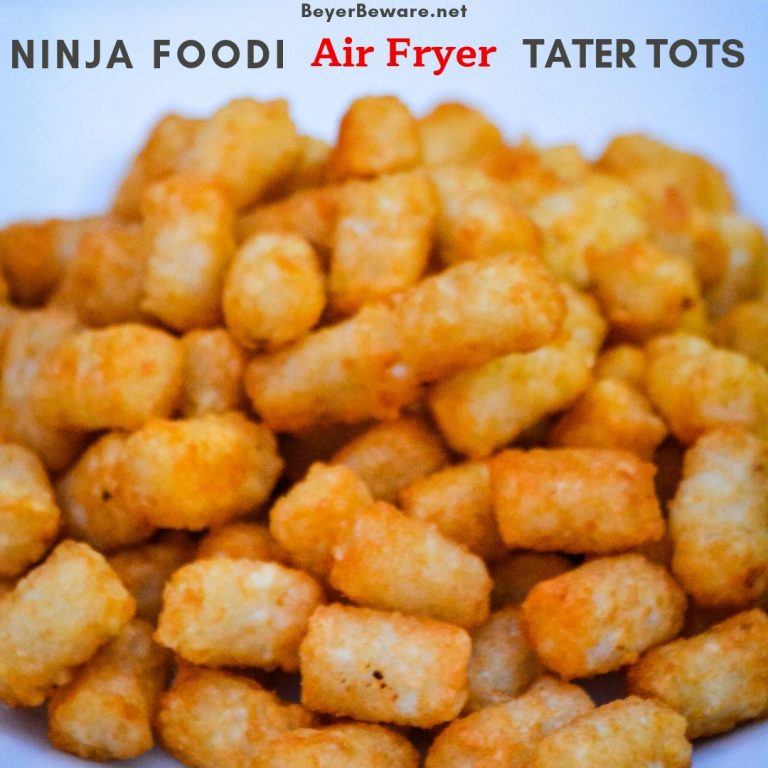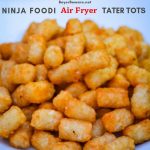 Air Fryer Broccoli
Air fryer broccoli is a delicious crispy broccoli recipe that is ready to eat in just 10 minutes! This broccoli in the air fryer recipe is so EASY, made with a simple combination of fresh broccoli crowns, olive oil, and my favorite garlic pepper seasoning.
Check out this recipe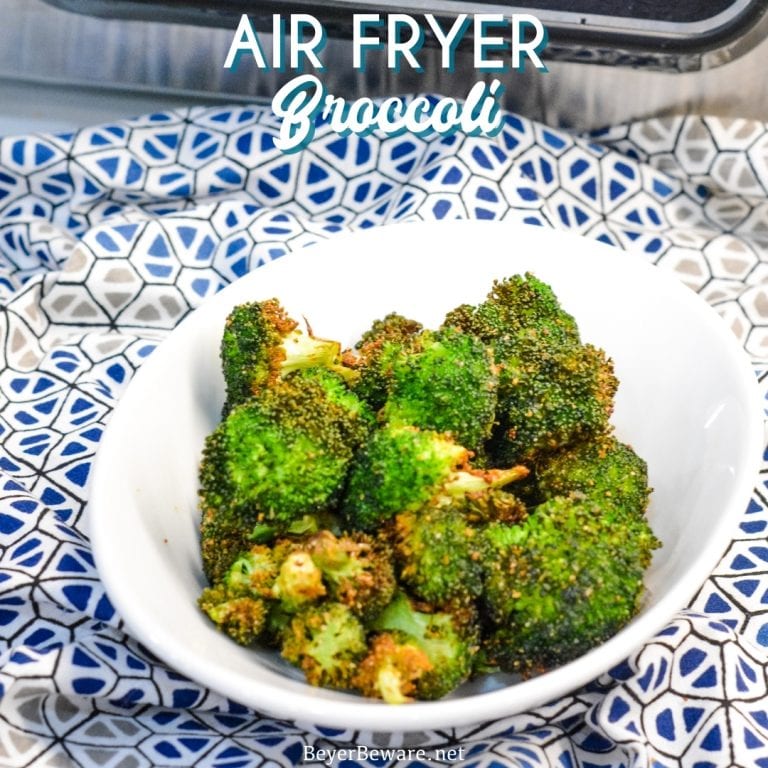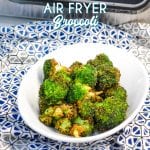 Cubed Sweet Potatoes in the Air Fryer Recipe
Air Fryer Sweet Potatoes are an easy cubed sweet potatoes in the air fryer made in under 15 minutes for a quick and easy side dish.
Check out this recipe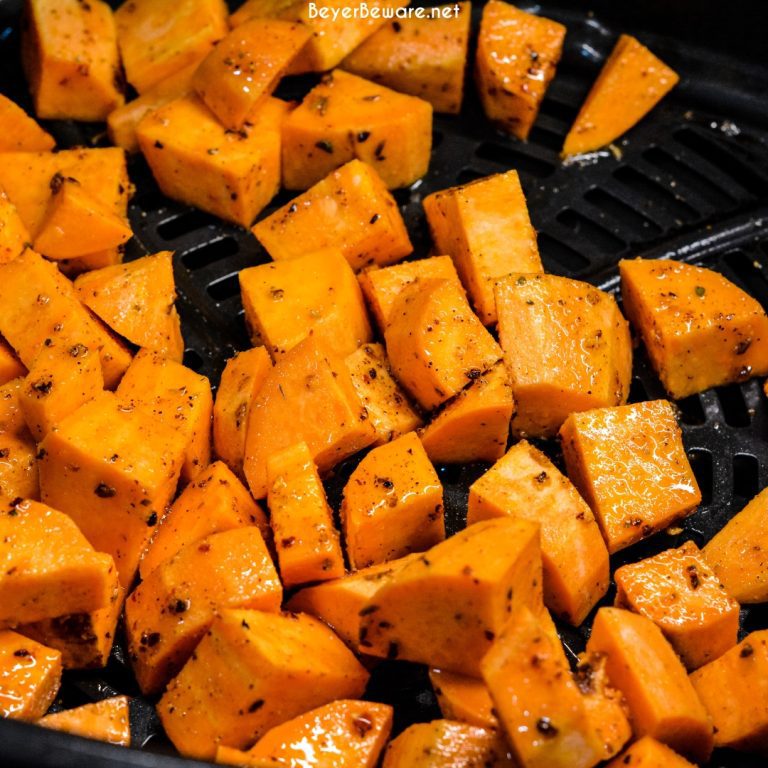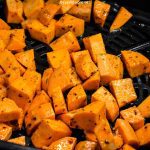 Air Fryer Mini Beef Tacos in the Ninja Foodi
Air Fryer Mini Beef Tacos in the Ninja Foodi is an easy fried taco recipe made with taco seasoned hamburger, cheese and flour or corn tortilla shells. #Tacos #Airfryer #NinjaFoodi #Beef
Check out this recipe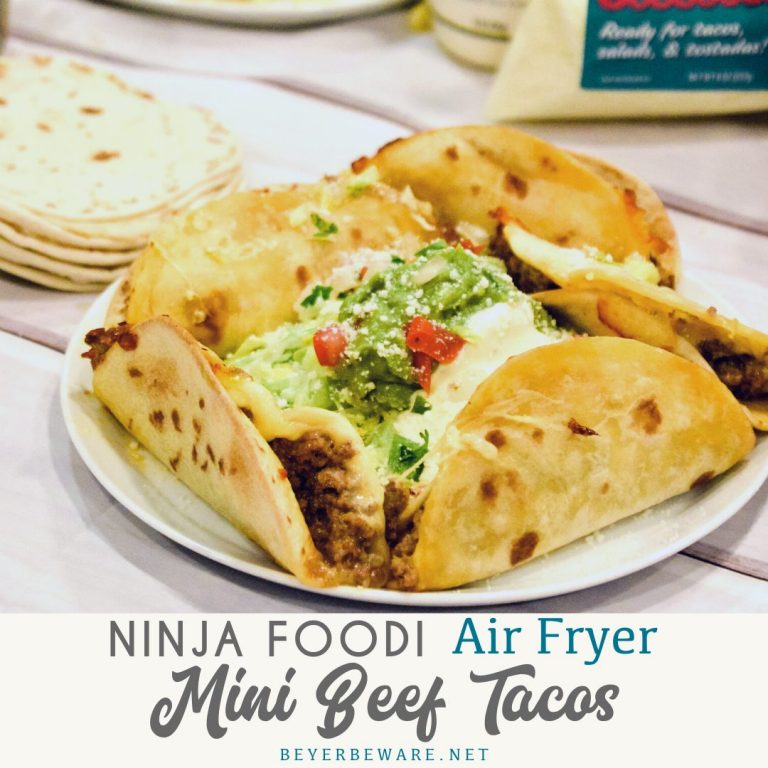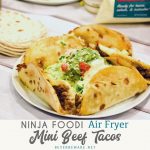 FAQ
Can this steak finger recipe be made without slicing the cube steak?
Whole cube steaks were will work perfectly with this recipe too. You may need to cook the cube steak a minute or two longer to make sure it is cooked fully.
What other cut of beef can work to make steak fingers?
Any less expensive steak can work to make steak fingers if you don't want to use cube steak. This includes sirloin, hanger, flat, or hanger steak. Round steak can also work in this recipe.
How can I make this steak finger recipe if I don't have an air fryer?
This recipe can be made in a skillet like my steak bites are made or broiled in the oven for the same amount of time as the air fryer.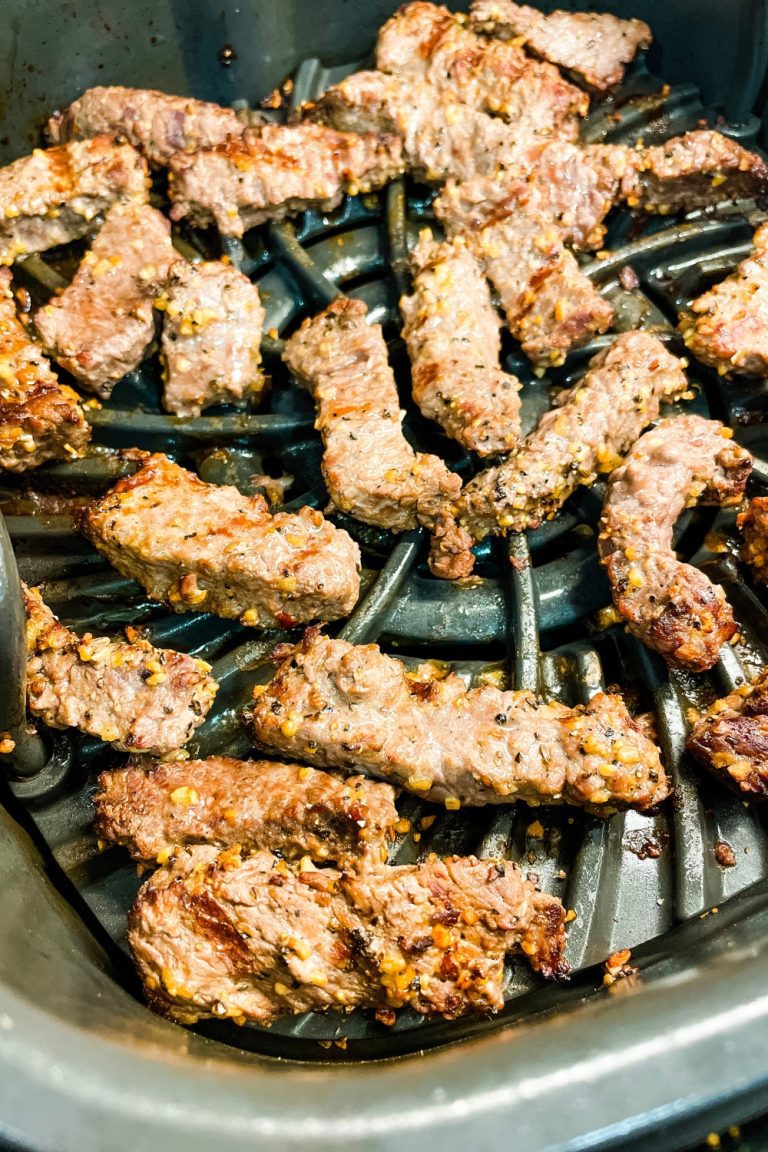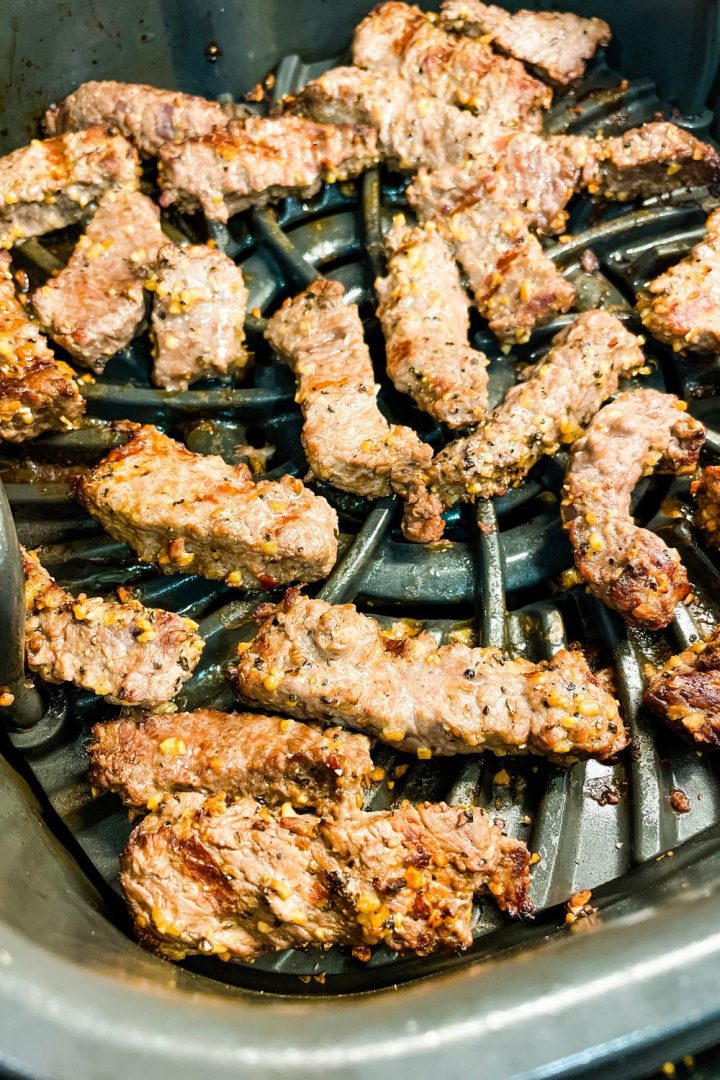 📖 Recipe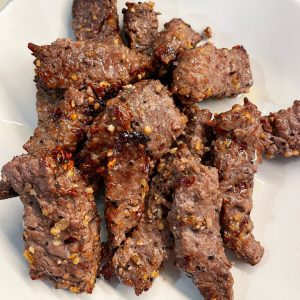 Air Fryer Cube Steak Fingers
Garlic pepper steak bites recipe is an easy cast iron steak skillet meal made with an easy marinated sirloin steak recipe, garlic, onions, and bell peppers served over mashed potatoes or rice.
Print
Rate
Ingredients
2

lbs

Cube Steak

¼

cup

Worcestershire Sauce

½

cup

Avocado Oil

1

tablespoon

steak seasoning

1

tablespoon

vegetable oil

2

tablespoons

butter

2

cloves

garlic

minced
Instructions
Cut the steak into strips and then cut in half to make 2-3 inch long pieces. Place in a bowl or gallon ziploc bag.

Mix the Worcestershire sauce and Avocado oil together and pour over the cube steak. Season with steak seasoning and toss to coat.

Preheat the air fryer to 390°. Place the grill pan in air fryer if you have one otherwise use the normal air fryer pan. Coat the pan with vegetable oil or cooking spray when it comes to heat.

Add the steak to the air fryer. Let sear the edges for 3-4 minutes and then flip the steak fingers over.

Cook for about 6-7 minutes.

Garnish with melted butter and minced garlic mixed together. Serve with mashed potatoes or buttered rice.
Nutrition
Calories:
734
kcal
|
Carbohydrates:
4
g
|
Protein:
47
g
|
Fat:
58
g
|
Saturated Fat:
17
g
|
Polyunsaturated Fat:
5
g
|
Monounsaturated Fat:
31
g
|
Trans Fat:
0.2
g
|
Cholesterol:
178
mg
|
Sodium:
405
mg
|
Potassium:
912
mg
|
Fiber:
0.1
g
|
Sugar:
2
g
|
Vitamin A:
215
IU
|
Vitamin C:
3
mg
|
Calcium:
85
mg
|
Iron:
5
mg
Food safety
Cook to a minimum temperature of 145 °F
Do not use the same utensils on cooked food, that previously touched raw meat
Wash hands after touching raw meat
Don't leave food sitting out at room temperature for extended periods
Never leave cooking food unattended
Use oils with high smoking point to avoid harmful compounds
Always have good ventilation when using a gas stove
See more guidelines at USDA.gov.