Disclosure: *This post may include amazon links. As an Amazon Associate, I earn from qualifying purchases.
Any hot dog lovers out there? I have a secret love for hot dogs. I know, how food snob of me. And I have been in the processing plants that make hot dogs. I know what the meat is, but I still love them. Then when you add sloppy joe or Coney sauce to the top, it takes that hot dog to a level 10 with the creation of an oven-baked Coney dog.
If any of you made sloppy joes last night, you probably have leftovers like me?  I have just the thing to make with your leftovers. Oven-baked Coney dogs!
Oven-Baked Coney Dogs
Start by opening the hot dog buns up and spreading mayo all over the hot dog buns. Use plenty!
Then spread some mustard and sweet pickle relish on the sides and bottom of the bun. I used Dijon mustard but any will work. And omitting any ingredients will work too. Boo doesn't like pickle relish so his just had mustard and mayo.
Then put your hot dogs, polish sausage, brats, or whatever you have in the buns. I lined a 13 x 9 pan with aluminum foil to make clean up easier and put the hot dogs in the pan.
Top each dog with a heaping spoonful of leftover sloppy joes. If you don't have sloppy joes, use canned chili. It will work just the same.
Sprinkle heavily with some Colby-jack cheese. Again, if you have cheddar or some other flavor, it will work too.
If you are an onion family, sprinkle the top with diced onions then.
Cover with foil and bake on 350 degrees for 45 minutes. And then wait patiently. You will begin to smell the coney dog ingredients all melting together.
What you pull out of the oven will make you feel about 10 years old again.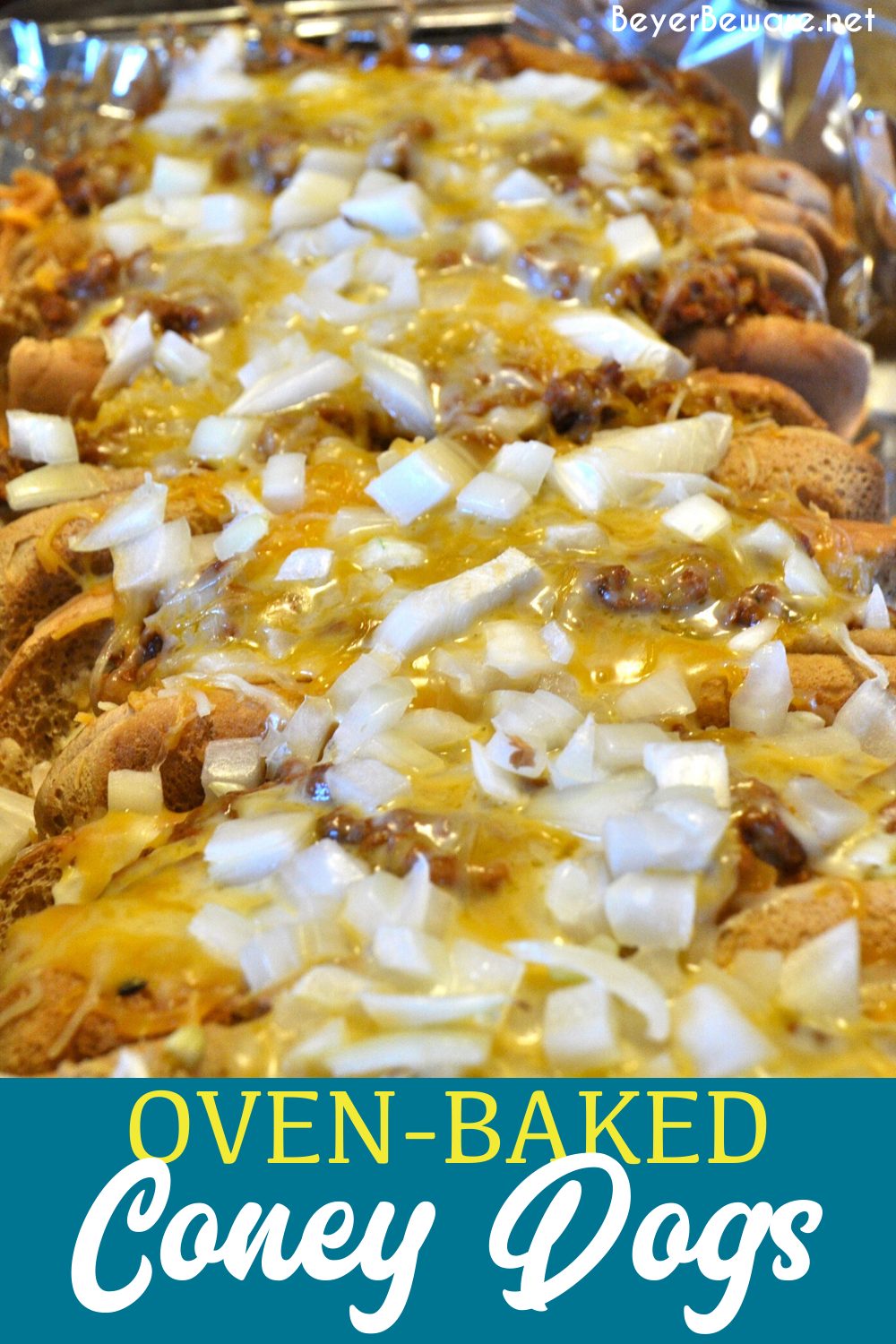 Hurry, go make them. You know you are wishing the screen was scratch and sniff.
Sloppy Joe Recipes
All-In-The-Crock-Pot Sloppy Joes
📖 Recipe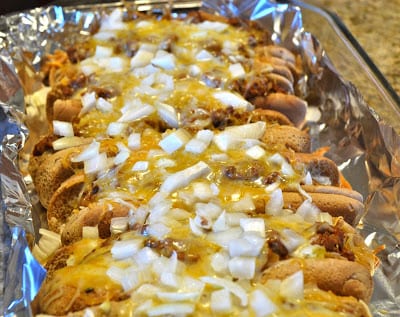 Oven Coney Dogs
A summer time favorite,this coney dog recipe is great quick meal any time of year.
Print
Rate
Ingredients
8

hot dog buns

8

hot dogs

sausages or brats

½

cup

mayonnaise

¼

cup

mustard

½

cup

sweet pickle relish

2

cups

sloppy joes or chili

1 ½

cup

shredded colby-jack cheese

½

cup

diced onions
Instructions
Combine mayonnaise, mustard and relish and then spread on the inside of the hot dog buns.

Place in an aluminum foil lined 13 x 9 inch pan.

Place hot dog in each of the buns and top with ¼ cup of the sloppy joe or chili.

Sprinkle the sloppy joe or chili with cheese and onions.

Cover with aluminum foil and bake for 45 minutes on 350 degrees