Disclosure: *This post may include amazon links. As an Amazon Associate, I earn from qualifying purchases.
Dump-and-go crock pot recipes are a must once everyone is back in school and rushing out the door in the morning and hangry when they rush back in the door at night. Using frozen hash browns to make this hash brown potato soup recipe is just one of the ways I make dinner time easier. Plus this hearty potato soup is the ultimate comfort food. Crock pot potato and ham soup recipe is a creamy combination of diced potatoes or hash brown potatoes and ham, onions, carrots, and celery and slow cooked to bring out all the great flavors.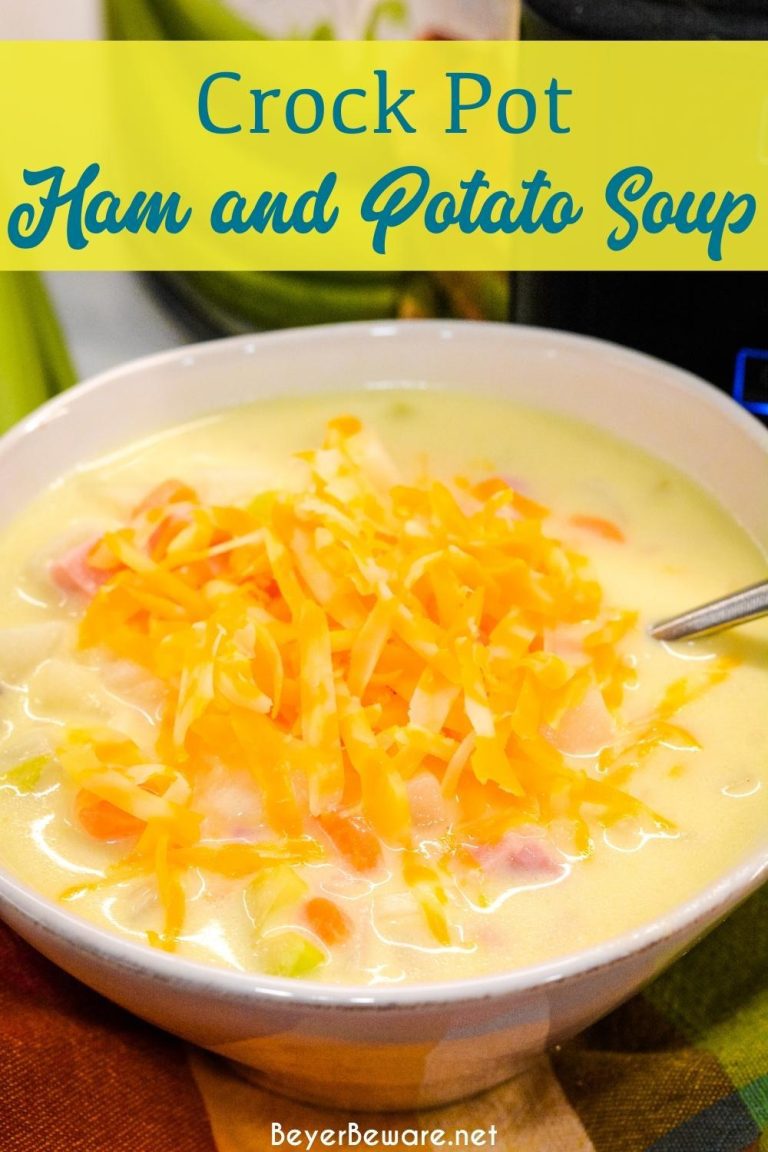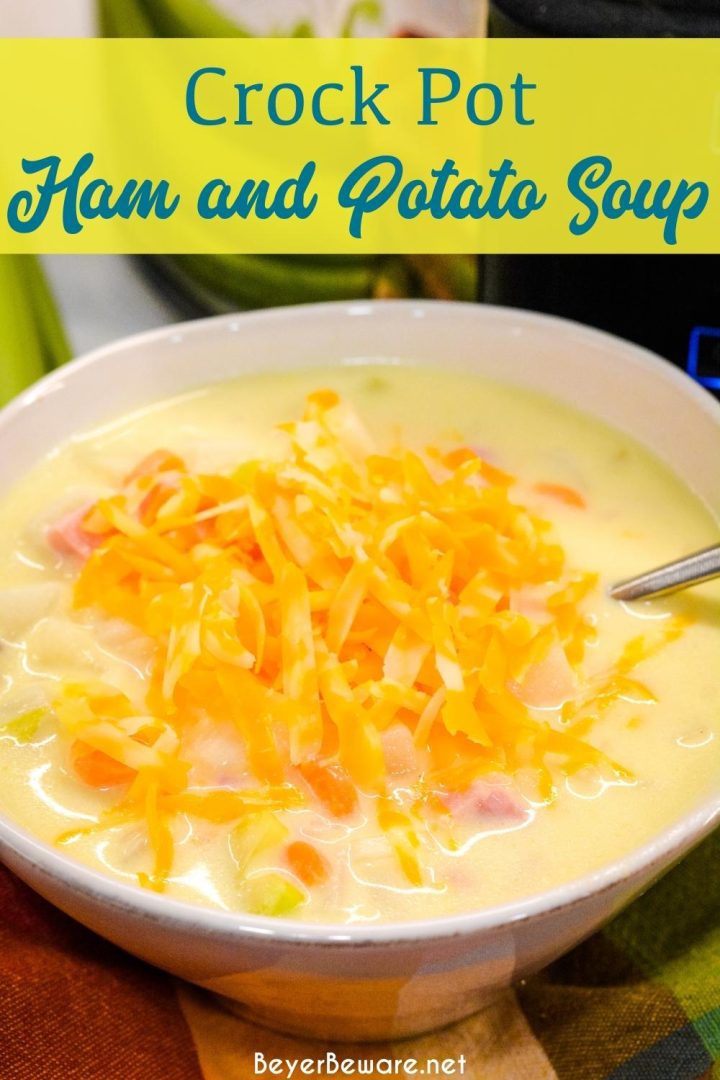 Whether you are a family with a rolling evening schedule or one that just runs in the house hot, crock pot soup recipes are great for eating in shifts and low work to get dinner on the table.
This crock pot ham and potato soup was definitely a soup version of the crock pot hashbrowns and smoked sausage recipe. But it is also so much like my corn and potato chowder too. And honestly got a little inspiration from the crock pot creamy chicken and rice soup recipe too.
Jump to:
Ham and Potato Soup Ingredients
While I used multiple convenience items to amke this soup faster, you can make this recipe with multiple different types of ingredients.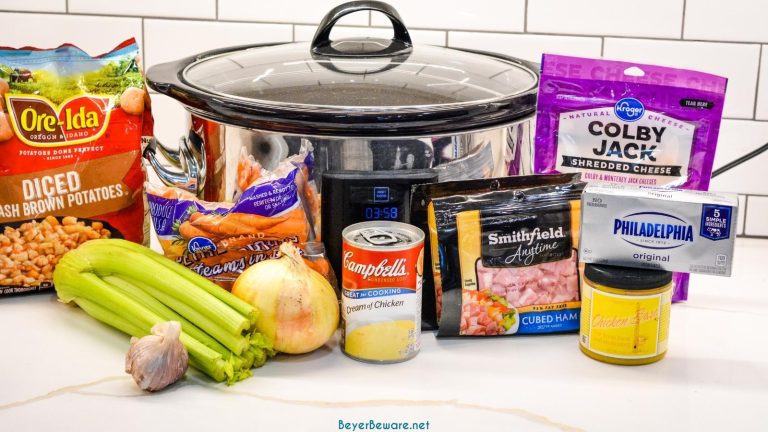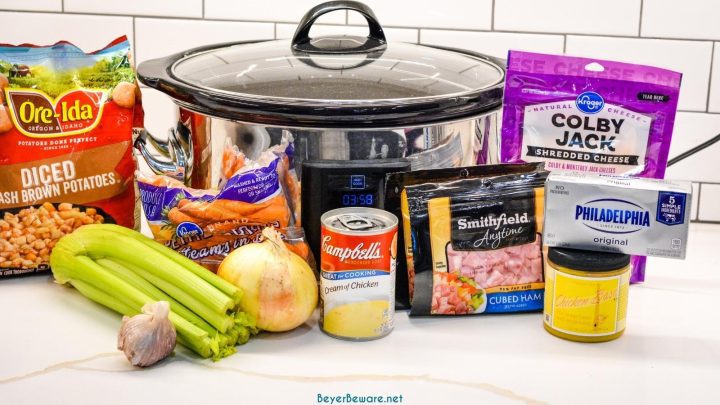 Diced Potatoes - I use the square frozen hashbrowns for this recipe. But you can also use regular potatoes, peeled and diced.
Ham - The packages of diced ham are great for quick dump-and-go creation. Leftover ham diced up or even a ham steak diced up can work just fine for this recipe too. If you are looking for vegetarian soup, feel free to leave the ham out.
Onions - I love me some onions in almost any recipe. If your family doesn't like onions, leave them out. Yellow or sweet onions are best in this recipe.
Celery - Soup with multiple different textures for some reason is what makes this crock pot potato soup so good. Chop up some celery for this soup. Include a few of those celery leaves too. You won't regret it.
Carrots - I can't pretend that everyone in my family loves cooked carrots. But in this recipe, carrots add flavor, texture, and some nutrition. Another ingredient that can be omitted.
Garlic - Minced garlic cloves bring so much garlic flavor to this soup. Garlic powder and minced garlic flakes can work as well.
Cream of Chicken Soup - This is a creamy soup. Cream of chicken soup is an easy way to get the cream base. You can also make homemade cream-based soup.
Cream Cheese - In addition to the cream soup, cream cheese brings a cream factor and a flavor factor that makes this soup so good. Sour cream can also be used as a substitute.
Chicken Broth - Better than Bouillon Chicken and water is the route I go for broth. Whatever your preference, chicken broth is needed.
Salt and Pepper - Bring the seasoning in with the simple salt and pepper combo. Keep it simple.
Cheese - Cheddar, Colby, or Colby Jack cheese is the perfect topping to this potato soup.
See the recipe card for quantities.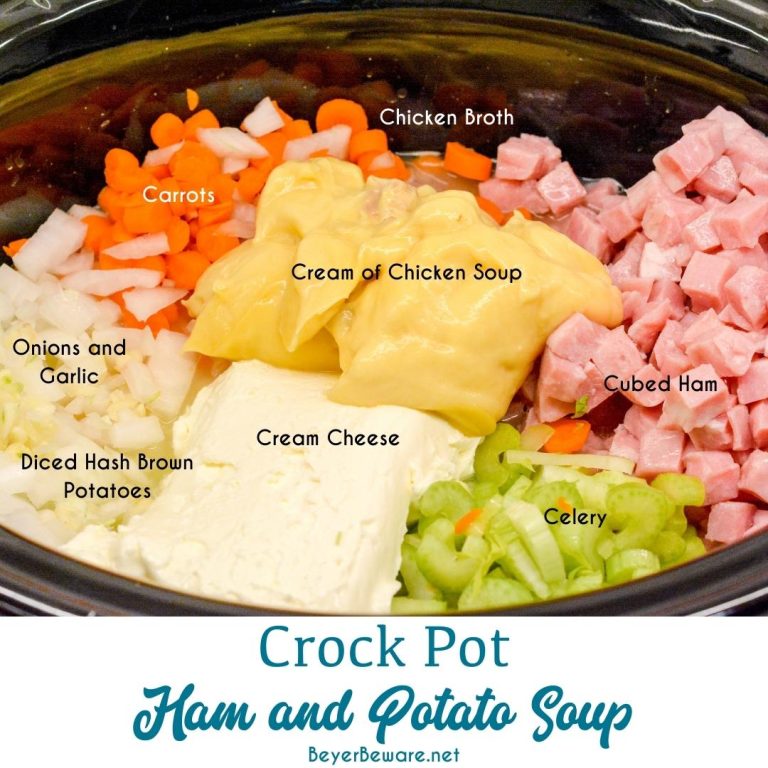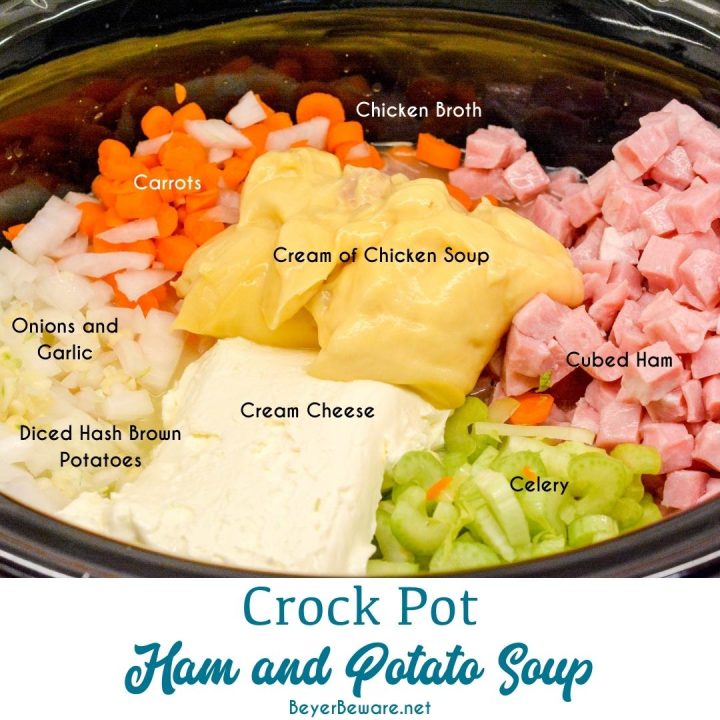 How to make Potato and Ham Soup in the Crock Pot
To make this soup, you have only a few prep items to do before combining the ingredients for a slow cooked potato and ham soup.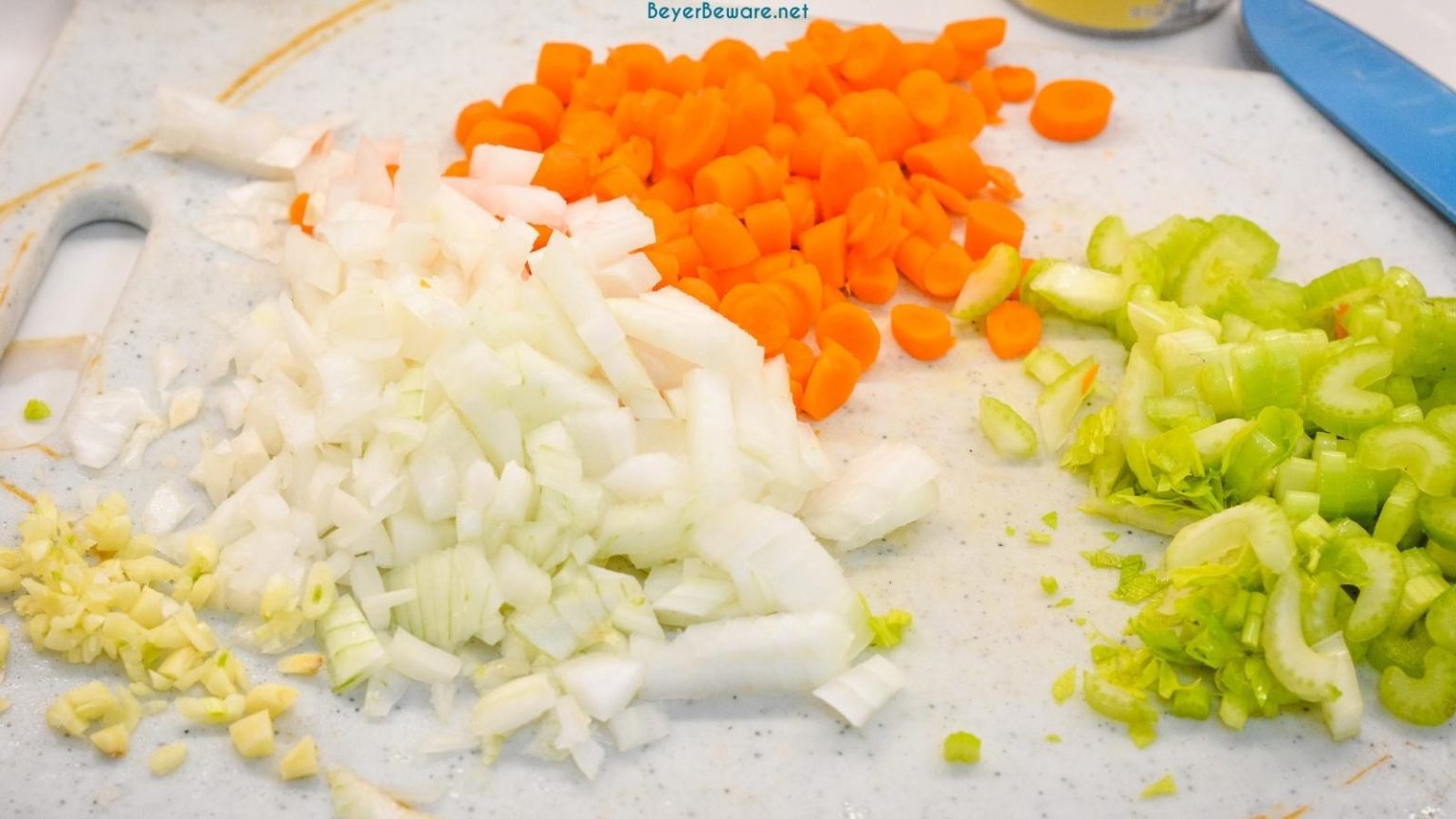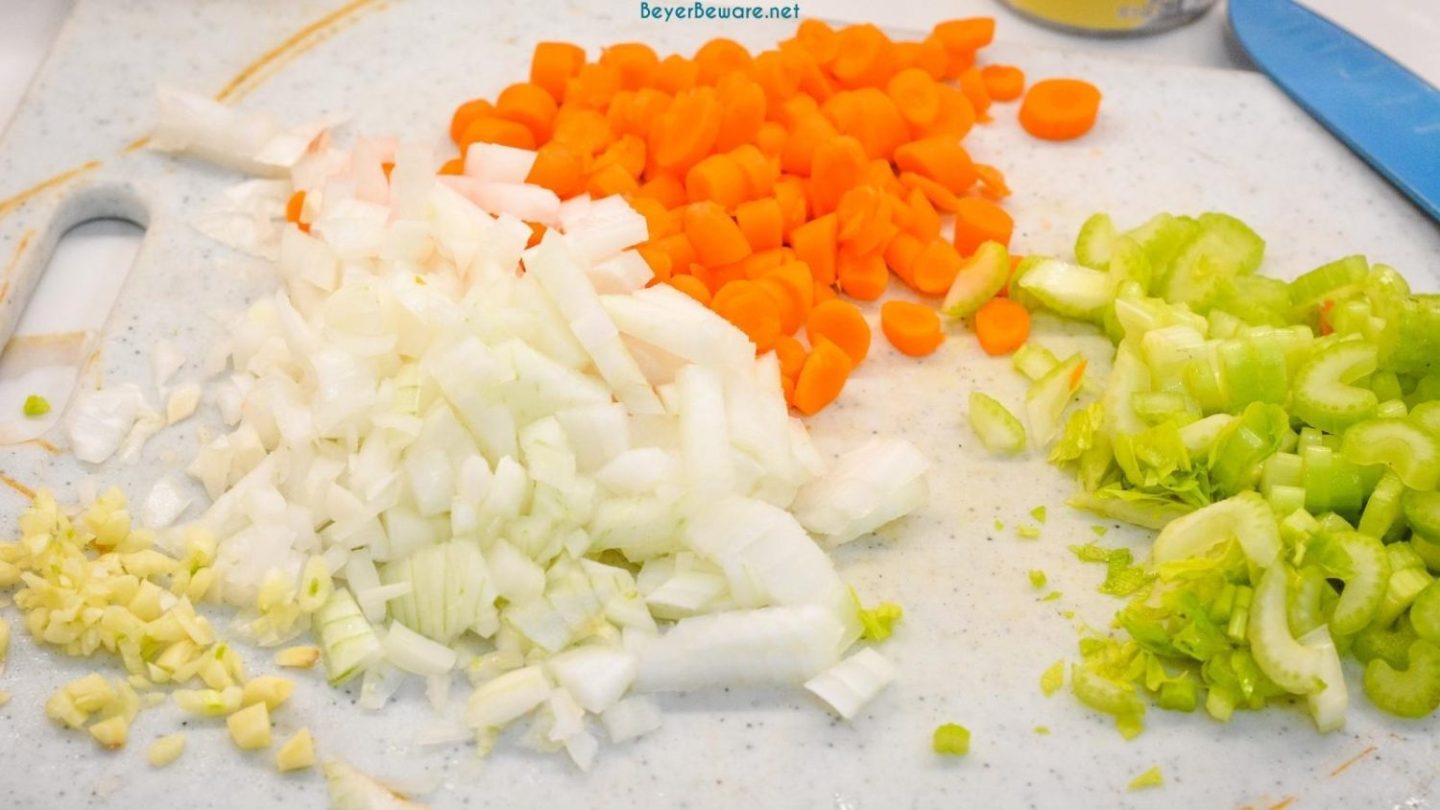 Dice the onions, carrots, celery, and garlic and set aside.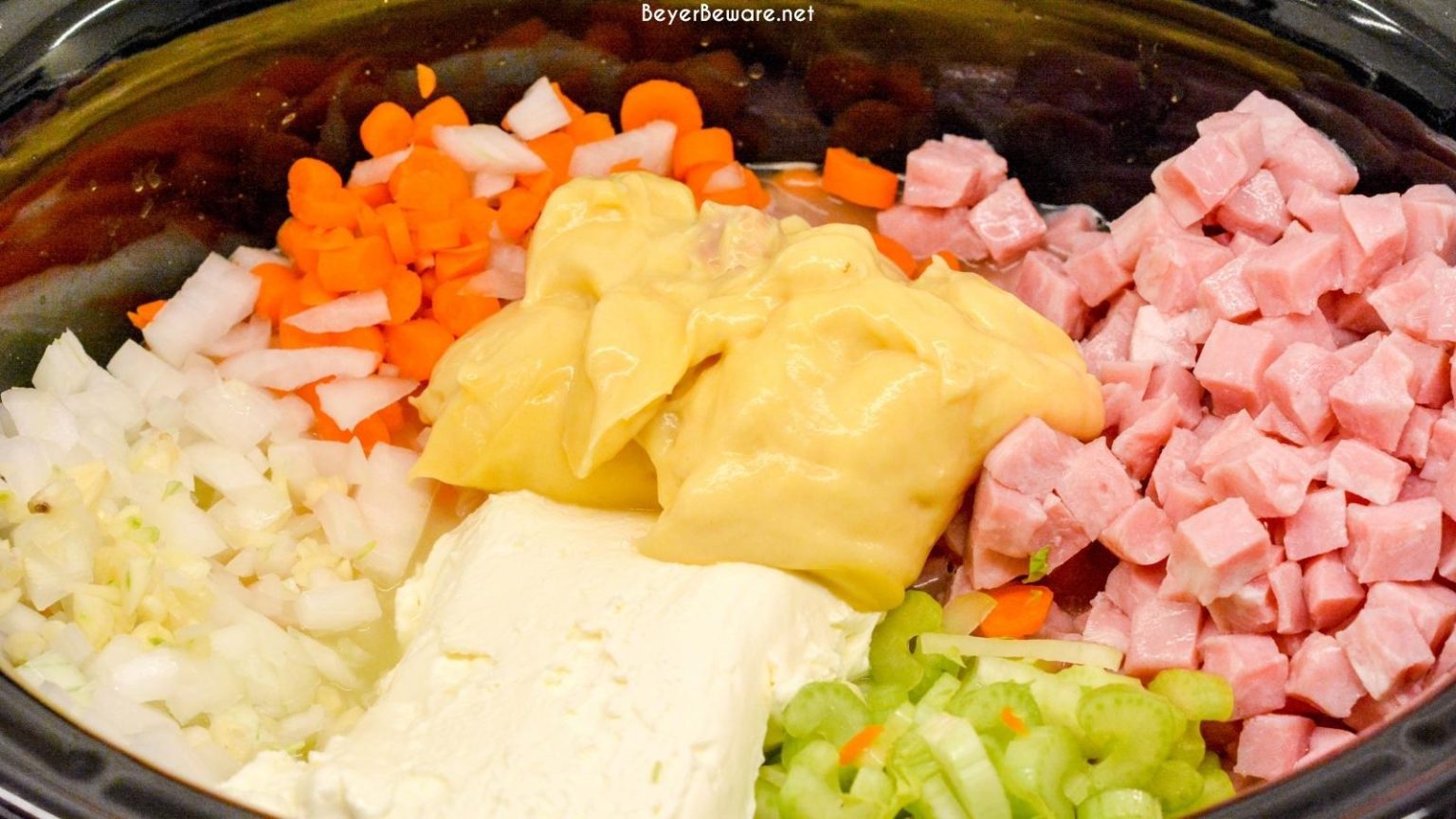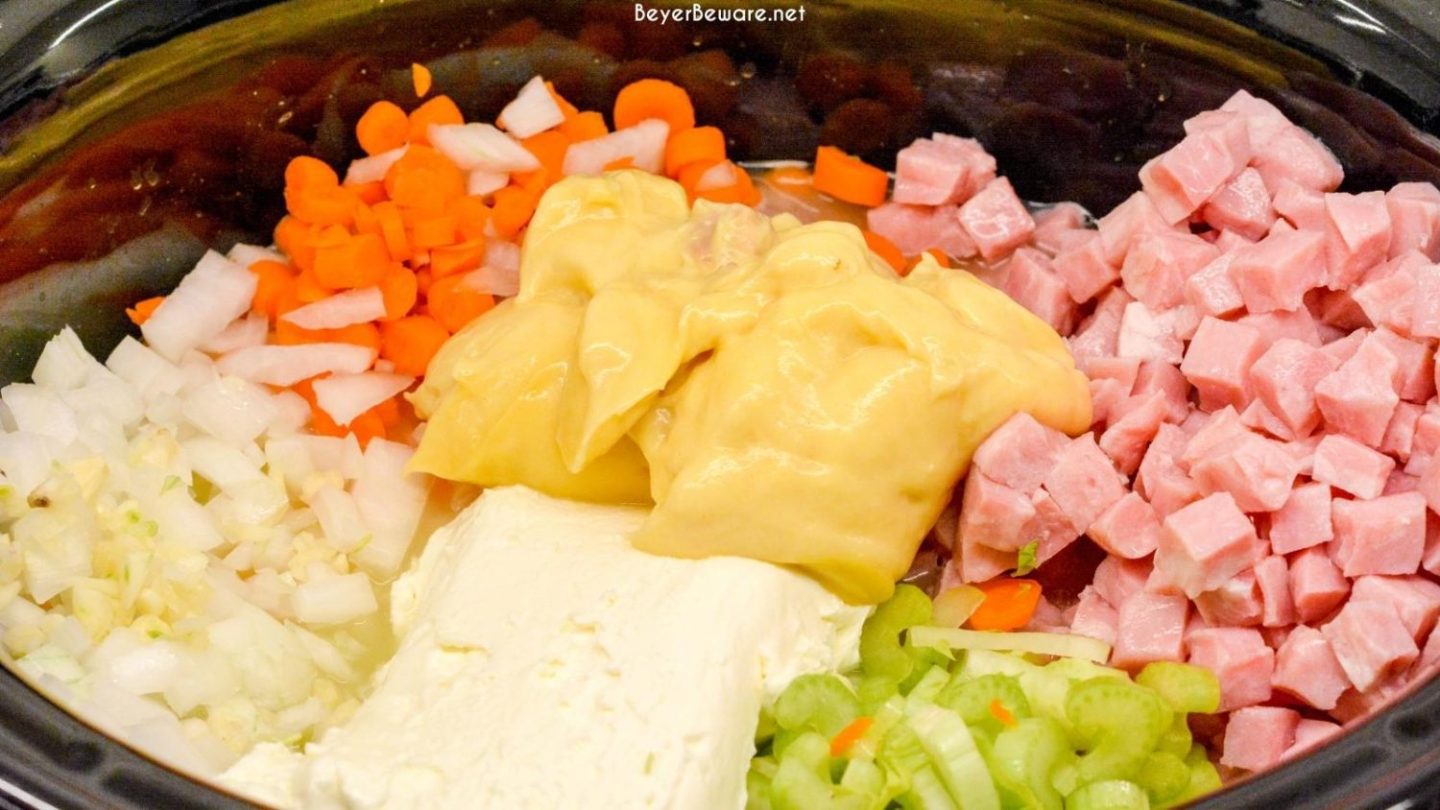 In the crock pot, dump the potatoes, ham, vegetables, soup, broth, and cream cheese.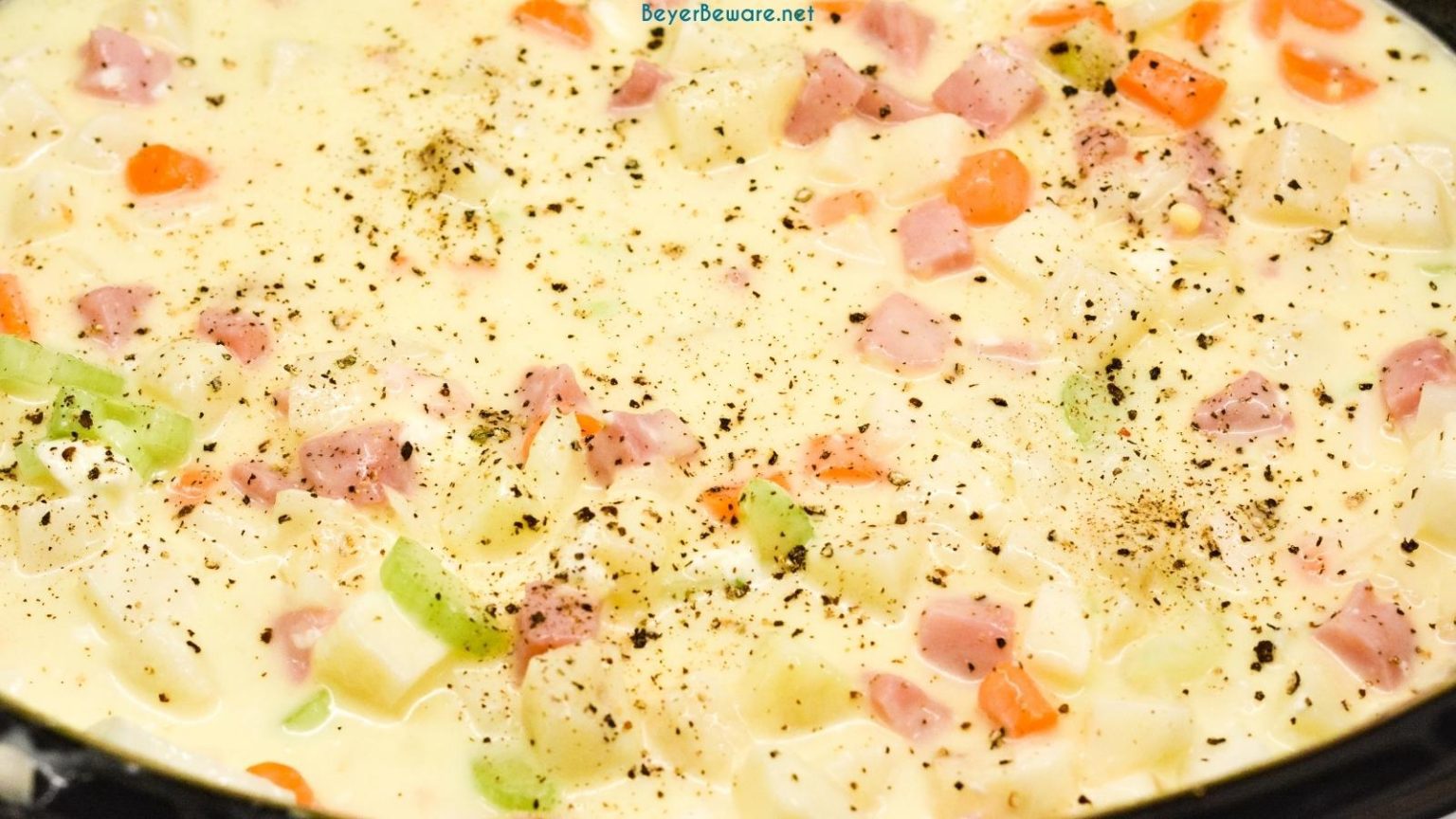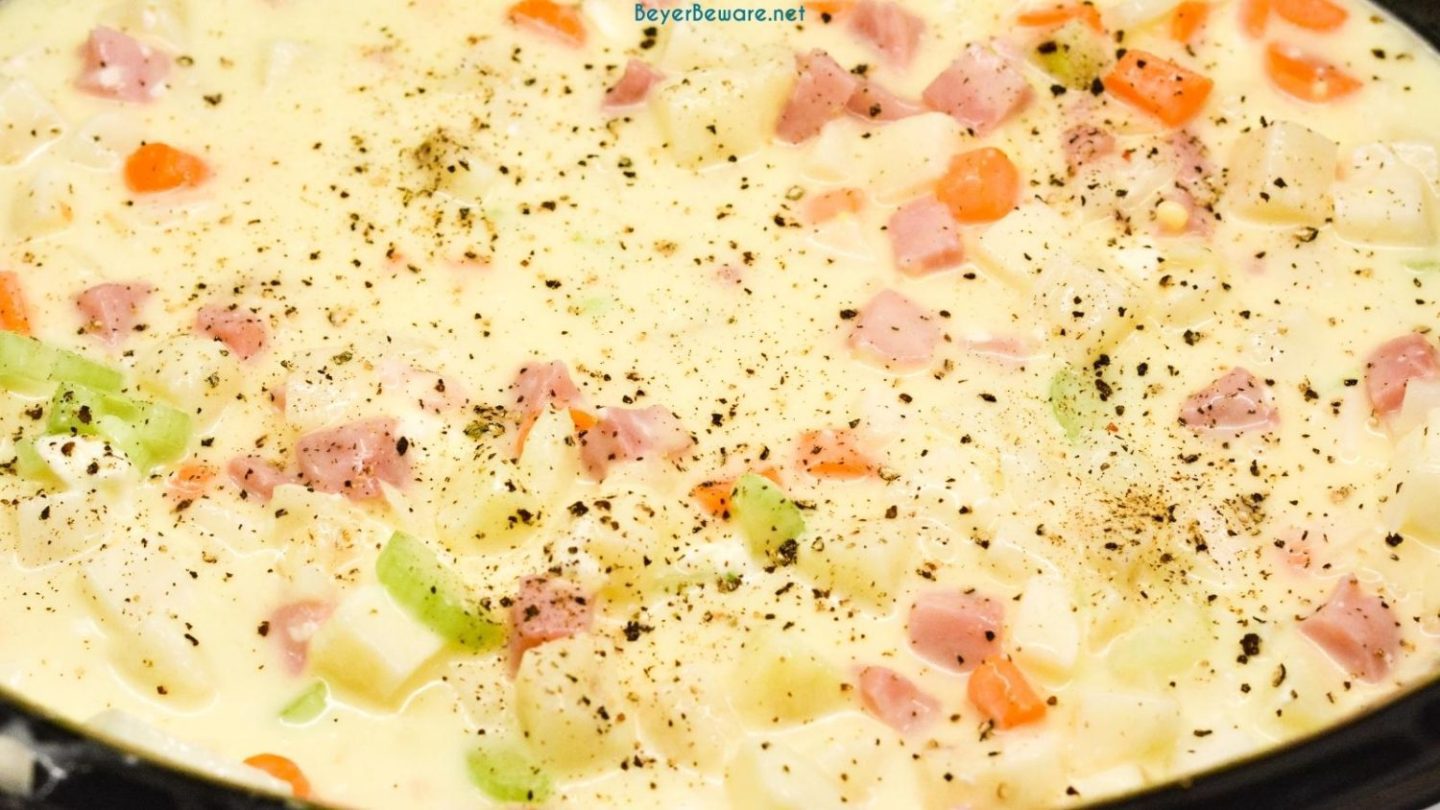 Stir to combine the potato soup and then season with salt and pepper.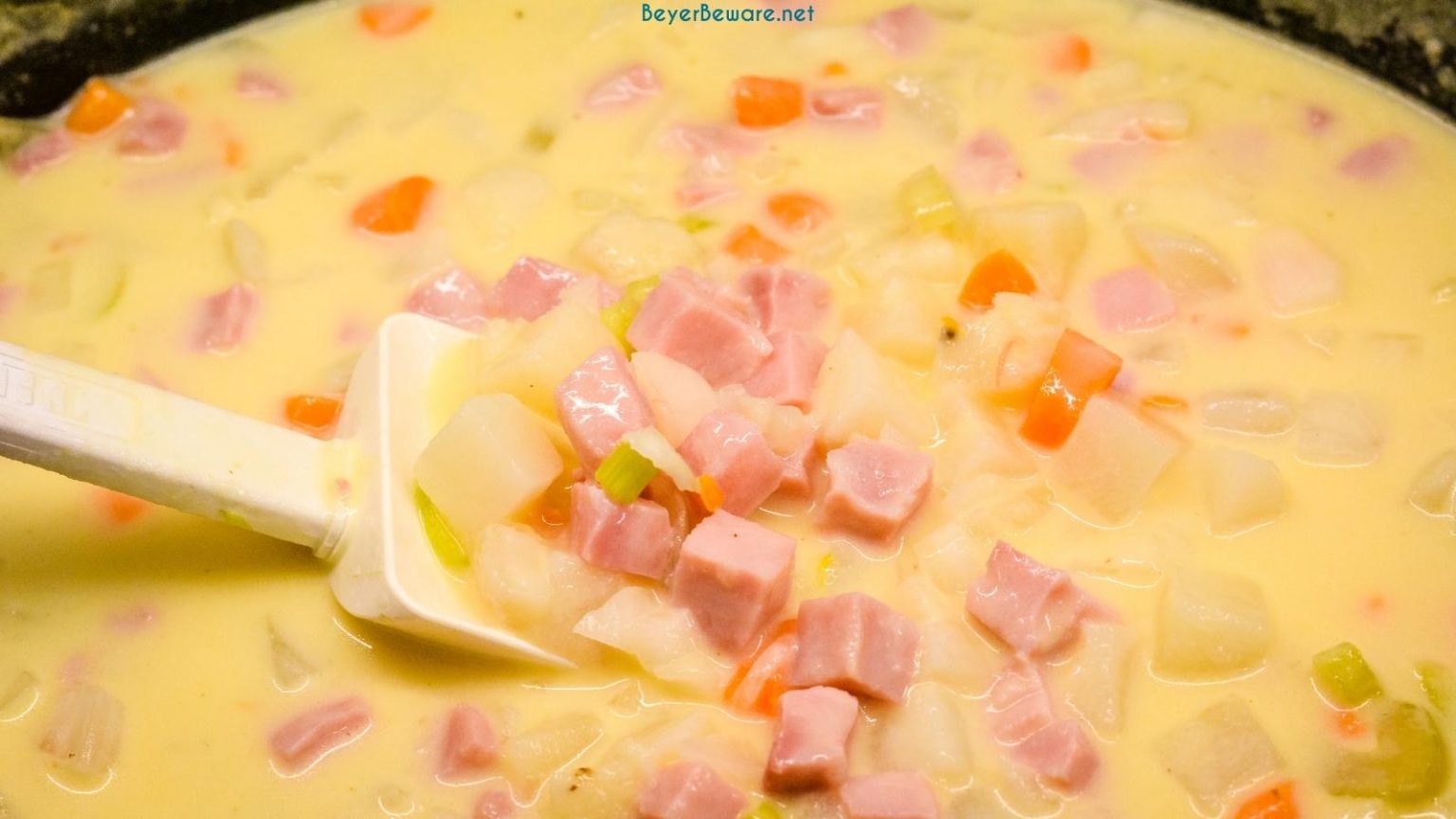 Cook on low for 8 hours or high for 4 hours. Stir occasionally to keep from sticking.
Remember that the longer you cook the ham and potato soup, the thicker it will get. The first people who pull the soup out may have a bit more broth consistency while the people who eat an hour later may have a thicker consistency.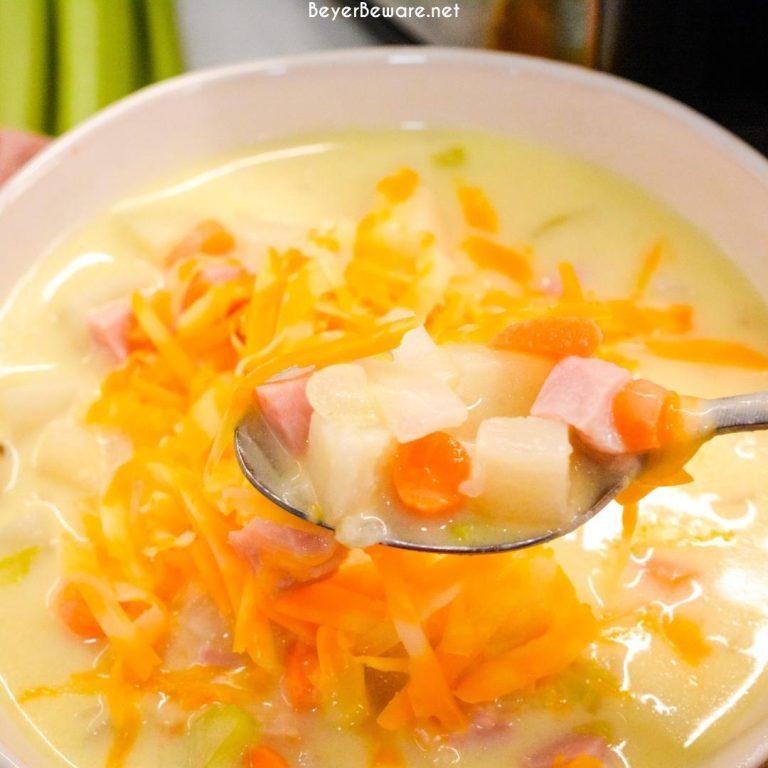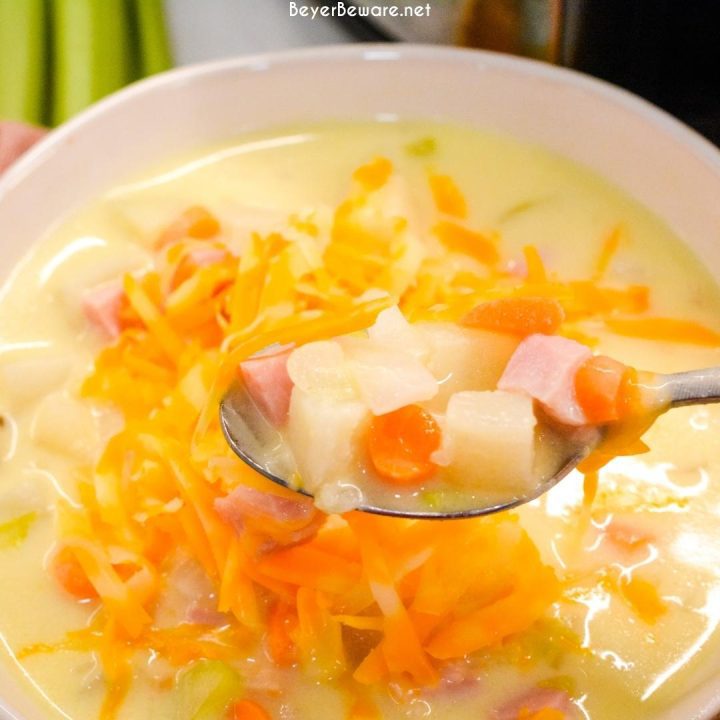 Top the soup off with shredded colby, cheddar, or colby-jack cheese. Feel free to garnish with diced onions, green onions, bacon or even sour cream.
Tip: Cream based recipes can stick to the edge of the crock pot. You probably noticed that on the side of my crock pot. Use a crock pot liner to save on the clean-up time.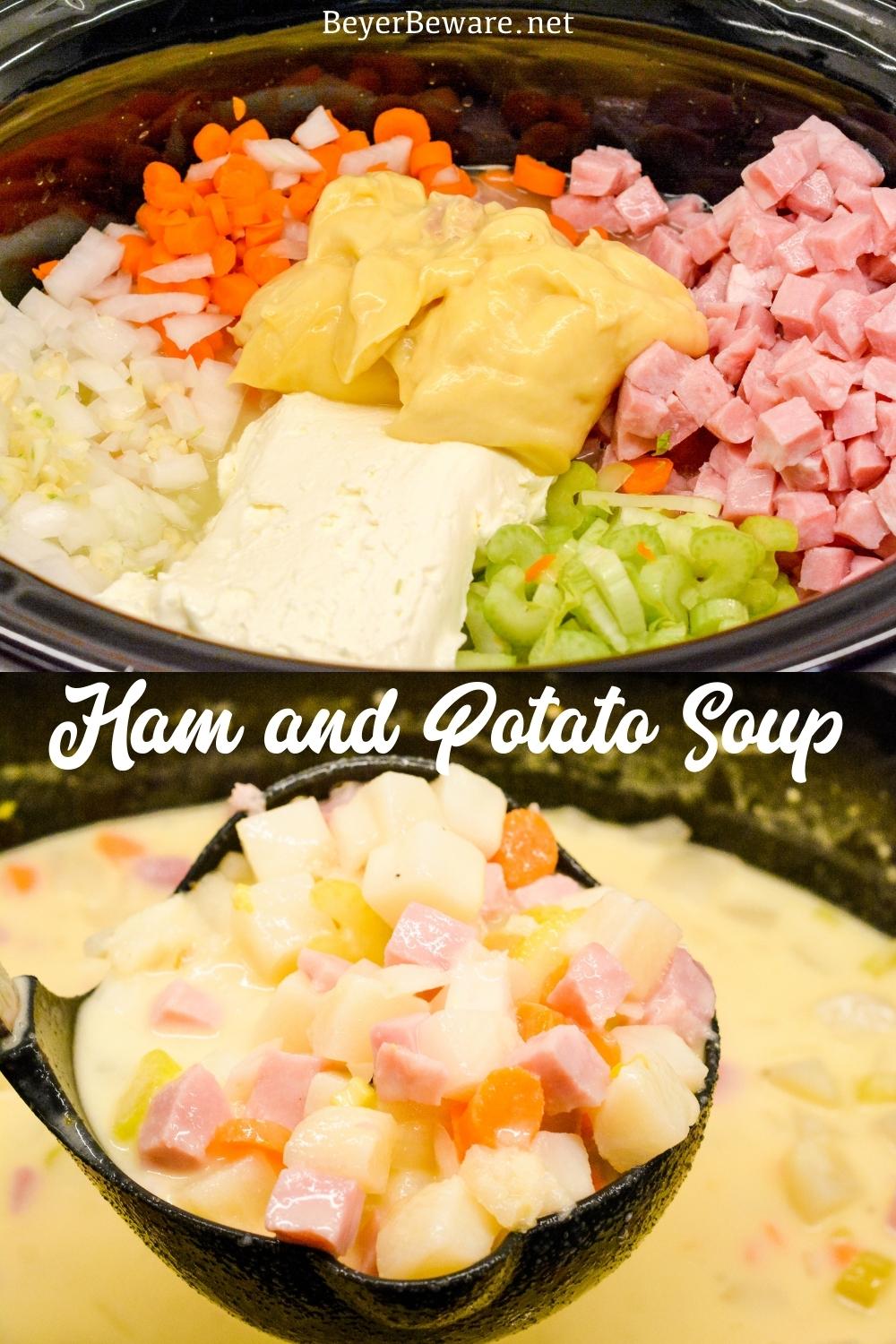 Creamy Potato Soup Substitutions
This potato soup recipe can be adapted to meet various different diet needs. Here are ways to make this potato soup gluten-free, low-carb, and vegetarian.
Gluten-Free - Substitute a gluten-free cream of chicken soup to make this recipe completely gluten-free.
Low-Carb - use cauliflower chopped into pieces in place of the potatoes to make this soup low-carb.
Vegetarian - Switch out the chicken broth for vegetable broth and drop the ham. You will be good to go with a vegetarian version.
Variations to Potato Soup
Potato soup can be done in lots of different ways. Even this crock pot recipe can be made on the stovetop.
Smoked Sausage - if you don't have ham, smoked sausage can also be used in this potato soup. Sort of like my smoked sausage corn chowder recipe.
Extra Cheesy - add shredded cheese to the potato soup.
Kid friendly aka anti-veggies soup - Take the carrots and celery out and make them a side with ranch to dip them into.
Stovetop Potato Soup - Make this soup on the stovetop in a Dutch Oven by mixing the ingredients together and simmering over low heat until the cream cheese is melted and the broth thickens.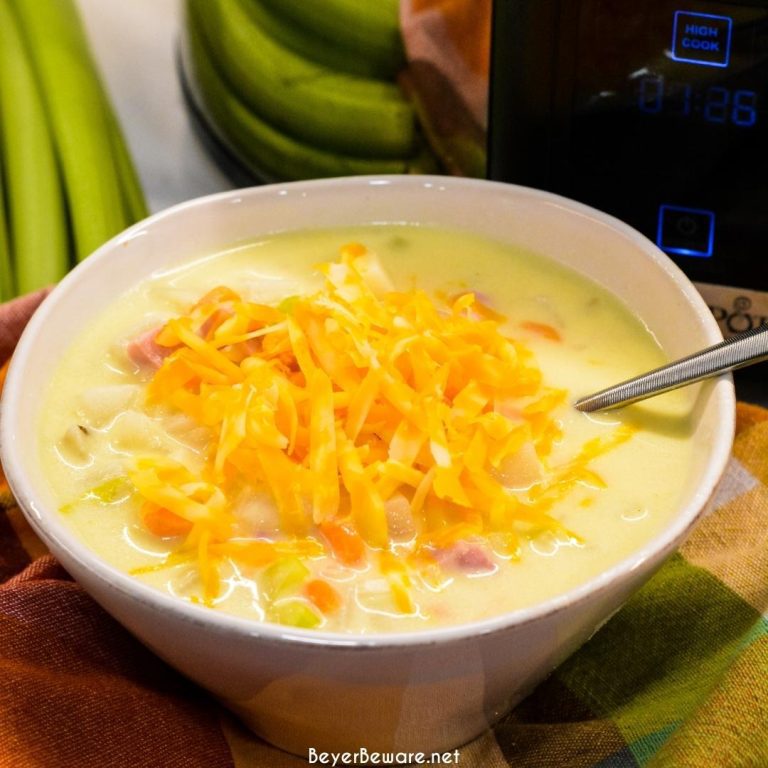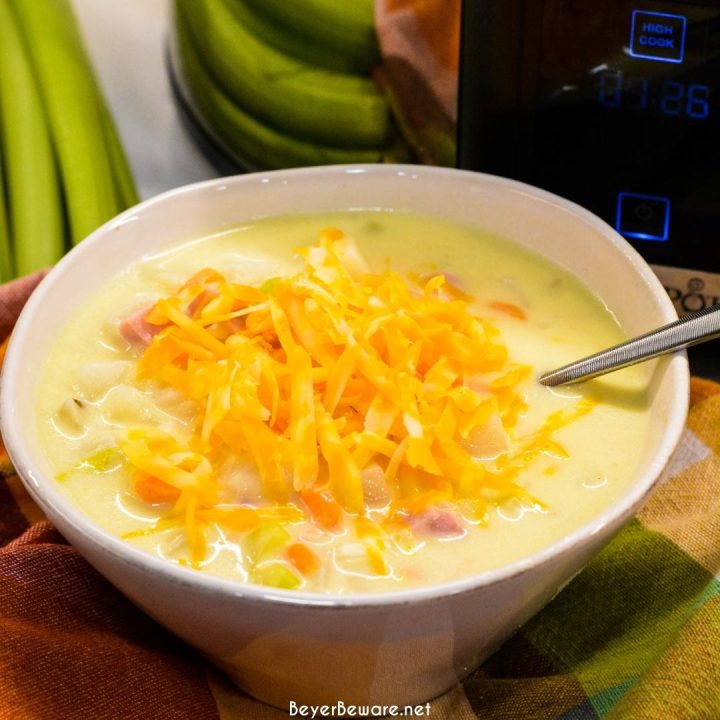 Equipment for Crock Pot Soup Recipes
A good crock pot or two is all your pantry needs to keep your family fed all year long. Here are my recommendations for my favorite crock pots as well as crock pot liners.
How to Store Leftover Potato Soup
The leftovers are equally as delicious. The flavors continue to meld together. Here is how you can store the leftover potato soup.
Refrigerator: Store the leftovers in an airtight container. I love to use one that is also microwave friendly too. Straight from fridge to microwave. The potato soup is good for 2-3 days in the refrigerator.
Can you freeze leftover potato soup? Not recommended to freeze this soup. The ingredients in the broth - cream and cream cheese - will most likely separate and when they thaw back out not recreate the same consistency.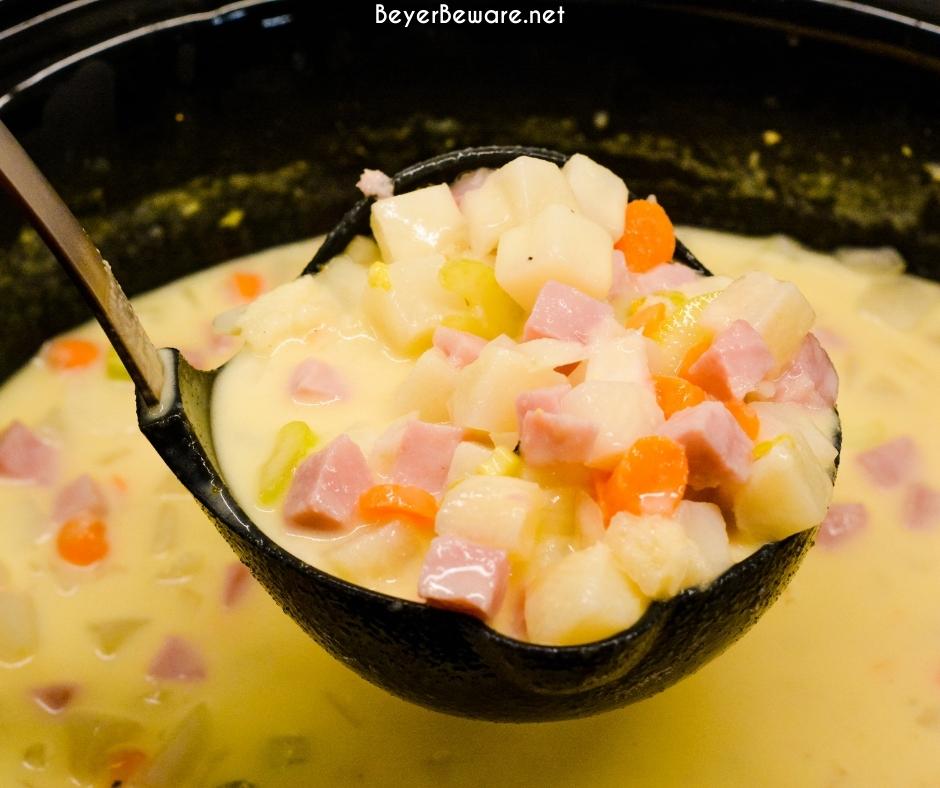 Crock Pot Soup Recipes
Some of the best crock pot soup recipes are in my recipe book. Check out these great crockpot soups.
Crock Pot Taco Stuffed Pepper Soup
Crock Pot Coffee Beef Roast combines coffee, mushroom, onions, garlic to create a rich and flavorful sauce for a beef roast to slow cook in all day.
Check out this recipe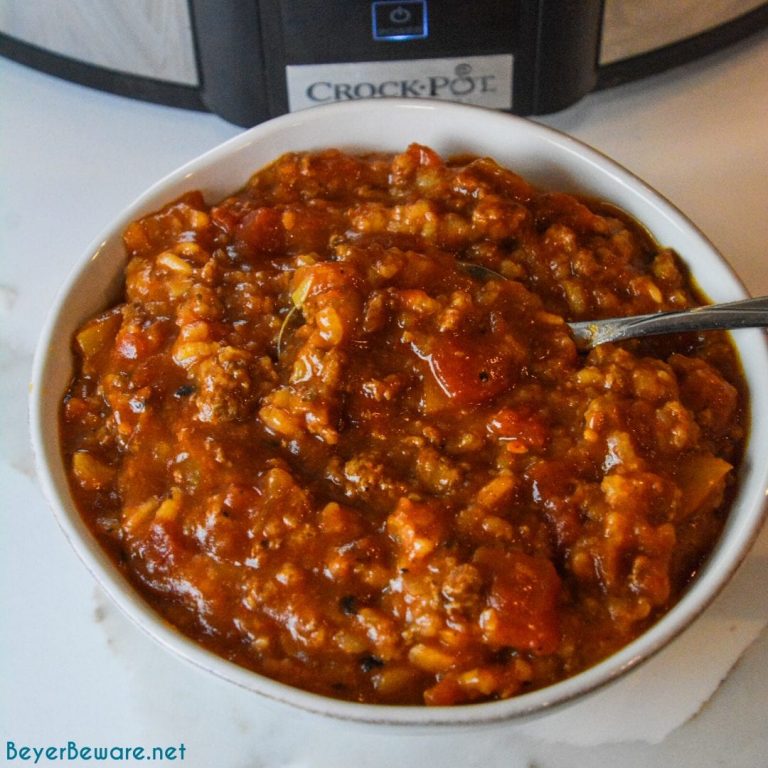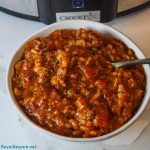 Beef and Barley Stew with Mushrooms
Crock Pot beef and barley soup with mushrooms is my new favorite soup to make this winter. This soup is full of onion, celery, and garlic and then lots of mushrooms and of course stew meat all made heartier with barley.
Check out this recipe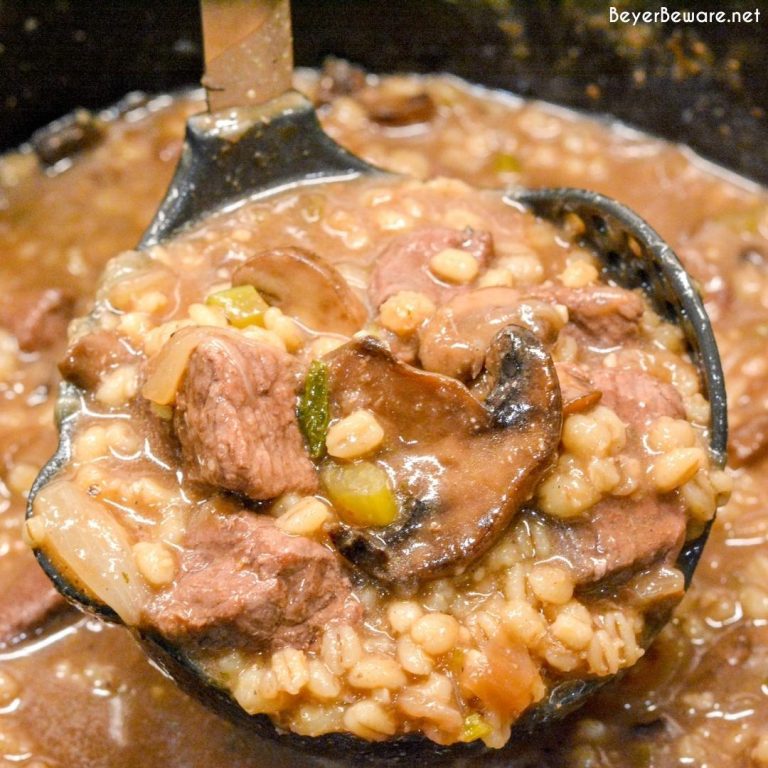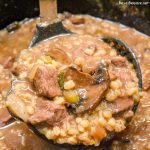 Crock Pot Sausage Tortellini Soup
This creamy, cheesy, spicy crock pot sausage tortellini soup is perfect for a weeknight when you need filling meal waiting for you when you get home.
Check out this recipe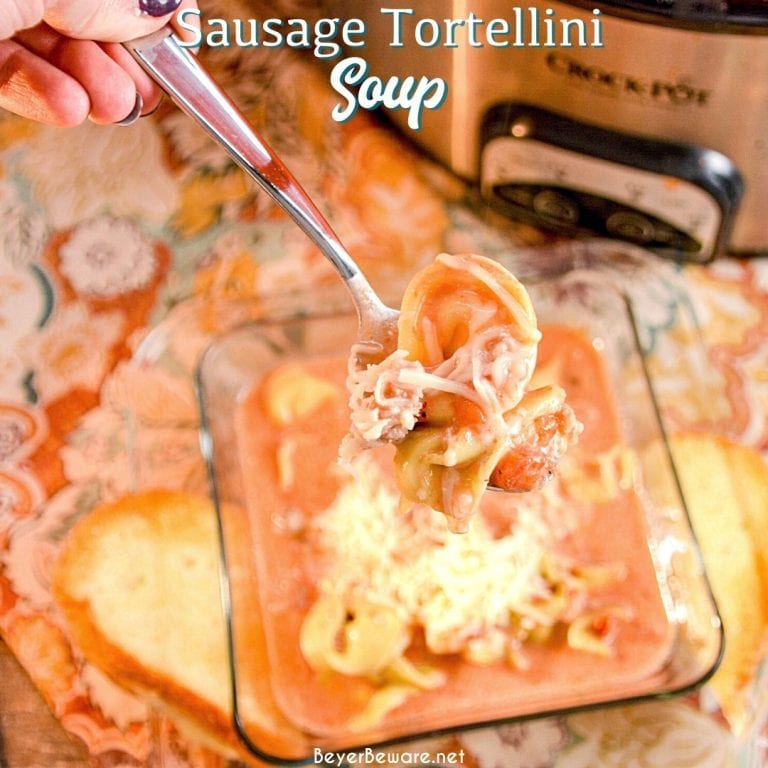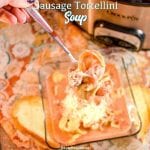 Crock Pot Smoked Sausage Corn Chowder
Crock Pot smoked sausage corn chowder combines a sausage, corn, potatoes, and onions with cream and chicken broth for an easy and hearty soup for a chilly night. #soup #Crockpot #Chowder #Corn #SmokedSausage
Check out this recipe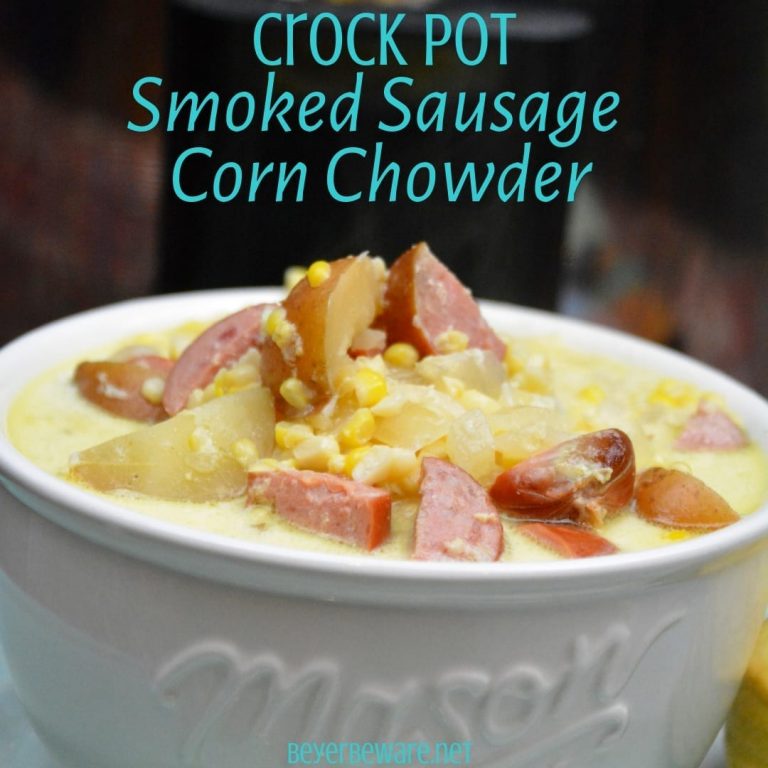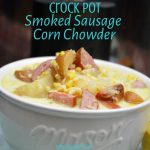 FAQ
Do the frozen hash brown potatoes need to be thawed?
No, using frozen potatoes will be just fine. It may just need a bit more cooking time.
How to thicken up soups?
There are multiple ways to thicken soups like this potato soup. Mixing cornstarch into a little bit of water is one way. Smashing the potatoes a tiny bit will also give the broth a thicker consistency. Xantham gum is also a great thickener that is also low-carb.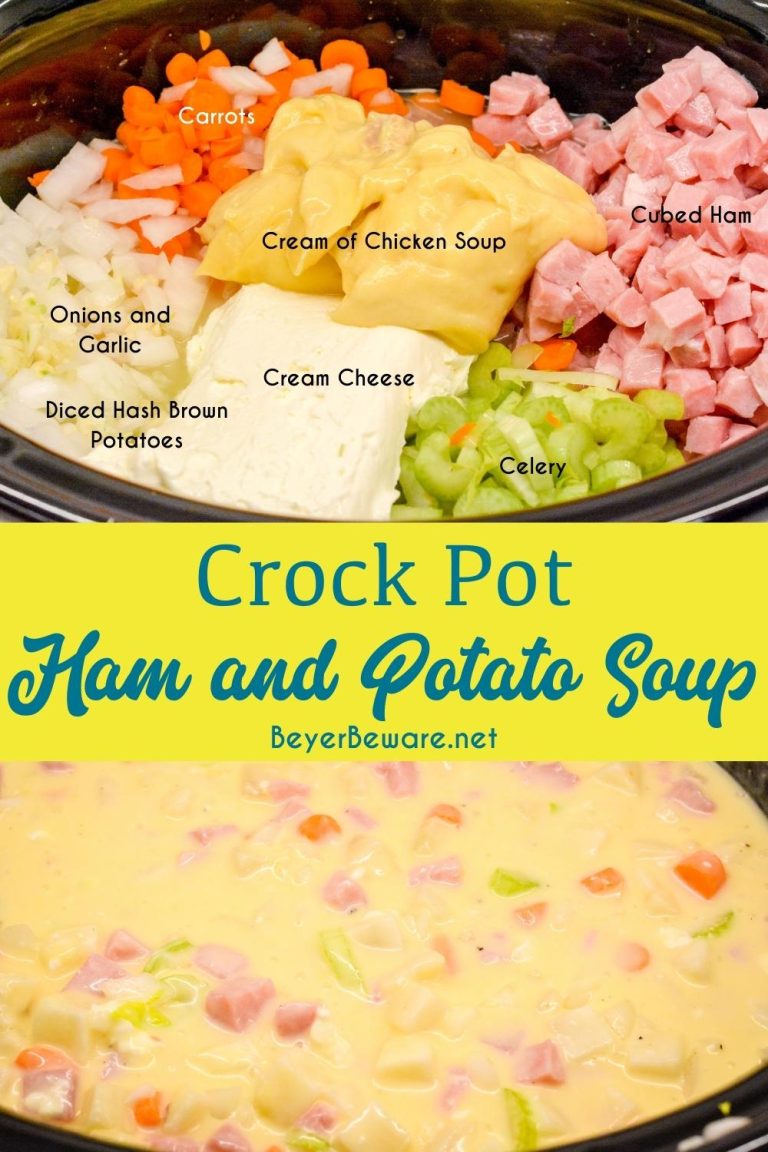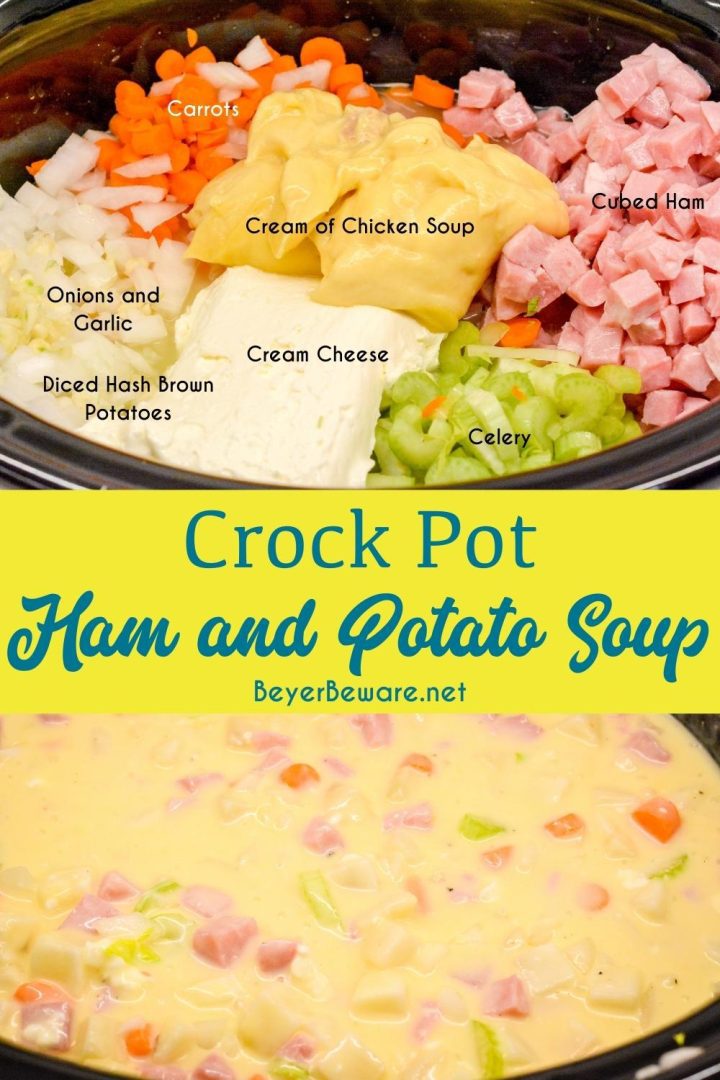 📖 Recipe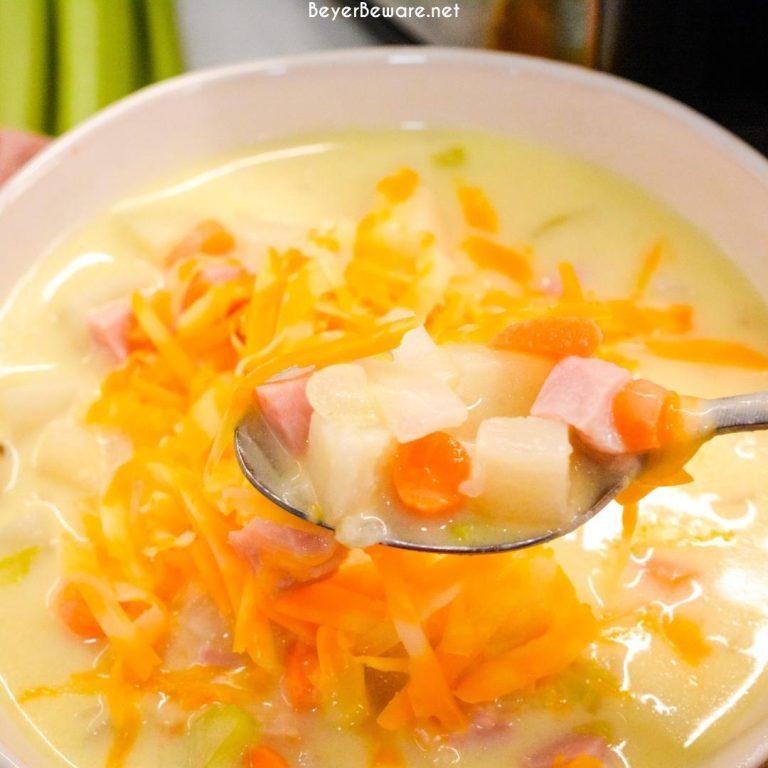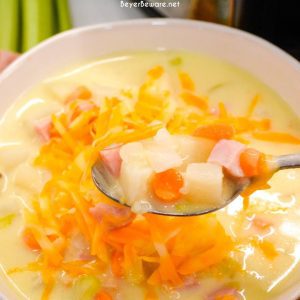 Crock Pot Ham and Potato Soup Recipe
Crock pot ham and potato soup is slow-cooked all day in a base of carrots, celery, onions, and garlic along with diced potato hashbrowns, ham, and cream cheese to make a hearty soup dinner.
Print
Rate
Ingredients
½

cup

carrots, chopped or grated

1

cup

celery, chopped

2

cloves

garlic, minced

1

cup

onion, diced

2

pounds

diced hashbrowns or potatoes

1

pound

cubed ham

4

cups

water

2

tablespoons

Better than Bouillon, roasted chicken

8

ounces

cream cheese

optional

10.5

ounces

cream of chicken soup

1

teaspoon

salt and pepper

1

cup

shredded Cheese for garnish
Instructions
Chop the carrots, onions, celery, and garlic up.

Add the diced potatoes, cubed ham, vegetables, cream of chicken soup, cream cheese, and bouillon dissolved in water to the crock pot.

Season with salt and pepper. Cook on low setting for six to eight hours or on high for four hours.

Stir the soup and make sure the consistency is thickened to your liking. You can also add a teaspoon of cornstarch to a quarter cup of water. Mix to dissolve and add to soup to thicken.

Garnish with shredded cheese, green onions, bacon and even sour cream.
Nutrition
Calories:
351
kcal
|
Carbohydrates:
29
g
|
Protein:
19
g
|
Fat:
19
g
|
Saturated Fat:
9
g
|
Polyunsaturated Fat:
1
g
|
Monounsaturated Fat:
4
g
|
Cholesterol:
75
mg
|
Sodium:
1527
mg
|
Potassium:
482
mg
|
Fiber:
2
g
|
Sugar:
4
g
|
Vitamin A:
1934
IU
|
Vitamin C:
12
mg
|
Calcium:
154
mg
|
Iron:
2
mg