Disclosure: *This post may include amazon links. As an Amazon Associate, I earn from qualifying purchases.
Red wine crock pot beef roast is a juicy and flavorful beef roast thanks to a quick pan-sear on the beef roast and with caramelized onions and mushrooms then slow-cooked in red wine all day. This beef roast is hands down one of my favorite crock pot beef roast recipes.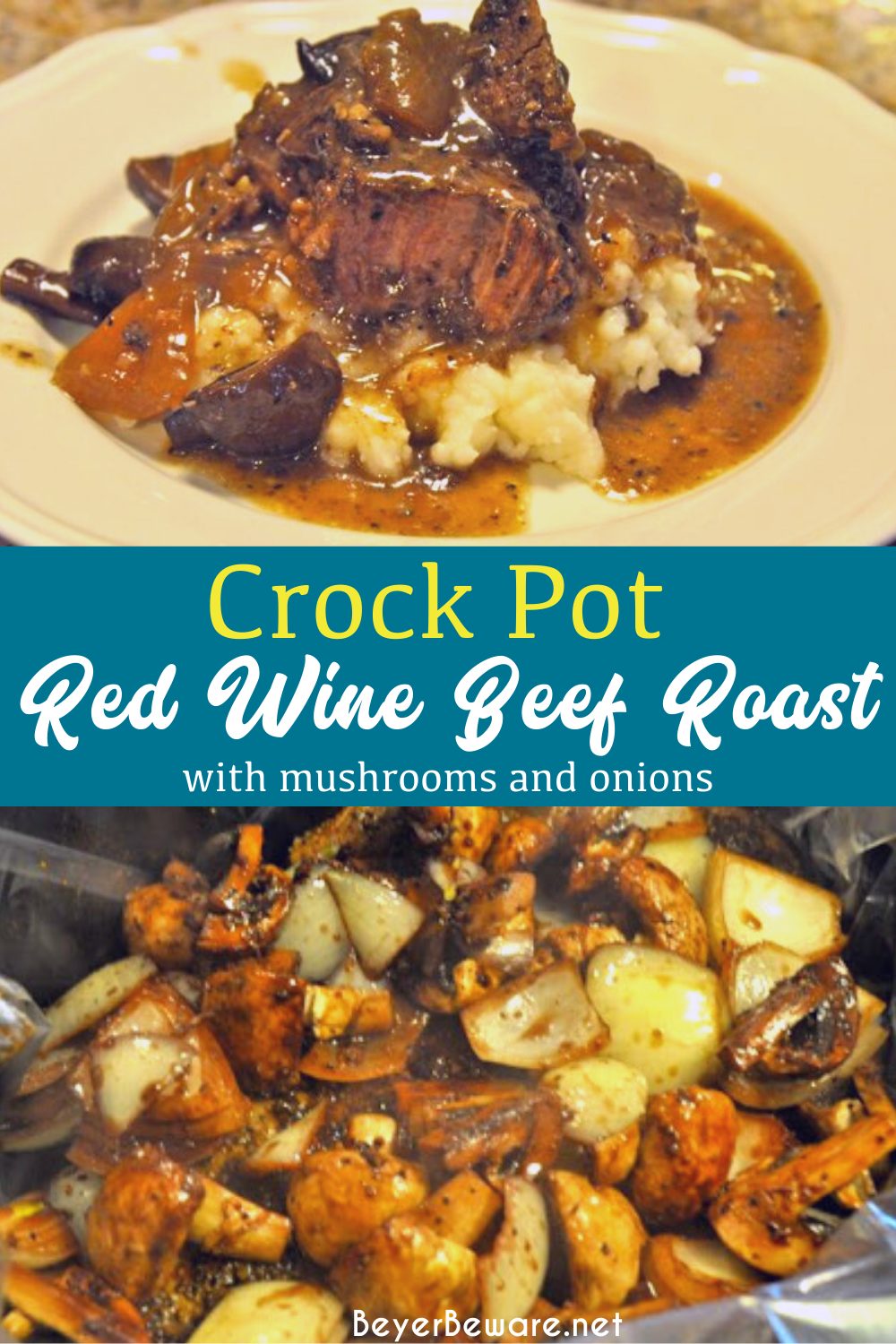 The crock pot is crucial for us to have a hot meal on a weeknight. Otherwise, our hot meal would be frozen pizza and microwave meals too many nights. And when I can open a bottle of wine to cook a meal because the ingredient list calls for it, I am excited. I love this red wine crock pot beef roast with mushrooms and onions.
Red Wine Beef Roast with Mushrooms and Onions Ingredients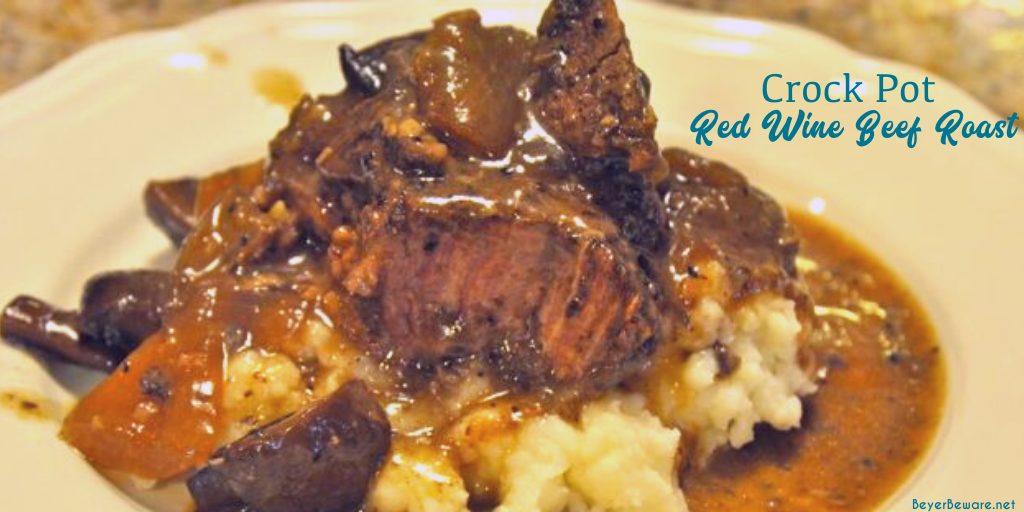 The ingredients for this beef roast recipe are standard pantry staples for me. And really the red wine was just an excuse to open wine. Here is what you will need to make this beef roast recipe.
Beef Roast - Can be a chuck roast, arm roast, shoulder roast, sirloin roast, or anything except a rolled rump roast.
Steak Seasoning - Montreal steak seasoning is my go-to steak seasoning, but you can use your favorite steak seasoning.
Mushrooms - Button mushrooms work just fine for this. If you like a firmer mushroom then baby bella mushrooms might be the right ones for you.
Onions - Sliced sweet onions work great. Pearl onions can also be great in this recipe.
Cream of Mushroom Soup - A creamy gravy is made possible by the addition of cream of mushroom soup. You can also use cream of celery if you need to in pinch.
Red Wine - Red wine pairs well with beef both in a glass and in the crock pot. This needs to be a dry red like Cabernet, Zinfandel, or Merlot.
Olive Oil - Fat is flavor and the addition of olive oil helps caramelize the meat and veggies.
Worcestershire Sauce
Beef Broth
How to Make Crock Pot Red Wine Beef Roast
I started with a roast that was 2-3 pounds. It was, of course, frozen, so I defrosted it in the microwave for about 8 minutes. Then I grabbed my favorite steak seasoning and rubbed it on both sides of the roast.
I then heated up a large skillet and put about a tablespoon or two of oil in the skillet.

Then sear both sides of the roast for 2-3 minutes on each side. I also added Worcestershire sauce to the pan as I cooked the beef.

Then transfer the roast to the crock pot. I love using the crock pot bags for easy clean up on weeknights.
Keep the pan over a low heat and put an onion cut into 8 hunks on the bottom of the pan.
See all that flavorful goodness left on the bottom of the pan? I wanted to somehow get that all captured. After a quick scan of the kitchen, I noticed a half a bottle of red wine leftover from the previous night. I poured about ½ cup of the wine into the pan with the onions.

I quartered up around 8 button mushrooms and tossed them in the pan as well.
Cook the onions and mushrooms until all the bits are off the bottom of the pan.
Pour the mushrooms, onions and reduced wine over the beef roast.

Pour a can of cream of mushroom soup over top of the beef, onions, and mushrooms. Follow up with one can of beef broth.

Cook for 8-10 hours on low or 4-6 hours on high. After the school and work day, play practice and ballet, this was a welcomed meal. I served it over top of some instant mashed potatoes. Yes, instant. I'm not superwoman.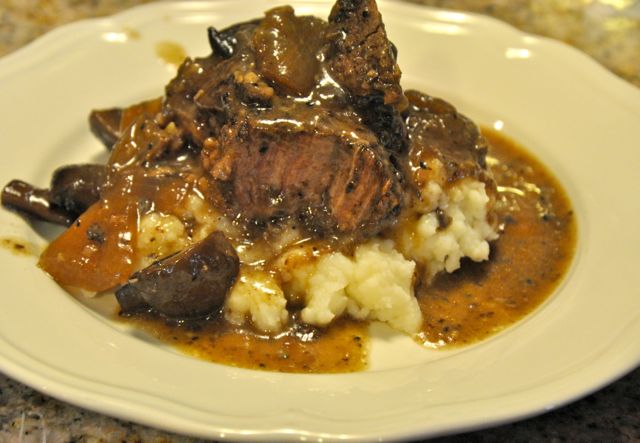 The great thing about cooking a big hunk of meat on Monday is that leftovers easily and quickly make meals for the following nights of the week. This crock pot beef roast was perfect for leftovers. And easy to make with lots of flavors.
Leftover Beef Roast Recipes
Do you have leftover beef roast and want to change up how you eat the leftovers? Here are a few great ideas on how to use leftover beef roast.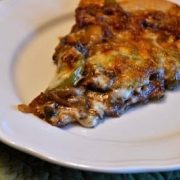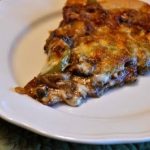 Quick Spicy Beef Burritos
Lovers of Tex-Mex food looking for a change of pace from regular tacos will fall in love with these quick spicy beef burritos.
Check out this recipe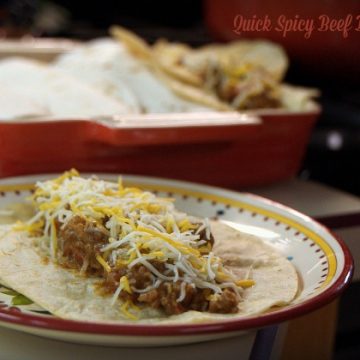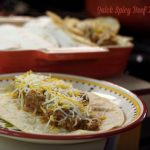 Quick Beef and Noodles
Sometimes we all just need a big bowl of comfort. This quick beef and noodles recipe uses of leftover beef roast to create the perfect bowl of comfort in beef and noodles.
Check out this recipe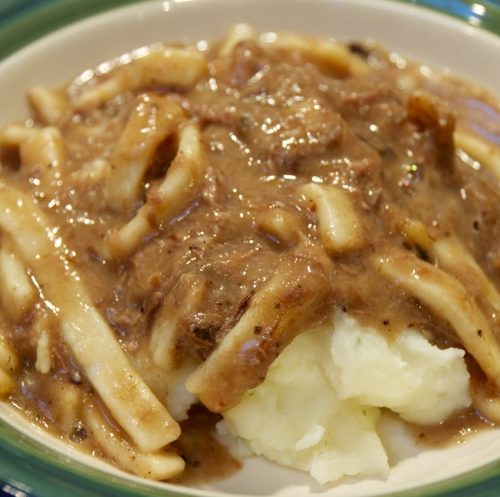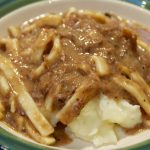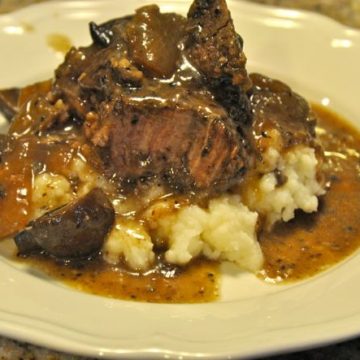 Crock Pot Beef Roast with Mushrooms and Onions
This red wine crock pot beef roast with mushrooms and onions recipe combines great flavors of red wine, and onions for a super tender and juicy beef roast when you get home at the end of the day.
Print
Rate
Ingredients
1, 2-3

pound

beef roast

2

tablespoons

steak seasoning

2

tablespoons

olive oil

2

tablespoons

Worcestershire sauce

1

onion

cut into eight chunks

8-12

button mushrooms

quartered

½

cup

red wine or beef broth

1

can of cream of mushroom soup

1

can of beef broth
Instructions
Rub steak seasoning on both sides of the roast.

Coat a hot skillet with olive oil and sear both sides for 2-3 minutes. Pour Worcestershire Sauce over the roast as it sears.

Move roast to crock pot. Place onions and mushrooms to skillet and pour wine over top. Stir and scrape bits off the bottom of the skillet for 2-3 minutes.

Pour onions, mushrooms, and wine over beef roast in crock pot. Cover with cream of mushroom soup and beef broth.

Cook on low for 8 hours or high for 4 hours.
Nutrition
Calories:
388
kcal
|
Carbohydrates:
8
g
|
Protein:
54
g
|
Fat:
14
g
|
Saturated Fat:
4
g
|
Polyunsaturated Fat:
1
g
|
Monounsaturated Fat:
7
g
|
Cholesterol:
132
mg
|
Sodium:
4120
mg
|
Potassium:
930
mg
|
Fiber:
1
g
|
Sugar:
2
g
|
Vitamin A:
40
IU
|
Vitamin C:
105
mg
|
Calcium:
667
mg
|
Iron:
6
mg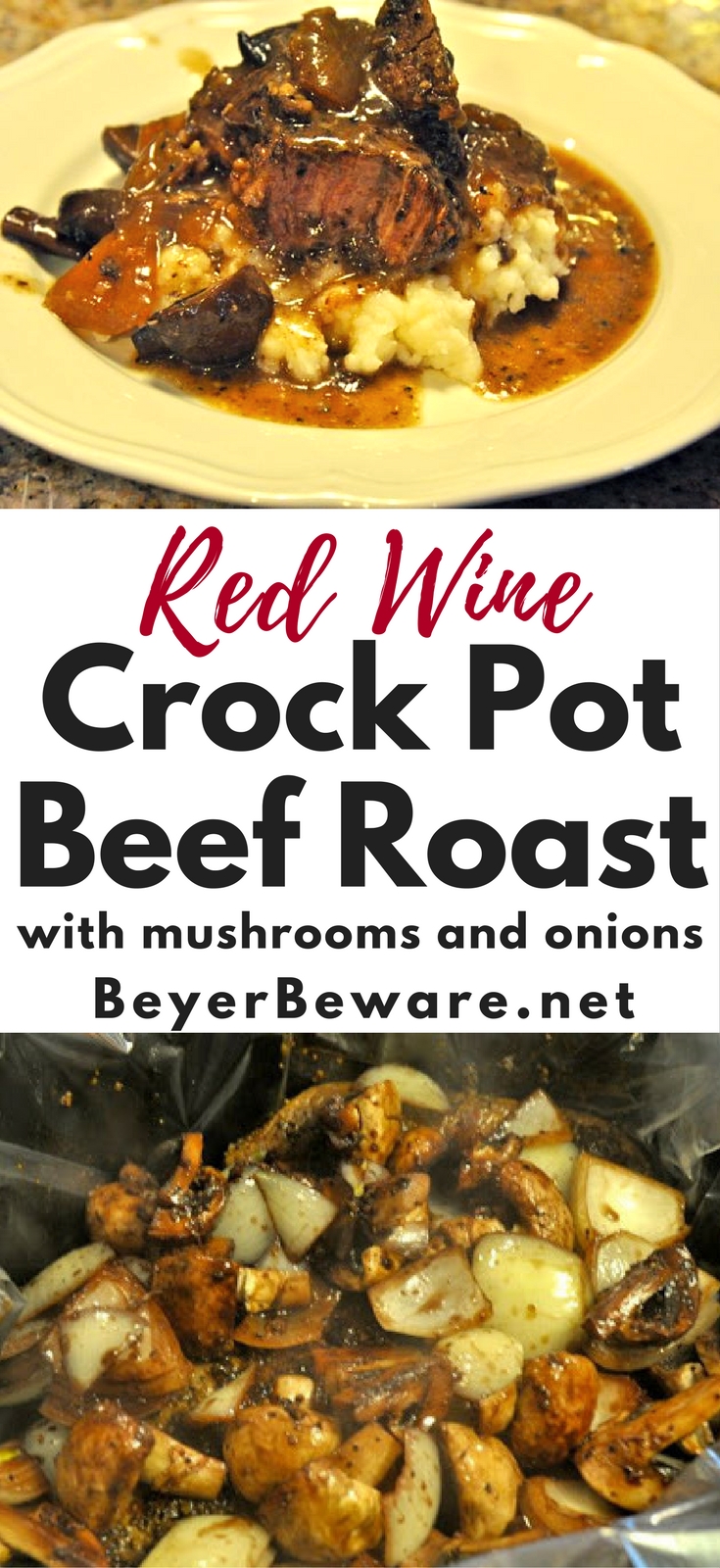 Can't wait to see what you all have planned for the new year in your kitchens!
Affiliate links were used in this post.