Disclosure: *This post may include amazon links. As an Amazon Associate, I earn from qualifying purchases.
Pan-Fried pork chops recipe has no flour, no marinading, no waiting, just juicy, flavorful pork chops cooked in a buttered cast iron skillet in under 30 minutes. When I am looking for a no-nonsense focus on the pork chop recipe, this pan-fried pork chops recipe is my go-to since there is no flour, no marinating, no waiting, just juicy, flavorful pork chops.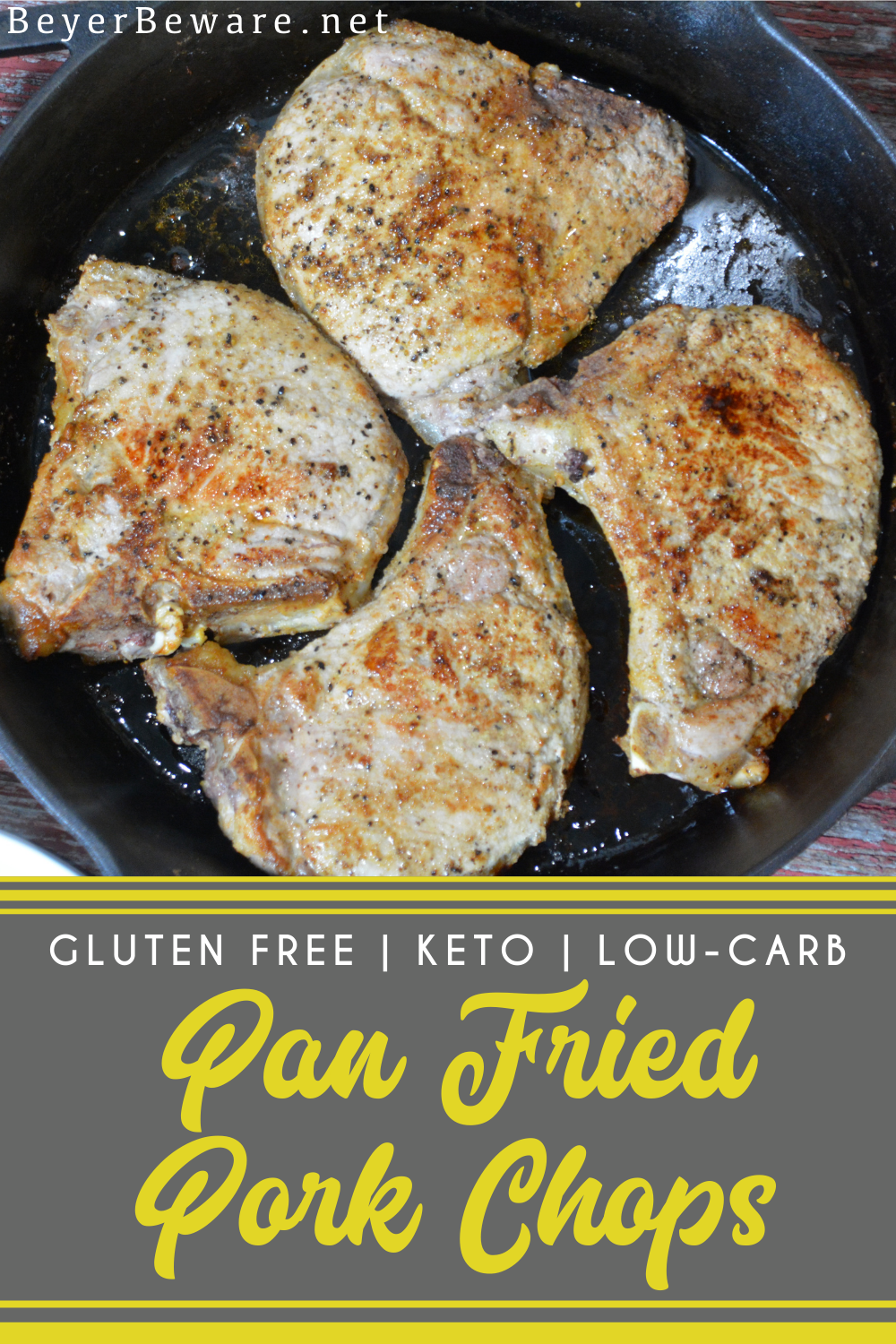 Based on the number of pork chop recipes on this blog, you can tell my family enjoys some good pork chops. Here is the deal, we love them grilled, baked, slow cooked, smoked, breaded, bone-in, boneless, marinated or not. We love pork chops.
How to Pan Fry Pork Chops
The heart of this recipe is obviously the pork chop. If you are going to pan fry pork chops, don't skimp on skinny pork chops. Get yourself some thicker pork chops. Have them be at least an inch thick. Don't be afraid to ask the meat section manager for help. They love to help you find exactly what you need. I would also, go bone-in. I know boneless is easier, but the bone adds additional flavor. It is worth the work.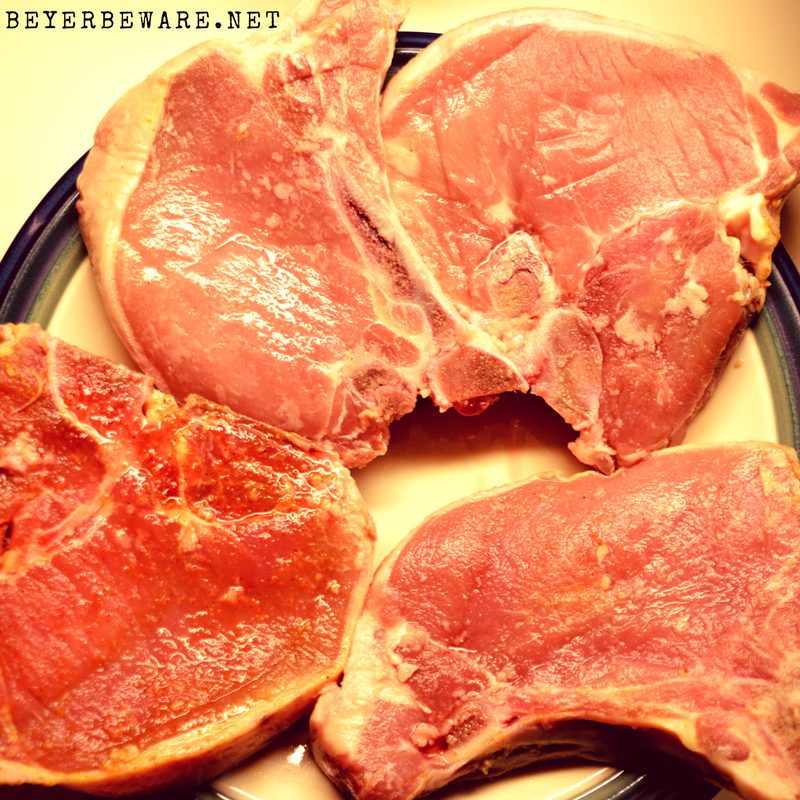 I seasoned the pork chops with two seasonings: Seasoned Salt and Steak and Chop Seasoning. The third and fourth important ingredients are the butter in a cast-iron skillet. People, the cast iron skillet is an ingredient. My steaks on the stove are amazing because of the cast iron.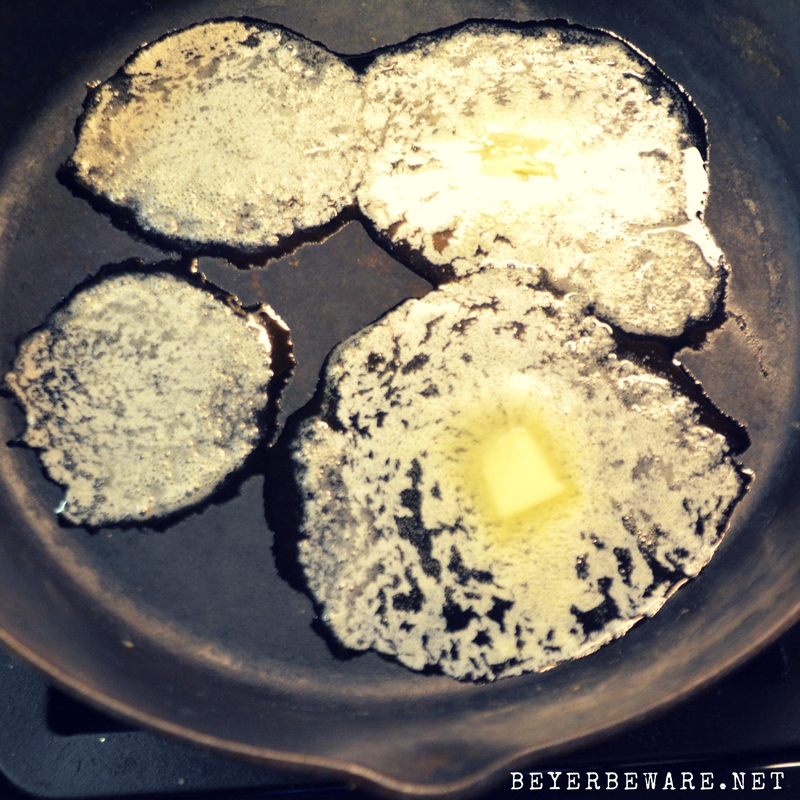 Place the seasoned pork chops in the skillet over medium-high heat. Cook on each side for 2-3 minutes. Once the pork chops are flipped and get a good sear move the heat down to medium until you have cooked pork chops.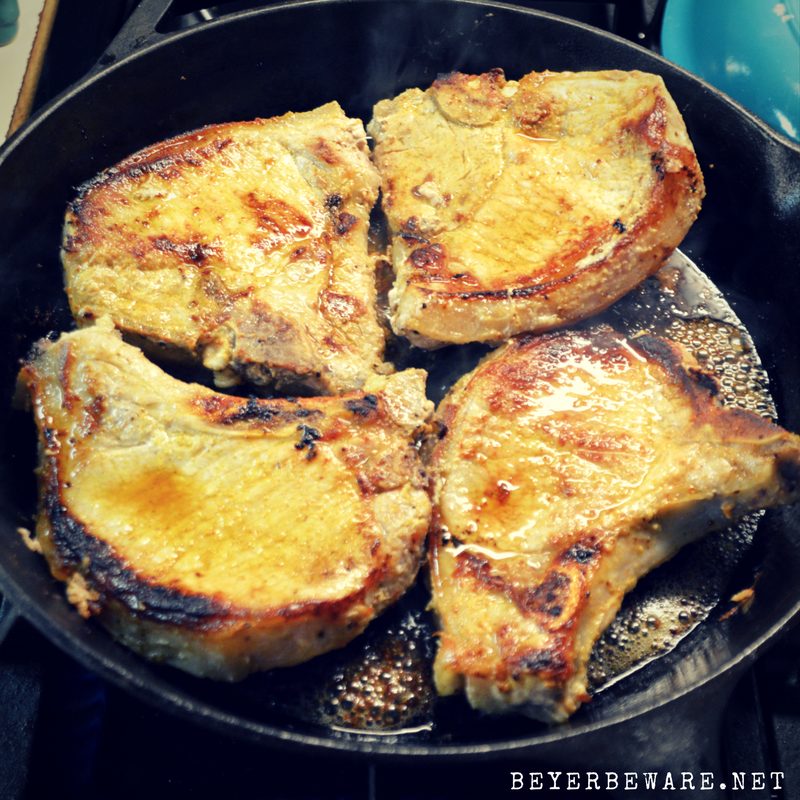 After they have cooked about 2-3 minutes on each side, I put a meat thermometer in and see how far we need to go to finish off the cooking.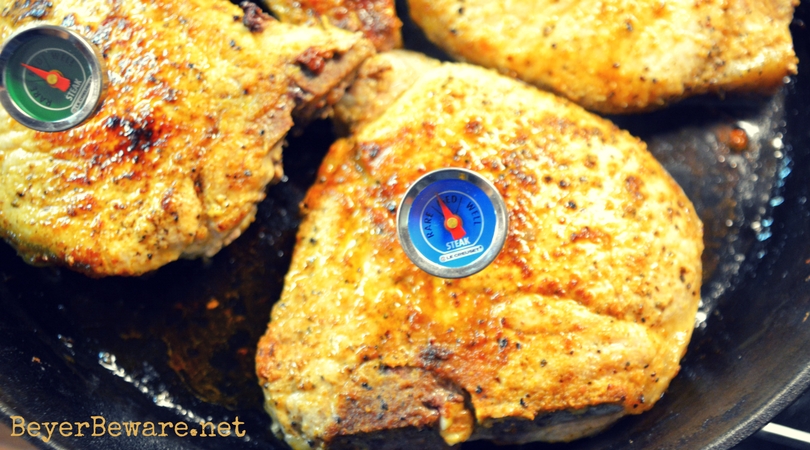 Pork can cook to a lower temp than most realize. I cook pork till it is in the 145-degree range. On a steak thermometer this the medium-rare to medium range. I really encourage you to buy a good meat thermometer. Once they have reached the temp, pull them out of the pan and let your meat rest.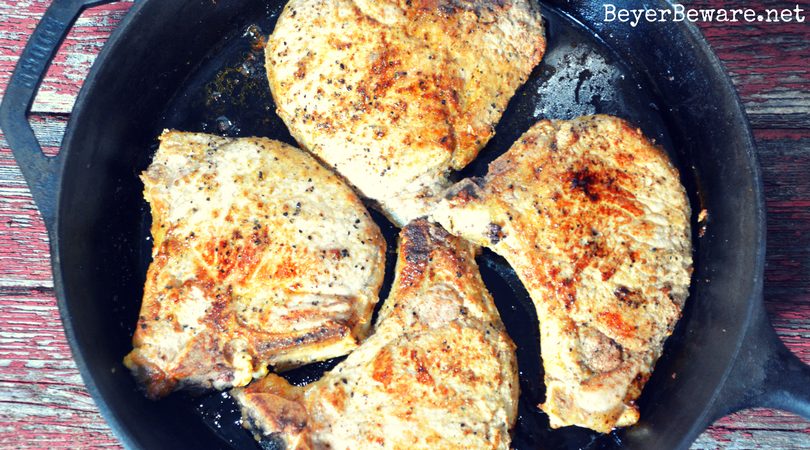 I am telling you the pork should have a great pink blush color. It doesn't have to be all white like the marketing campaign said during our childhoods.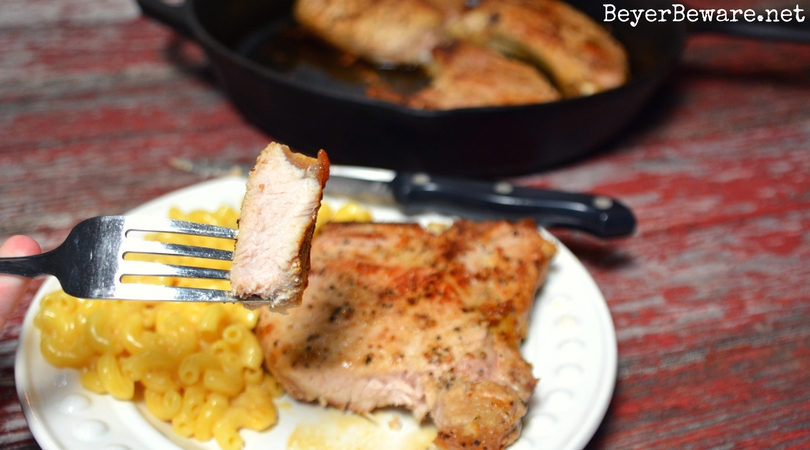 Enjoy the pork knowing it is safe. How am I so sure? we raise our pigs indoors now where they can't get sick from rooting in the soil. So, the cooking of the pork till it is dry and tough is over.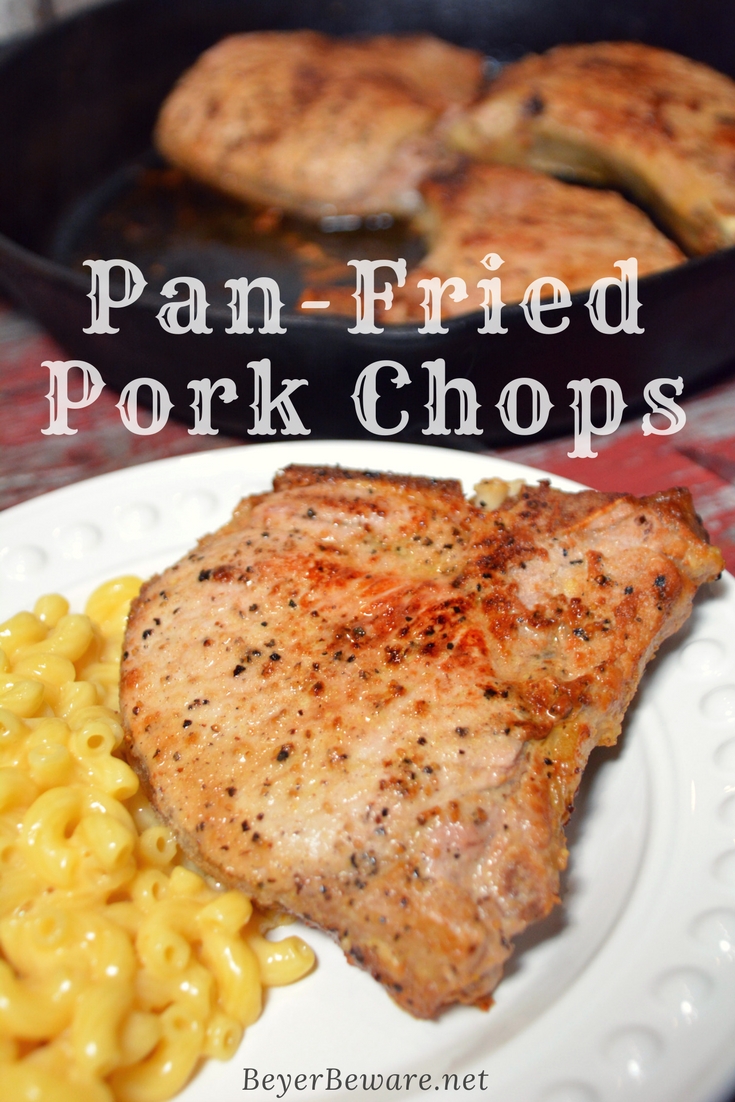 Now, if you aren't drooling, I don't know how to make you drool. I served up with a big pan of macaroni and cheese and everyone pigged out. Pun intended. These pork chops are also delicious with mashed potatoes. These pan-fried pork chops were quick and delicious.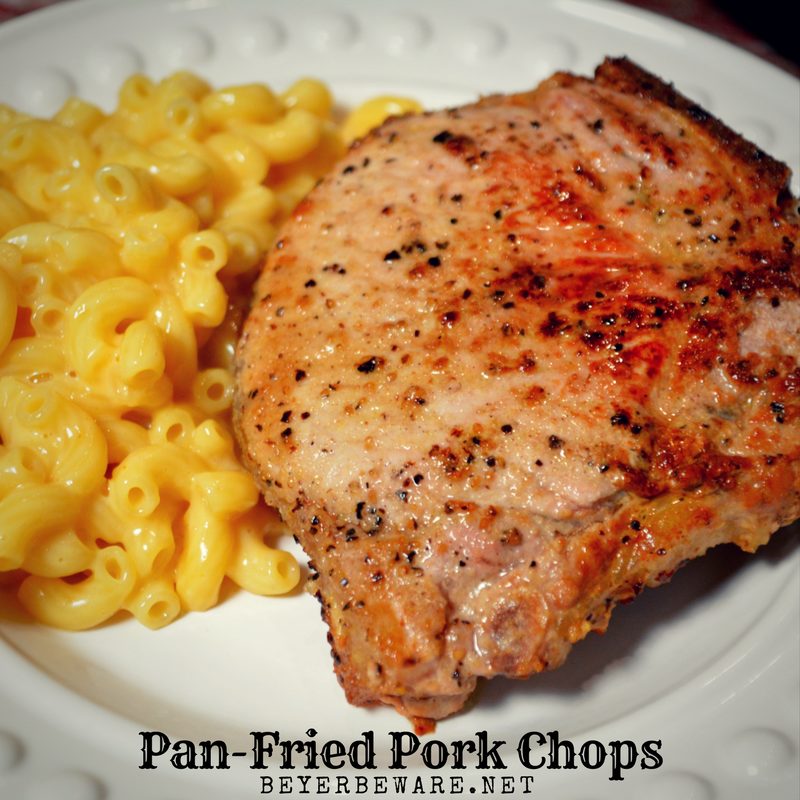 Enjoy pork chops? Then you want to see all the pork chops we have here on Beyer Beware.
Pork Chop Recipes
Crock Pot Ranch Pork Chops and Potatoes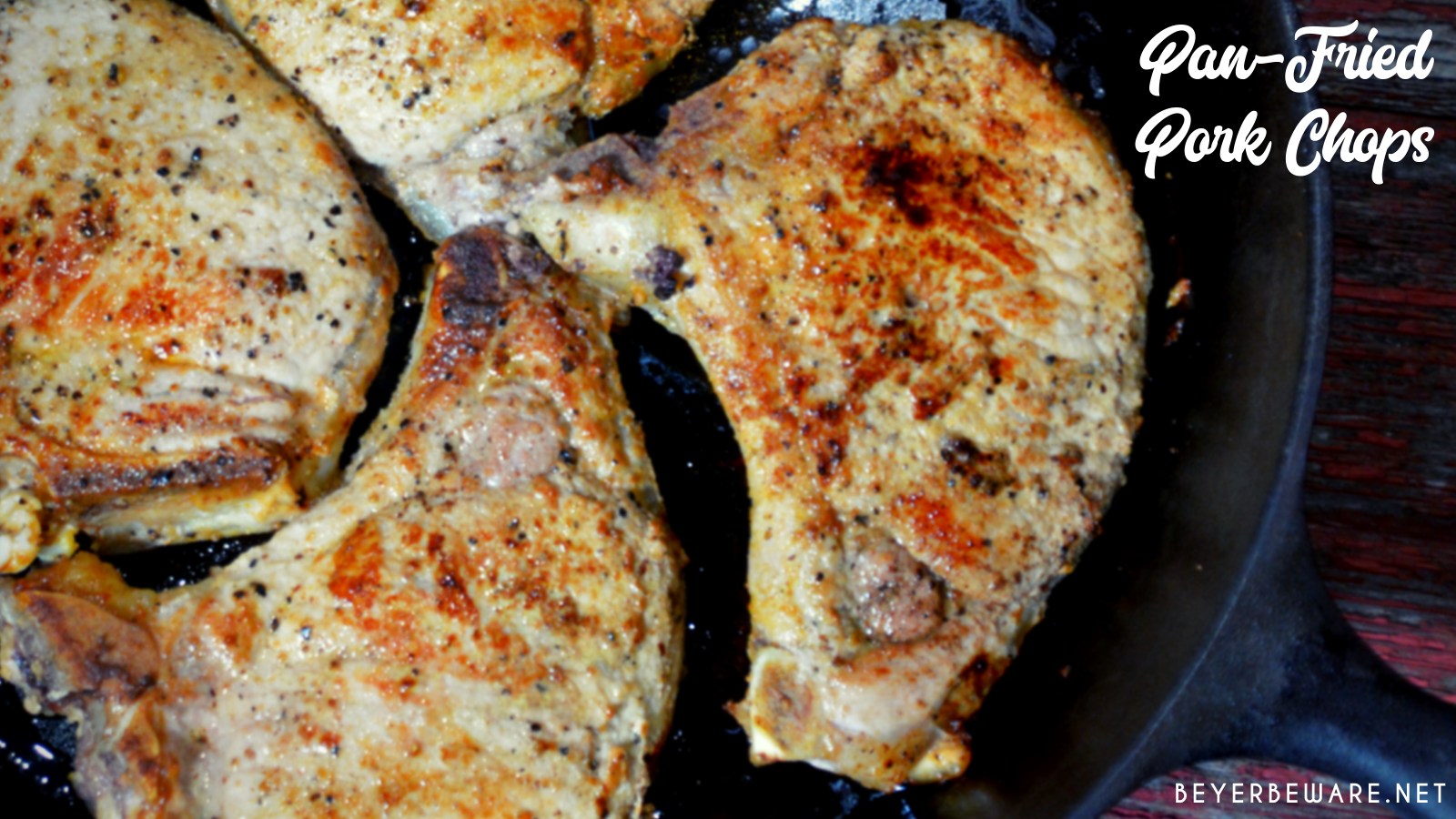 📖 Recipe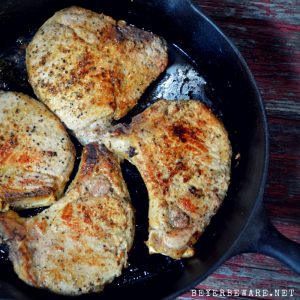 Pan-Fried Pork Chops with No Flour
Pan-Fried pork chops recipe has no flour, no marinading, no waiting, just juicy, flavorful pork chops cooked in a buttered cast iron skillet in under 30 minutes.
Print
Rate
Instructions
Melt Butter in a medium-high skillet.

Season both sides with both seasoning salts. Do not have to use the full tablespoon of each on the four chops, but season liberally to your salt liking.

Place pork chops in the melted butter of the medium-high skillet, cooking 2-3 minutes on each side.

Once they have seared on both side, take the temp from the middle of the pork chop. If the temperature is 145 degrees. Pull from pan and let rest for five minutes. If not, pop in a 400-degree oven till pork chops reach 145 degrees.
Nutrition
Calories:
311
kcal
|
Carbohydrates:
1
g
|
Protein:
29
g
|
Fat:
21
g
|
Saturated Fat:
11
g
|
Cholesterol:
120
mg
|
Sodium:
1909
mg
|
Potassium:
500
mg
|
Fiber:
1
g
|
Sugar:
1
g
|
Vitamin A:
376
IU
|
Calcium:
23
mg
|
Iron:
1
mg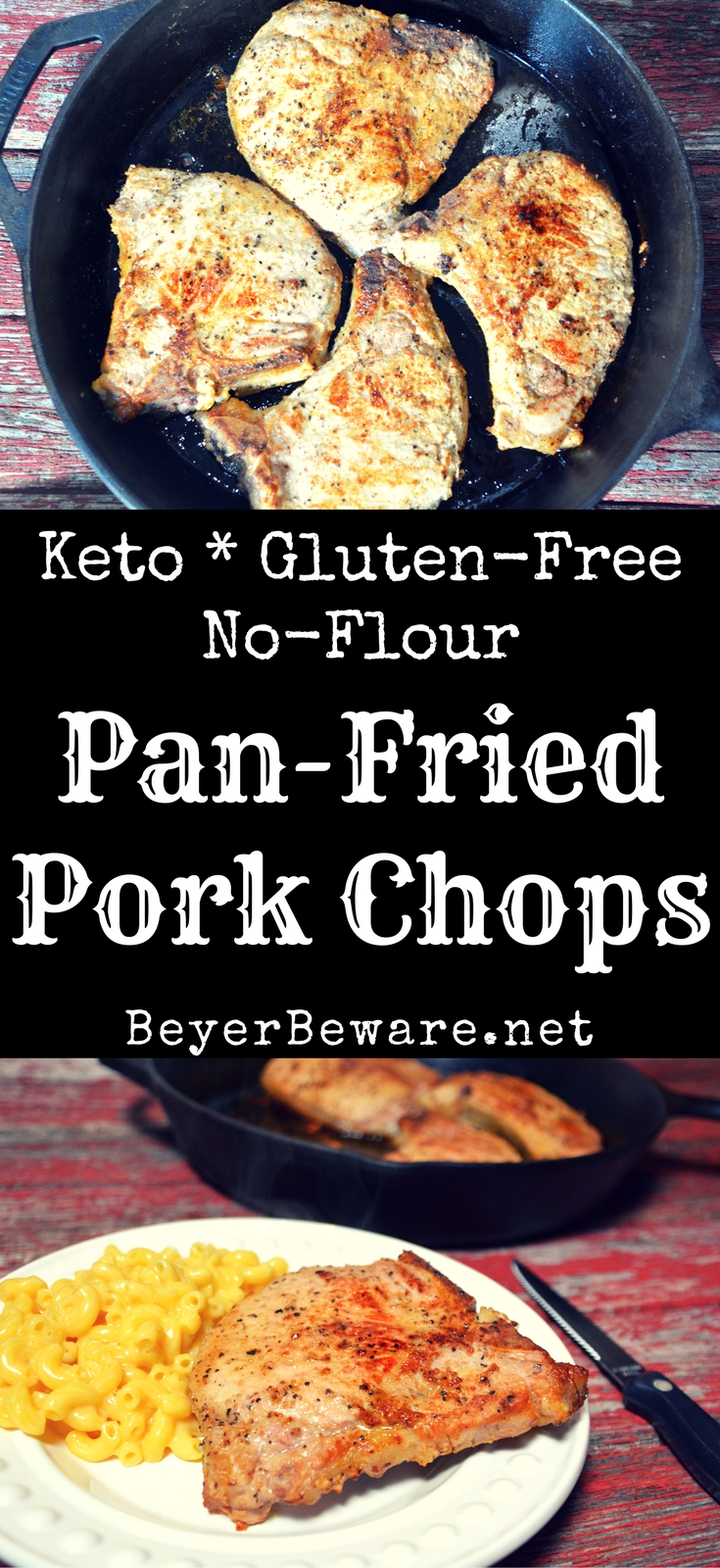 Find other great recipes at the weekend potluck.
Affiliate links were used in this post. I make a commission off anything bought from affiliate links.