Disclosure: *This post may include amazon links. As an Amazon Associate, I earn from qualifying purchases.
Holy price of meat, Batman! I buy the majority of meat directly from the farmer. All of my beef comes from my brother, and the pork in the freezer is from my one of the show pigs. But every now and then I will just glance in the meat case at the grocery store. Was I surprised to see the price of ground beef. Wowsers.
This is so shocking because, when I buy a half a beef from my brother, it is around 350-400 pounds of meat. We get steaks and roasts and stew meat and ground beef. A lot of ground beef. About ¼-1/3 of all the meat is ground up. And, since I talk to the person butchering the animal, it is very lean meat. And what does this very tasty, packaged the way I want beef cost me? Around $2.75-$3.50 a pound depending on what the cattle price currently is when I buy the animal. That's right $2.75. And what did the 80% beef 20% ground beef you just bought at the grocery cost you? Over $4? Most likely. After all, we have the shortest cattle inventory on record in the recent past. Combine that with the long growth time, you have expensive, sought after beef.
But if you are like me, you have to have your beef still. And I have a lot of ground beef. Which is why I love making new things to use ground beef. This week, I am sharing my latest creation, Philly cheese sloppy joes.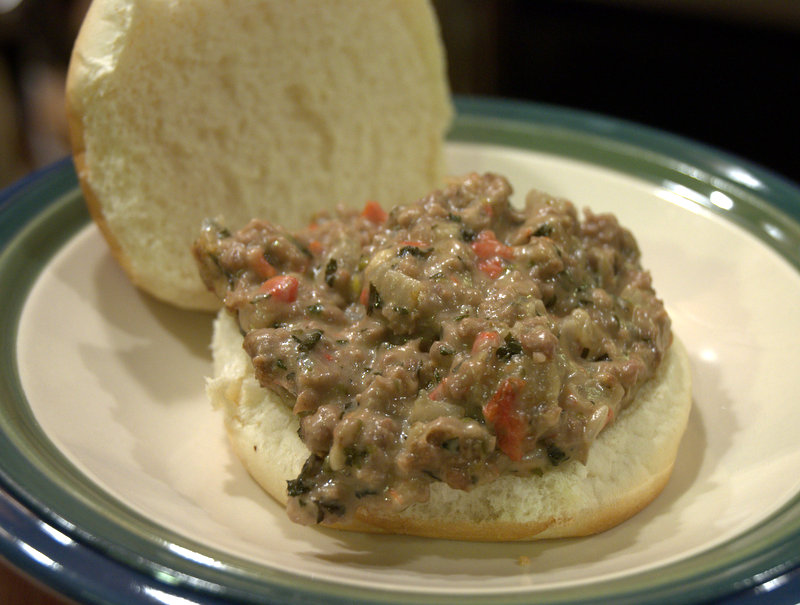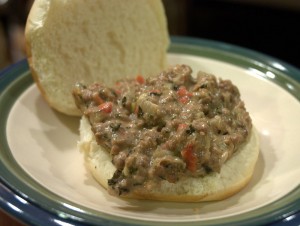 The one thing to note about buying beef in bulk to get a better price, is that it is frozen. So, when I go to make supper, I have frozen pound packages of ground beef.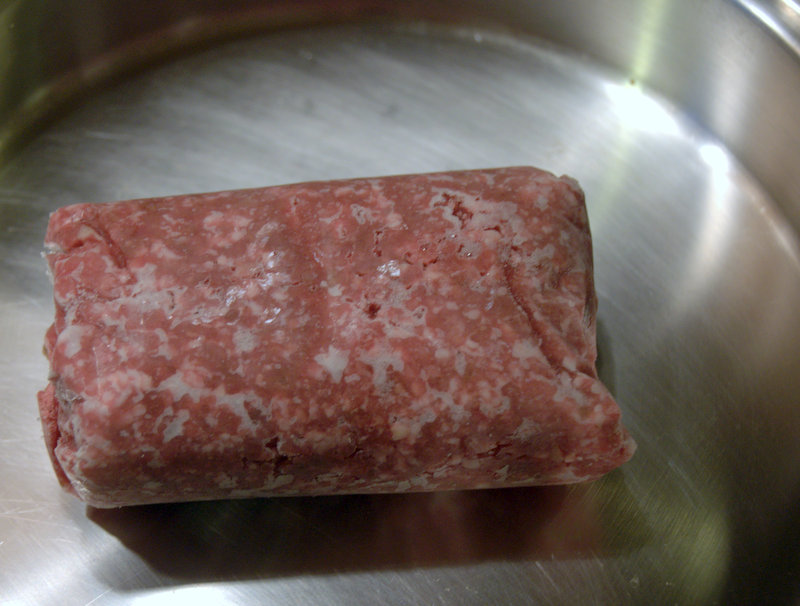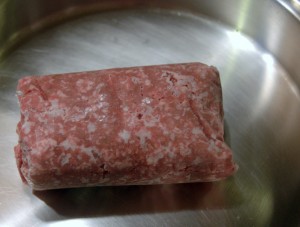 I put the frozen hamburger in the skillet and poured 1-2 tablespoons of Worcestershire sauce. Add one cup of beef broth to help the beef brown without scorching.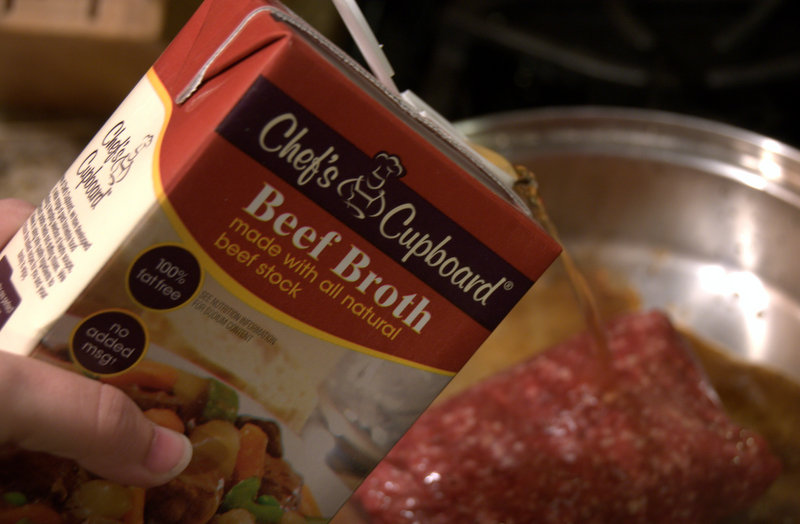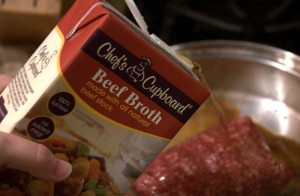 Once, part of the ground beef started to brown, add diced red peppers.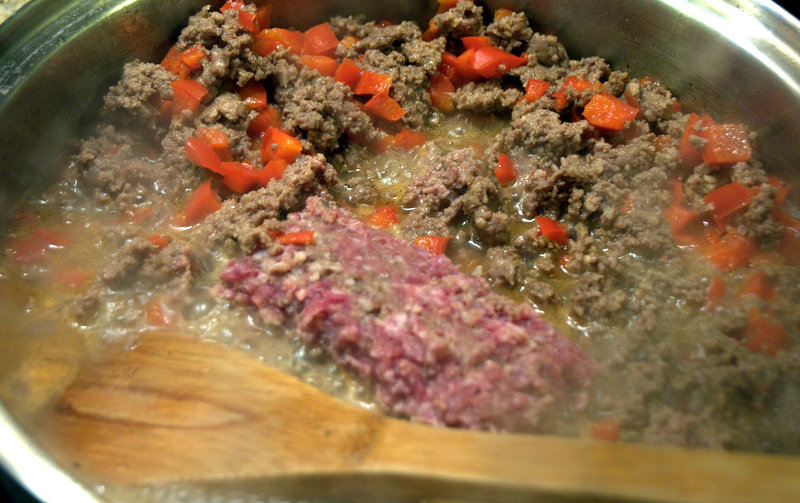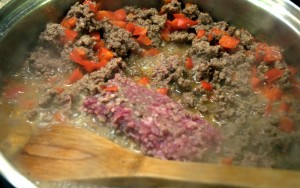 Continue browning the beef, once the beef is almost completely browned, add diced onion and garlic.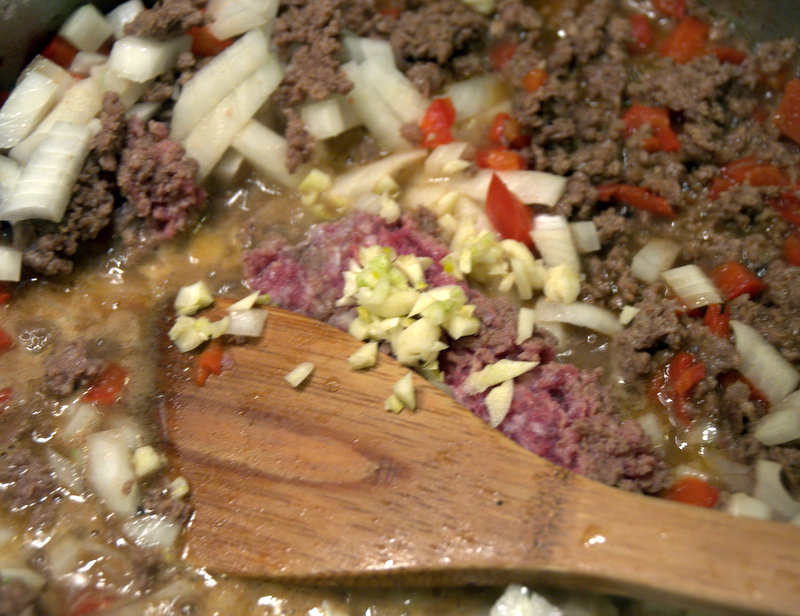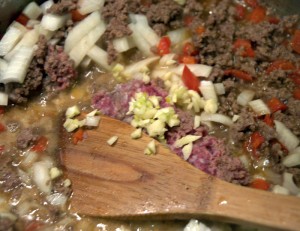 And now it is time to add some herbs. I recently bought my first order of Penzey's Spices. One of the recommendations from my friend over on Pinke Post was to order a large bag of Pasta Sprinkle.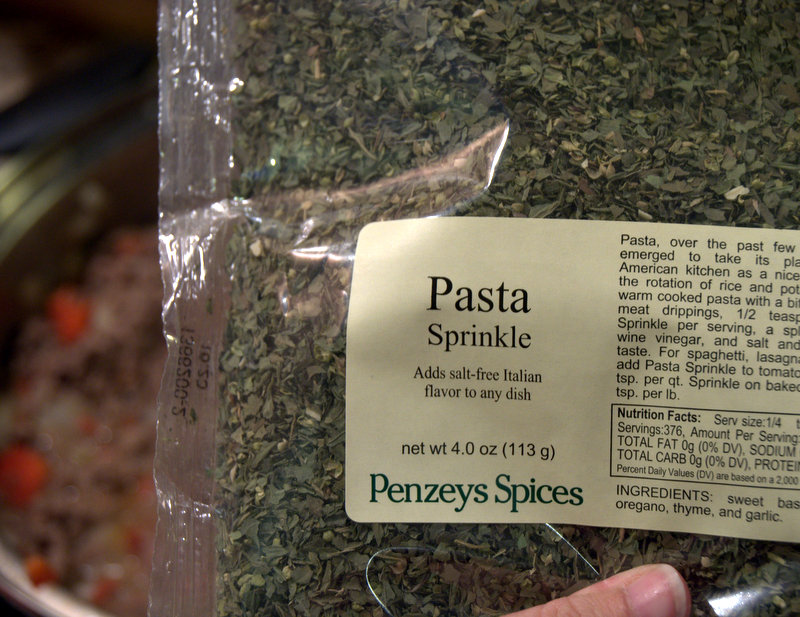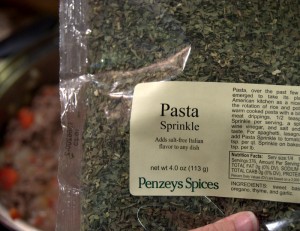 I tossed a small handful into the beef. Continue to sauté until all the liquids are evaporated. Then the fun begins. Add butter please. I make a well in the middle of the pan and put the butter there to melt.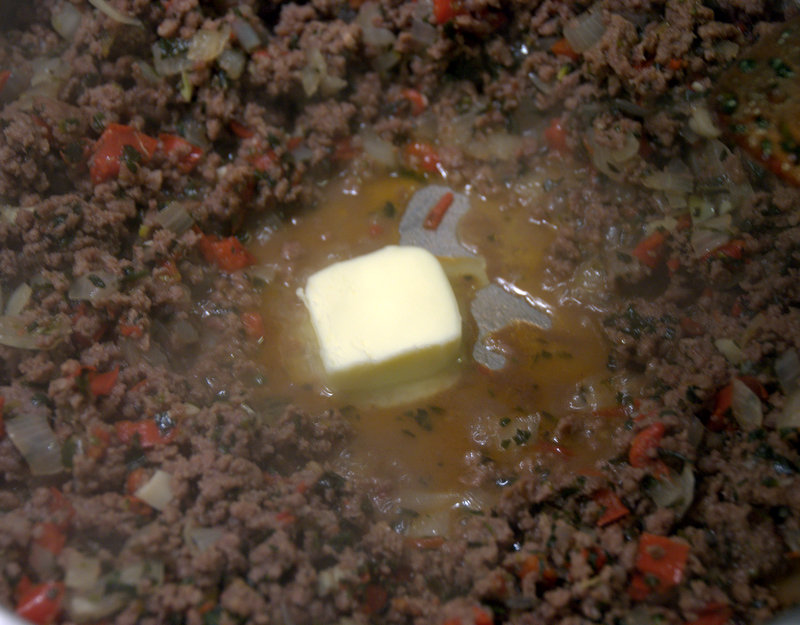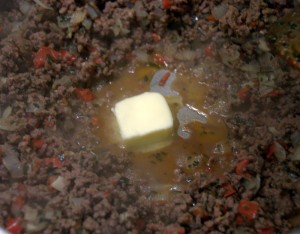 Once the butter is melted, add the flour on top of the butter and stir to combine with all of the beef and veggies.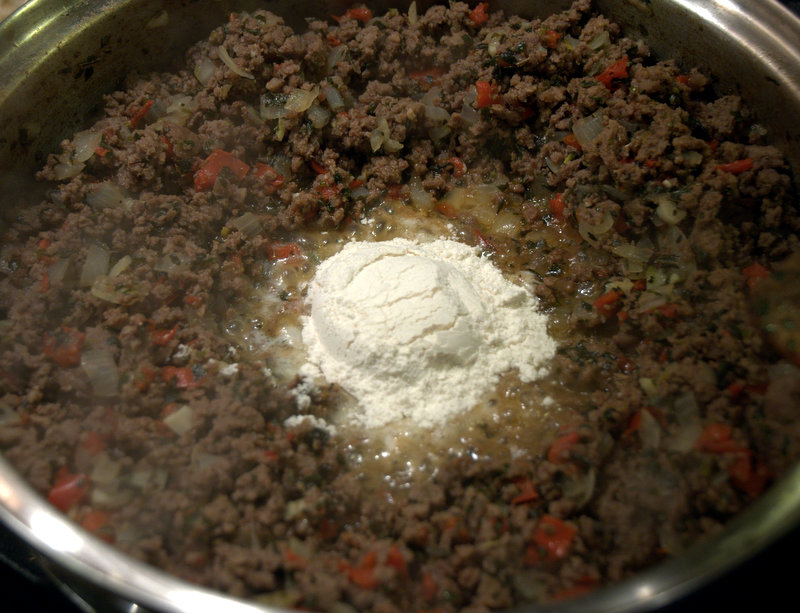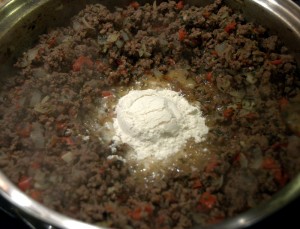 Add milk once the flour and butter are combined. Stir the milk into the beef to form a thick sauce mixture.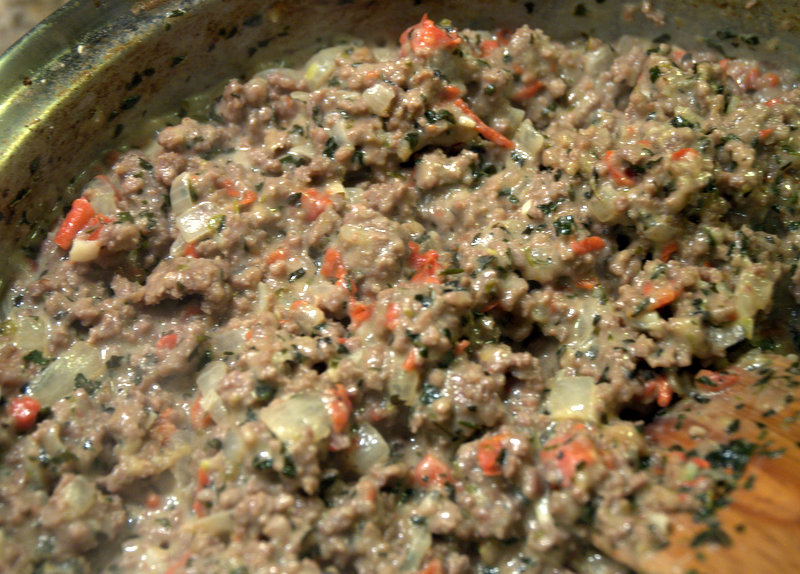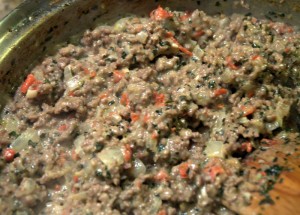 Now for the cheese. Shredded, glorious cheese. Use provolone or Monterey Jack or Mozzarella. Use white cheese. Get it?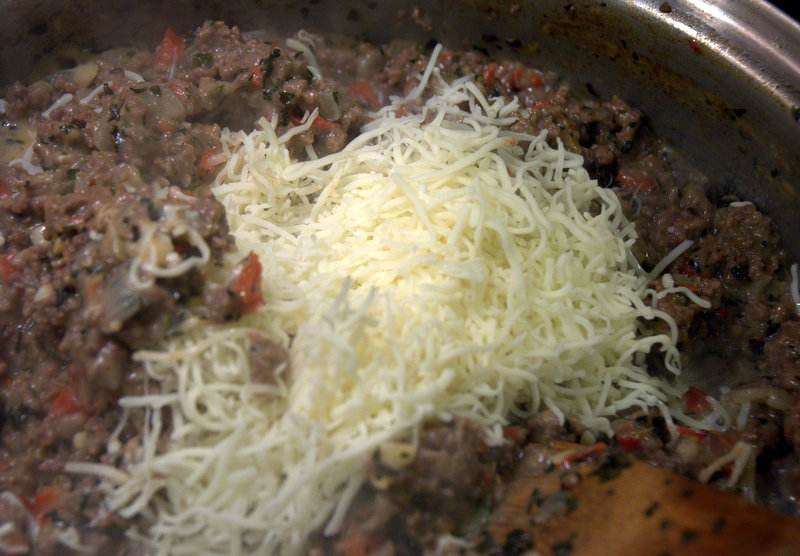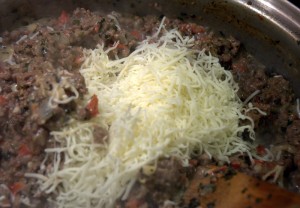 Stir together to combine and all the cheese is melted. Then dive into the tasty sloppy joe a top a hamburger bun.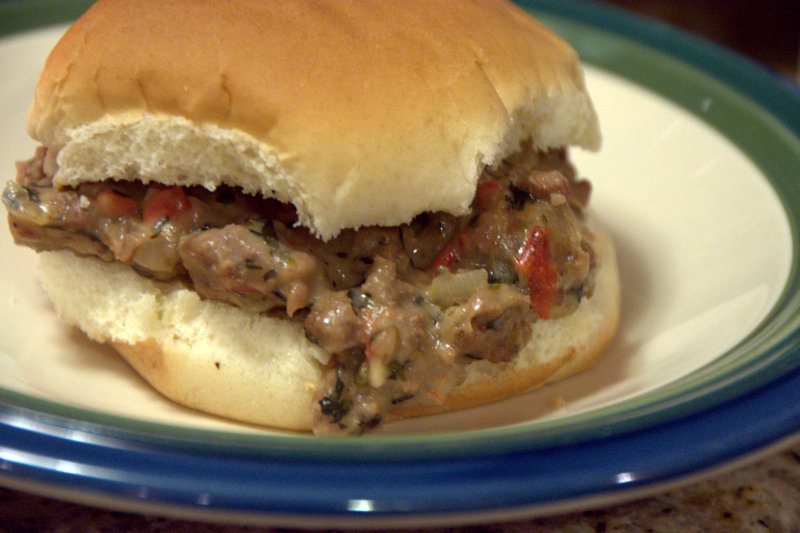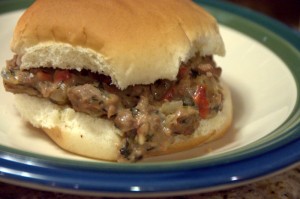 This is one was a great way to get your favorite flavors of Philly Cheesesteaks, sans the steak cost. Hope your family loves it too.
📖 Recipe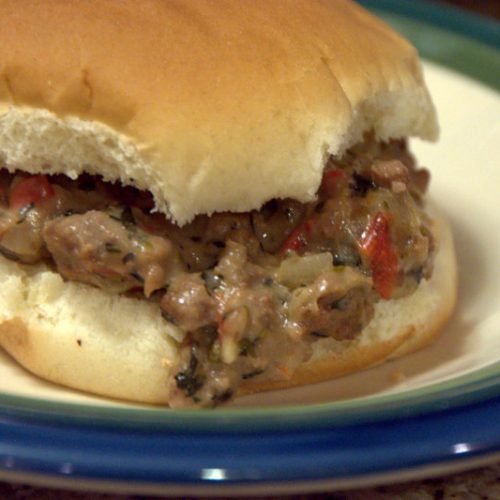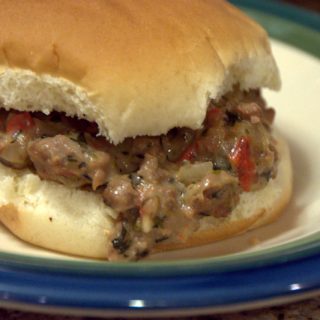 Ingredients
1

pound

ground beef

2

Tablespoons

Worcestershire Sauce

1

`cup beef broth

1

bell pepper

diced

1

onion

diced

Italian Herbs

2

Tablespoons

butter

2

Tablespoons

flour

1

cup

milk

1

cup

shredded provolone cheese
Instructions
Place ground beef in skillet, pour Worcestershire sauce and broth over beef, and sauté over medium heat.

When half the beef is browned, add peppers. Continue to cook over medium heat.

Once all the beef is browned, add onions and garlic. Cook till liquid evaporates. Add ¼ cup Italian herbs, optional.

Form a well in the middle of the pan with beef, add butter. Melt completely and add flour. Stir both completely into beef.

Pour milk into skillet slowly, letting sauce thicken as it is added. Once a thick roux is formed in the beef, add cheese.

Stir till cheese is completely melted and serve on a bun.
Can't wait to see what you have cooked this week. Link on up your favorite recipes!
Be sure to check out the other tips and food tidbits as part of the 30 Days on the Prairie Farm Series.