Disclosure: *This post may include amazon links. As an Amazon Associate, I earn from qualifying purchases.
Indoor Make-ahead S'mores is an easy recipe for making actual s'mores with graham crackers, marshmallows, and chocolate in mass quantity in the oven. This recipe for s'mores dipped in chocolate can be made up in large quantities prior to any event for an easy-to-distribute and eat dessert is needed. I have hit the jackpot with these indoor make ahead s'mores. Jack. Pot.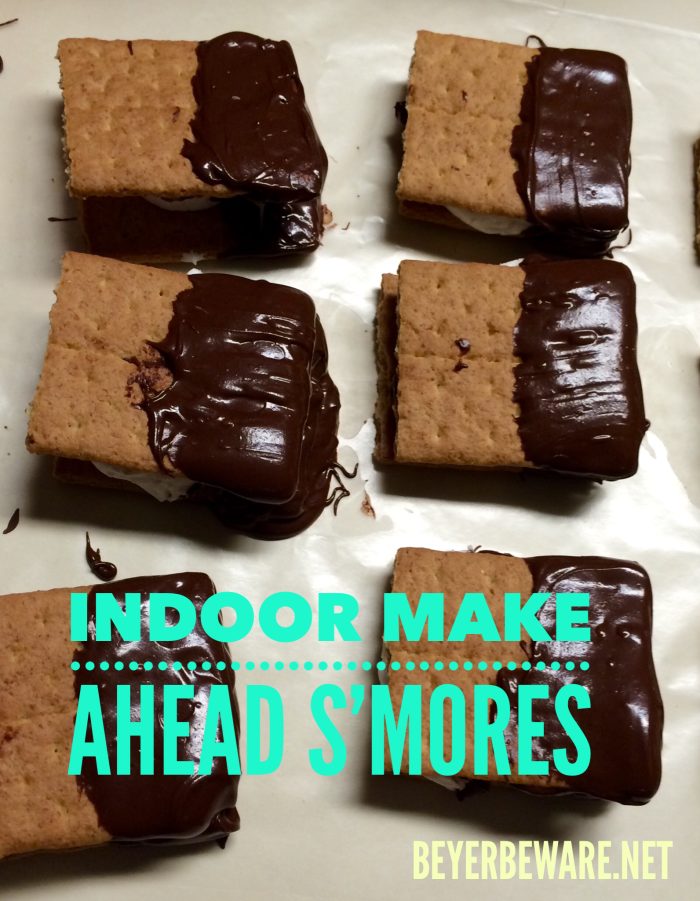 The best thing about campfires is hands down the S'mores. Sure the hot dogs burned crisp is also good, but let's just be honest, it is the s'mores. So, whenever there is an outdoors-themed party we all want s'mores. I have even have made S'mores bars. When I got the bright idea to make indoor s'mores for 100 teenagers for a big youth event, I was worried I was going to die of smoke inhalation from standing around a campfire roasting marshmallows. And then it occurred to me... broiler equals campfire toastiness. And it worked.
How to Make Indoor S'Mores ahead of Time
I laid 30 graham cracker halves, the squares, on one cookie sheet and topped with one marshmallow a piece. Then I laid 30 halves on another cookie sheet. I used about 10 chocolate chips but mini chocolate bars would work perfectly too. While doing this I warmed the oven to 250 degrees.
Then place the marshmallows on the top rack and chocolate chips on the bottom rack. Flip the oven from bake to broil. I broiled on low. This allowed more control on the browning of the marshmallows. I had to slowly move the rack across the oven below the broiler to evenly brown all the marshmallows.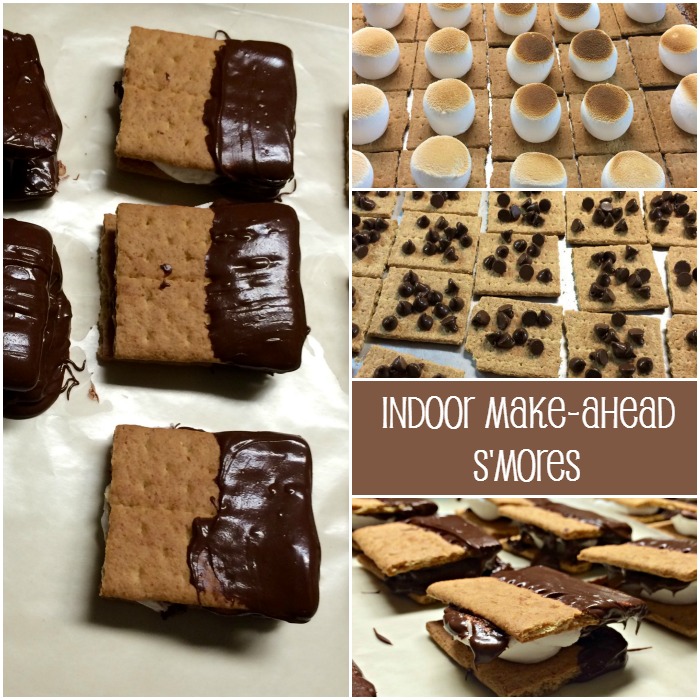 Once removed from the oven, take the chocolate half and press down on the marshmallow half. Then let cool. You could be done at this point with the indoor s'mores. It is after all, what we would do around a campfire.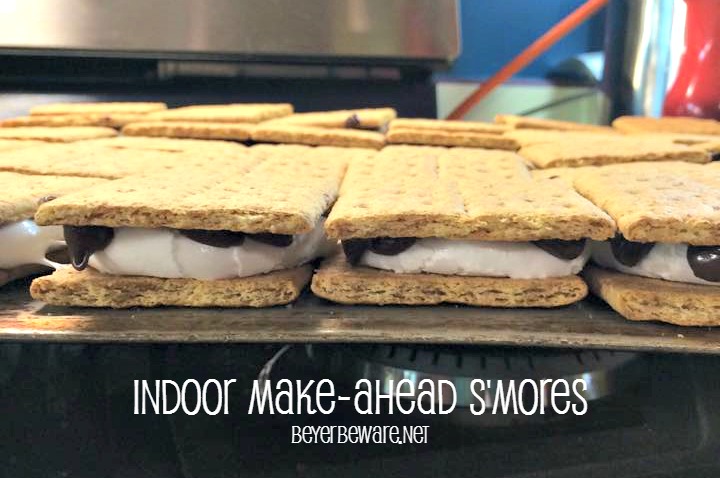 But, no sane woman ever said no to a little more chocolate. So, I melted chocolate chips. Now I used semi-sweet chocolate chips for the insides and outsides. If you use chocolate bars that are milk chocolate for the inside, you can use those for the outside dipping also. If I was making these for adults I would use dark chocolate. I don't know about you, but my kids only eat dark if it is the only chocolate available.
Back to melting. I melt the chocolate in the microwave in 30-second intervals. For about 2 cups of chocolate chips, it took about four 30-second intervals on high heat. Then dip away. I dipped only halfway so they wouldn't be so sickeningly sweet and I could store them staking them up alternating the chocolate sides so they wouldn't stick together. But if you really want a treat, dip all the way.
Easy Chocolate Desserts
S'mores Bars - Marshmallow, Chocolate and Graham Cracker Bars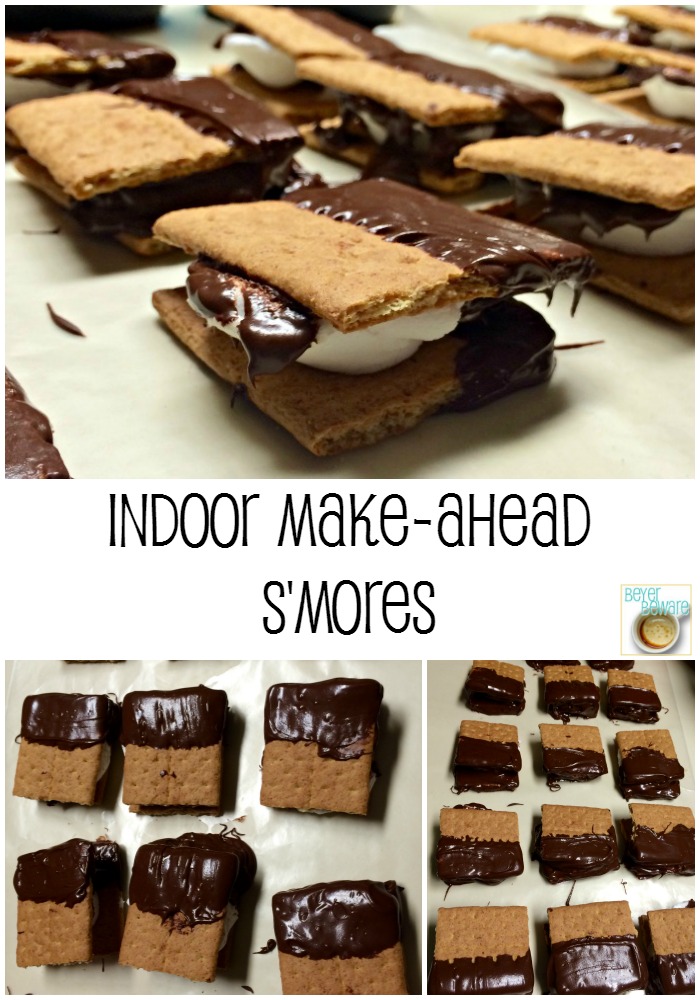 📖 Recipe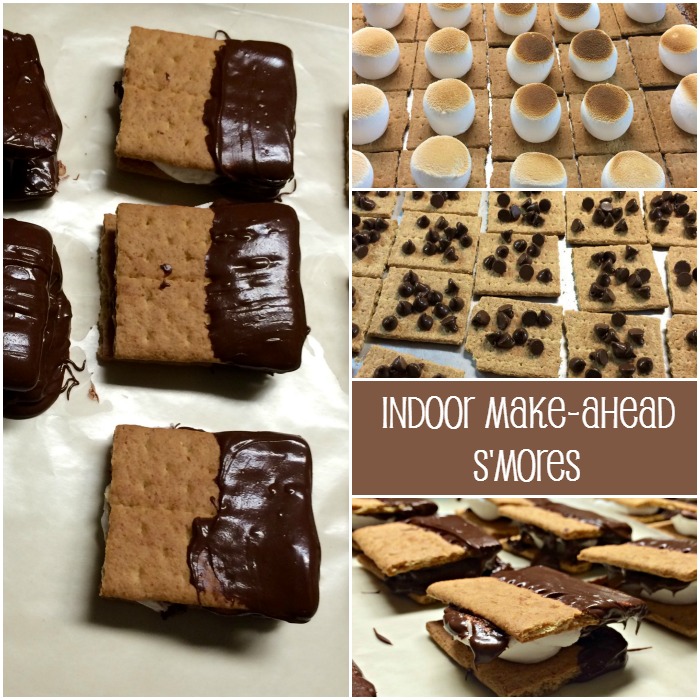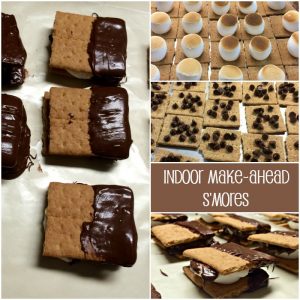 Indoor Make-Ahead S'Mores
Indoor Make-ahead S'mores is an easy recipe that can be made up in large quantities prior to any event for an easy to distribute and eat dessert is needed.
Print
Rate
Ingredients
8

whole graham crackers

broke in half

8

large marshmallows

16

chocolate bar pieces or ½ cup of chocolate chips

1

cup

Chocolate for melting

optional
Instructions
Turn the oven on at 250 degrees.

Place the graham cracker halves evenly on two cookie sheets.

Top one set of graham crackers with one marshmallow a piece and the other set with two chocolate bar pieces or 8-10 chocolate chips.

Place chocolate chip sheet on middle or low rack in the oven. Place the marshmallow sheet on the top rack.

Flip the oven from back to low broil. Watch the marshmallows carefully so they don't burn and move across the rack if browning is uneven.

Remove from oven when toasted to your liking. Sandwich together by placing the chocolate on the marshmallow half.

Let cool. Eat or then dip in melted chocolate. Dipping halfway leaves more options for stacking and storing. Let set up and chocolate harden before storing.
Nutrition
Calories:
248
kcal
|
Carbohydrates:
36
g
|
Protein:
2
g
|
Fat:
13
g
|
Saturated Fat:
7
g
|
Polyunsaturated Fat:
1
g
|
Monounsaturated Fat:
4
g
|
Sodium:
103
mg
|
Potassium:
120
mg
|
Fiber:
2
g
|
Sugar:
24
g
|
Calcium:
19
mg
|
Iron:
2
mg
Go get other great recipes at the Weekend Potluck.