Disclosure: *This post may include amazon links. As an Amazon Associate, I earn from qualifying purchases.
Who loves ooey, gooey, cheese-laden food? This girl.  And my children. Which is why they loved this loaded buffalo chicken and potatoes dish. Maybe they love buffalo sauce because I ate an insane amount of Hooters Wings while I was pregnant. After all, hasn't there been some kind of research done to link what you eat while pregnant to what your kids like to eat.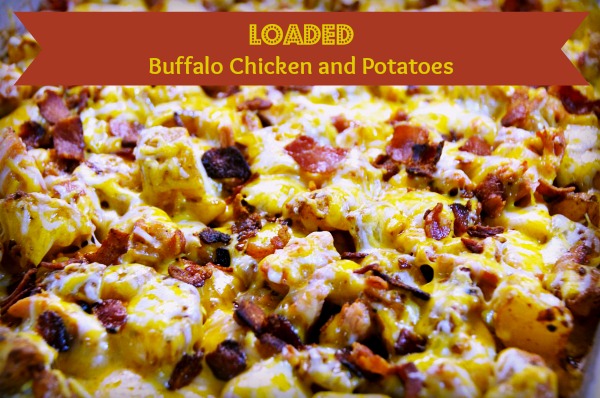 Obviously, it involves a few of my favorite things... bacon, cheese, buffalo sauce. Let's start with the bacon.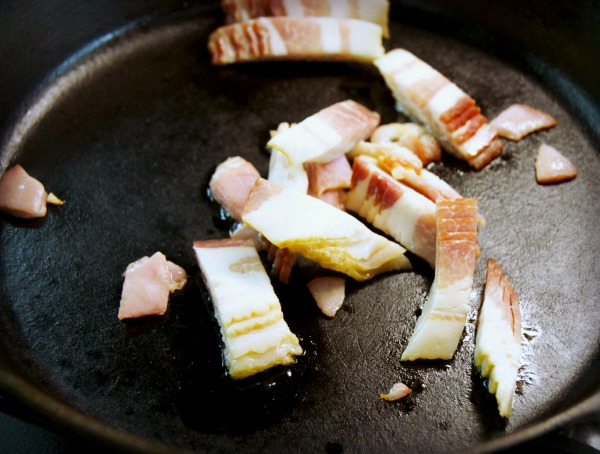 Reserve the bacon to the side and leave the bacon grease in the skillet. It is time to make chicken.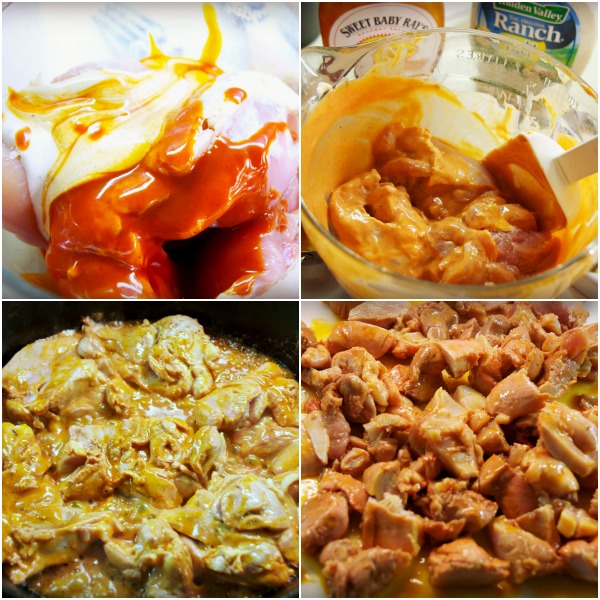 The buffalo chicken marinade is simple...wing sauce and ranch dressing. That's all people. Let it sit for 30 minutes and then just put in the skillet of bacon grease. Cook on each side for about five minutes and then remove from the pan, let rest for a few minutes then dice. Now the potatoes... Once again, I have to tell you, I microwave the potatoes to almost fully cook them. Who has the time to bake potatoes? And if microwaving food causes cancer, I would have died from cancer a long time ago. I grew up in the 80's. We microwaved everything. Because we could. And it was cool.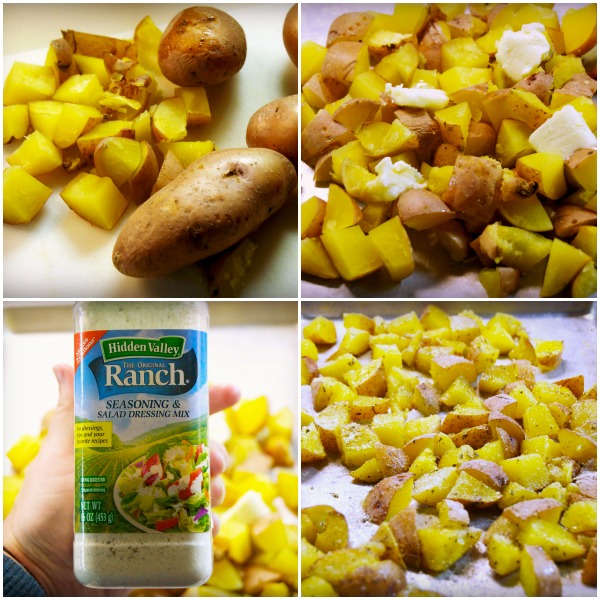 I microwave make the potatoes till their almost done. Dice them and toss them in ranch seasoning and butter and put in the oven on 350 to crisp up a bit. At this point, I would also have the chicken cooking in the skillet. Then you just combine chicken and potatoes.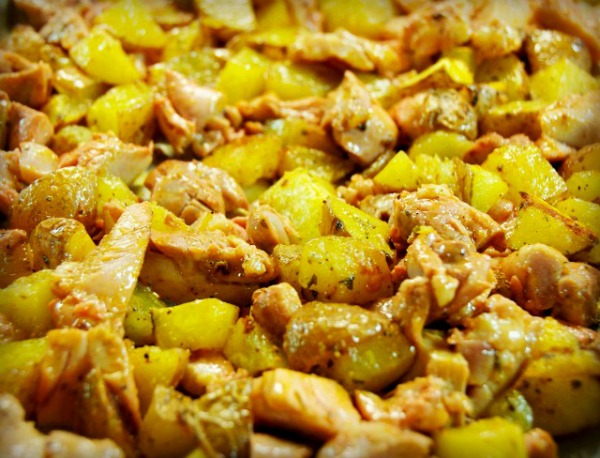 Then you drench in shredded colby jack cheese and that crumbled bacon from earlier.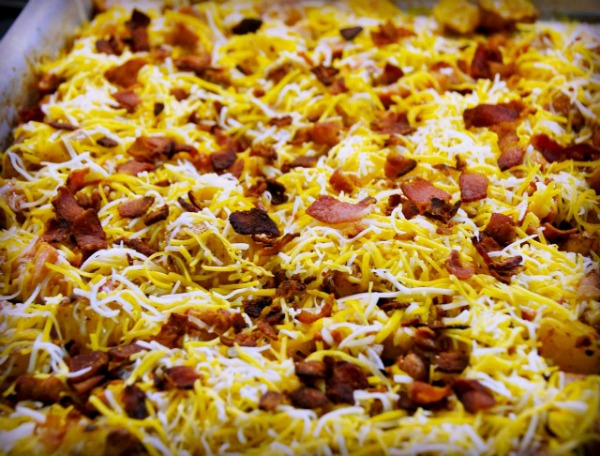 Then bake for 10-15 minutes at 350 degrees or until the cheese is melted and just beginning to crisp.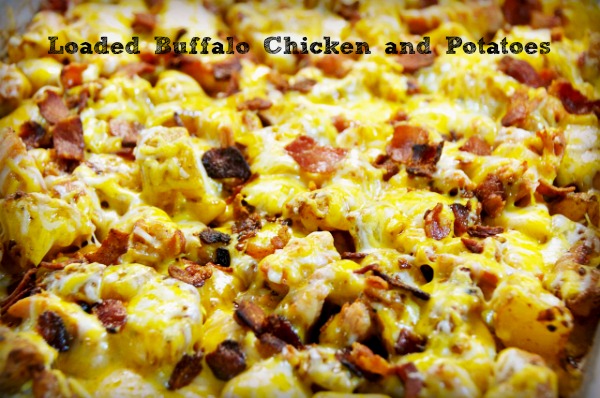 We, of course, drench this all in ranch. Any remotely healthy thing about this got killed with the ranch dressing. But, it was so good.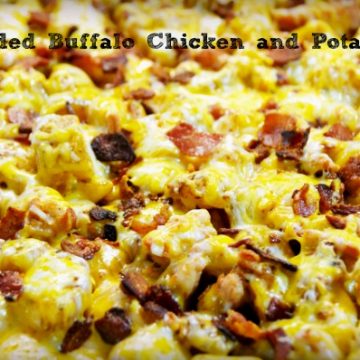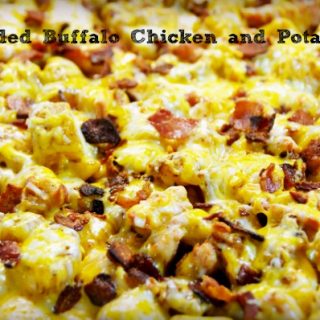 Loaded Buffalo Chicken and Potatoes
If you are a chicken wing lover, then this loaded buffalo chicken and potato dish will become your favorite weeknight meal.
Print
Rate
Ingredients
4

Skinless

boneless chicken thighs or breasts

4

potatoes

red or brown skinned

4

slices

of bacon

¼

cup

buffalo sauce

¼

cup

of ranch dressing

2

tablespoons

of ranch seasoning

2

tablespoons

of butter

1-2

cups

shredded colby jack cheese
Instructions
Mix the buffalo sauce and ranch dressing together and pour over chicken. Let marinade for at least 30 minutes.

Fry four pieces of bacon, crumble and reserve for later. Keep bacon grease in skillet.

Bake potatoes till they are almost baked and then cube and spread out on a jelly roll pan. Toss butter and ranch seasoning on potatoes and finish baking potatoes on 350 degrees.

Cook chicken in the skillet with reserved bacon grease for 5-6 minutes on each side or chicken is done.

Cube cooked chicken and combine with baked potatoes. Cover in shredded cheese and then the bacon.

Bake for another 10-15 minutes on 350 degrees till cheese is completely melted.

Serve with ranch dressing.