Disclosure: *This post may include amazon links. As an Amazon Associate, I earn from qualifying purchases.
If I am going to be baking a cake, chances are I am going to be making Grandma's Texas Sheet Cake. My daughter is a huge fan of Texas sheet cakes so it tends to be a no-brainer. The dense chocolate cake with chocolate icing is somewhere between a brownie and a cake.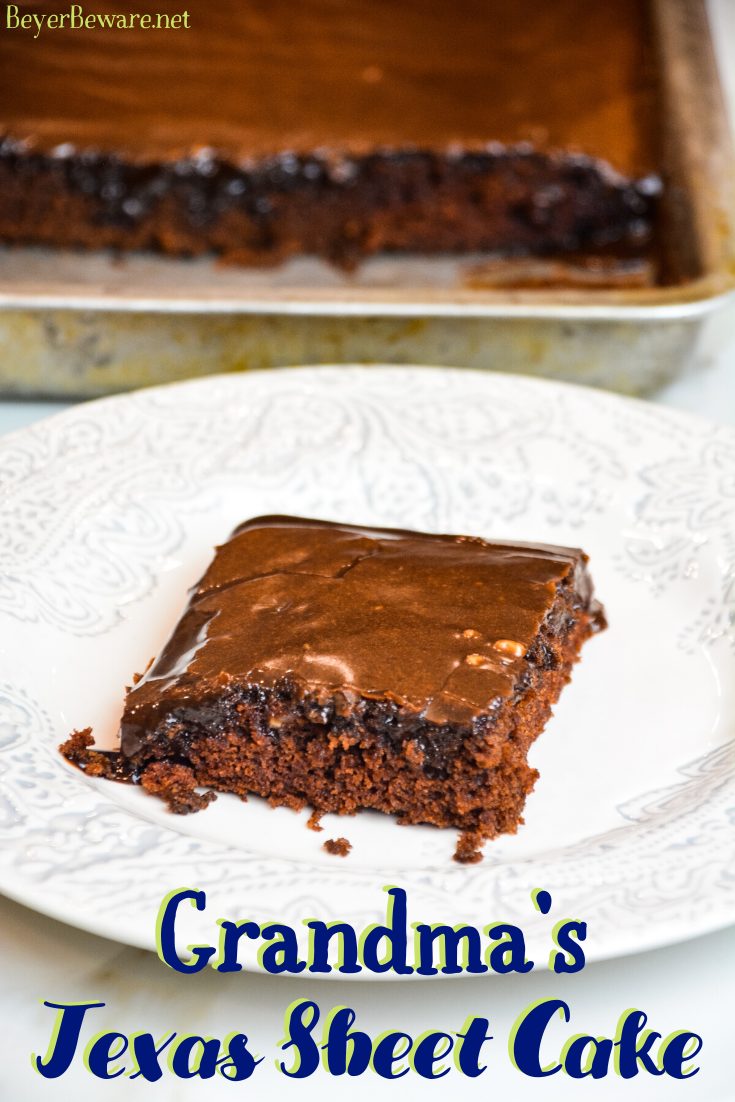 Grandma's Texas Sheet Cake is a tried and true chocolate sheet cake recipe with all the cocoa and butter in the recipe to make it so outrageously delicious. This cake is so easy to make and bakes quickly. Plus the cake is poured on a warm cake!
Schleef Family Cookbook


As you know, I tend to not have a lot of time to bake from scratch. I am more of a semi-homemade type of gal. However, I needed a quick chocolaty snack to take camping over labor day. So, after a quick flip through a few cookbooks, I stumbled across the Texas Sheet Cake recipe my Grandma used. And it bakes in a quick 15-20 minutes. And of course, it was in the family cookbook in the section that their wedding picture appears.

The Schleef Family Cookbook is recipes from the 100th anniversary of my great-grandparents anniversary.  It is usually found open on my counter. When I am lacking any ideas in the kitchen I just go to my good old stand by recipes.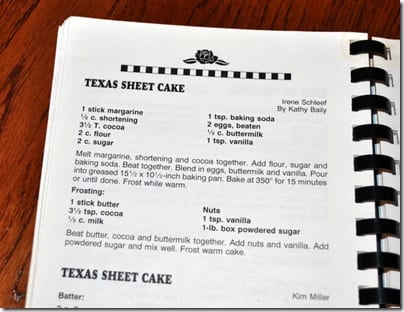 Now, here is my grandma's recipe thanks to my aunt who submitted it. Of course, I doctored it a bit. I just can't leave well enough alone. For real, I have a problem.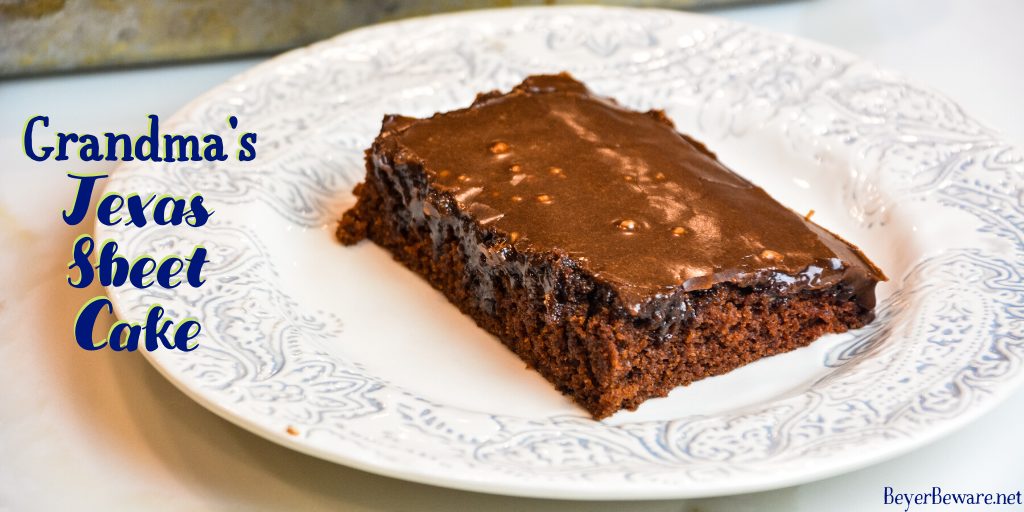 Grandma's Texas Sheet Cake Ingredients
Leah's way...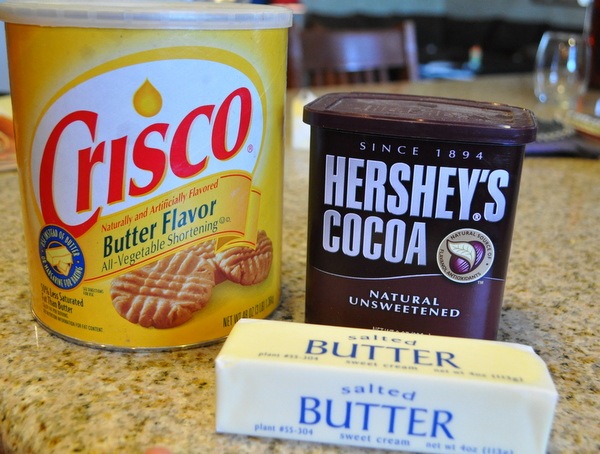 It starts with really healthy things.
Butter. The real stuff. Don't get the fake stuff aka margarine.
Crisco. You can use butter flavored. Or not. Crisco comes in [amazon_textlink asin='B00DE6KSTK' text='sticks' template='ProductLink' store='farmwifedrink-20' marketplace='US' link_id='ad5b74f0-9a39-4ab3-98ff-b47913ccfa39'] which makes measure so much cleaner.
Cocoa Powder. A good friend of mine who group up in Europe always told me [amazon_textlink asin='B005CD4196' text='Nestle coco' template='ProductLink' store='farmwifedrink-20' marketplace='US' link_id='6a98eeea-1d7a-4df7-b36b-55e7ce2bc50f']a was the best. I am never going to disagree with a European on chocolate.
Flour. The all-purpose flour works just fine. Use the brand you prefer.
Baking Soda. Whatever brand you use will be just fine.
Sugar. The good old normal sugar.
Vanilla. Holy mother, is vanilla expensive. I am resorting to imitation until I find a black market for vanilla.
Eggs. At room temperature is best, but let's be honest, sometimes I forget and use them cold.
Buttermilk. If you don't have buttermilk, make your own. Just add a tablespoon of vinegar or lemon juice to a cup of milk
Powdered Sugar. Just buy this sweet powdery sugar by the two-pound bag.
Chocolate Chips. Now, this is optional, but it does take the cake up a notch. But you can leave them out too. My pick is [amazon_textlink asin='B000ST1AZW' text='semi-sweet chocolate chips' template='ProductLink' store='farmwifedrink-20' marketplace='US' link_id='02213fbd-9aaf-4ebd-82d2-7e2124c53cfe']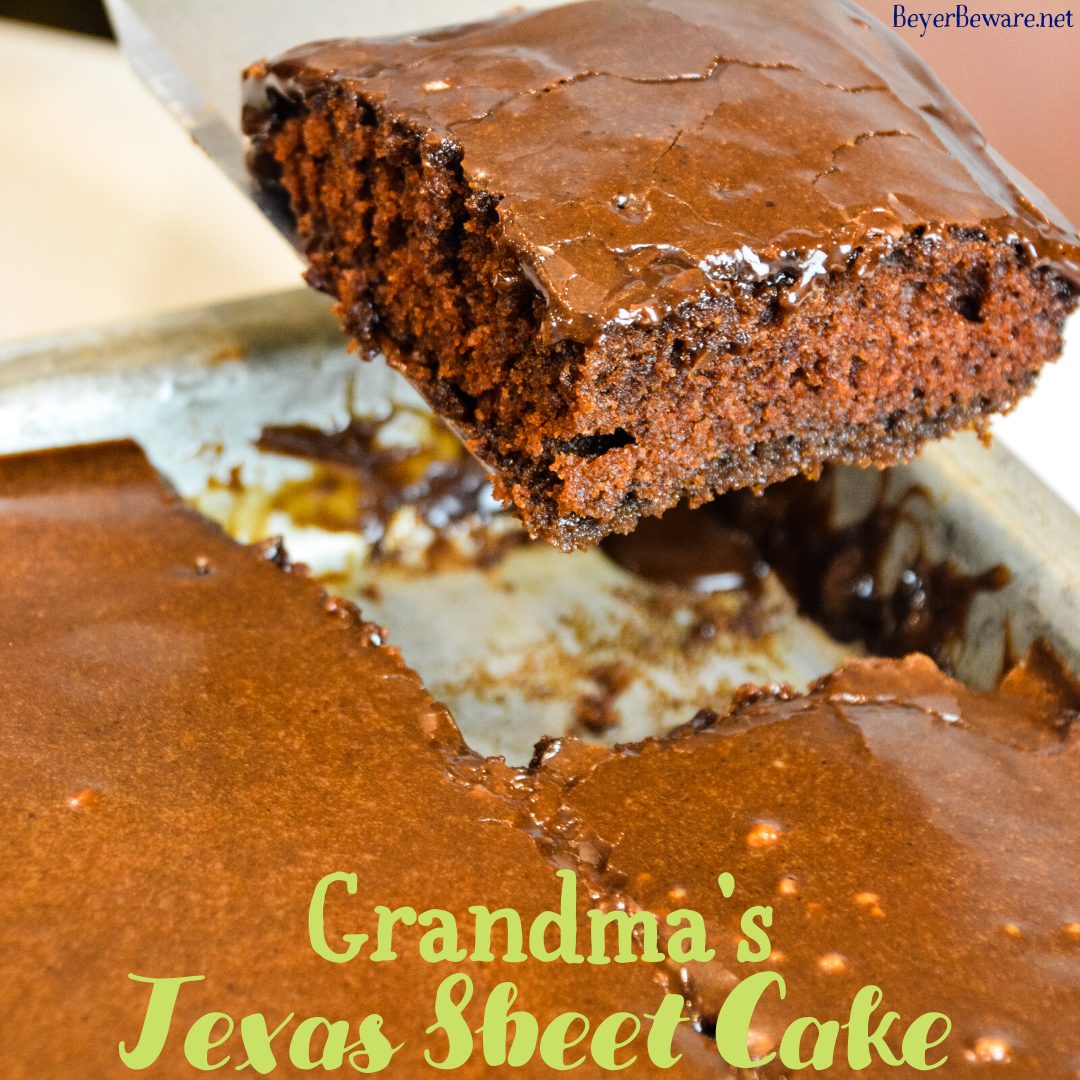 How to Make a Chocolate Texas Sheet Cake


The recipe calls for 3 ½ Tablespoons of cocoa. I put 5 in. I told you I have problems. Sorry, Grandma for veering from the recipe.
At this point, I would have popped it in the microwave and melted everything down. BUT, the microwave was not working thanks to something with a ground plug. I transferred to a pan and did it the old fashion way. On the stove. I added a cup of boiling water to the melted butter and cocoa.
In the meantime, I combined the dry ingredients in the Kitchen Aid.
I then dumped the butter, Crisco, chocolate combination in the mixed dry ingredients. Then comes the buttermilk. Yes, buttermilk. Just have it in the fridge at all times girls, it makes the best things better. If you don't have it, see tip above.

Then some vanilla and eggs of course. And you will notice my eggs are white. I have raised chickens. I don't waste my money on brown eggs. What's inside the shell is all the same.
I am Kroger egg gal. The eggs are all raised by my friends at Midwest Poultry here in Indiana. Learn about their farm here. If you are a brown egg type of person, they raise the brown ones for Kroger, too.

Mix together until creamy, ooey, and gooey. Don't take a lick. Remember there are raw eggs in it:)


Spread in a greased jelly roll pan. And now, my Grandma would be ready to slide the Texas sheet cake in the oven. But…


I have a [amazon_textlink asin='B00CKFGC2I' text='72-ounce bag of chocolate chips' template='ProductLink' store='farmwifedrink-20' marketplace='US' link_id='0c8189fc-e5e0-4b85-b724-81f517c4c495'] in the freezer at all times.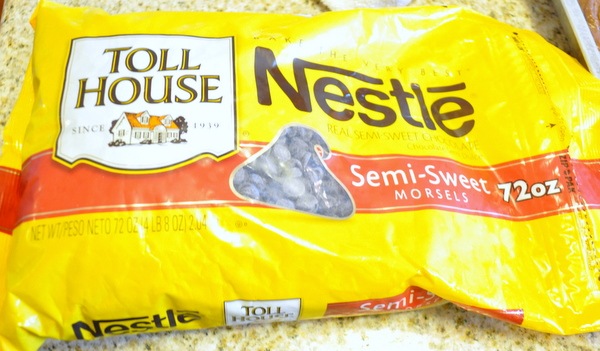 And sprinkled them on top of the batter.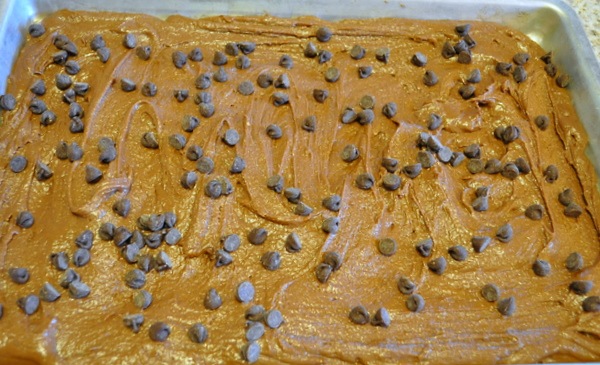 Bake the Texas sheet cake for 15 minutes on 350 degrees or until a toothpick comes out clean.
Chocolate Sheet Cake Frosting
While the cake is baking start on the icing.


This is a dairy farmer's dream. Butter, milk, and cocoa. Add a pound of powdered sugar once the butter is melted. Mix until blended.


Go ahead take a lick:) It is worth it. Grandma's Texas Sheet Cake is one of my daughter's favorite desserts.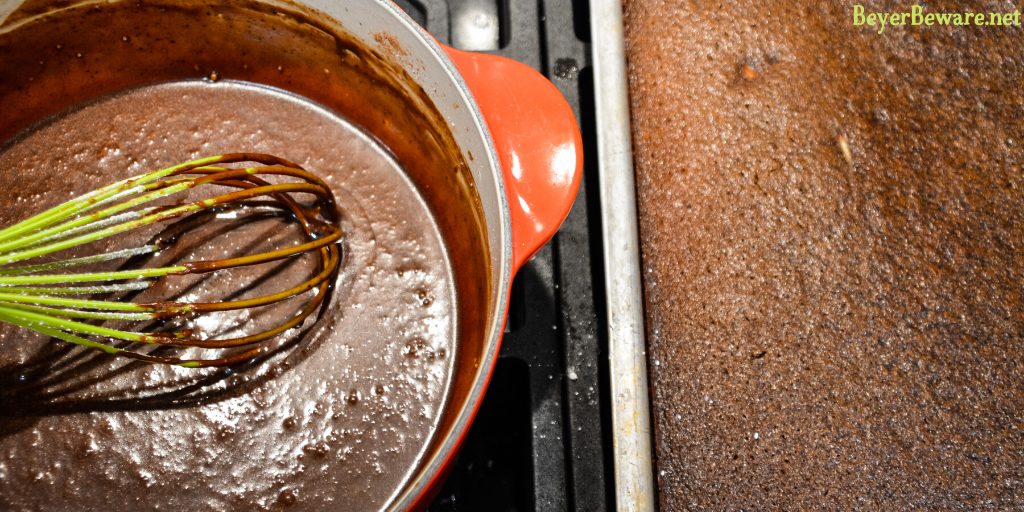 Dump the icing straight onto that warm cake. It makes the frosting seep right into the cake.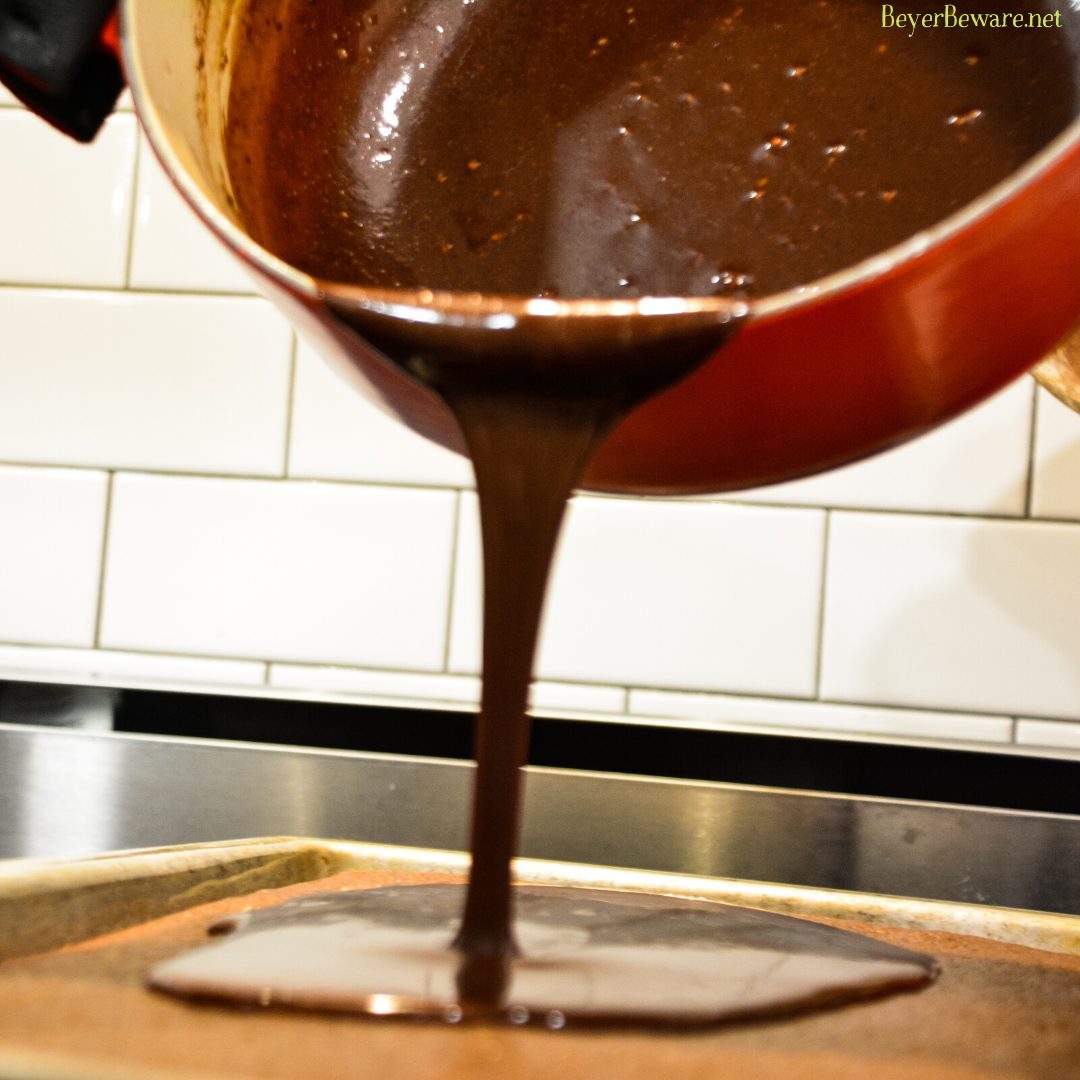 Grandma's Texas Sheet Cake
Easy Dessert Recipes
Rolo Cookies - Rolo Cake Mix Cookies
Quick & Easy Dessert - S'mores Bars
📖 Recipe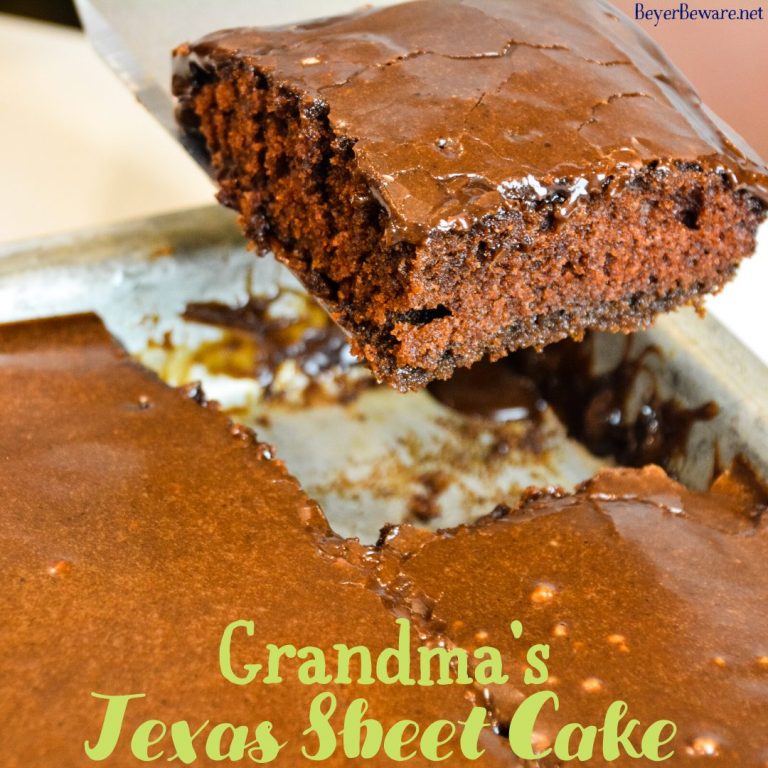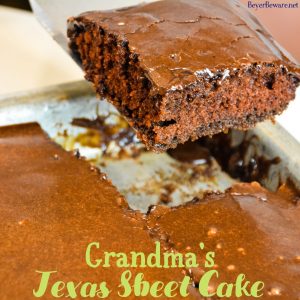 Grandma's Texas Sheet Cake
Nothing makes me happier than a big ole piece of Texas Sheet Cake. And this chocolate cake recipe comes from Grandma, so it has to be great.
Print
Rate
Ingredients
Cake
1

stick butter

½

cup

crisco

5

Tablespoons

cocoa

1

cup

water

boiling

2

cups

flour

2

cups

sugar

1

teaspoon

baking soda

2

eggs

½

cup

buttermilk

1

teaspoon

vanilla

1

cup

chocolate chips or chopped nuts

Optional
Frosting
1

stick butter

4

Tablespoons

cocoa

½

cup

milk

1

teaspoon

vanilla

1

pound

powdered sugar
Instructions
Cake
Combine flour, sugar and baking soda in mixing bowl.

Melt butter, crisco and cocoa together. Combine with boiling water.

Pour melted butter mixture into flour and sugar mixture, mix to combine.

Add eggs, buttermilk and vanilla and mix till combined.

Sprinkle chocolate chips or nuts on top if you are using them.

Bake for 15 minutes on 350 degrees or until tooth pick comes out clean.

Frost while warm.
Frosting
Melt butter, cocoa and milk together. Add vanilla and half the milk.

Remove from heat and mix in the powdered sugar. Add milk as needed till frosting is smooth.

Frost warm cake.
Nutrition
Calories:
269
kcal
|
Carbohydrates:
50
g
|
Protein:
3
g
|
Fat:
7
g
|
Saturated Fat:
3
g
|
Cholesterol:
16
mg
|
Sodium:
66
mg
|
Potassium:
58
mg
|
Fiber:
1
g
|
Sugar:
40
g
|
Vitamin A:
53
IU
|
Vitamin C:
1
mg
|
Calcium:
26
mg
|
Iron:
1
mg