Disclosure: *This post may include amazon links. As an Amazon Associate, I earn from qualifying purchases.
Nothing beats a burger off the grill in the summertime. But I also love a pan fried burger, cheeseburger pasta, cheeseburger quiche, and cheeseburger soups. If you are obsessed with everything grilled burger, cheeseburger, or burger-themed, this edition of our best recipes is going to knock your socks off.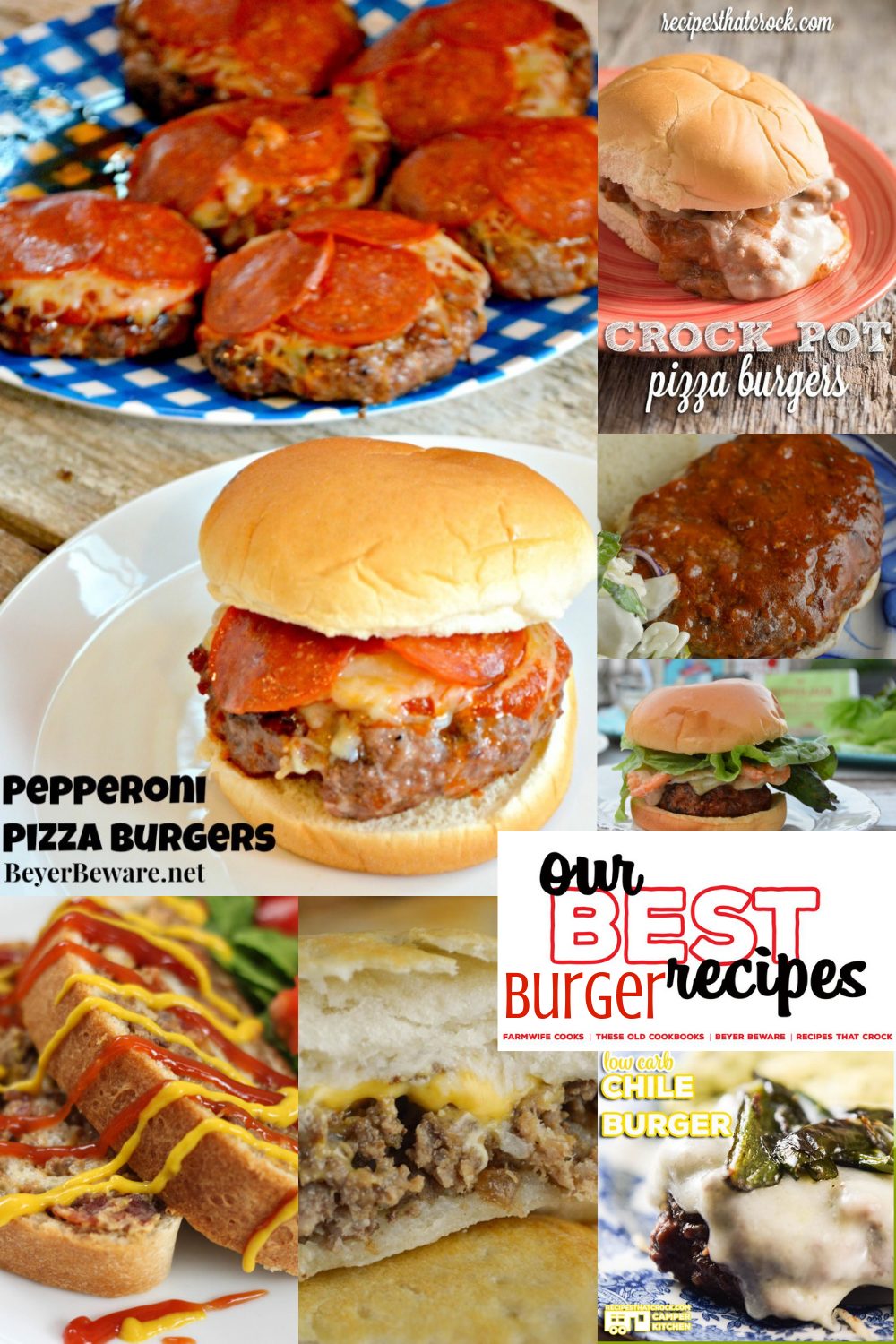 I am so excited to bring you another week of "Our Best Recipes" with 3 of our food blogger friends.  Each Wednesday, we'll take turns with Cris, Liz, and Megan sharing some of the best recipes from our blogs. If you missed my last post with our best recipes, it was Our Best Peanut Butter Recipes.
Be sure to check out some of past our best recipe round-ups.
Our Best Burger Recipes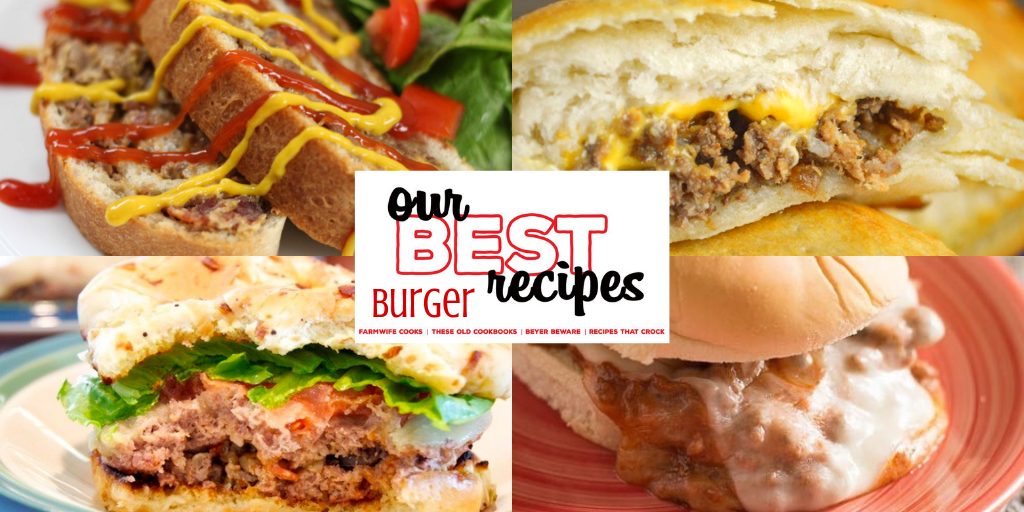 Let's start our best burger recipes with traditional burgers. If you are one of those people who are always looking for the best classic burger or pork burger recipe, be sure to check out the ins and outs of making the best burger.
Now, here are some of the best traditional burgers.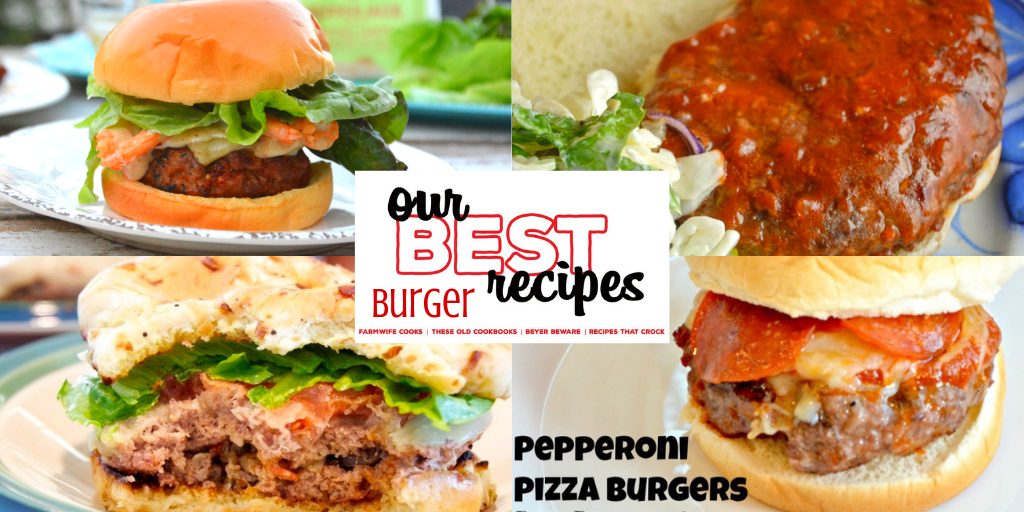 Vintage Barbeque Burgers from These Old Cookbooks
Bacon Burgers from Beyer Beware
Low-Carb Chili Burgers from Recipes that Crock
Pepperoni Pizza Burgers from Beyer Beware
Fajita Burgers from Beyer Beware
Cajun Pork Burgers with Grilled Shrimp Burgers from Beyer Beware
Pineapple Teriyaki Pork Burgers from Beyer Beware
Cheeseburger-Themed Recipes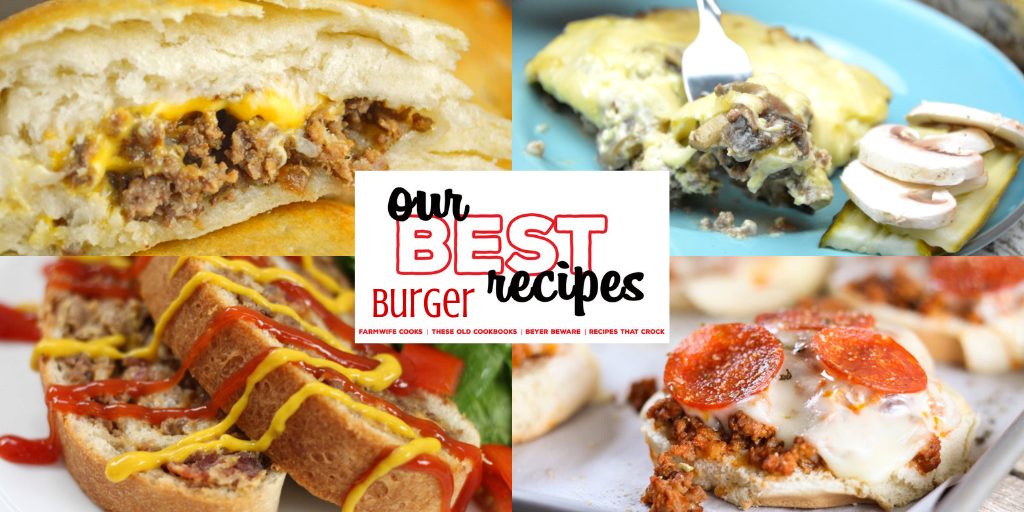 These recipes are cheeseburger inspired while yet being not a traditional sandwich. If you love all the things that make a cheeseburger great, then you will love these recipes.
Cheeseburger Casserole from The Farmwife Cooks
Cheeseburger Turnovers from These Old Cookbooks
Crock Pot Pizza Burgers from Recipes that Crock
Homemade Cheeseburger Hamburger Helper from Beyer Beware
Pizza Burgers from The Farmwife Cooks
Cheeseburger Quiche from These Old Cookbooks
Crock Pot Sloppy Joe Cheeseburgers from Recipes that Crock
Keto Mushroom Swiss Burger Casserole from Beyer Beware
Bacon Cheeseburger Roll-Ups from The Farmwife Cooks