Disclosure: *This post may include amazon links. As an Amazon Associate, I earn from qualifying purchases.
Eggs. I think I completely take my access to eggs for granted. Especially since I have chickens right outside my backdoor. And since we get 24 eggs a day on average, we never have a shortage. Making scrambled eggs is a regular occurrence in our house. So of course I needed to come up with a way to make scrambled eggs in a crock pot. This crock pot scrambled eggs casserole is one of our favorite breakfast casserole recipes.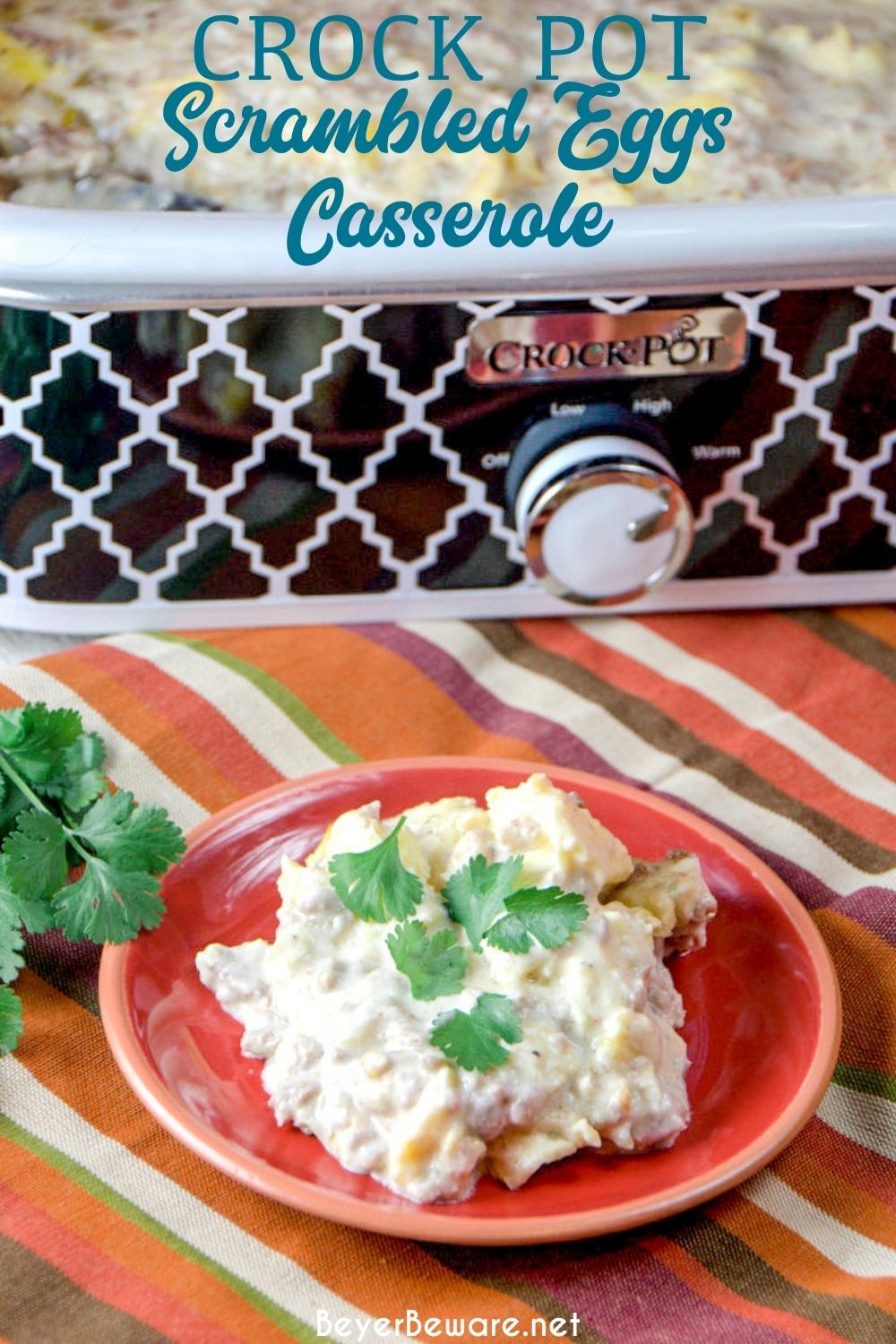 What do you put in scrambled eggs in a crock pot?
Eggs - Large eggs are the standard size for any recipe you will find on Beyer Beware. When we don't raise chickens, you can see by the picture, standard white eggs are my go-to choice for this scrambled egg casserole recipe.
Butter - Make the breadcrumbs even yummier by mixing them with melted butter. 100% real butter. No substitute for the best thing cream can bring to a recipe.
Cream cheese - As crazy as it sounds, cream cheese is the best for this creamy scrambled eggs recipe in the crock pot.
Milk - Fluffy eggs mean added liquid. I use milk in this scrambled egg recipe but you can substitute for water too.
Corn Starch - I use corn starch to make this cheese sauce, but you can also use butter and flour if you would like.
Pork Sausage - Ground pork seasoned with breakfast sausage seasoning or adobo seasoning is what you need here. Traditional breakfast sausage can also work for this recipe.
Green Chilies - The canned green chilies are what I have used in this recipe. These can be left out. Fresh chiles can also be used but you will want to saute them before cooking them.
Salt and Pepper - Seasoning is a must. No one wants bland eggs. You can also use seasoned salt in this recipe or like I mentioned above, adobo seasoning.


How to Make Crock Pot Scrambled Egg Casserole
This casserole is one of those you can make ahead and throw in the fridge till the next day when you need it. The base of the casserole is the meat. I have a scrambled eggs casserole that uses ham, but I used ground pork sausage for this one. And the other part this makes this recipe a winner for any busy person, the Casserole Crock Pot
. Seriously, drop this into the crock pot and go run evening activities and brupper will be waiting for you when you get home.
The most important part is the cheesy white sauce that you fold into the scrambled eggs as well. Since I love my microcooker
for cooking ground meat, I made the white sauce and cooked the meat at the same time.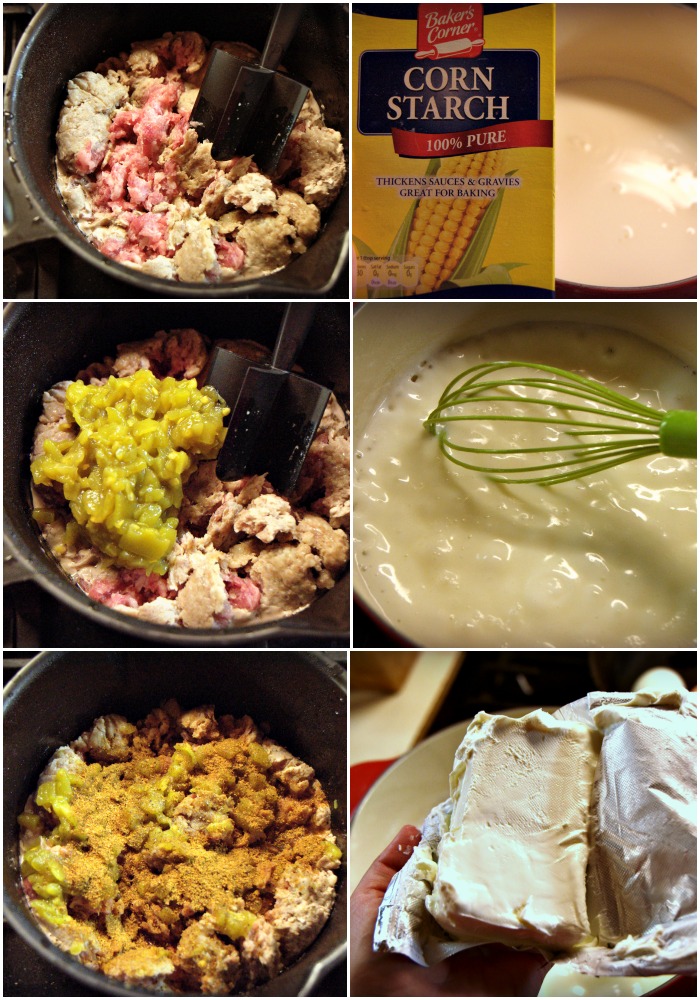 So in this recipe, I used large-sized eggs so all my Hoosier readers would know how to make this casserole with their large eggs.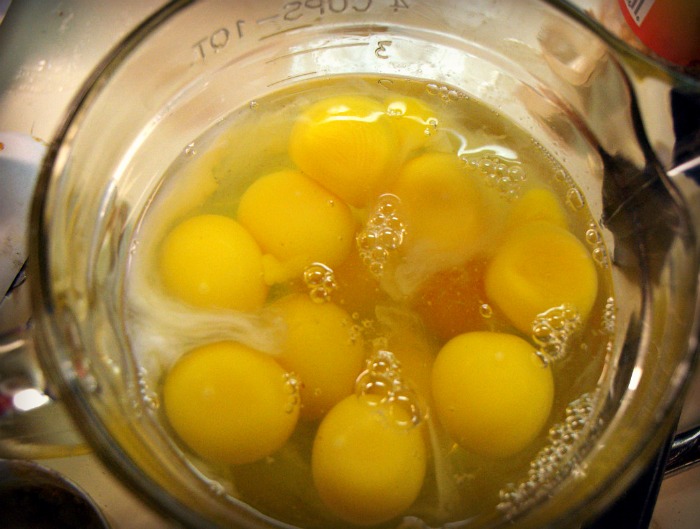 Scramble them up while you heat up a large skillet and melt a few tablespoons of butter. Add some seasoning salt to the eggs as well as milk or cream. Then pour into the well-buttered skillet. And resist scrambling the eggs. Let them cook over a medium heat for a minute and then push the cooked eggs to the center and tilt the pan around to spread the liquid eggs back around. Essentially, you want to keep the eggs in large pieces as much as you can.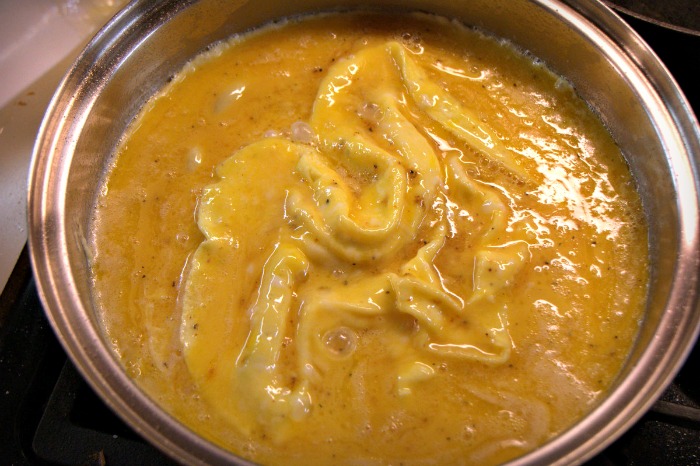 Once the eggs are 80% cooked, turn off heat and fold the sausage and green chilies into the eggs. And then add to the cream cheese sauce. folding in carefully. Pour into the greased casserole crock pot dish, cover and throw in the fridge.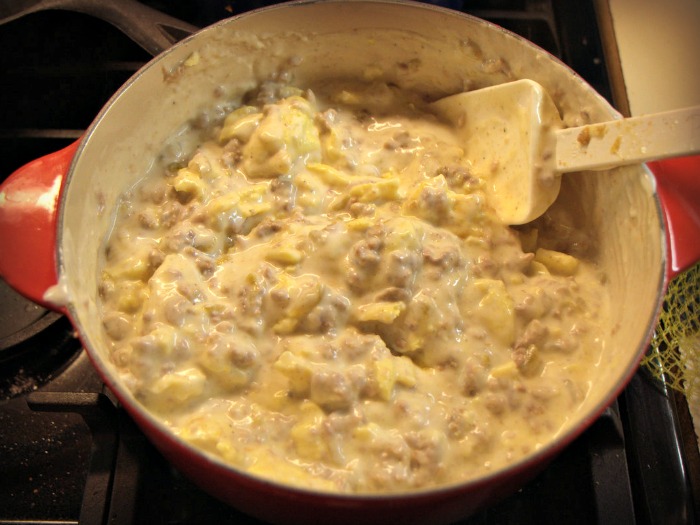 Then two hours before you want to eat, pull your casserole out and place it in the crock pot base and cook for two hours on high. This could also be made in the oven by cooking on 350 degrees for 20-30 minutes.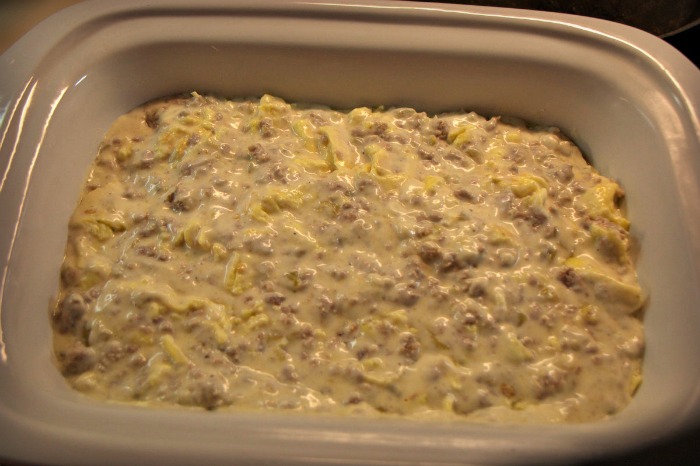 Don't like sausage and chilies? Try ham and onions or bacon and tomatoes or sausage and mushroom. Whatever you like in a omelette would work in this casserole too.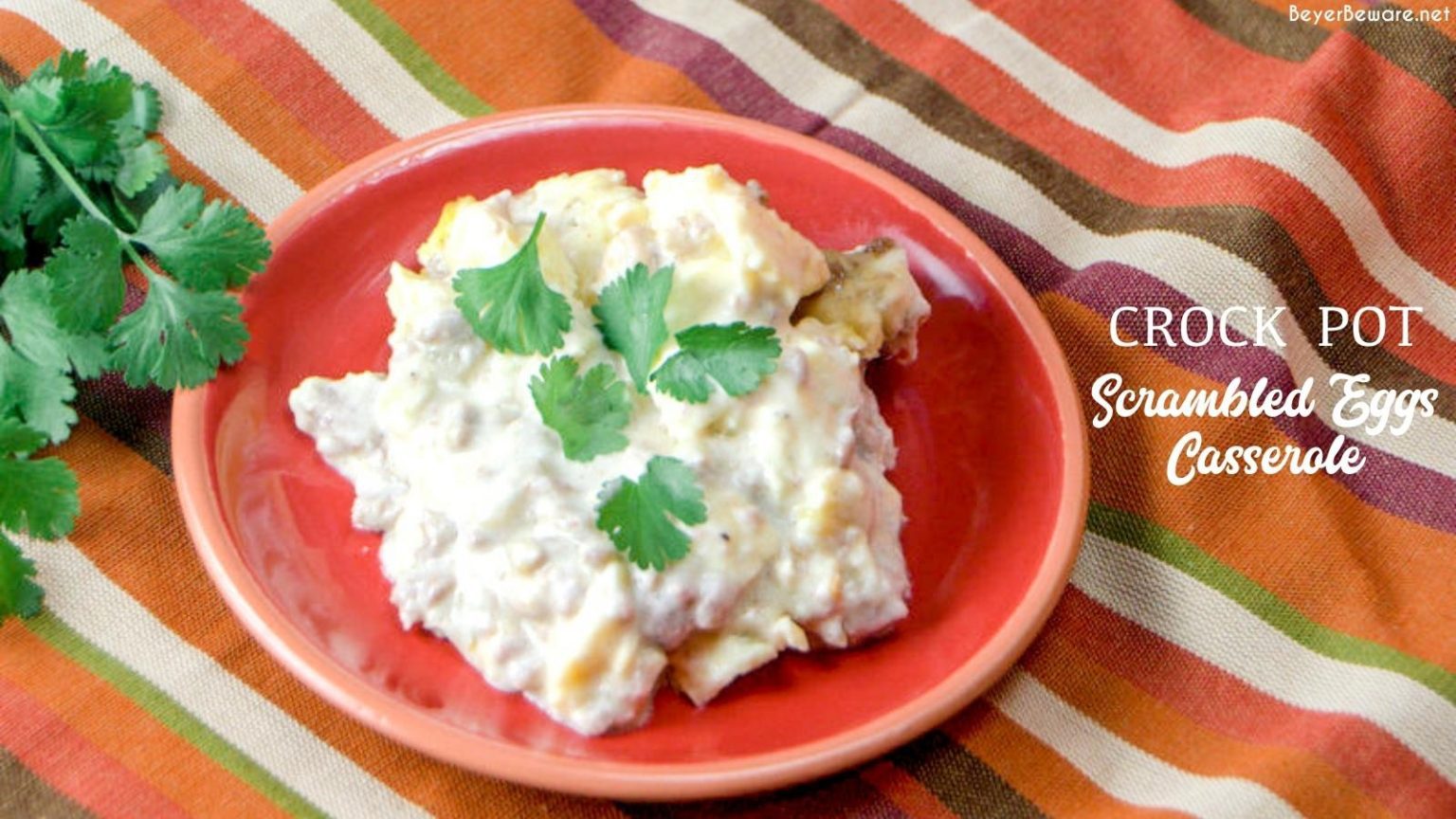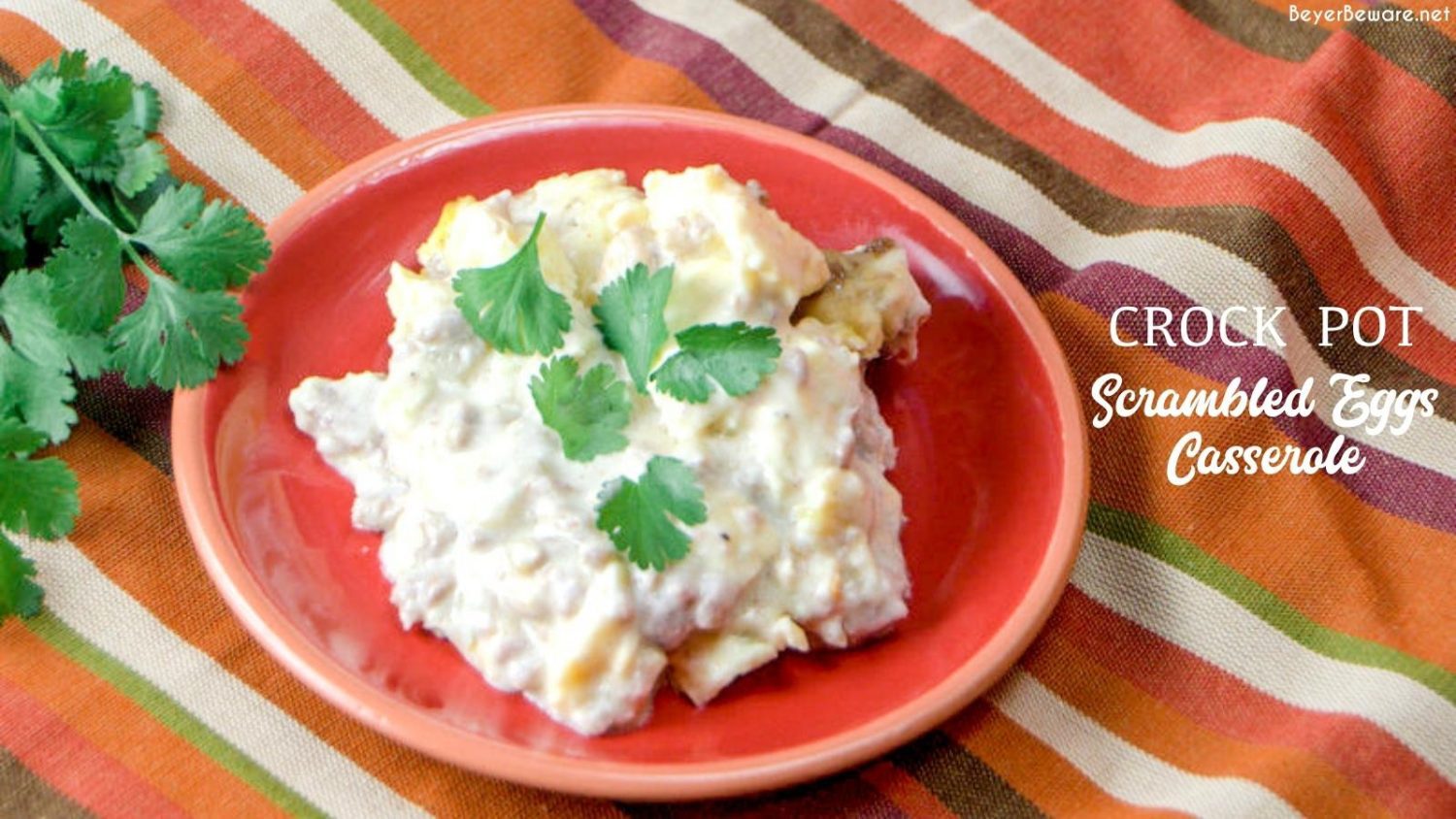 Easy Scrambled Egg Recipes
Scrambled Egg Casserole - Cheesy Scrambled Egg and Ham Bake
Microwave Scrambled Eggs in 1 Minute - How to Microwave Eggs
Cheesy Bacon Breakfast Pizza - Easy Breakfast Pizza
Low-Carb Biscuits and Gravy with Scrambled Eggs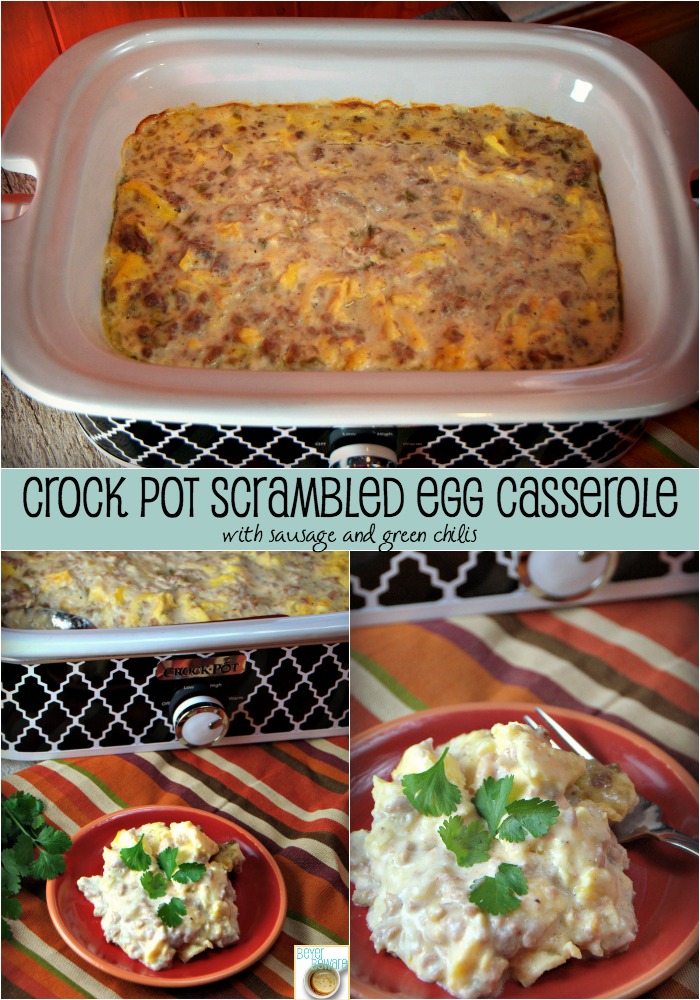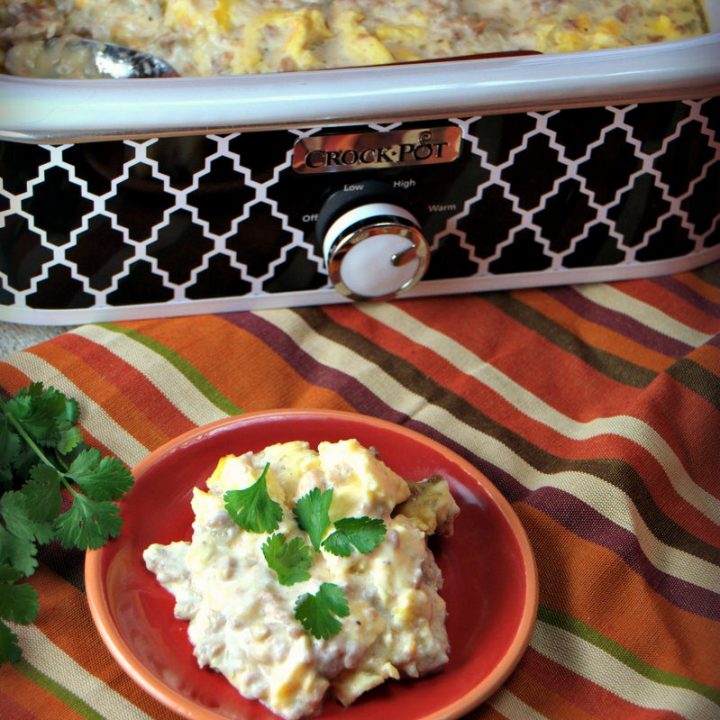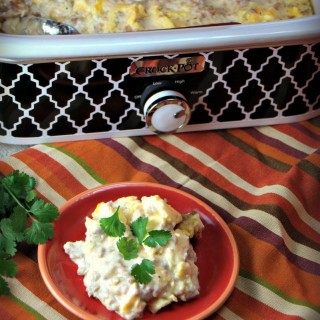 Crock Pot Scrambled Egg Casserole with Sausage and Green Chilies
Want a make-ahead breakfast casserole that doesn't have bread in it? Make this crock pot scrambled egg casserole the night before and have a breakfast, lunch, or dinner in two hours.
Print
Rate
Ingredients
5

tablespoons

butter

divided

2

tablespoons

corn starch

2

cups

milk

¼

teaspoon

salt and pepper

each

1

8-ounce bar cream cheese

10

large

eggs

1

pound

pork sausage

1, 4

ounce

can of green chilies

1

teaspoon

seasoning salt
Instructions
Combine milk and corn starch in a sauce pan over medium heat, whisking till smooth. Add two tablespoons of butter and the cream cheese. Continue stirring till boiling for one minute. Remove from heat and add salt and pepper.

Brown pork sausage, adding the chilies at the end of cooking. I brown my ground meat in the microwave with this

handy-dandy device

. I microwave frozen sausage for three minutes and then break up before microwaving for another three minutes.

Break the eggs into a bowl and whisk thoroughly, until the yolks are broken up and the eggs are well combined. Whisk in a teaspoon of seasoning salt. Melt the remaining 3 tablespoons of butter in a large, deep skillet over medium heat. Pour in the eggs and cook for a minute or two. Gently push eggs off the bottom to allow more liquid to be spread around. Do not "scramble" the eggs too much.

When the eggs are nearly cooked with a little moisture left, remove the pan from the heat. Combine the sausage and green chilies combination. Either pour the cream sauce over the top or pour the eggs into the white sauce. Fold the sauce into the eggs. Break up any large egg pieces to spread the egg pieces through the sauce. Taste and add salt and pepper as needed.

Spread the eggs into a well-greased

crock pot casserole dish

. Let cool, then cover with crock pot lid and refrigerate overnight.

Cook on high for two hours. Garnish with cilantro if you have it on hand.

Can be cooked in the oven for 30 minutes on 300.
Nutrition
Calories:
630
kcal
|
Carbohydrates:
11
g
|
Protein:
27
g
|
Fat:
53
g
|
Saturated Fat:
24
g
|
Polyunsaturated Fat:
5
g
|
Monounsaturated Fat:
18
g
|
Trans Fat:
1
g
|
Cholesterol:
437
mg
|
Sodium:
1387
mg
|
Potassium:
477
mg
|
Fiber:
1
g
|
Sugar:
6
g
|
Vitamin A:
1438
IU
|
Vitamin C:
3
mg
|
Calcium:
193
mg
|
Iron:
2
mg